Review: Tightlacing Off-The-Rack Corsets Under $100
Disclosure: These corsets were purchased by The Lingerie Addict for the purpose of review. All opinions are my own.

Over the recent years, the off-the-rack end of the corset market has boomed. Lots of brands have discovered the demand for curvy corsets without the custom price tag and have filled the niche to much praise. Last week Marianne covered the top 3 starter corset brands under $100 - as a corset obsessive (regularly wearing and making them), I was intrigued to see what this new breed of heavily-shaping underbusts could offer.
I chose three underbusts under $100 from some of the most prominent 'affordable' brands: Restyle, Orchard Corset and Mystic City. Each corset was purchased in a size 20" waist, offering the closest comfortable measurements to my natural ribcage and hip measurements (which are, for reference, a 27.5" ribcage, 33" high hip and 35" low hip. My natural waist measurement is 25").
I must admit that when I went into these reviews, I was skeptical - the prices are just too low for me to be able to equate them to what I would define as a 'good corset.' The price tags they carry - between $50-99 per piece - wouldn't even begin to cover my bare material costs if I wanted to make my own corset.
I think it's very important when approaching budget corsetry to keep reasonable expectations. At this price point, something has to be missing that you'd otherwise expect from a non-budget brand - whether that be ethical manufacturing (I'm not going to comment on individual companies, but suffice to say large parts of Asia don't have a great track record for ethical labor), good quality fabrics and components (such as fine-weave coutil and German steel busks), curvy patterning, hand finished binding and accurate stitching. This is by no means an exhaustive list, but these are all areas that are important to address. I'm a strong believer in getting what you pay for.
Price: Approximately $50
Size: 20"
Closed measurements: underbust 27.5", waist 20", high hip 32". Centre front height 12"
This corset is by far the curviest out of the three and I love the contoured top and bottom lines - it's flattering and helps make the corset seem all the more dramatic. It's the simplest design of the three corsets that I chose, with a plain black fashion layer and no additional embellishment.
The corset is constructed out of two layers of black cotton twill. It doesn't contain a waist tape, which will affect the longevity of the piece - I noticed a minute amount of stretching around the waist in the short time I was wearing it and I suspect that this would worsen with time (though could be remedied with customising the corset with your own waist tape).  The corset is bound in accurately machine stitched black cotton bias tape. There are two garter tabs on either side of the corset, sewn into the bottom binding.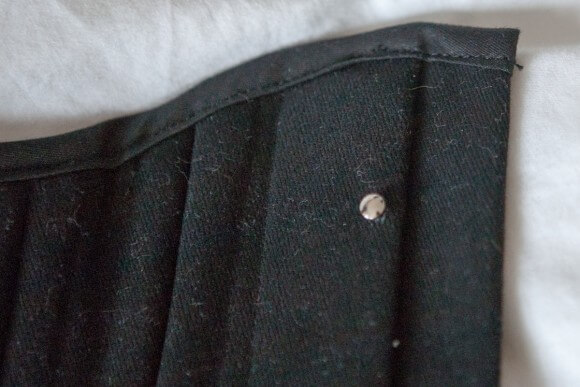 The corset features interior boning channels, double boned on each seam with 10 spiral steels on either side. The boning is all a good length and fully fills each channel. The busk is heavy duty and 1" wide with six equally spaced pins and loops. There is an unstiffened 1" placket behind the busk.
The centre back of the corset features a total of 4 flat steels, one on either side of the eyelets. There are 12 silver-toned eyelets on either side of the centre back - they've all been set well, with no visible splits. The lacing is similar to shoelace cord and has a slight spring to it - in my view this can make lacing a bit tricky at times but is also something that could be easily switched out for something with no stretch. There is an unstiffened modesty panel with around 6" usable space behind the eyelets made of the same black twill as the fashion fabric. It's lockstitched onto the centre back panel and can be easily removed with a seam ripper.
This underbust was by far the easiest to 'break in' (any tightlacing corset should be 'seasoned' to the wearer's body before serious wear/ Marianne mentions this briefly in her article on corset fit). It's perhaps the best suited out of the three to my natural dramatic pair shape. I found it comfortable from my first wear, and I love how dramatic the hip curve is. The lacing gap is even down the back, further indication of how well suited this corset is for my shape.
Although this corset has my favourite shape of the three, its stitching leaves something to be desired. The stitching around the dramatically curved hip seam is particularly messy, which causes the fabric to wrinkle even when the corset is laced closed.
However, given the extremely low price of this corset, I feel like expecting perfect stitching and smoothness would be an unreasonable expectation - dramatic curves are difficult to sew and the factory would have to cut a corner somewhere to keep to this price! Overall I'm pretty impressed with Restyle - at only $50, this corset offers serious curves and great value for money if you can overlook a few (minor) faults.
Price: $88
Size: 20"
Closed measurements: 26" underbust, 20" waist, 33" low hip (can be expanded with hip ties). Centre front height 13.5".
Although sold as OC's level 3 'extreme curves' silhouette, this was the least curvy of the three corsets. It's constructed of a double layer of black cotton twill with a pointed top line and lightly contoured bottom edge. The side seams feature hip ties that allow you to expand the hip measurement by a few inches. It's a very longline corset, reaching 13.5" in height at the centre front - I'd recommend this for people with particularly long torsos.
This corset carried the most pleasant 'unboxing' experienced - it came wrapped in pretty tissue paper with Orchard Corset logo stickers and a discount coupon for my next order. There is much more cohesive branding with this corset, whilst the others in this review arrived in polythene bags with no frills attached. It's also worth noting that the product photos on the website show the corset on a couple of different body types, which is a big plus in my book.
The CS-426 is made of two layers of black cotton twill with a waist tape and bone channels sandwiched between the two layers. Upon opening my order, I was very struck by just how heavy this corset is - out of the three, it features the sturdiest weight of spiral steel boning. There are nine spiral steels on each side of the corset (double boned on most seams).
Disappointingly, a lot of the spirals aren't cut to the correct length for their channels - some have around an inch of loose space within the channel, causing the corset to buckle at the top/bottom edges. Additionally, some channels are not stitched particularly neatly and widen at certain areas where the bones start to twist.
There are flat steels on either side of the eyelets and behind the busk. The busk is a flexible busk with a re-enforcing steel bone underneath it and a 1/4" wide modesty placket. Despite this re-enforcement, I was surprised about just how flexible it is - I haven't worn the corset particularly long and it's already permanently bent out of shape into a curve. I also noticed that the finish on the edges of the busk pins is a lot sharper than any corset that I've previously owned.
There are 12 eyelets on either side of the centre back - almost all of them have been split but this hasn't caused any problems with laces catching.  There's also five pairs of eyelets on each of the hip ties. The corset comes with shoelace style springy lacing, as with all three of these underbust corsets. My personal preference is for more rigid lacing but this is an easy fix. There is an unstiffened modesty panel with around 5" of usable space, made of the same black cotton fashion fabric. It's lockstitched into the back panel and could be easily removed with a seam ripper.
The corset binding is made of the same black cotton twill and has been machine stitched. I find that the binding on this corset really lets it down - it's extremely messy, with an unpleasantly bulky finish on the inside, messy stitching and a very noticable overhang over the busk when the corset is closed. There are six garter tabs in total, sewn into the bottom edge binding.
I'd say that the stitching on this corset overall is a big problem - it's noticably inaccurate, especially on curvy seams (and there are areas where it gets seriously wonky).
The CS-426 also has the longest stitch length of the three corsets - whilst this isn't within itself a bad thing, it does indicate to me that more corners are cut in this style than in the other corsets that I've reviewed. This notion is further re-enforced by the fact that the wrong label has been sewn into this corset (stating that the fashion fabric is 100% polyester when it is in fact cotton), and that the corset arrived covered in lint - clearly a factory issue, as a lot of it was actually caught into the stitching.
I was also a little disturbed to discover that although the modesty panel is sewn in, originally it had been glued in - an extremely cheap finishing. On the reverse side of the panel, the tape is visible sticking out of the seam - it's still sticky and looks awful. This all indicates to me that the quality control of this brand isn't perhaps as stringent as the others that I've reviewed.
This corset was the least comfortable out of the three that I've reviewed here. It took the longest to season and I often found it painful and uncomfortable, even when lightly laced. Its shape just isn't right for my body; I'd actually say that it has less curve than my natural body.
Even with the hip ties and option to increase hip size, the shape is still too smooth for me and I found it difficult to make the corset adhere to my body completely. There's no way I'd be able to get the lacing gap comfortably even, but a /\ isn't the end of the world either.  This style of corset would probably be best for someone who has either an apple shaped or very straight-up-and-down figure.
Given that the corset is totally the wrong shape and style for my natural body, I feel that I have to comment at this point on Orchard Corset's customer service. Unlike the other corsets in this review, their website doesn't list corset measurements so I found their sizing a little difficult to navigate.
I got in touch with their customer service with my body measurements, asking for a recommendation of styles suitable for waist training. They got back in touch promptly and I was recommended several styles of corset - most of them in a 20" waist measurement, and one in 18" (which admittedly struck me as a little negligent - a corset 7" smaller than a natural waist in off-the-rack sounds like it could go horribly wrong - for an inexperienced corset wearer, this could cause them serious harm).
The CS-426 was one of the styles recommended for me. Despite me taking care with lightly breaking it in, it's pretty clear that it's totally wrong for my body shape. I tend to have much more respect for companies that will admit if a product is wrong for a customer rather than trying to shoehorn them into their products. So, sadly, Orchard is not in my good books. Although I don't think their corsets are necessarily a bad deal for the price (because let's face it, $88 for a steel boned corset with some curve is very cheap whichever way you cut it), I couldn't wholeheartedly recommend their products, given that there's so many other brands out there at their price point creating a superior product.
Price: $99
Size: 20"/XS
Closed measurements: 26" underbust, 20" waist, 30-32" high hip (can be expanded with hip ties). Centre front height 10.5".
Mystic City's MCC-44 is the most expensive of these three underbusts, but it's also the one I was most impressed with. It went above and beyond my expectations of what a $99 corset could be - both from a design and construction perspective. The design is by far the most complex, with three different fashion fabrics - a gorgeous fuchsia pink poly-brocade at the centre front and back, black satin bone channels, and a loose mesh in between.  It's quite a short waspie-style corset, with a pointed top and bottom line and cut high on the hips.
As a brand, Mystic City do seem fairly bare-bones - their designs are sold only through an Ebay store with no noticable branding and pretty minimalist product photos (as shown above - note the watermark to prevent the inevitable design theft that can occur on websites like Ebay!).
The corset is constructed with a mix of single-layer mesh and twill-lined channels for strength. A rigid waist tape runs along the interior, sandwiched beneath the boning channels and slightly visible through the gaps in the mesh. The mesh has a slight stretch to it when worn, but the corset shape is kept through the rigid waist tape and bone channels. The binding is a black polyester satin bias tape, carefully machine sewn with the 'stitch in the ditch' method so that the stitching is near invisible on the outside - a thoughtful construction technique that I would not expect at this price point. There are no garter tabs on this corset.
The corset is double boned on each seam with spiral steels, with a total of 10 spirals on each side. The boning is fairly lightweight and fully fill their channels. There are flat steel bones on either side of the eyelets at the centre back and a flat steel behind the busk for reinforcement.
The busk is a standard flexible steel busk, made slightly more rigid with the steel bone behind it. It is stiffer than the Orchard Corset busk and has not been distorted through wear. There is a 1/2" placket behind the busk, stiffened with a flat steel bone.
There are 10 eyelets on either side of the centre back in a black enamel finish, in a much larger size than the other corsets - although certain corset purists tend to prefer small eyelets, I love the aesthetic of these oversized ones. All the eyelets have been well set with no splits.
On the interior of the corset, some of the black enamel finish has rubbed off around the laces to reveal the metal underneath. The hips of this corset feature five pairs of smaller eyelets in the same black finish. The back of the corset laces with slightly springy shoelace style laces, though included in my order was also double-sided pink satin ribbon as shown in the product photo. The hip ties lace shut with a narrow double-sided black satin ribbon and allow for around 2" extra hip expansion.
The modesty panel is the 'suspended' style and is attached to the lacing through eyelets rather than the actual corset. It has a fashion layer of black satin and is lined in cotton twill and features five bones for structure - four spiral and one flat. The edge is finished in a black cotton binding.
This corset gives a comfortable and dramatic amount of curve, with a smoother line than the Restyle 'Wide Hips' corset with less of a cupped shape. It's dramatically shapelier than the Orchard Corset CS-426. It's very sturdy, and took quite a long time to comfortably break it in (though not as long as the Orchard Corset underbust).
I don't find it quite as comfortable as the Restyle underbust (I've found that cupped corset shapes work best with my body) but this is still the corset that I love the most out of the three. I was generally very struck by just how neat and impeccable the stitching  is - I have literally not been able to find a single stitch out of place and cannot fault the construction - words I never thought that I'd be saying about a $100 corset!
I'd say that overall Mystic City's MCC-44 was my favourite overall piece, but I'd be most likely to wear the Restyle Matt Wide Hips for comfort reasons.
Trying these three corsets has been a very enlightening experience. Almost all of my corset purchases over the past few years have been one-off pieces from single makers, but it's great to see off-the-rack designers offering lower-priced pieces that actually shape the body.
I do think it's important though, as a customer, to maintain reasonable expectations for the price points. After all, a $50 underbust is never going to be of the same quality as a $2000 couture overbust...but they serve totally different purposes. I found it particularly interesting just how much variance there is between the three brands I've looked at in this review - in terms of garment quality, design, and branding/shopping experience. It's also worth noting that Mystic City and Restyle's designs are sewn in China, and Orchard Corset in Pakistan - both countries which have had issues with ethical labour practices.
The quality of most of these pieces was largely in line with what I would expect at this price point - there are many areas that I would personally want to improve upon, but clearly aren't a major concern for the companies producing them. Inevitably, you simply cannot have everything for cheap - there will always be a place for budget-priced corsetry, whether as a started brand or otherwise, but it just wouldn't be fair to ask them to do the same job as an individually crafted piece.
Readers - have you ever tried any of these brands? What are your thoughts on off-the-rack corsetry?
Save
Save