Lingerie Review: Tallulah Love 'Frilly Frilly' Set
Disclosure: I received this set free of charge for review purposes. All opinions are my own.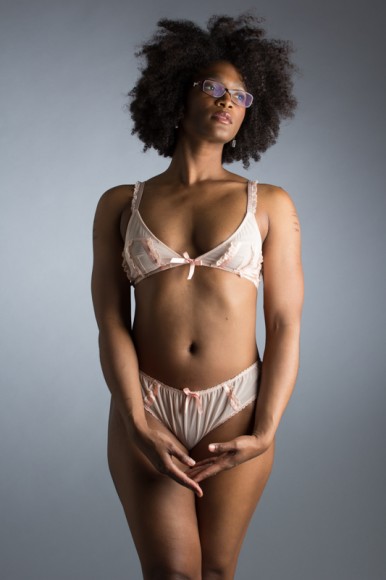 Tallulah Love is a luxury lingerie company out of the UK specializing in beautiful underwear made from luxurious fabrics. I confess, I'm very excited by what's been coming out of the UK over the last five years. I feel like you see a lot more innovation, both in terms of technology and creativity, from brands based in the United Kingdom than you see from any of the other traditional lingerie hubs (namely, the United States, France, and Australia). Of course, there's beautiful lingerie coming out of all three of the latter countries, but in terms of sheer variety, it appears to me that the United Kingdom has most everyone else beat.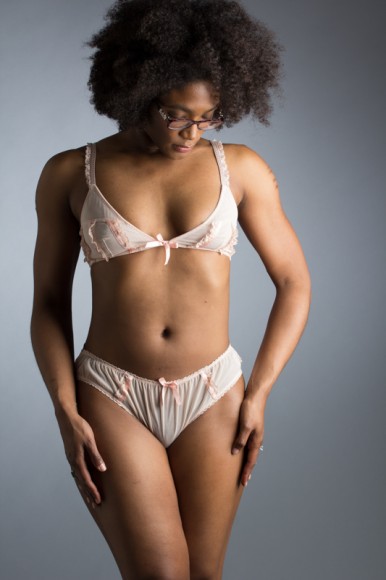 I was given the 'Frilly Frilly' bra and knickers set in size Large. Both pieces were made in China (which I admit surprised me as I'd assumed they were manufactured in the UK) of a 95/5 polyamide (nylon) & elastane (spandex) blend with a rather ominous warning on the tags to "Keep Away From Fire." I'd describe the color as a very soft powder pink or maybe even a peachy tan. The bra is a rather simple triangle construction of double layered mesh with ribbon and frill detailing. The knickers have three rows of ribbons and frills on the back, and a really lovely embroidered "TL" detail on the right side. The bra has a bit of side boning just outside the cups for stability, and the knickers have the traditional cotton gusset. I'd describe the mesh as soft and strong. There was no itchiness, roughness, or scratchiness from any of the materials.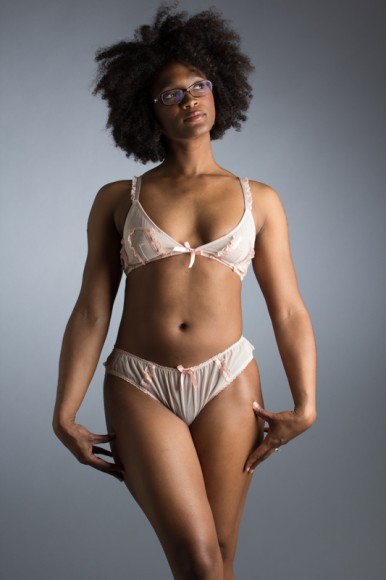 Though I couldn't find Tallulah Love's size chart on the website, I'd describe both items as generously sized. In fact, I think I could have gone with a Medium for the bra and been just fine. While I wore these items out and about for reviews purposes, I'd describe them as very much boudoir pieces. The bra isn't going to give a lot of support, and the panties are absolutely not of the "seamfree" variety. Unless you're wearing either fairly loose or fairly thick clothing, you'll probably have some show-through from either garment. For the bra in particular, I found myself slipping out of it a lot (just breathing seemed to be enough to make my breasts pop out), but again, I think that's because I could have used a smaller size.
While the Frilly Frilly set is no longer available, I am intrigued by some Tallulah Love's more recent offerings, including their Coral Lily knickers and Chantilly Blush bra set. And though I am happy with the set I tried, I do wish there was an easily accessible size chart on Tallulah Love's website so customers could feel more confident in their purchasing decisions. I also find myself a little concerned about Tallulah Love's ability to stand out in an ever more crowded lingerie market. This brand has nice lingerie, it's true, but there are so many competitors in this space now (especially in the UK) that it's harder and harder to make an impression. Overall, I'd say this is a company to keep in mind, and I'll have an eye out for what's to come next season.
What do you think of Tallulah Love? Have you heard of or tried this brand before?