GabiFresh for Swim Sexy: Glamorous Plus Size Swimwear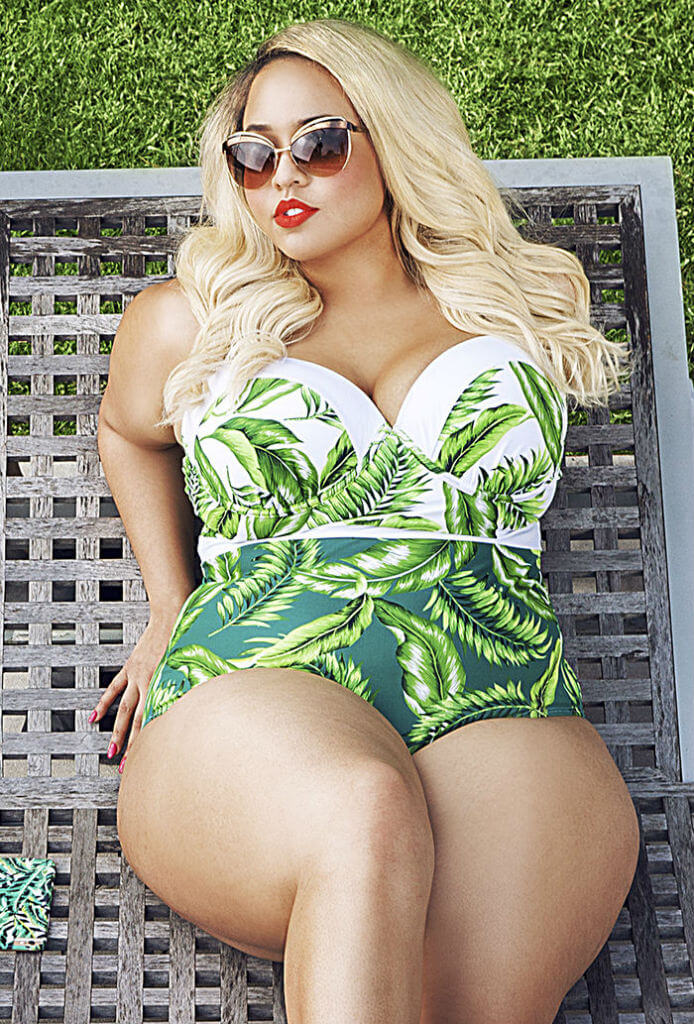 Now that we're deep into the winter doldrums, many of us are dreaming of warm weather vacations, and dreading buying the requisite swimsuit. It's easy to be wary and frustrated when the media inundates us with tips on how to get "bikini ready" - as if our bodies aren't "ready" as they are.
Well, GabiFresh for Swim Sexy is here to not only change the way we buy swimsuits, but also how we feel about our bodies. A celebrated style blogger, Gabi Gregg has always encouraged women to celebrate their size. Her collaboration with Swimsuits for All threw the internet into a tizzy with Gabi's self-proclaimed 'fatkini'. Customers fell in love, and her limited edition galaxy printed pieces sold out almost immediately. It was obvious that customers were desperate for more diversity in their swimsuit options, not only in size but in style.
GabiFresh's swimsuit designs are making waves (ha!) for being bold statement pieces that flaunt your curves. Gone are the matronly skirted suits and dowdy floral prints of traditional plus size swimwear. Gone also is the constricting shapewear swimwear that pinches and binds, making the wearer uncomfortably self-conscious. Instead, we see plunging necklines, fashion forward cut-outs, and technicolor prints. This is swimwear that is incredibly fashionable and glamorous.
The 2015 collection features 9 different pieces: 8 bikinis and 1 one-piece, and is offered in sizes 12-24, with cup sizes D/DD or E/F. Bikinis are available in different sizes for top and bottom (great news for many of us that could use this feature). The bikini tops are underwire, molded cup, longline styles that offer great support. There is also an interior powermesh shelf bra for additional support and lift. The wider bands split into double keyhole back closures, meaning no skimpy bands to wrestle with! Wider straps are nice and sturdy, yet are detachable for when you want to sun those shoulders.
The bikini bottoms are full coverage, with high waists that draw the eye to your narrowest part. In fact, there are many design details in the collection where there's been considerable thought to emphasizing an hourglass silhouette. Faux zippers and chevron stripes mirror the curve of hips to the waist. Criss-cross drape detailing hugs the curves and provides a tantalizing glimpse of skin in cut-outs. Flirty ruffles along the hips adds sass while balancing out a fuller bust up top. The one-piece features a denser tropical print on the bottom to subtly add more visual interest up top, with a wide white band to define the waist.
Gabi provides some great fit advice on her blog for women who are in love with these designs yet may fall slightly outside of the size range (Gabi is slightly outside of the size range herself!). While it would be amazing to see the swimwear offered in different cup sizes (especially in smaller cup sizes as that is such an underserved market), Gabi is refreshingly honest about how it is just not feasible at this time to make all cup sizes for all people. Here's hoping with the continued success of her designs, the size range will expand!
While the swimsuit range is undeniably striking, the campaign images are so much fun and a breath of fresh air. Gabi came up with the creative concept for the photo shoot and modeled several of the pieces. She looks absolutely diva-fabulous! Kudos to the stylists for the shoot as I not only want almost every single thing, I want to be living that life! That's an expertly executed campaign, right there.
GabiFresh for Swim Sexy launched on January 9th. Based on how quickly sizes sold out in the past, I'd hurry on over. In fact, though pieces normally sell for just under $100 for a set, they're currently 30% off until January 27th. A swimsuit that makes you look like a million and feel like a diva for $69? Yes, please!
What do you think of the GabiFresh for Swim Sexy swimwear range? Are there any pieces you'd like to try? Which is your favorite?