GabiFresh x Swimsuits for All 2017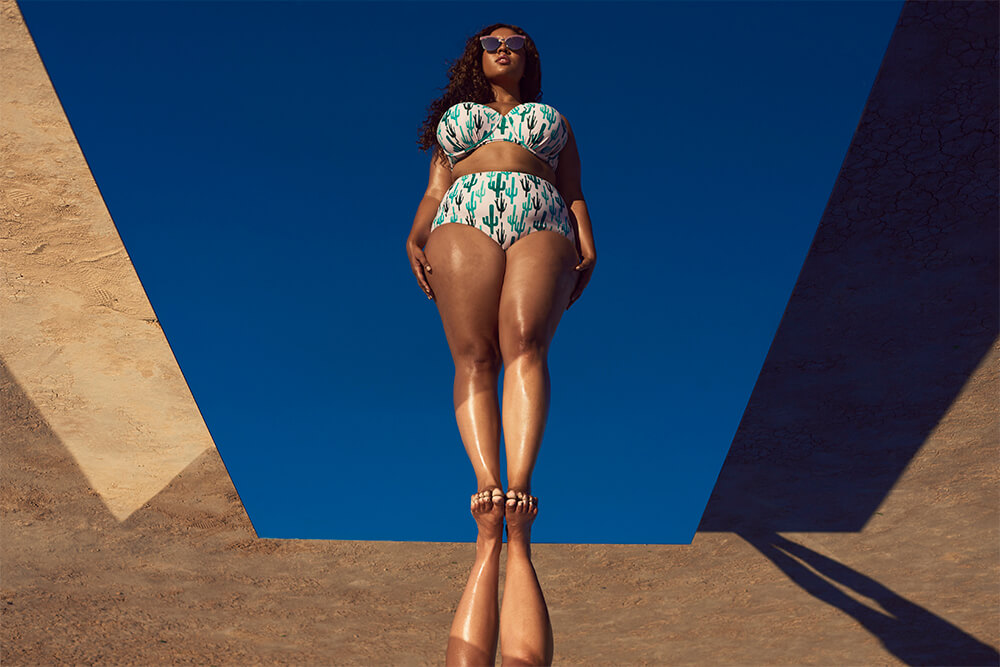 Gabi Gregg has done it again. The new GabiFresh x Swimsuits for All collection is here, and, like the rest of the collective internet, I'm in love. This year's theme is "New Year, Same You," and I adore that, especially during a season when people being actively encouraged to dramatically change (or even loathe) their bodies. The idea that you're worth loving exactly as you are right now is one I can get behind.
I've been following GabiFresh's Swimsuits for All collections for a few years now, and one of the things I especially like about this year's lookbook is the editorial polish. Gabi is serving high-fashion, desert glamour, and I am 100% here for it. This campaign is sleek, glossy and chic. It feels expensive, which is something I want to see more of from plus size specialists and size-inclusive brands. While amateurish lookbooks are fine, particularly for small labels, campaigns with a high production value are important too. These images would be right at home in a fashion magazine.
More than that, I love how GabiFresh's high-end price point and multiple sold out collections prove there really are plus size customers who will spend more for good design. There's this idea the plus size sector hates to spend money. Honestly, though, a big part of the problem is a lack of nice things to spend it on. When you pitch a collection that stands on its own and doesn't look like last season's castoffs, people will buy. It's nice to have this collection to point to as example of plus size marketing done well.
Every design from this season is noteworthy, but the major standouts for me are the cactus print Milestone bikini, the Wish bikini in red, and the Midnight Firework dress. This is GabiFresh's fifth collaboration with Swimsuits for All, and their momentum shows no signs of slowing down. I can't wait to see what happens in the next five years and beyond.
Each GabiFresh x Swimsuits for All swimsuit is available in sizes 8-24. Select suits are available in cup sizes up to an H cup. Everything is ready for pre-order now with a delivery date of January 13th. Which design is your favorite? And have you bought a GabiFresh swimsuit before?
Love lingerie? Follow The Lingerie Addict on Pinterest!