La Lilouche A/W 2014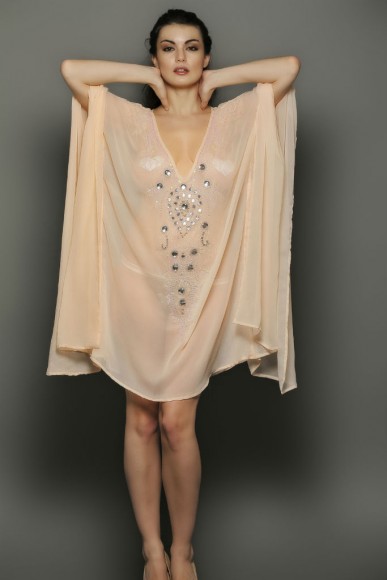 We've been big fans of La Lilouche here at TLA for years now, ever since the brand's early days on Etsy. Since then this lovely handmade label has matured and refined its point of view, creating innovative silhouettes and interesting textures. La Lilouche's newest collection is its strongest yet, with all of the sparkle and drama a girl could hope for.
La Lilouche is now based out of India, and this new collection seems to be inspired by the richness of the textiles found in her new home. There are crystal gemstone embroideries, pearl embellished ribbons, faceted mirror appliques, and shiny sequins. Designer Liya is an expert at layering materials and textures for maximum impact. These are pieces that are baroque and opulent while remaining effortlessly chic.
The "Blushing Bride" side of the collection features warm pinks, peaches, and lilacs that are reminiscent of candlelit evenings. Diaphanous silk chiffons are paired with sumptuous silks and laces, with intriguing insets of sheer tulles for peeks of skin. Embellished trims twinkle along necklines and waistbands, acting almost like jewelry. Even bra straps are encased in shimmering satin, adding to the effect of lingerie that almost glistens on the skin.
How fabulous is that kaftan?! This sheer piece is intricately adorned with tiny crystals and pearls along the neckline and down the center front. I just love how the sparkles seem to sit atop the skin. Perfect for honeymoon, resort, or even wearing over a silk chemise as a dress.
The second side of the collection is titled "Silver Lining" and is meant to evoke a moodier, more urban attitude. There are sultry silvers, dusty greys, and slick blacks. Smoky jersey knits are embellished with fine French laces for a play on textures (opaque vs. sheer, cozy vs. delicate). Embroidered laces add graphic interest when paired with leather-look fabrics that provide glossy shine.
There are some unexpected shapes here, from a hooded silk jumper to a ruffled bustle. And there is La Lilouche's signature embellishment throughout, from chiffon rosettes to sequin-dusted stockings. The skull tights are a fun surprise, adding a bit of bad-ass sass to a collection that is overtly feminine. Because it's a gemstone beaded applique, though, it fits right in with La Lilouche's love of sparkle.
La Lilouche's pieces are handmade by the designer herself, with pieces shipping 6-9 business days after receipt of order. This is an incredibly fast turn-around time for made-to-order, especially when you consider that Liya is only just off of maternity leave. Most pieces are available XS-XL, with many pieces going up to a 2X, making these full bust and plus size friendly. Items are available on La Lilouche's website and on her Etsy store.
What do you think of La Lilouche's newest collection? Do you have a favorite look?