Lingerie of the Week: Natori Feathers in Cocoa
Disclosure: This blog post contains affiliate links.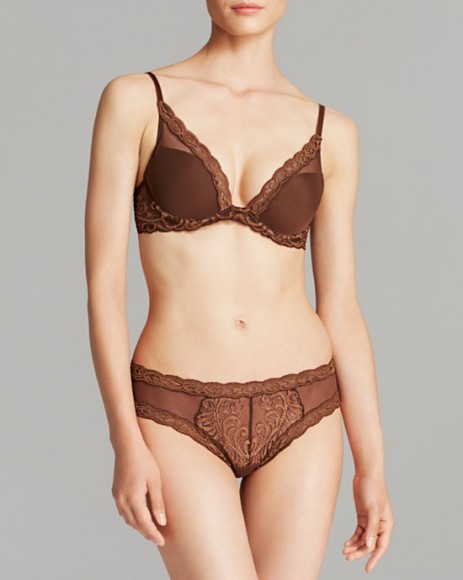 As I've written about several times now on TLA, finding nude lingerie to match your skintone can be a special challenge if you're a woman of color. The default nude in the lingerie industry is best described as beige, leaving out a rather significant portion of the world's population when it comes to finding undergarments suitable for wearing under white or sheer tops.
While some companies have tried to answer that need (notably MySkins Lingerie and Nubian Skin), I'm a firm believer in the notion of "more options is more better," and though the Natori Feathers in Cocoa is only a fashion color (which means it will almost certainly be discontinued after this season), I also believe it can double as a beautiful nude shade for darker skintones.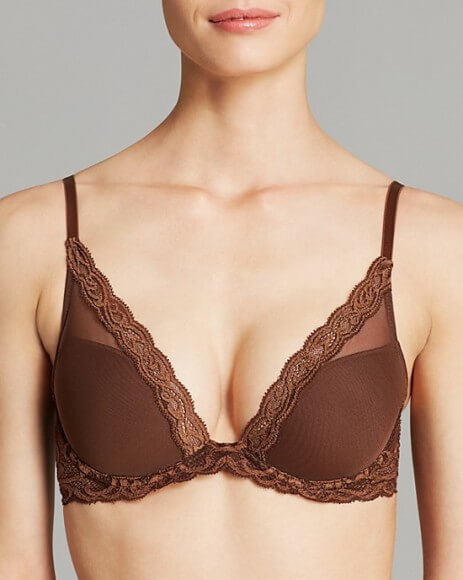 I've reviewed the Natori Feathers here on TLA before, and it is one of my favorite everyday bras. In fact, I've purchased at least one per season ever since that review... which is not something I do for every lingerie brand that crosses my path. To me, the Natori Feathers is that perfect blend of fit and fashion. Is it the most glamorous bra on the market? No, but it's not supposed to be. It is, however, comfortable, versatile, and beautiful in its own way. It's also reliable... because there's nothing worse than falling in love with a style only for it to disappear the very next season.
The Natori Feathers Plunge Bra retails for $68.00. The coordinating knickers sell for $30. As a quick aside, I'm honestly a fan of the Feathers Girl Brief or Bliss Panties over the new Feathers Hipster style (they just fit better), so I'd try one of those if your proportions/preferences tend to frequently align with mine. However, those other two options aren't available in the Cocoa color if you're big on perfectly matching underwear. Just a heads up.
At any rate, this colorway is one I plan to pick up this season. I've seen it in person, officially fallen in love, and am looking forward to having another nude option to wear this season. In fact, I may even get two.
What do you think of the Natori Feathers and the Cocoa colorway? Have you tried this brand or style before?