4 Nude Lingerie Options for a Range of Skintones

Let's talk nude lingerie.
Very often, when people ask me for a "nude" lingerie recommendation, they mean beige (or similarly light skintones). Again and again, in lingerie collections I see every season, it's taken for granted that "nude" equals light, and some lingerie retailers have even gone so far as to insist that this one shade of nude is suitable for all skin colors! I had one memorable experience in Nordstrom a few months ago where a bra seller insisted I needed a nude bra... and then offered me a beige one. When I said, "I don't think that's a nude for my skintone," she looked shocked... as though she'd never even considered the possibility that women with different complexions would require different shades of nude. And this wasn't the only time that's happened.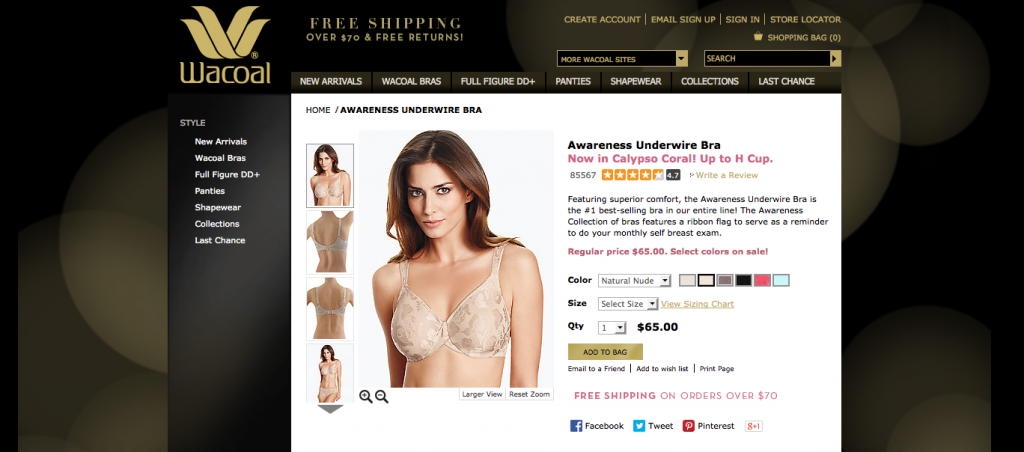 In one particularly egregious example of equating "nude" with beige, Wacoal, one of the largest intimate apparel companies in the world, offers a light, creamy tones called "natural nude." As you've probably guessed (and can see from the photo above), "natural nude" refers to a light beige. Wacoal makes amazing bras in a wide range of sizes; I own several of them. But one has to wonder, does Wacoal believe women with dark skin are unnaturally nude? Language matters. An adjective like "natural" appended before a skintone color makes some unsettling implications about the company's perception of skin color.
Unfortunately, as with many subjects of this nature, this is a topic that's very rarely discussed in the lingerie industry. My fellow lingerie bloggers, The Lingerie Lesbian and Sweet Nothings, have both written excellent pieces on the topic (and, of course, we've talked about it here it before on TLA), but more often than not, the whole "nude does not equal beige" thing is treated as a lesser issue... one that isn't even worth mentioning, much less seriously considering.
The reason this is important is because centering one skintone as "normal" or "natural" automatically displaces women with darker skintones and others them as unusual or abnormal (trust me when I say women of color are not rare). In the worst instances, as in the case with Wacoal, women with dark skin are implied to be "unnatural." It's a steady, constant reminder (one of many) that lingerie companies just aren't thinking about women of color. A name like "naturally nude" belongs in the same historical trash heap the crayon color "flesh" does. It's archaic, outdated, and, to be perfectly honest, ignorant. The entire idea behind "nude" lingerie  is that it should fade into your skin and be perfectly invisible. Yet when only one shade is ever defined as nude, you have to ask, "Which skintone are lingerie designers thinking of?" The answer is obvious. Not mine.
That said, some companies have gotten the message, and they've released beautiful lingerie in a range of skintones. Yes, I said a range. Not just one beige color and one brown color, but a variety of gorgeous tones that can work for women with a variety of complexions. Many of these items were released without much fanfare (or at least, not as much fanfare as other sorts of product releases get); they were just quietly incorporated into the company's existing offerings.
As a dark-complected woman who also writes about lingerie, I want to mention that it's vitally important to support lingerie companies when they extend their product ranges in this way. There's this impression that women of color aren't an important demographic in the lingerie industry; that their concerns should come second, third, fourth, or fifth to other issues. If you like the items featured in this post, please consider buying them or telling your friends about them. And if there's someone for whom you think this article would be particularly useful, please share it with them. I want products like these to be available for years to come.
Besides the lingerie featured below, what are your favorite "nude" pieces that come in a range of skintones? Please share in the comments and help make this post a resource for everyone!
Cosabella Trenta Skintone Panties

First things first, I'm not going to suggest any uncomfortable lingerie here. Yes, we're going to talk about lingerie in a range of skintones, but it's gonna be good stuff in a range of shades. Things you'll be happy to own, not dreading to buy. And we'll start with these Cosabella Trenta Skintone Thongs, which are, in a word, amazing. I don't even like thongs, but I wear one of these, and I completely forget I have it on. The company offers a 5-pack if you're not sure which color to buy, but they also sell them individually if you just want to get a baker's dozen to have on hand. And if thongs aren't your thing ever, that's okay too.  The Trenta lace also comes in a hotpant/boyshort with the same range of skintones available (it too, is amazingly comfortable). Fair warning: they do call one of the colors "nude," which, to be clear, is not okay with me. However, there is no other panty company that has such a wide range of nude colors available right now. I'm going to ask (and keep asking) if they'd be willing to change the color name for that shade. It's a distressing, unnecessary distraction on an otherwise great product.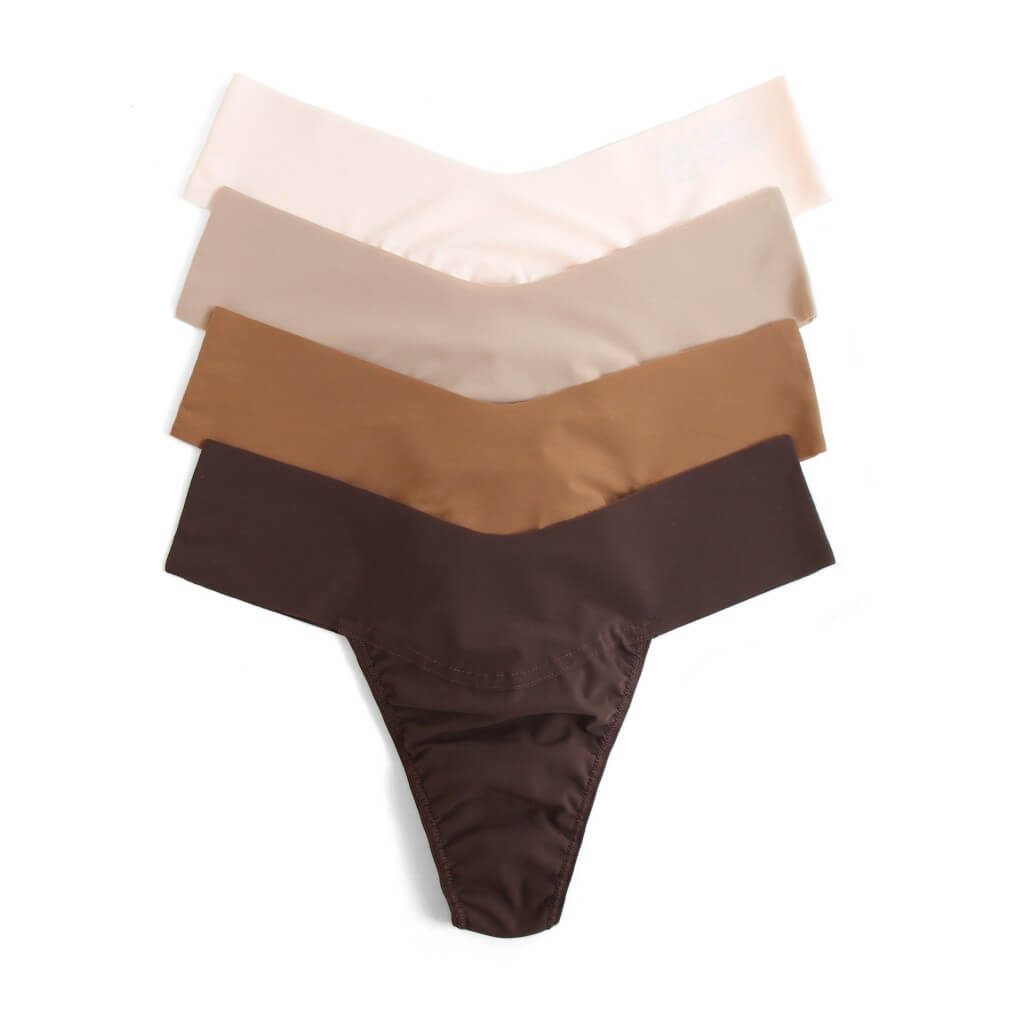 I love Hanky Panky. I love them so, so much. Not only do they make some of the most comfortable knickers on the planet, they're now answering another need... seamless lingerie in multiple skintones (I took photos of their BARE collection at the last lingerie market here and here). Hanky Panky's BARE range offers four nude shades: a very light "vanilla," a light "taupe," a mid-range "toffee," and a deep "mahogany." Edges are seamless, and the microfiber these undergarments are made from is so soft and light, it's unreal. Hanky Panky also makes the greatest range of silhouettes in this post: a tank, a bralette, a g-string, a thong, a high-waist thong, and a boyshort. I have a set of samples to try, and I'm looking forward to reporting back with a review later on.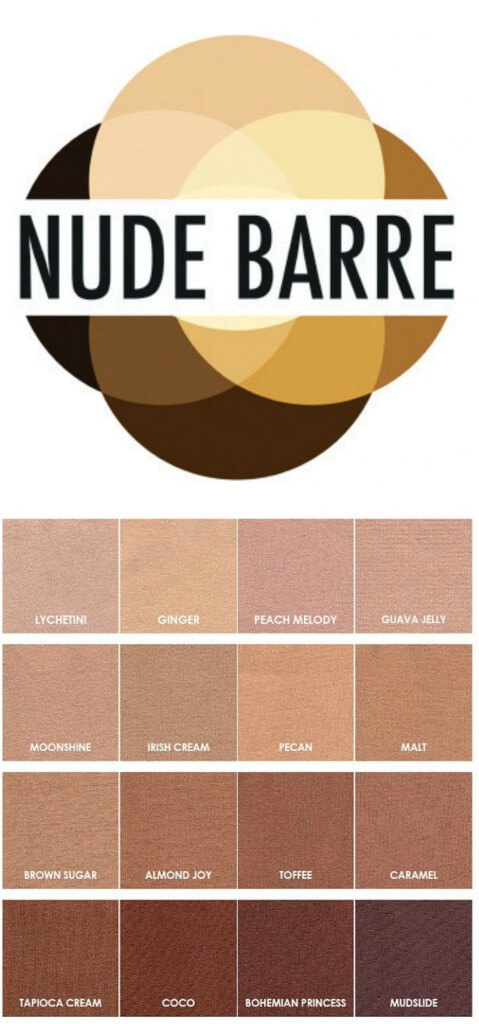 We can't talk about nude lingerie without also talking about hosiery (you understand the struggle if you've ever needed a pair of skintone pantyhose), and Nude Barre is making everyone else look bad with 16  --- yes, 16! --- nude colors. Founded by a professional dancer who had trouble finding tights to match her skin color, Nude Barre sells a wide range of styles, from opaque tights to fishnet tights to crystallized tights (I want these so badly I don't know what to do with myself. I don't even know where to wear them; I just want 'em). Nude Barre even sells children's tights! Point blank: no one has the variety they have does right now. This is a company that I hope makes a serious dent in the legwear market.

I go braless a lot. Like, a lot, a lot. Probably about a third of the time I'm awake if you added it all together, and I never wear a bra when I'm sleeping. I like bras, love them even, but I also like the feeling of not wearing a bra. It's just one of several, equally desirable options. That said, there are times I want to go braless but still keep my nipples covered for whatever reason. Nipple petals are one way to do this, but most only come in (you guessed it) one shade. And what's the point of covering my nipples with the sartorial equivalent of headlights? It's not as if a beige circle is going to just disappear into my skin. That's why I love Nippies. Their silicone nipple covers not only come in three shades (light, medium, and dark), they're made of silicone so you can wash and reuse. These are my go-to when I'm going braless and want a smooth profile. You could definitely say I'm a fan.
As I said above, I hope you'll share your own nude lingerie favorites here, particularly if you know of a bra company that's really doing awesome things with skintone shades (and especially if they're going beyond the usual 1 beige/1 brown). It's always good to know what's out there!