Lucy B Lingerie: Retro Lingerie for Modern Pin-Ups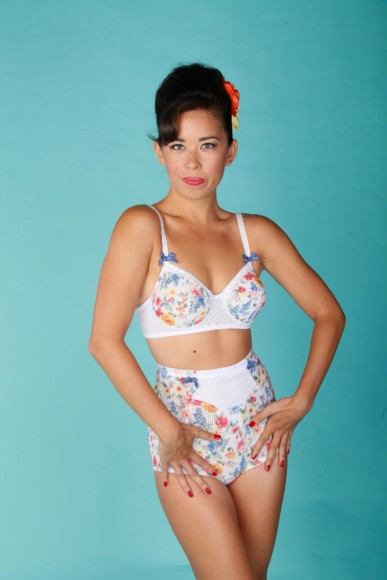 It's been several years since The Lingerie Addict published one of its most popular articles, Everything You Need to Know About Pin-Up Lingerie. And the trend just isn't slowing down. There's a certain charm in pin-up lingerie where sexily sculpted bullet bras and girdles are tempered with whimsy and sass. Few brands capture this playfulness as successfully as vintage inspired brand Lucy B Lingerie. They were last year's best pin-up/retro brand, and for good reason. Period specific detailing, coupled with attitude, make this brand both appealing and enduring.
Designer Michelle Jouvence is committed to providing women with fabulous and foxy underthings (gotta love a brand that uses the word 'foxy' in their mission!). Inspired by the pin-up models and glamour girls of the 1940s and 50s, Lucy B Lingerie is designed to put a smile on your face (and some swing to your walk). Made in Los Angeles, the brand is dedicated to bringing the retro aesthetic to its customers by offering styles at very accessible price points (bullet bras start at $54 and girdles at $59) making it an easier splurge to try the pin-up style. With a large range of collections from sweet to full-on sex kitten (their popular leopard lingerie set is a TLA fave), there's something for everyone.
Lucy B has released four new collections, from bullet bras and girdles for sweater-girl silhouettes to sheer pieces more suited for the boudoir. The Dizzy collection incorporates floral prints and sweet cotton eyelet lace that adds a down-home charm to their popular bullet bra style. The unexpected print adds a freshness to the bullet bra and actually gives it more of a late 60s and early 70s feel. The matching girdle has a flirty frill along the hem and provides light control. A great option for women who want to try a girdle but are intimidated by traditional styles that offer firmer compression.
Other pieces in the Dizzy range include a darling full slip of slippery satin that would be a welcome bit of sunshine under winter dresses (or worn as a pretty nightie). For those that aren't into bullet bras, there's a Dizzy padded underwire bra that is modeled after a 1960s style, with cups that are more perky than pointy. It should be noted that if you are into the bullet bra look, Lucy B offers falsies to fill out those points!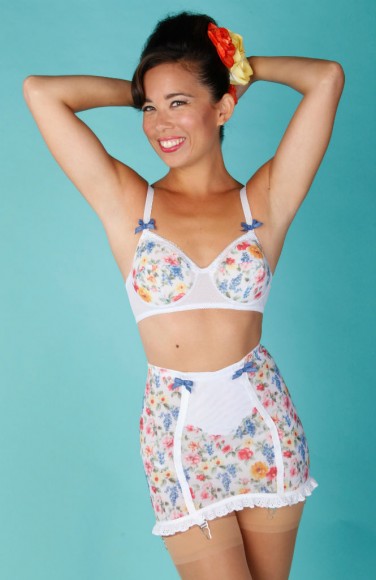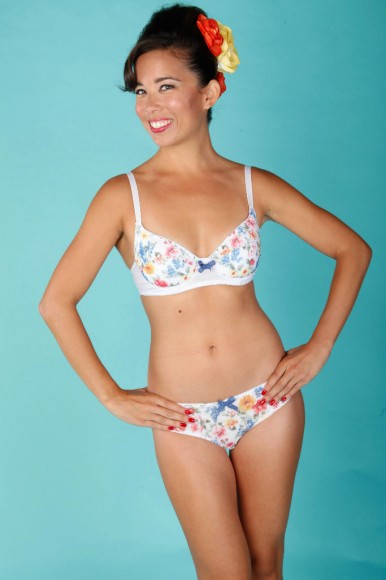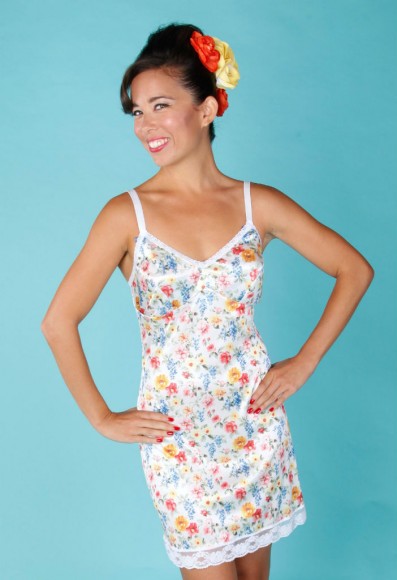 The Buttermint collection is designed specifically for the sweater girls out there. The bullet bra features T-cup construction which is indicative of the era. Made of powernet and stretch lace, this underwire style features a satin center, a dainty floral edge, and delicate lace along the channeling. The matching girdle is crafted of double powermesh at the front for tummy control. Wide elastic at the waist and the bottom encourages an hourglass silhouette and keeps things in place. The zipper closure is reinforced with a hook and eye closure behind it. And, of course, there are six metal-tipped garters for your stockings! There's also a high waist panty with a wide elastic waist and sturdy powermesh to sculpt and smooth your hips and bottom.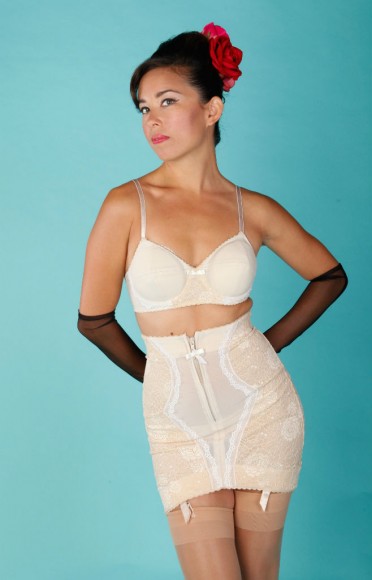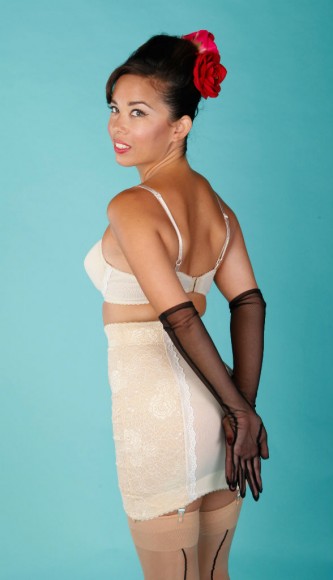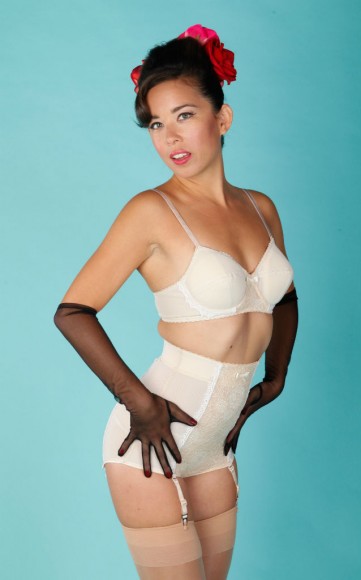 The After Eight collection is a departure from the 1950s aesthetic, taking its cue from the Art Deco age. Shiny stretch jacquard is paired with sheer black tulle and black piping for a bold look. I really like how the high-waist panties have a graphic, linear design in front (which is mirrored in the matching soft bra) yet have a scalloped design in the back. A perfect pairing of motifs that were popular in the 20s. I also like how there's a sheer panel at the crotch that can be seen in front and back. It adds a bit of playful naughtiness which is fun. And speaking of naughty, those garter panties are crotchless!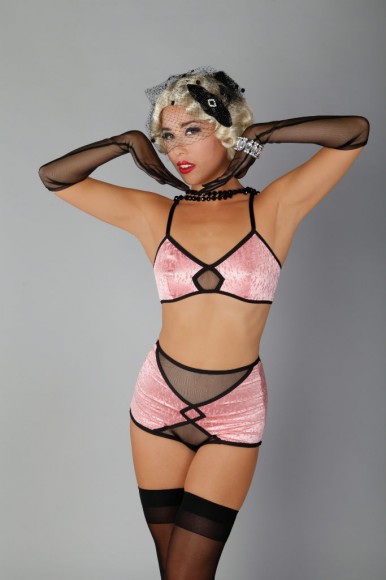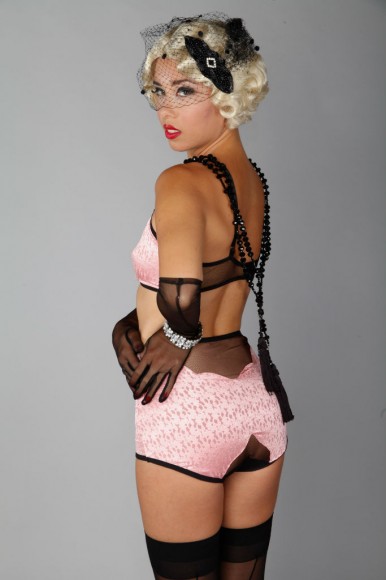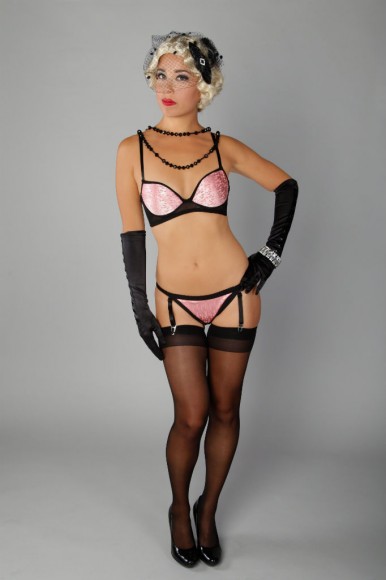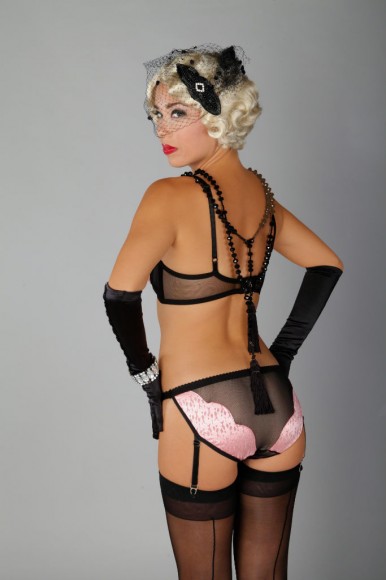 The last collection, Sugar, is crafted of pure white stretch lace and sheer meshes. Definitely sweet but with that characteristic Lucy B sass, the range includes a high waist panty crafted of stretch lace with lightweight girdle fabric for smoothing. This 1960s-inspired style has a tailored bow in front for graphic interest and charm (which is mirrored in the matching padded demi bra). The real standouts of this collection are the heart-shaped boyshort panties and matching soft cup bra. Aren't these perfect for honeymoon? Easily sized from XS-XL and priced at $87 for the pair, these would make a great gift for the bride-to-be!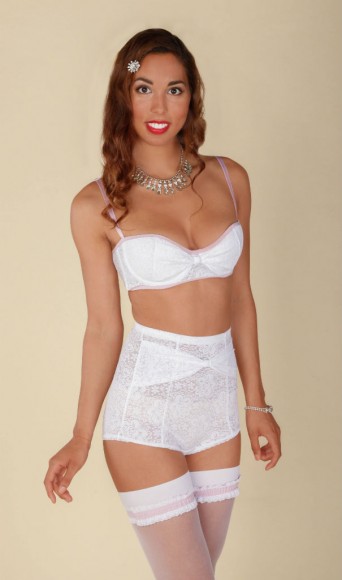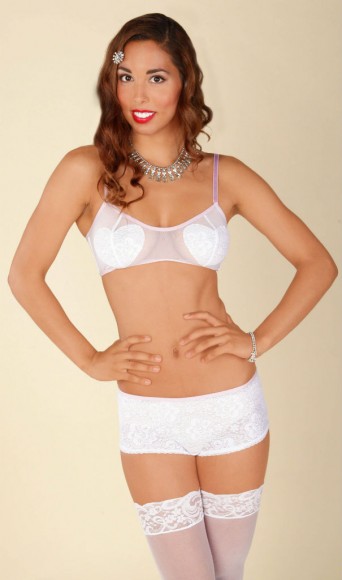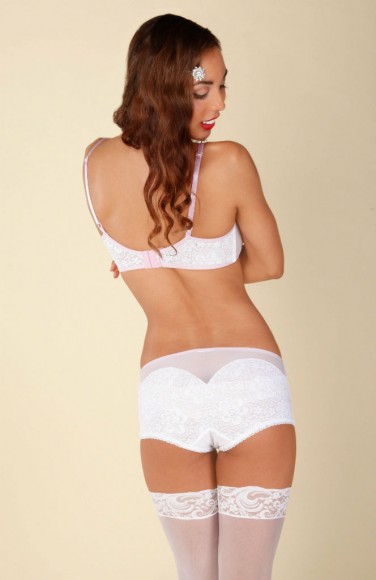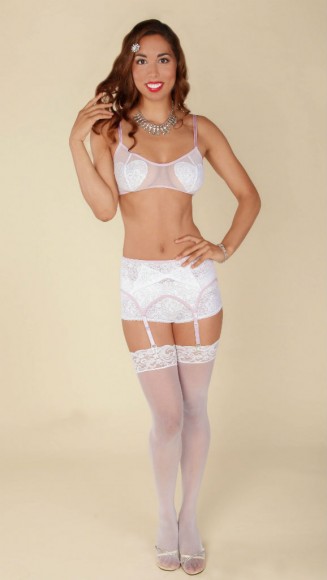 Most of Lucy B's pieces, including the bras, are sized XS-XL (fitting panty sizes 0-12 and bra sizes 32B-38C). This will create some fit challenges for women for women with larger busts. But with an accessible price point, these are a fun splurge for playing a bit of dress up and trying the pin-up style without breaking the bank.
What do you think of Lucy B? Are you a fan of pin-up lingerie? Would you try any of these styles? If so, which is your favorite?