Introducing Evgenia S/S 2015: Night Garden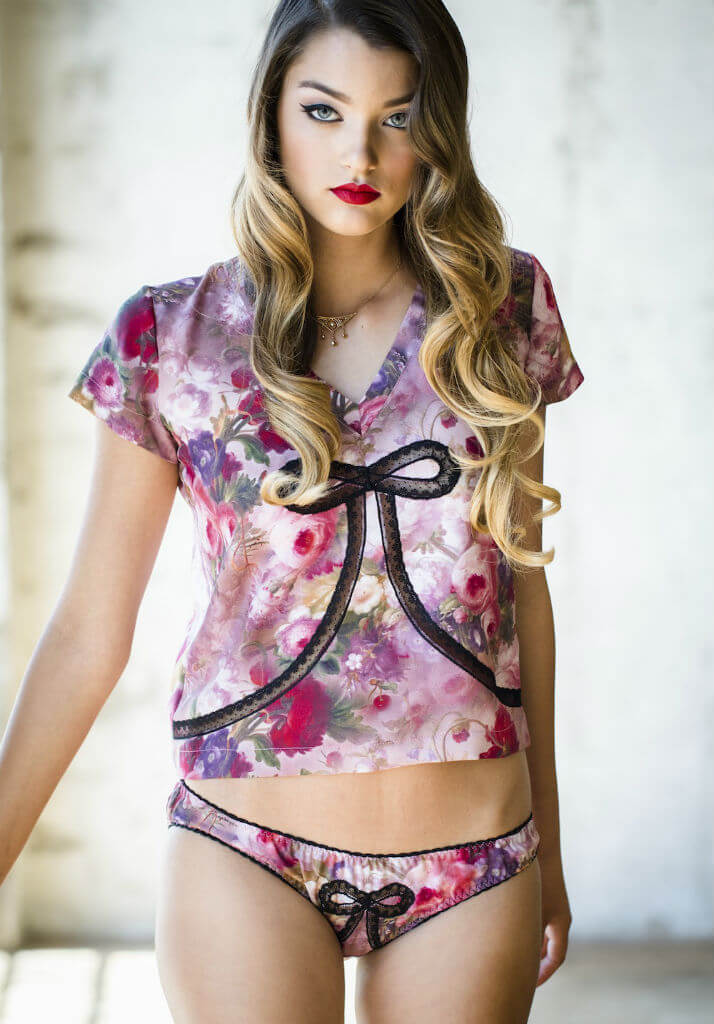 Do these gorgeously feminine pieces that harken back to the lingerie glory years of the 1920s and 30s seem familiar to you? If so, you've probably swooned over Honey Cooler Handmade at some point in your lingerie addiction.
Recently rebranded as Evgenia, designer Stephanie Bodnar is the first intimates designer to be selected for the Fashion Incubator program at Macy's in San Francisco. Evgenia is a nod to Stephanie's personal history and heritage (Eugenia is her middle name as well as her Ukranian grandmother's name). There certainly is a magical, old-world charm evident in what is definitely Stephanie's best collection yet.
We were lucky enough to get a peek at Stephanie's studio at the Bralettes & Bow Ties event earlier this year, where our columnist Marianne tried on many of her silk pieces including the popular ribbon corset. Available in the perfect shade of bubble gum pink this season as well as ivory or black, this ribbon corset is drafted from a Victorian corset and modified to fit the modern body.
Sturdy Petersham ribbon and steel boning gives the body a good cinch and is decadently sexy both as boudoir wear or layered over a dress or blouse. I love how little slivers of skin peek through the straps of ribbon in the back. Funny how such a little detail adds a lot of drama.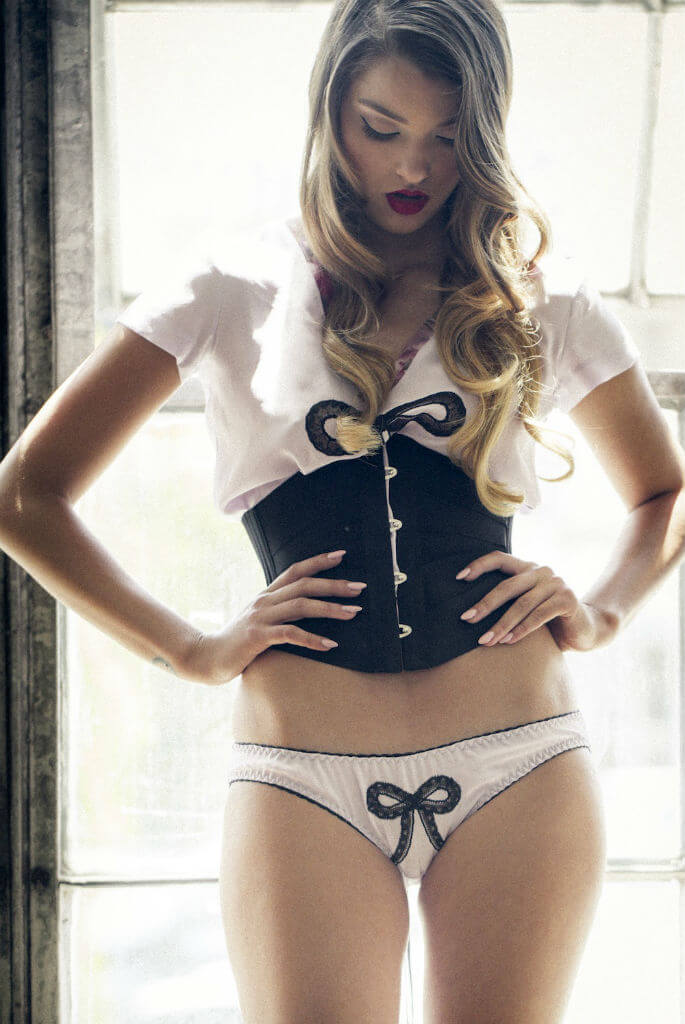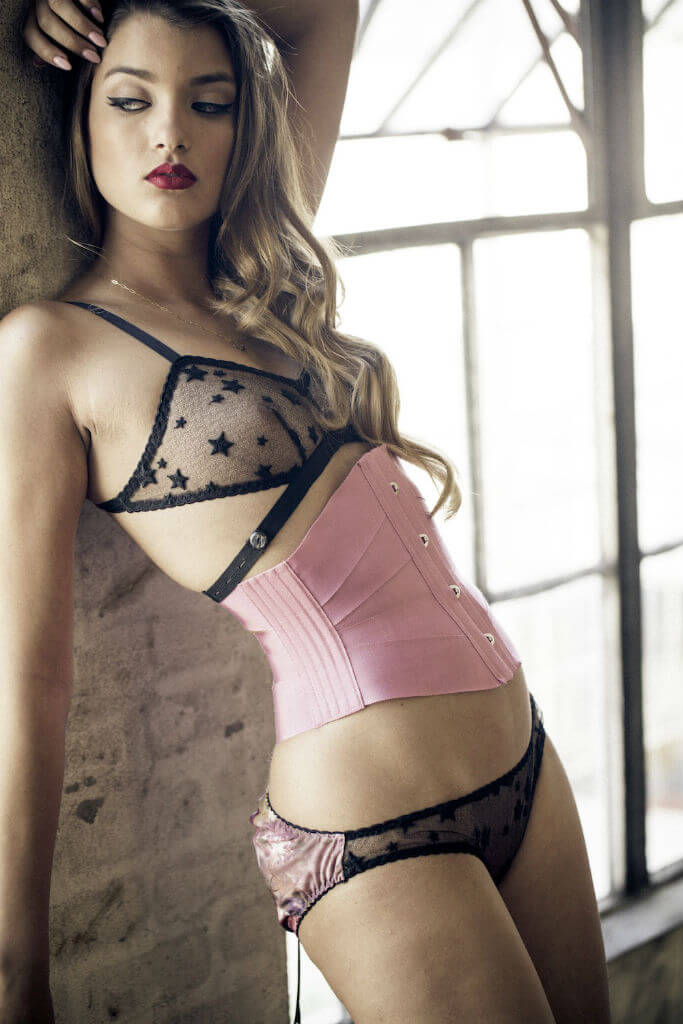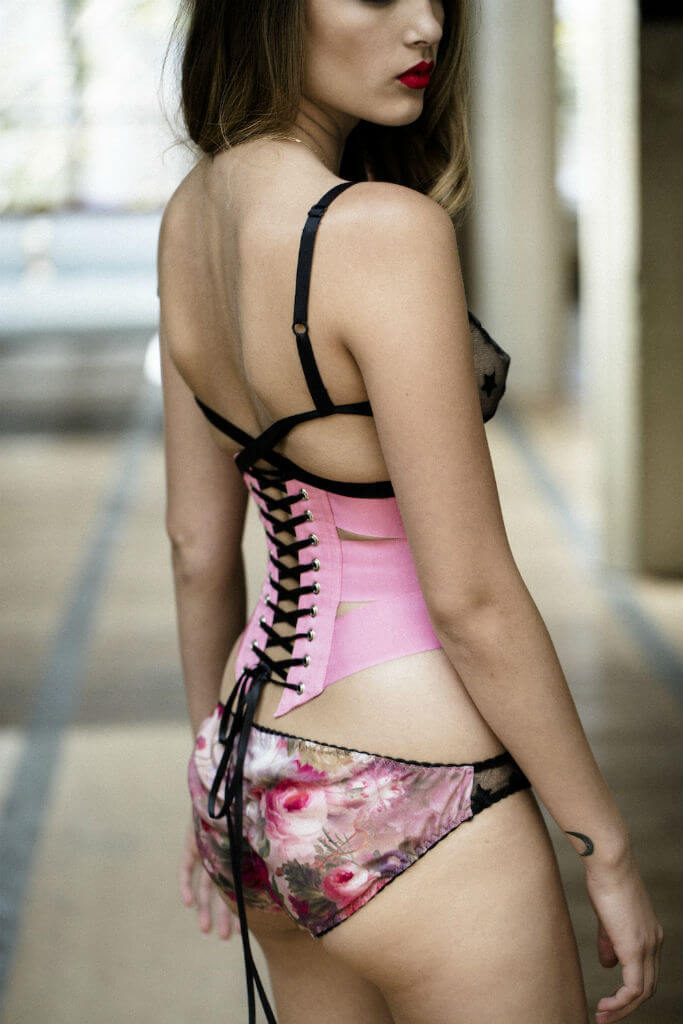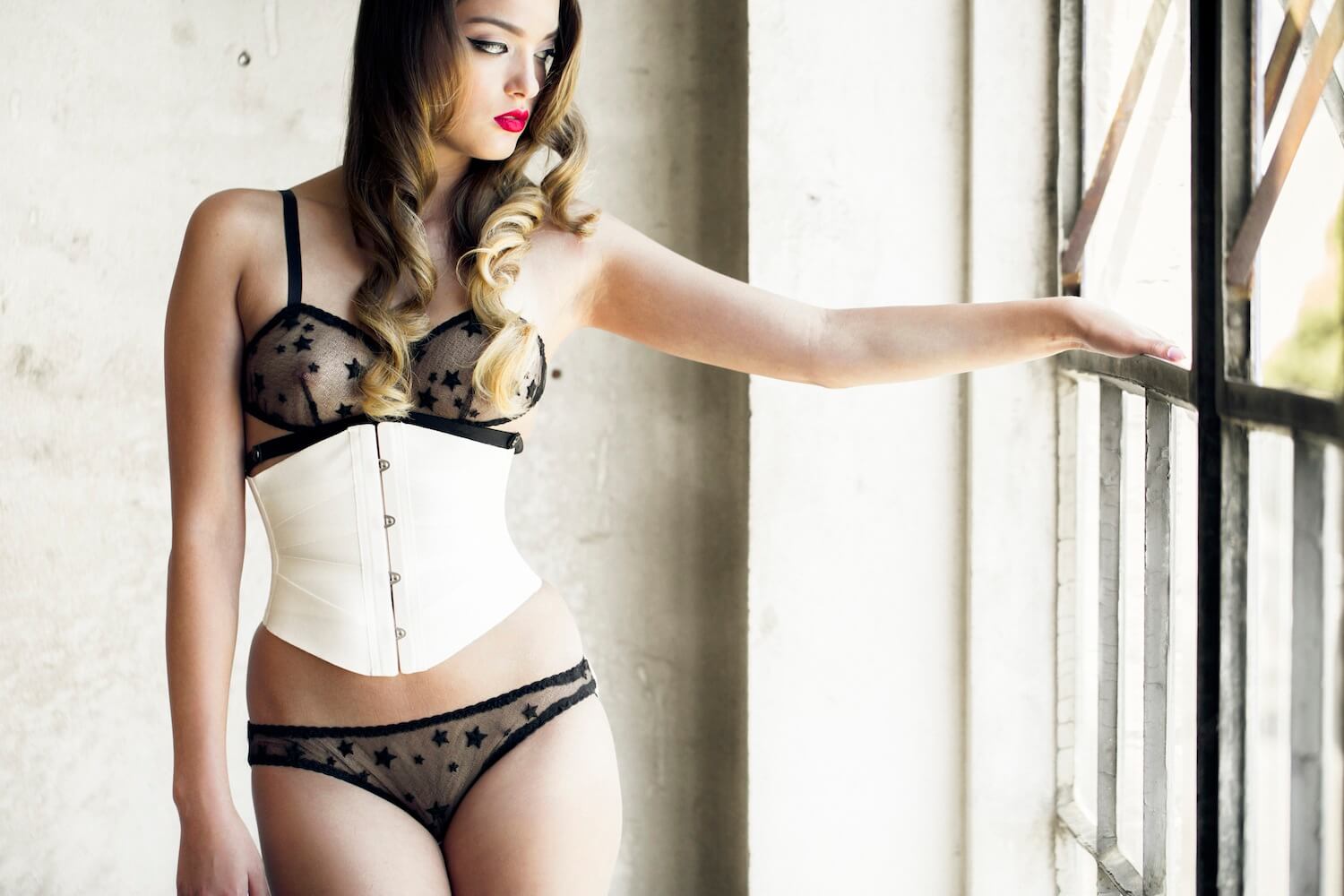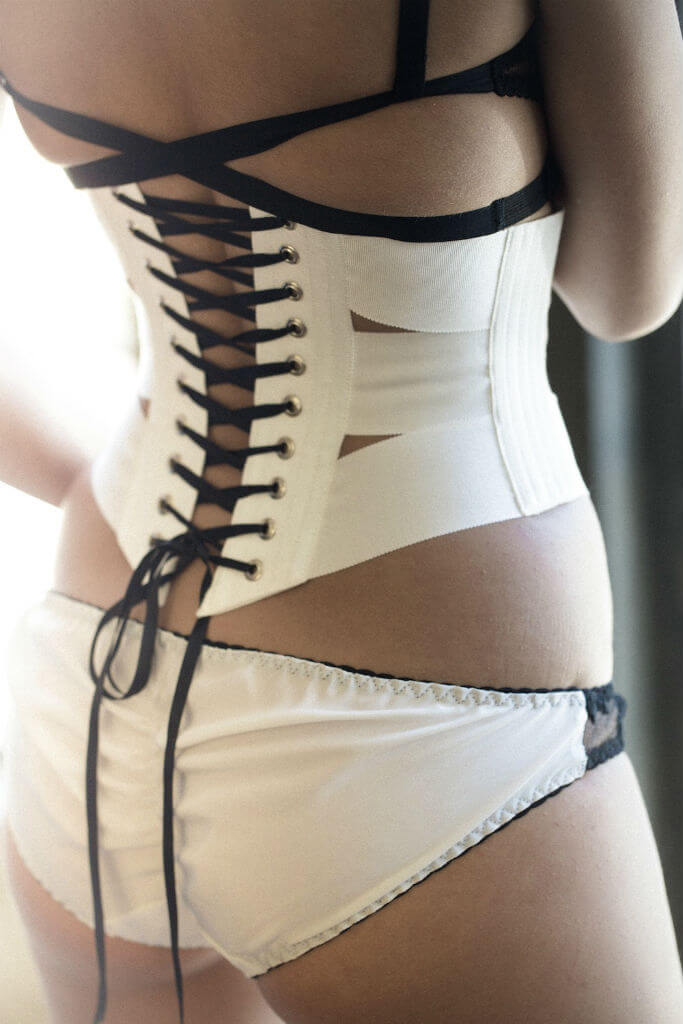 The starry bralette and panties shown above have already received such a buzz that they've been released early and are available for sale on Evgenia's website.
Crafted from sheer French lace appliqued with stars, the 1930s-inspired bralette features sateen straps and a wrap around elastic band that fastens with buttons underneath each cup. Such a great layering piece to peek from under low cut tops or sheer blouses (the criss-cross at the back is pretty fabulous and worth showing off!). The matching low rise bikini panties are starry sheer in front with floral silk crepe de chine in the back for an interesting play on textures.
My favorite pieces from the collection may be the tap panties. Tap panties are so comfortable and saucy fun to wear, I'm surprised they're not more popular. Probably because it is challenging to pattern draft a tap panty that is sleek enough to wear under dresses while comfortably accommodating the flare of hips.
Evgenia's are true to her 1930s design aesthetic, with front and back bands that sit at the lower waist and come to a point (what better way to show off that sassy bow-shaped lace insert!). The body of the tap panty is cut on the bias, which allows the fabric to skim the body and kick out with flair at the hem. The best detail, though, is the button fastening along one hip. Just like vintage tap panties (or 'scanties' as they were called in the 1930s), these fasten with delicate fabric loops atop a slit at the hip. Again, that little peek of skin is both demure and delightfully sexy.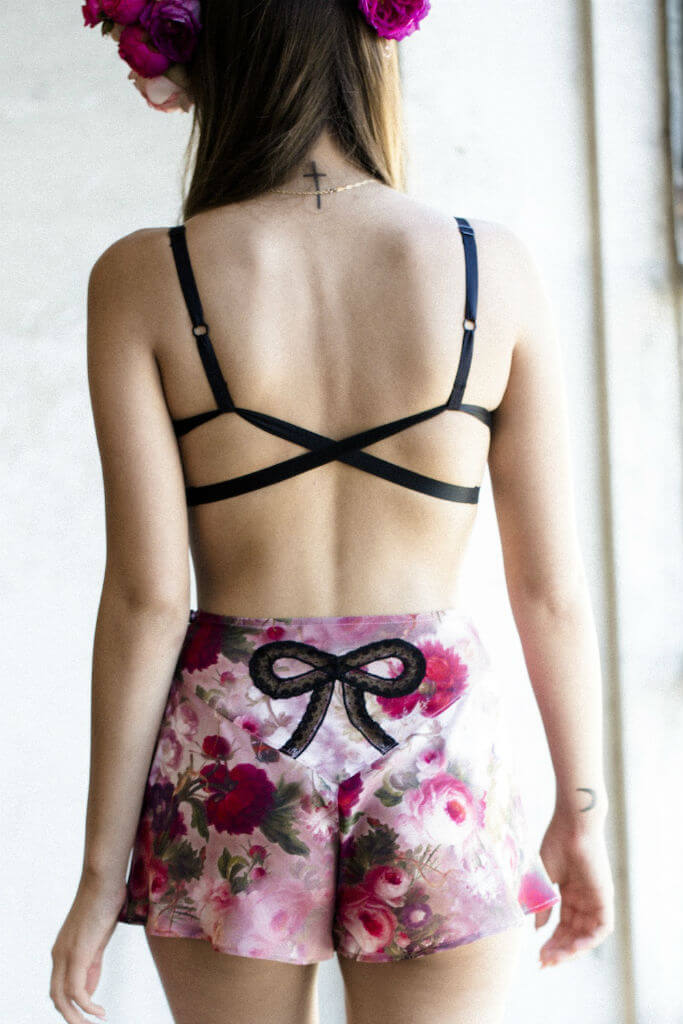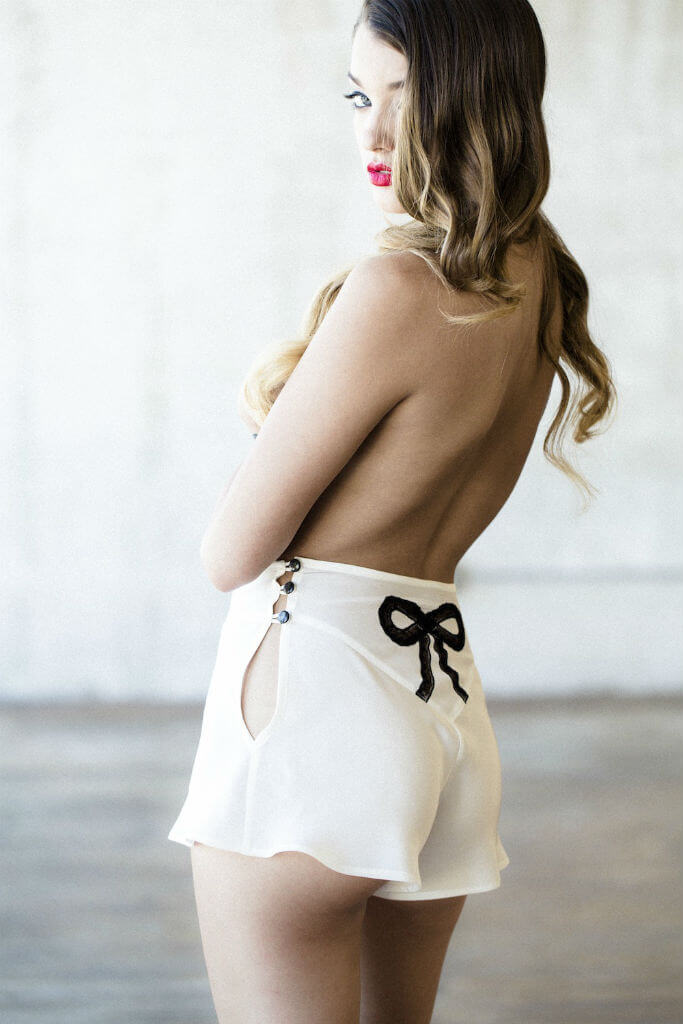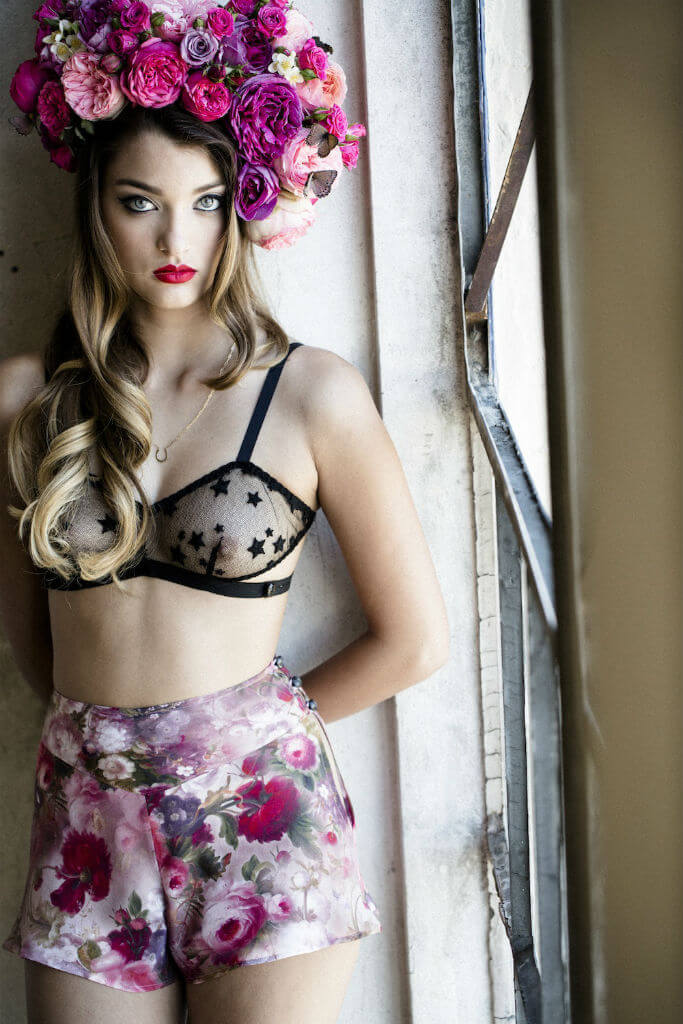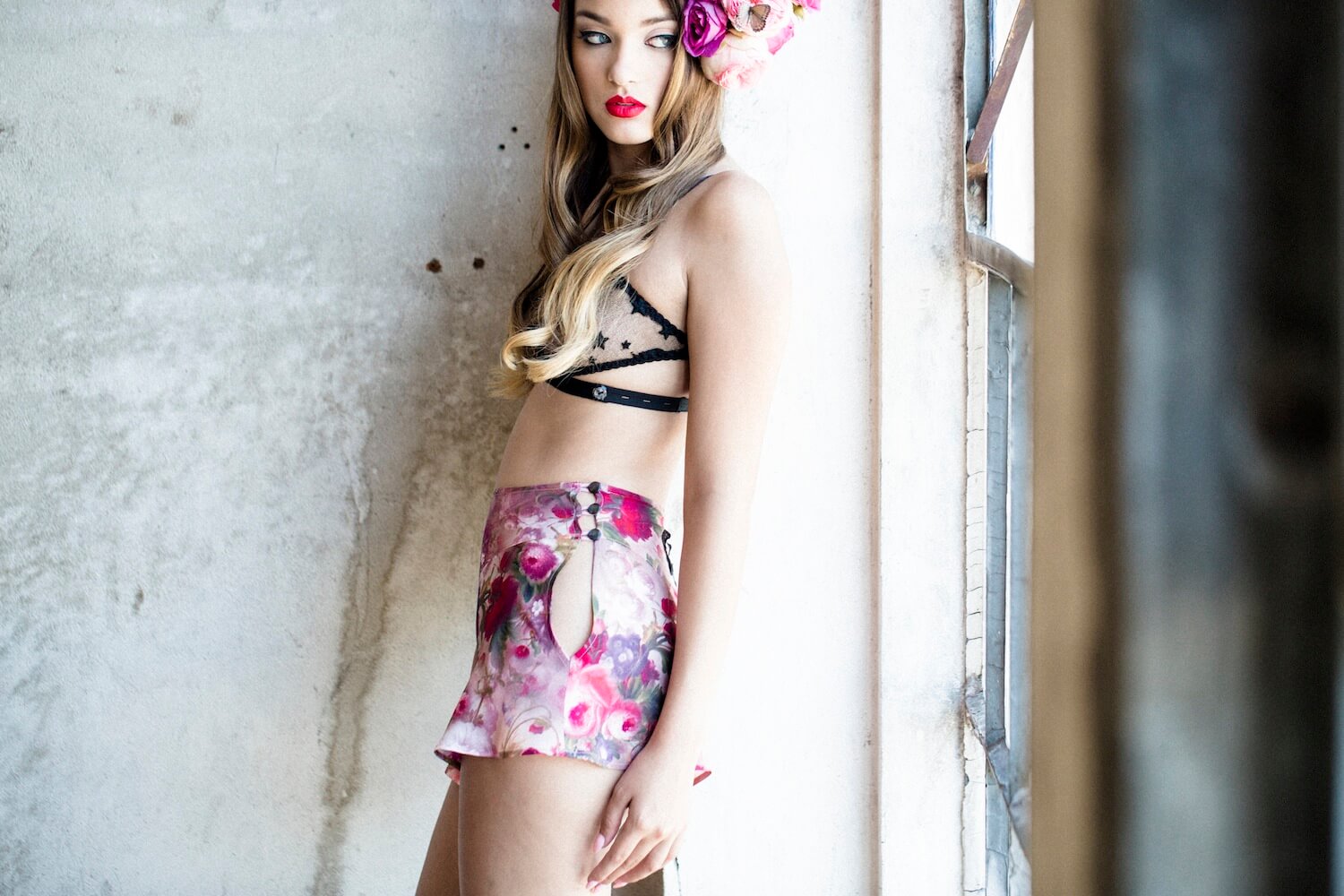 Other pieces in the collection include camisoles that are long enough to lounge around the house over the matching adorable knickers, or can be tucked into pencil skirts or trousers for work. Stephanie's signature sheer insertion lace detailing is used to great effect with bow-shaped appliques that add a bit of Art Deco detail and romantic sweetness (I love how they make a little cheeky "x-marks the spot" on the knickers!). The bow motif continues on cropped tops and a romper that looks like it came straight out of the Roaring 20s.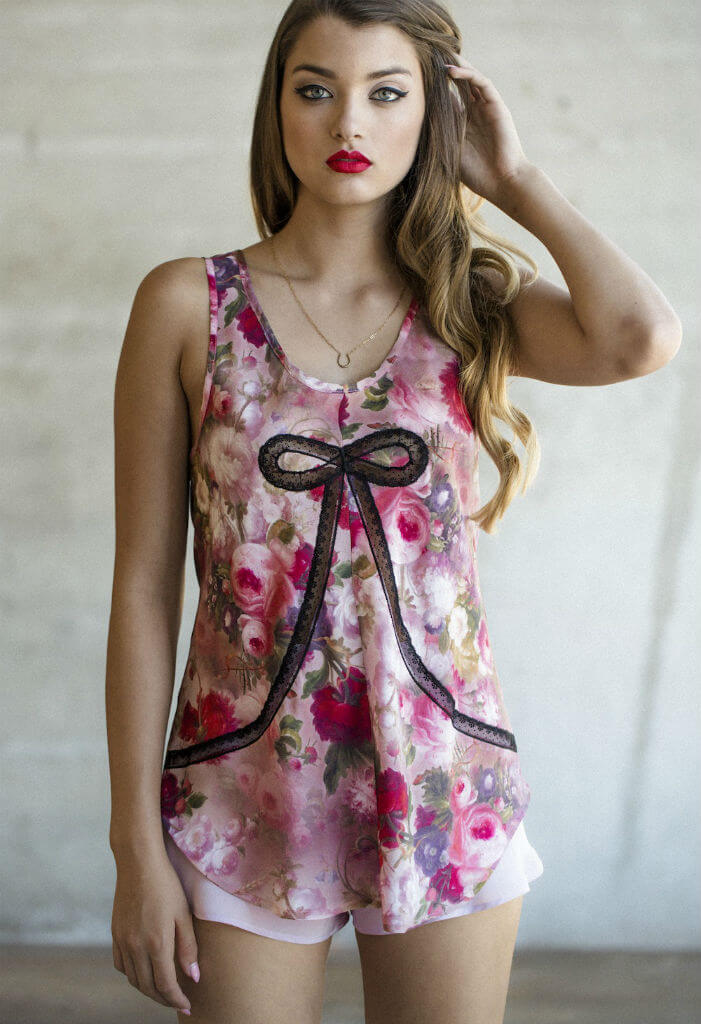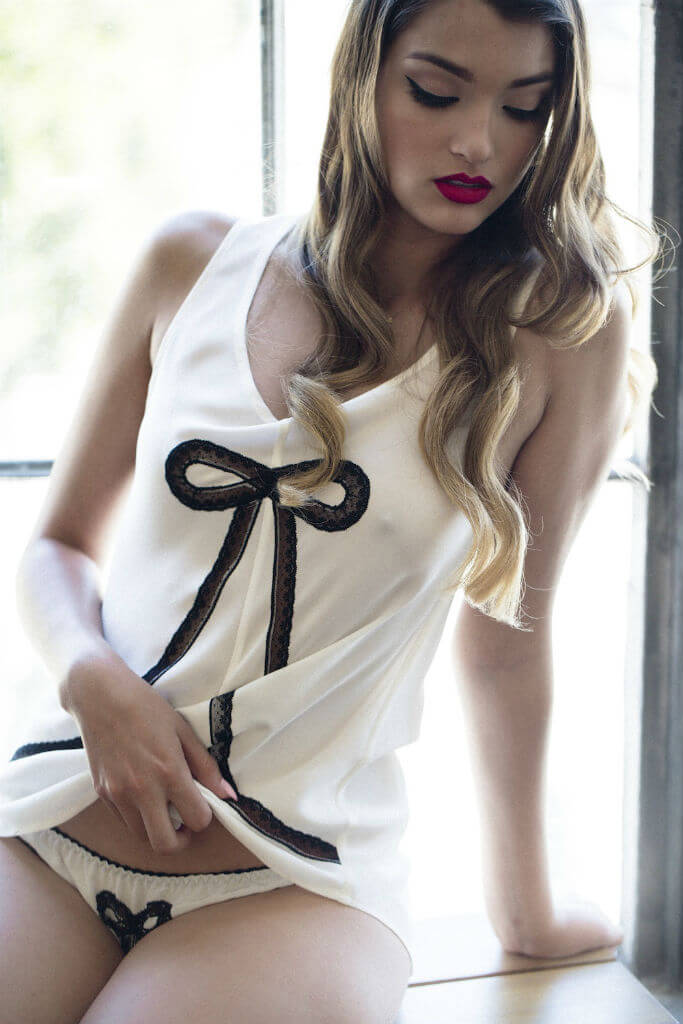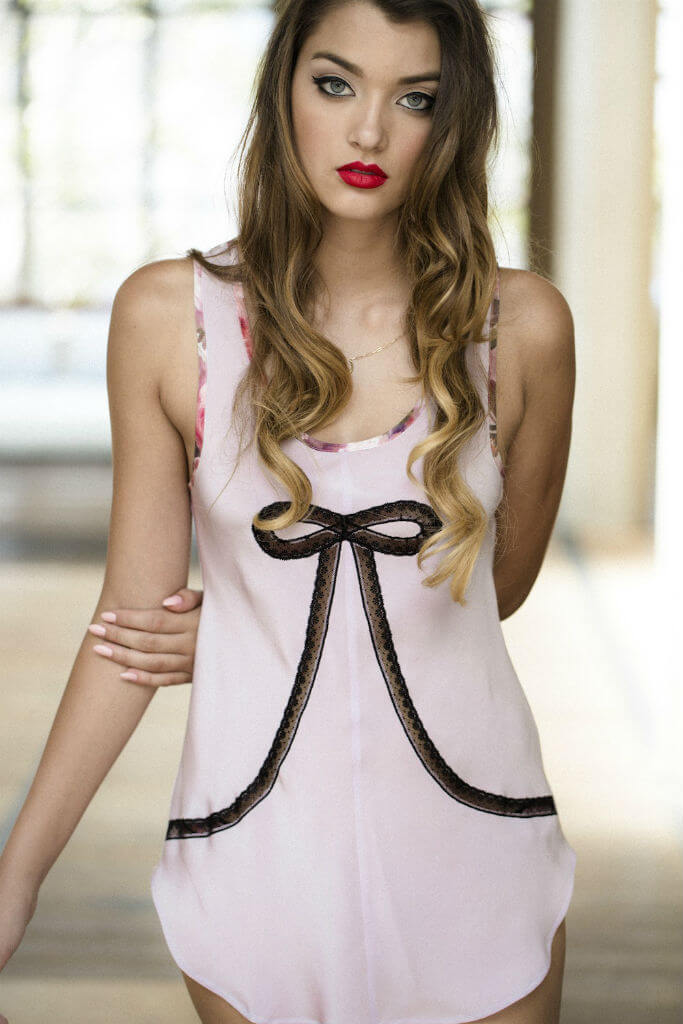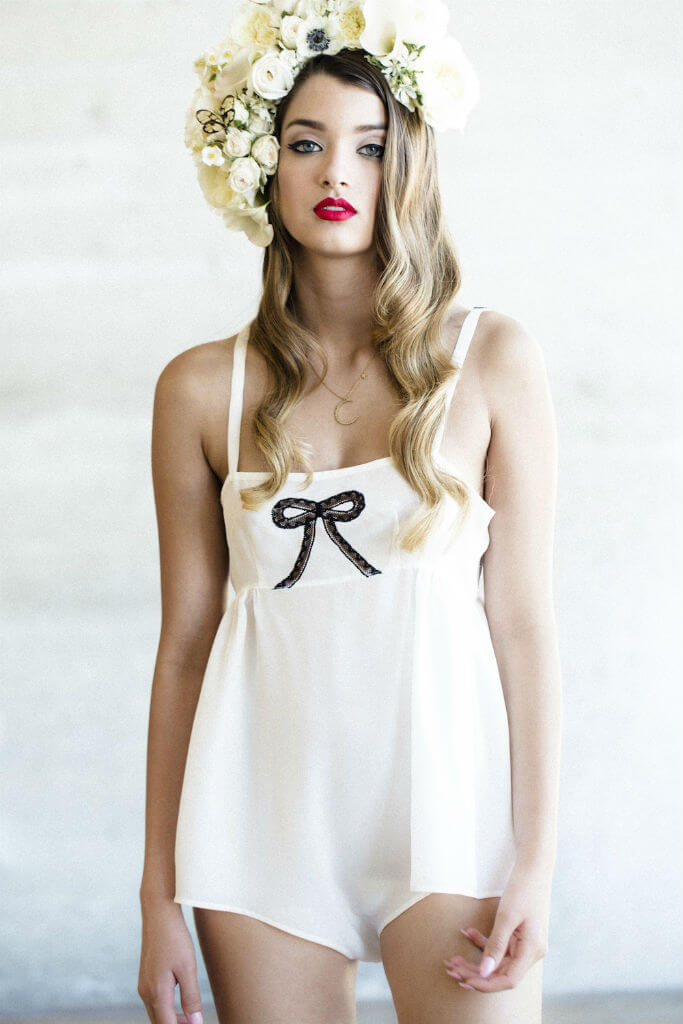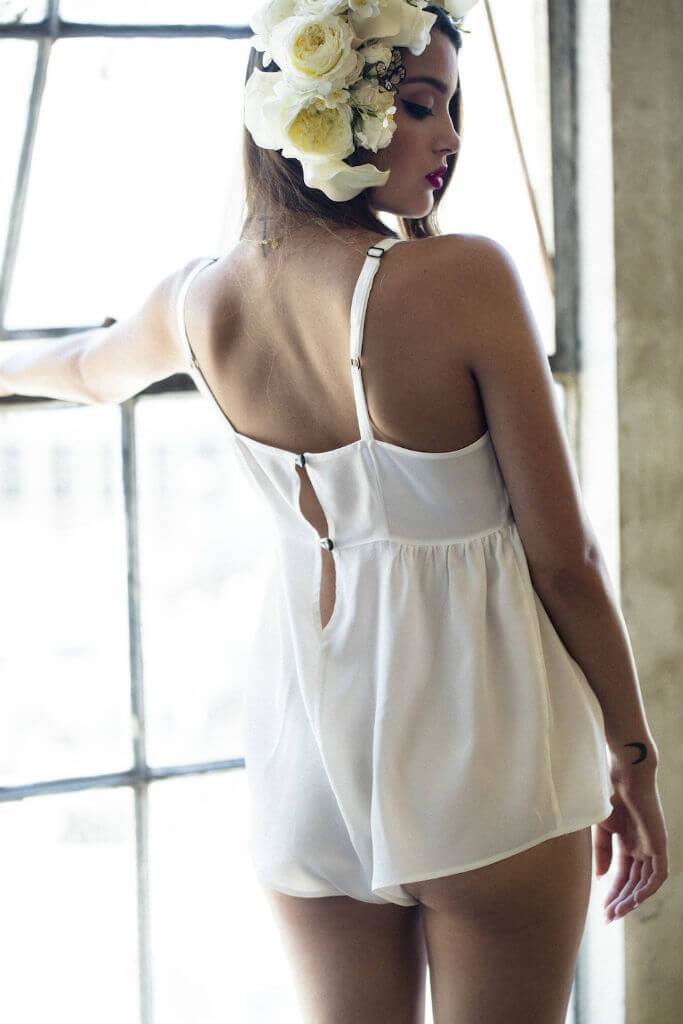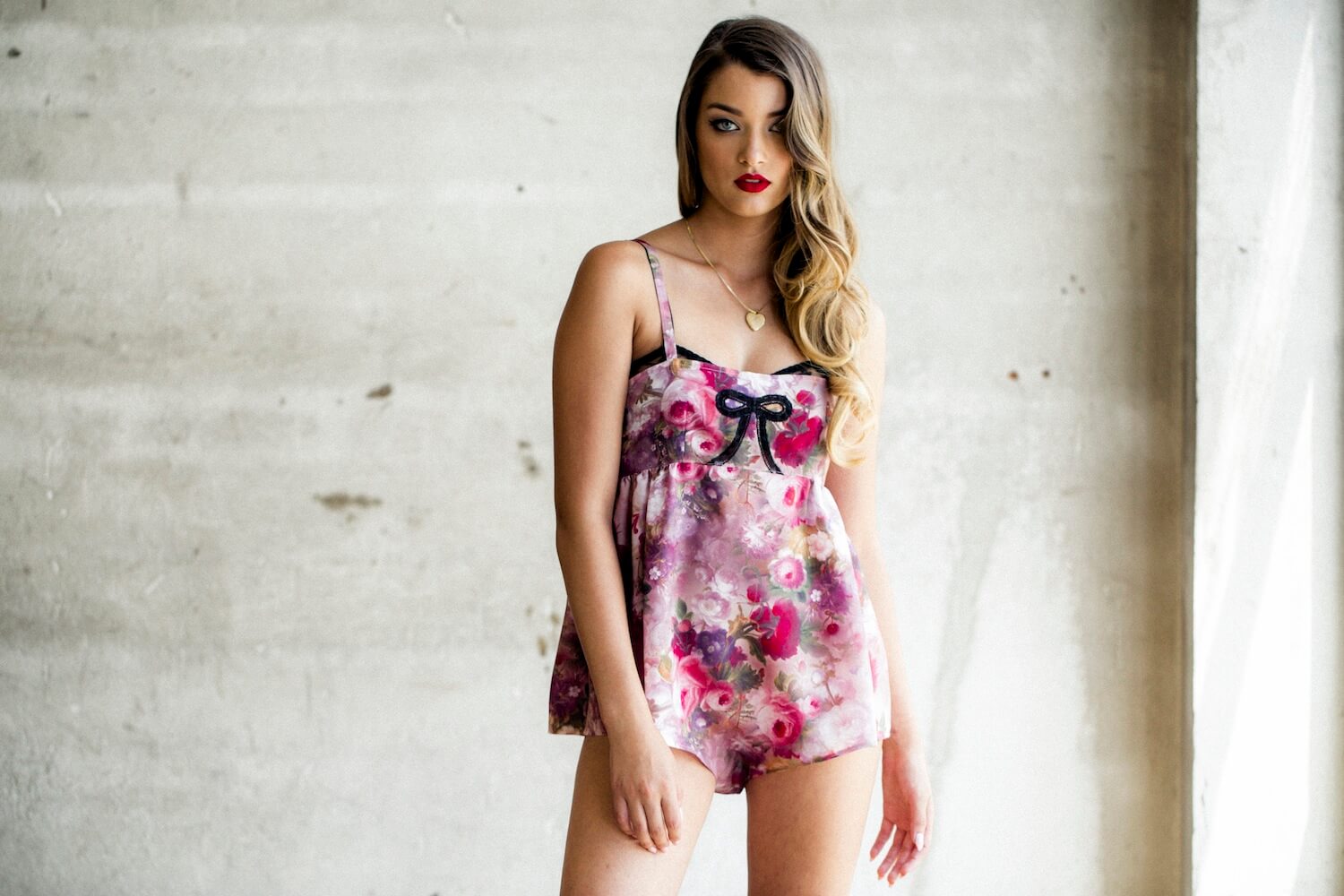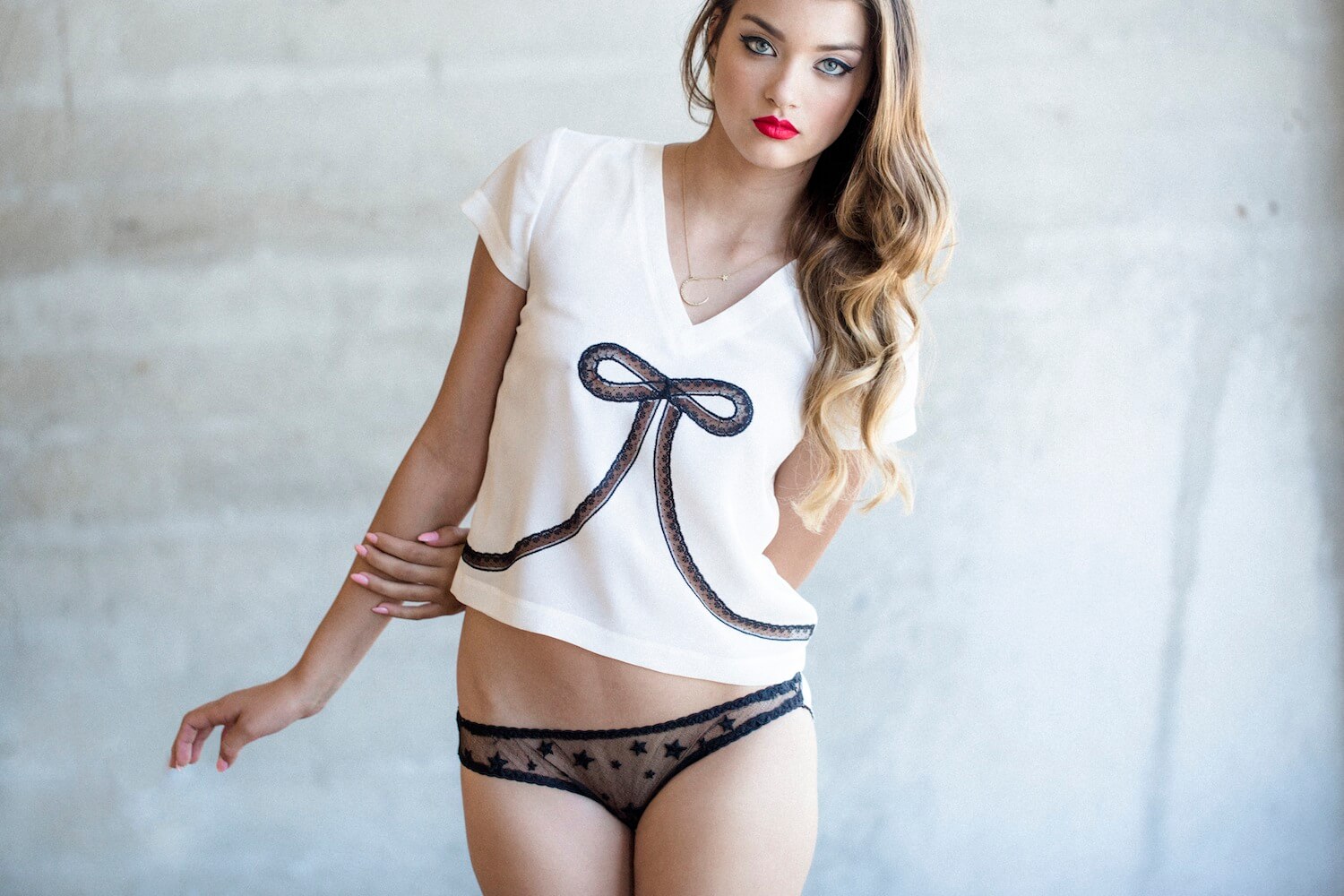 While Stephanie's early designs from Honey Cooler Handmade were special, it is this photo shoot with Kelly Puleio Photography that has really helped to elevate the brand, setting Evgenia up to make a huge splash in the industry. These well-styled shots perfectly capture the unabashedly feminine design aesthetic of the brand. This just goes to show no matter how strong a designer's work is, editorial photography makes all the difference.
Evgenia produces ethically made lingerie, with silk pieces handmade in the brand's San Francisco studio. While Evgenia pieces are available in S-L, Stephanie is happy to offer custom sizing. In fact, our full bust columnist Holly gave a glowing review to a custom camisole she ordered from Stephanie. The Night Garden collection will be available in its entirety on Evgenia's website in January. I personally can't wait!
What do you think of Evgenia's Night Garden collection? Are you a fan of vintage inspired lingerie? Which of these pieces is your favorite?