Sale Lingerie of the Week: La Perla 'Noche de Viento' Stockings
Disclosure: This blog post contains affiliate links.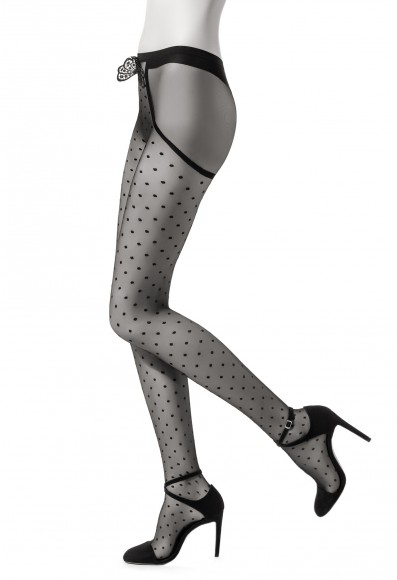 Now that it's almost Autumn, my thoughts are turning towards fall legwear - tights, leggings, socks, stockings, and that sort of thing. I love hosiery because of it's ability to update almost any outfit; a basic skirt or dress can look completely different when paired with a pair of electric purple tights vs. a  pair of skintone fishnets. Hosiery was my first introduction to the world of lingerie, and ever since, I've had a special affinity for it.
As famous as the La Perla brand is, their hosiery section is a bit of a secret. I hardly ever hear anyone mention their pantyhose or tights or thigh highs, but I've found some amazing pieces from them. Their styles are consistently unique and interesting, but also very wearable...especially in the United States which has a somewhat more conservative lingerie culture. And they hold up extraordinarily well to wash and wear; I have a pair of La Perla thigh highs that's almost 6 years old.
I like these 'Noche de Viento' stockings (though they're really more like pantyhose or tights) for a few reasons. First of all, I adore that dot pattern. I'm a sucker for dotted tights because they're just so fun. Second, I'm really digging that faux cutaway detail at the waist and hip. There's just something very sensuous about that to me. Finally (and this may be what some of you noticed first), I'm loving that butterfly embroidery at the waistline. No, I imagine it's not invisible under clothing, but it's such a luxurious detail and it's exactly what I'd expect from La Perla. It also coordinates with the rest of the Noche de Viento line so you can match your bra, your knickers, your loungewear, and your legwear.
These tights are on sale for $40.80, down 30% from the original price of $68.00. They're available in the color black and size 3, which is equivalent to a L in US sizing (though my personal experience with La Perla hosiery is that they're well made enough to accommodate people a little outside the size range as well). Please note, sale items at La Perla are final sale. In addition, because these are sale items, availability may be limited.
What do you think of the Noche de Viento tights? Would you wear these?