Lingerie of the Week: Allegra Bodysuit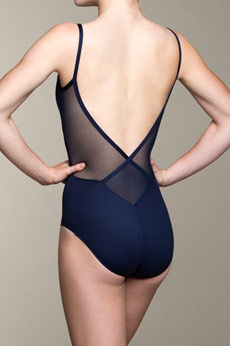 This week's "Lingerie of the Week" isn't quite lingerie. It's dancewear though, and a bodysuit, so I suppose that makes it activewear?
I went through a big bodysuit/leotard phase about five years ago, but I grew out of it pretty quickly. One-pieces were just a bit too cumbersome to deal with a regular basis. Who wants to disrobe completely to use the bathroom, after all? This Allegra bodysuit from AinslieWear has me reconsidering that position, however. The obvious draw of this piece is, well, obvious. That deep-V mesh back is perfect. I want to wear this with long, loose maxi skirts and short shorts and black jeans because this is the kind of piece that makes any outfit roughly 1,000% more elegant. At $58.00, it's also a much more reasonable price than I'd expected.
The Allegra bodysuit is available in three colors (black, white, navy) and five sizes (petite, small, medium, large, extra large). According to AinslieWear's size chart, the extra large fits maximum measurements of 40-35-45." That said, the weight maxes out at 150 lbs., which seems... light? Regardless, this is a beautiful piece and from a corner of the industry I rarely remember to check.
What do you think of the Ainslie bodysuit? Is this something you would wear?