ThirdLove Lingerie Review: Will This Bra Fit App Change Everything?
Disclosure: ThirdLove sent me this lingerie for review purposes. All opinions are my own.
Editor's Note: According to a recent email from ThirdLove's co-founder in response to this article, the company did not send me 34Cs but sample sizes of 34Bs and 34Ds instead. The bras have no size tags (ThirdLove does not sell bras with size tags). Therefore, the fit portion of this review has been removed.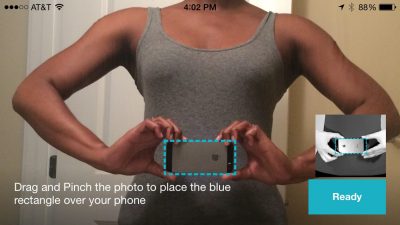 ThirdLove is one of several lingerie startups (the others being True & Co. and Adore Me) that have taken the worlds of tech and fashion by storm. Despite numerous (and overwhelmingly positive) features in publications like Fast Company, Refinery29, The Business of Fashion, and Vogue, the intimate apparel industry has had a notably cool response to these new companies.
The lingerie world has always been resistant to change and reluctant to adopt new technologies. Just yesterday, I read an article on The Lingerie Journal waxing poetic about the "good old days" of pre-internet retail. Every season, I speak to brands and retailers at lingerie market that are proud of not having a website, email list, or social media prescence (often with the refrain, "Our customers aren't online").
While that kind of posturing may sound endearing to their other soon-to-be-obsolete peers, there's an entire generation (and, very shortly, two or three generations) who is accustomed to buying things online. Heck, many people even prefer to buy things online. The lingerie industry's almost glacial response to online marketing (and their larger resistance to technological integration overall) has created a void that many other companies are all too eager to fill. Furthermore, the rise in mobile technology has created another gap, particularly for brands that have opted not to create apps or mobile-friendly websites. This is the gap ThirdLove is attempting to fill.

ThirdLove is explicitly about disrupting the traditional approach to lingerie, removing both brick-and-mortar boutiques and mainstream brands from the lingerie shopping experience. Their app sizes you using image recognition technologies and then recommends bras from their in-house collection for purchase. It's a virtual fitting and shopping experience, requiring no person-to-person interaction at any stage in the process. ThirdLove's bra selection includes balconette, plunge, and t-shirt styles in both regular cup sizes and "half cup sizes." The company also offers a limited selection of loungewear/daywear.
I confess, I felt a bit skeptical about the whole app fitting process. So much of bra fitting is "fuzzy." There's no single formula that works for every body. Even when you know your preferred size, changing brands or styles could mean wearing another size. Despite many people's best efforts, it's hard to set anything approaching strict rules around something as subjective as bra fit. For this article, the review is split into two parts: 1) a review of the app and 2) a review of the lingerie.
ThirdLove App Review: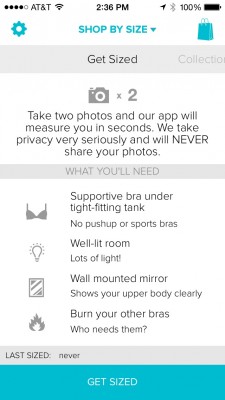 Before I get started, let me just say that I do like the idea of being able to handle all your bra fitting at home. While the "traditional" lingerie industry always recommends seeking out a professional bra fitter at a boutique, it's worth noting that 1) this recommendation is in the best interests of boutiques and 2) not every person has access to a lingerie boutique (or a Nordstrom). The suggestion to "only go pro" is great if you're in a major city like New York, but lots of people are far from major metropolitan areas. It's just not reasonable to suggest that people drive 50 or 100 or 200 miles (or more!) to get a professional fitting. I didn't grow up in a terribly small town, but I lived over 100 miles away from the closest Nordstrom or lingerie boutique - and that situation is not unusual in the United States.
It's also true that people have circumstances unrelated to distance that may make a boutique fitting impossible or at least very difficult. Someone with an anxiety disorder or a mobility-related disability may find getting to a boutique represents a tremendous obstacle. And unfortunately, some customers face discrimination even when they get to a boutique (as a recent Petticoat Fair incident showed). So there's definitely a ustification for solutions like this. People for whom the traditional paradigm is a poor fit (no pun intended) deserve options too.
That said, as I mentioned before, bra fit is incredibly complex. It's not an exact science, no matter how many mathematical formulas are used. There's simply too much variation --- in both body type and personal preference --- for that to ever be resolved.
To use ThirdLove's bra fitting feature, you first have to download the app (available now on iPhone and coming soon to Android) and register. When I first logged in, I was directed to the bra shopping page, but if you go to the top menu and scroll across (towards the left), the bra fitting portion of the app is the first option. From a usability standpoint, it would have been nice, as a first time user, to have the bra fit app viewable immediately to me. Barring that, it should have been accessible from the dropdown menu, especially since a core piece of ThirdLove's marketing is bra fit.
Once you get started with the fit app, you're shown a detailed step-by-step video, which I've taken screenshots of below: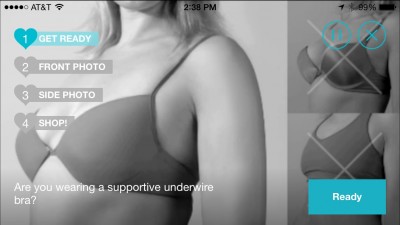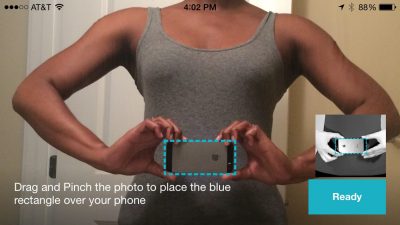 As you can see, I chose to wear a tank top while testing the app. I also tested the app using three different bras (Natori Feathers in 34D, Claudette Mesh Dessous in 34C, one of ThirdLove's sample bras [size unknown]) and braless. I was interested in seeing if the shape or lining of a bra might affect the reading. Once you're finished with the video presentation and ready to take the photos, ThirdLove gets one shot each from the front and the side.
If you're not holding your phone correctly (for example, if it's angled up or down or rotated too far), the app instructs you to self-correct before taking the shot. I did have some issues with getting a photo at first (which is why I've included the error screen), and it was because the mirror I was using wasn't wall-mounted. The app will only work in a wall-mounted mirror, such as the one in your bathroom.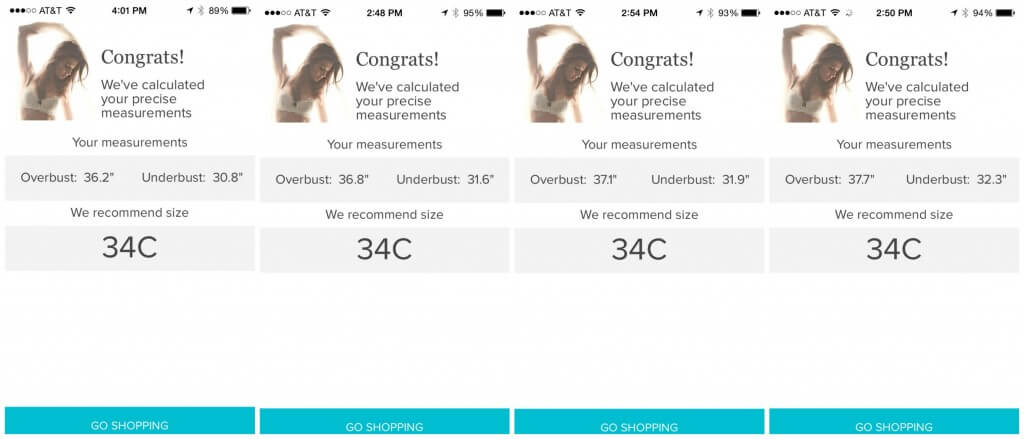 In addition to testing the app with different bras and with no bra, I also played around with slightly different arm positions (holding them a bit closer in, holding them a bit further out, etc.) and with slightly different iPhone scaling (for some tests, I filled up the scaling frame; for others, I didn't, and so on).
For all of my tests, I received the same bra size calculation of 34C (interestingly, the app didn't used to give sizes at all, so this appears to be a fairly recent development). As you can see for the sample above, even when the individual measurements vary slightly because of "user error," the fit result is the same. I admit to being impressed by that. An app is useless if it has to be used 100% perfectly all the time, and ThirdLove's app appears to not only be able to absorb some user imperfections, it also lets you know (through a voice on your phone) if you're doing something which will render your results useless. That's smart, and I like it.
That said, I don't know how generalizable these results are. They work for me, but I'm also one of those rare "unicorns" who sizes up for bra fit. I don't like a tight band. I don't have much squish. My breasts are on the firmer/self-supporting end of things. I'm more or less just looking for a bra that hangs out comfortably on my chest.
I'm very curious about how this calculator would work for women with smaller breasts (for example, A or B cups) and how it would work for women with fuller busts (especially in the F cup and above range). I'd also want to know what kind of recommendations it gives for plus size women. As someone who's fairly close to the fit model standard for the lingerie industry (which is about a 34B), it makes sense that this app would work for me; it may very well be tailored for women with similar proportions to me. However, I want to know how it works with other body types and how successful it is.
I'm also concerned that the algorithm requires wearing an underwired bra (though not a push up bra or sports bra). If a person is very off with their bra size, to the point that the bra is compressing and/or manipulating the flesh, wouldn't it throw off the measurements? In my case, I wore bras I knew I loved that fit me well, but I'm (obviously) not a typical consumer. How well does the app perform for people who aren't such an easy case?
Finally, I'm interested in how the algorithm determines who needs half sizes. As you can see from the four fit tests above, my overbust and underbust measures vary by about 1.5" between the minimum and maximum tests shown. An inch and a half difference should be enough to put me in a half size, I would think. Yet half sizes were never suggested. I'd like to know more about how the calculator decides that particular size placement. However, that's probably also a trade secret, so... let's move on to the lingerie review.
ThirdLove Lingerie Review:
Editor's Note: ThirdLove states they sent sample sizes in 34B and 34D as opposed to fit samples in my size of 34C. The bras did not contain size tags as ThirdLove does not believe in size tags. The fit portion of this review has therefore been removed.

ThirdLove sent me several pieces to examine. For bras, I received the Mesh Demi, the Microfiber T-Shirt Bra, the Lace Balconet (in both black and white), and the Mesh Plunge. For knickers, I received the Microfiber Bikini, Mesh Boyshort, and Mesh Thong. ThirdLove's copy advertises lingerie that's "both luxurious and affordable" with "high end fabrics and laces that are usually reserved for boutique brands." They also speak to "help[ing] every woman find a flawless fit without the crazy price tags." However, as someone who buys a lot of lingerie, I didn't find the pricing to be exceptionally budget-friendly or affordable. The bras ThirdLove sent me ranged in price from $39 to $64 and the knickers from $10 to $15. While those aren't Empreinte and La Perla level prices, they're definitely on par with industry standbys like Natori, Freya, Wacoal, Elle Macpherson, Le Mystere, and Triumph. Put simply, the price point ThirdLove sells at is typical of many mainstream lingerie brands.
I'd also say the materials and silhouettes ThirdLove are not especially fashion-forward or unique. They're nice enough, but not as nice (in either quality or appearance) as bras I can already buy at this price point from the brands I mentioned. If anything, the collection looks like something I'd find at a Target. And that's not a dig at Target; plenty of people buy their bras there, and that's okay. However, they don't usually spend $60 on Target bras either. The materials just don't feel as good to the touch as what I expect and am used to getting at this price range. The Lace Balconet and Mesh Demi styles in particular felt more like they were in the Felina price range as opposed to the Elle Macpherson one. And again, that's not a dig on Felina... but Felina costs about $20 less than ThirdLove. So my question as a consumer is, does the value of the goods match the price?
I imagine some of this disparity is because ThirdLove isn't working at the same volumes that a company like Wacoal is, and so they can't get a deal on exceptional fabrics and laces. The power to negotiate raw material price points that come with a large-scale operation may not be available to a startup. And as a lingerie blogger and someone who works professionally with brands, I'm empathetic to that (potential) situation. It's very hard to break into the intimate apparel industry and become a major player (that's why you don't see a lot of movement in terms of the top five lingerie companies). But as a consumer, if I'm paying $60 for a bra, I have already certain quality expectations in mind. As of right now, ThirdLove cannot adequately compete with those expectations in terms of style or price. I want to see more sophistication, in both design and material, from this company.
That said, ThirdLove's bras have some nice touches like a tagless band and padded bra clasps. I also thought the microfiber they use is incredibly soft. For that style, the band and the cups are interior lined with microfiber so that softness is right against your skin. For all the bras, I found the seaming and stitching to be just fine; there's not much to talk about there.
As I mentioned in the editors' notes, ThirdLove's bras have no size tags. At first, I thought that was because I received factory samples, which can sometimes differ from what's sold. However, one of the founders of ThirdLove has informed me they don't include sizing on their products deliberately. Their reasoning is because "we believe woman [sic] are more than just a number, and we want our customers to focus on the fit rather than the size."
Maybe I'm just terribly uncool, but I want to know the size of the garment I've ordered. At the very least, I need to make sure the size I have in hand is the size I've actually paid for (I know no one likes to think about fulfillment errors, but they do happen sometimes). In this case, knowing the size of the garments I was sent would also have prevented the earlier confusion and misunderstanding regarding this review.
Withholding sizing information from women, ostensibly because it's in their own best interests, strikes me as more than a little paternalistic... as though there's no other way women can possibly focus on the fit. Aside from these concerns, it also strikes me as being deliberately opaque. If an individual receives a garment that's a poor fit, can the company just insist "the size was wrong?" The customer has no way to prove or disprove that claim. And how does the company handle factory sizing errors or shipping errors? Again, no one likes to think about these things happening, but they're a fact of internet retail. The absence of a sizing tag means errors like this can go unchecked. I just don't like this idea.
Final Thoughts:
ThirdLove exhibits many of the same issues I'm seeing with other lingerie startups right now - a great idea, but underwhelming execution. While the proof of concept appeals to investors and attracts a lot of buzz from the tech community (likely due, at least in part, to lingerie being a "sexy" subject), the follow through falls flat for me. It takes more than an algorithm to make and sell lingerie. As a customer, I don't care about how nifty the concept is, how many funding dollars have been raised, or how many positive press releases have been republished. What I do care about it is the product.
While a great story can help captivate interest, it can also become a breeding ground for disappointment when the product doesn't meet expectations. As I mentioned before, the intimate apparel industry, specifically the bra industry, is difficult to break into. And that's because making bras is hard. The only way to achieve any meaningful market penetration in intimates (aside from a massive advertising blitz on the scale of Aerie and Victoria's Secret) is to make a good product that gets people excited and has them coming back and telling their friends. From what I've seen so far, I'm not sure ThirdLove is there yet. I just have too many questions.
What do you think of ThirdLove concept? Would you rely on an app to size you correctly? And if you've tried ThirdLove's products, what did you think?
Save
Save