Dollhouse Bettie Releases "French Quarter" Collection
Disclosure: This blog post contains affiliate links.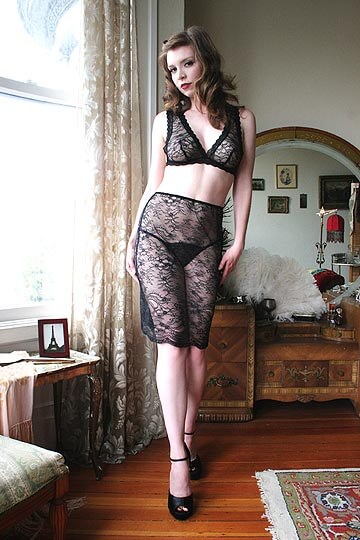 Dollhouse Bettie, the beloved retailer in San Francisco known for their impressive collection of vintage and vintage-inspired lingerie, has released a private label collection titled "French Quarter." Hand made in their San Francisco studio, this small capsule collection is built on the idea that "nothing is more lovely than a beautiful woman accented in black lace."
Made of sheer floral stretch lace, these delicate boudoir-ready pieces are meant to highlight the figure, not sculpt it into a different form. Rather, the intricate corded and embroidered lace is seen to its full advantage by revealing the skin beneath. These easy to wear pull-on styles are meant to skim the body and can be mixed and matched or layered for playfully seductive looks.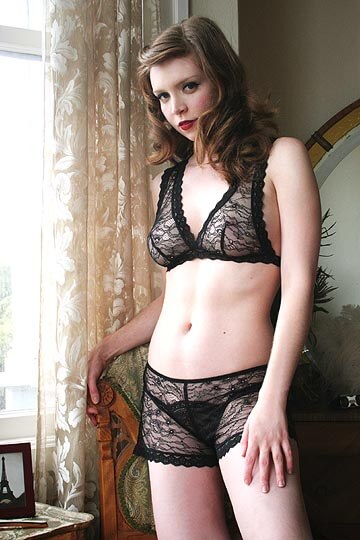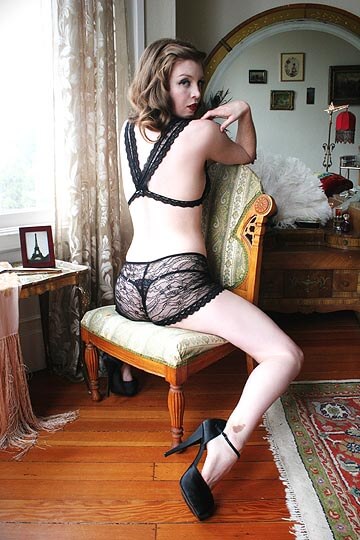 Pieces include a pullover-style bralette with seamed shaping in the cups and scalloped elastic at the band. The cups taper to narrow straps that form a V at the back, which would look really fabulous peeking out of backless tops. Matching pull-on tap panties are low rise and would be a comfortable (and daring!) item under flared summer skirts. The slip pictured above sits at the natural waist and utilizes the deep scallop hem to flirt at the knees. A fantastically sheer piece to wear layered over a skimpy g-string (also in the collection) or your favorite knickers.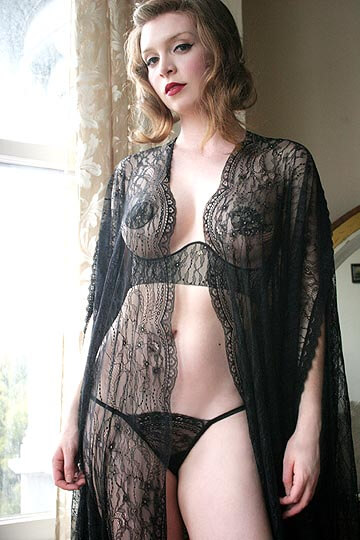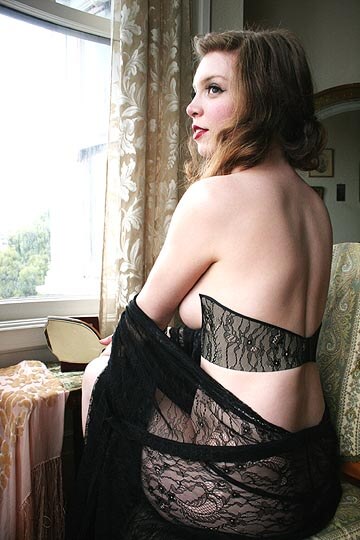 One of the more interesting pieces in the collection is an open cup, or ouvert, bra. The longline style features a wide elastic band overlayed with the signature lace. A gently curving underbust rises up at the sides to create a true "frame". Black taffeta piping along the top edge emphasizes the shape. Worn with or without the matching pasties, this open cup bra is a great way to embrace your inner vixen.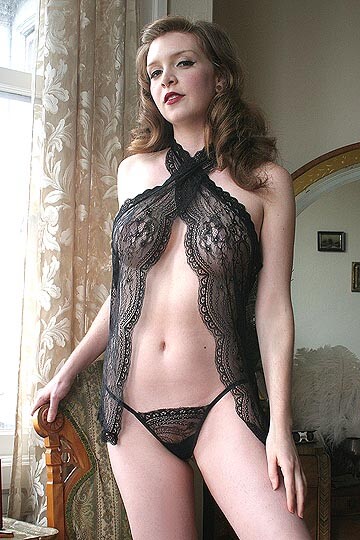 The sarong babydoll style from the collection is worn by wrapping the front and slipping over the neck. The scalloped edge of the lace is used to frame the body in this barely-there, daring design. This item is a fun way to play a dramatic game of peek-a-boo, perhaps for your very own strip show?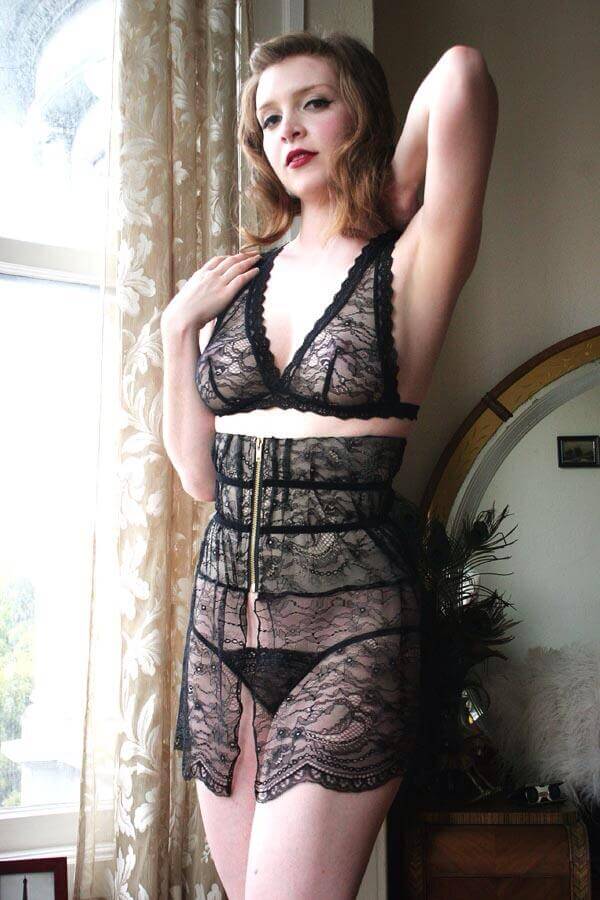 Another unusual piece from the French Quarter collection is a skirted waspie. Again, wide knitted elastic at the waist is covered with a lace "skirt" meant to just barely cover the derriere. Two black velvet bands contour the waist line and holds the gathered lace fabric of the skirt in place. A metal zipper closure makes this modified waist cincher easy to get in and out of and is a nod to modern styling. While I love seeing vintage and modern elements combined in a garment, a smoother lace overlay and a more refined closure would make this design really sing.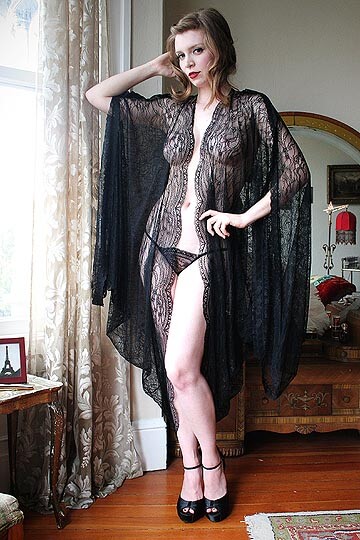 My favorite item in the collection is this dramatic lace cocoon robe. If you're a fan of vintage fashions from the 1920s, you may have recognized this silhouette right away. It was inspired by a classic Poiret coat circa 1915. Designed to hug the body, wide sleeves and a sweeping hem take full advantage of the scalloped edged lace. This would be as much of a knock-out over any lingerie set or chemise as it is over nothing at all. What a glamorous way to sashay around the house!
What do you think of the Dollhouse Bettie French Quarter collection? Would you incorporate any of these styles into your boudoir or everyday wear?