Crowdfunding: How the Internet Helped My Lingerie Collection Become Reality!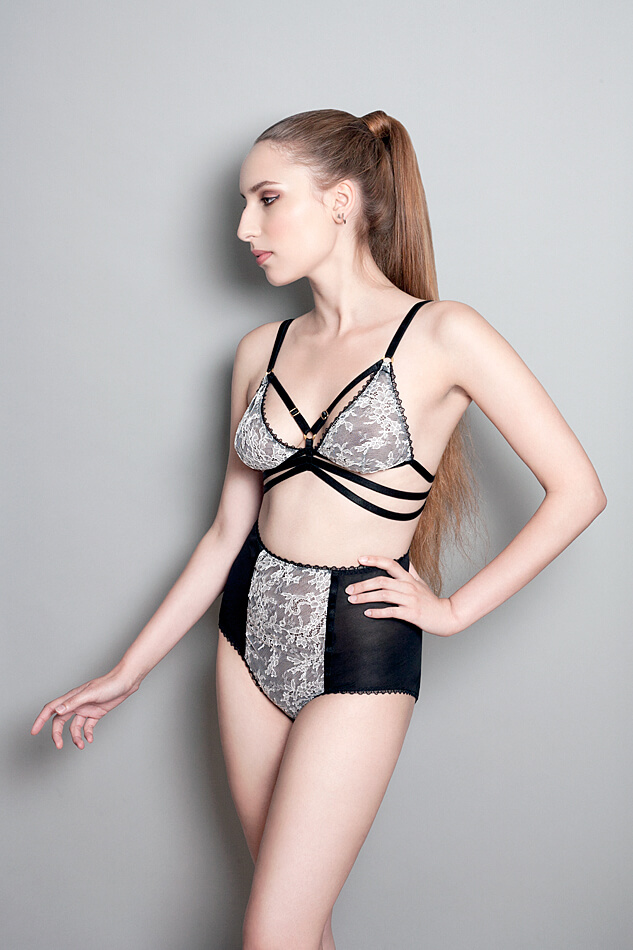 Ebla' - One of the lingerie sets that my crowdfunding campaign made possible
Crowdfunding is an internet phenomenon that's exploded in the past few years. Websites such as Kickstarter, Indiegogo and Sponsume offer people the chance to raise funds for their projects with the entire internet at their fingertips. It's no surprise that it's proven so popular --- it means businesses no longer have to rely on banks or investors to get their project off the ground. Instead they rely on their own fans, their friends and their family ---people with a genuine vested interest in seeing the project succeed.
My campaign video. Shot by Max Allen.
The concept behind crowdfunding is that 'rewards' or 'perks' are offered in exchange for a pledge of funds. These can vary hugely in content and value, with many starting at £1 and others reaching dizzying heights over £10,000. Many lingerie brands choose to offer presales on their new collections, as well as exclusive items just for the campaign, from pieces of lingerie to prints of illustrations. Depending on the website used, funders face one of two options: either they take the risk of reaching their target within a set time or receiving no money, or if they don't reach their target the website takes a large cut of the funds raised.
More and more lingerie brands have started to use this method of funding to get their own collections off the ground. After seeing their success, this summer I too decided to take the plunge and use Indiegogo to fund my new lingerie collection!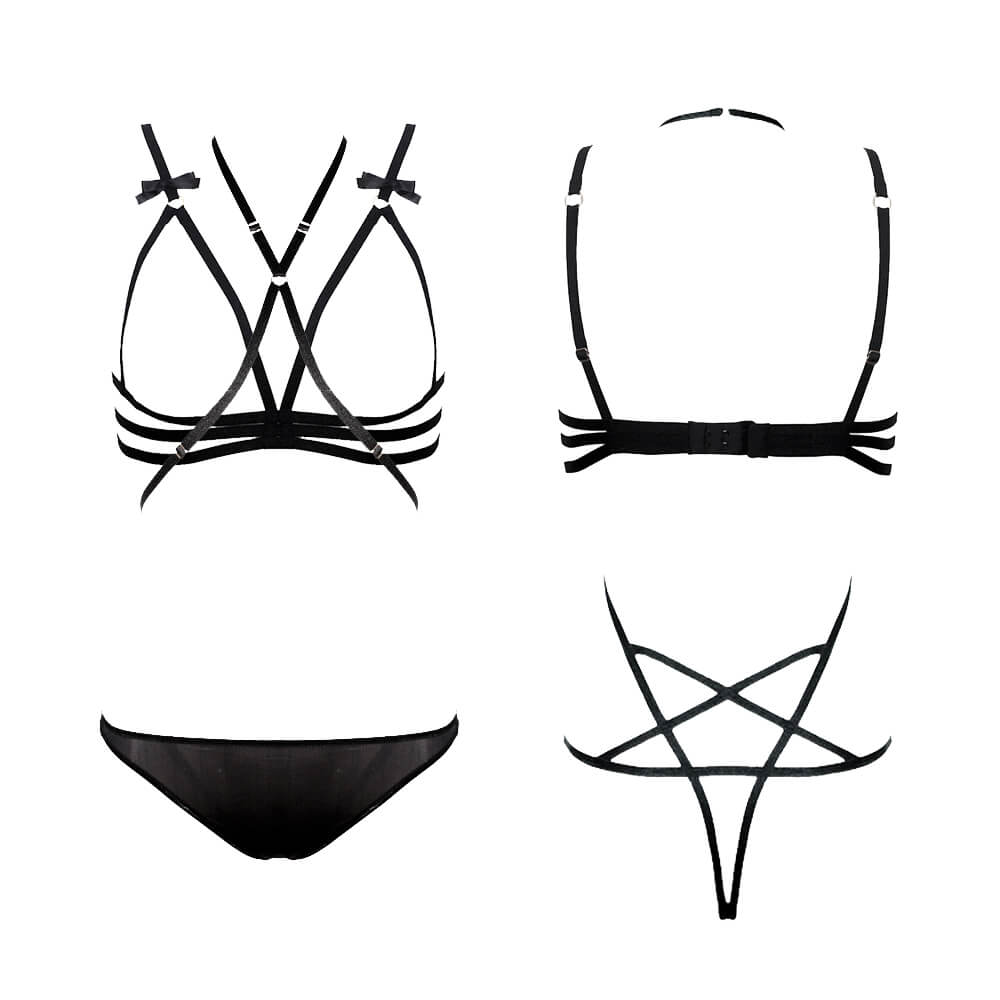 Designs from my first collection. Their construction and materials mean they could be produced on a domestic sewing machine
When I started my lingerie brand, it was on a tiny scale that involved me buying materials in tiny quantities and manufacturing each garment by myself. I knew this would in no way be practical when I entered my final year of university. I came to the conclusion that it would be a risky --- but in the long term sensible --- business move to make the step into factory production. Of course, there were rather large obstacles in my way. As a student, I don't qualify for most business start-up schemes, whilst no bank would so much as consider giving me a loan. Crowdfunding was literally my only option to make my lingerie dreams a reality.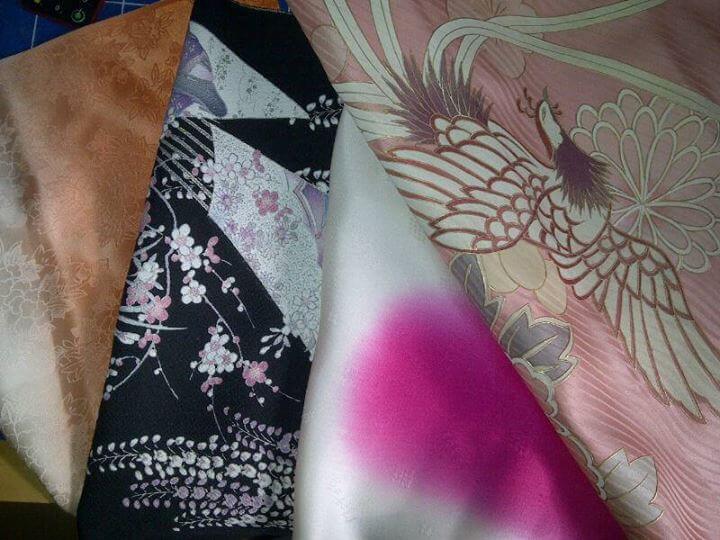 As part of my new collection, I sourced beautiful vintage kimono silks to upcycle.
My previous collection was based entirely around elastic strapping frame pieces. I wanted to push myself as a designer and bring more lingerie-focused pieces into the collection --- soft lace bras and knickers, and open-cup wired bras. I wanted to showcase my love of beautiful materials --- I'd sourced some absolutely stunning French couture Chantilly and beaded laces, and (my personal favourite) a hand-picked selection of vintage Japanese kimono silks. As well as a collection of lingerie sets that featured contemporary fabrics, I wanted to create a series of knickers that upcycled the kimono silks into pieces of wearable art.

Swing tags and labels: surprisingly more expensive than you'd anticipate.
The fact is, there's simply no way I'd be able to produce such a collection by myself. No matter how much I scrimped and scraped my money, I wouldn't be able to buy the materials, nor could I sew my designs to a professional standard on domestic machines. There are also so many costs you wouldn't normally consider; items like custom woven labels and printed tags have to be purchased in bulk to be at all cost-effective. The same applies to fabrics and trims --- nylon liners and elastic trims, stretch meshes, and cotton gusseting. Everything adds up to beyond what was initially imagined.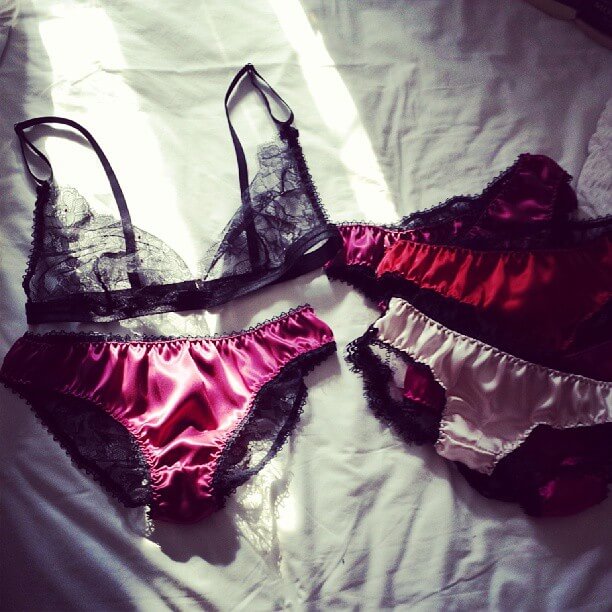 Exclusive rewards for my campaign: eyelash lace and silk lingerie sets and knickers. These were actually very fun to create!
Preparing and running the campaign was more hard work than I could have imagined. It's not a case of simply uploading the required information and waiting for the timer to run its course. You have to create a personal video and plan out exactly where the money needs to go. You need to create exciting and desirable rewards for your funders. You have to promote your campaign, and in my opinion this was the most difficult part of the entire project. There's a fine line between asking for help and annoying people --- a line I fear I may have overstepped a few times!
Knickers from my first factory delivery. Opening the box was such an exciting experience!
My campaign was a success and I reached full funding within the deadline. It is truly an overwhelming experience when you achieve a goal like that --- a combination of friends, family and total strangers believe in you enough and enjoy your work enough to help bring your project to life. I can also safely say that ripping open a box containing your first factory delivery is fantastically satisfying!
Whilst it was an overall positive experience, there are certain risks attached (not to mention the barrage of criticism I managed to attract!). You can't go into a crowdfunding campaign thinking you'll keep every penny for your project; a large portion of any money raised goes to pay the website's fees and payment processing fees. I personally used quite a large portion of the money to pay for the fulfilment of my pledge rewards. It's also very easy to get overly distracted with fulfilling the rewards --- after all, you want to make your funders happy, but there's no point focusing on them alone and neglecting the original project!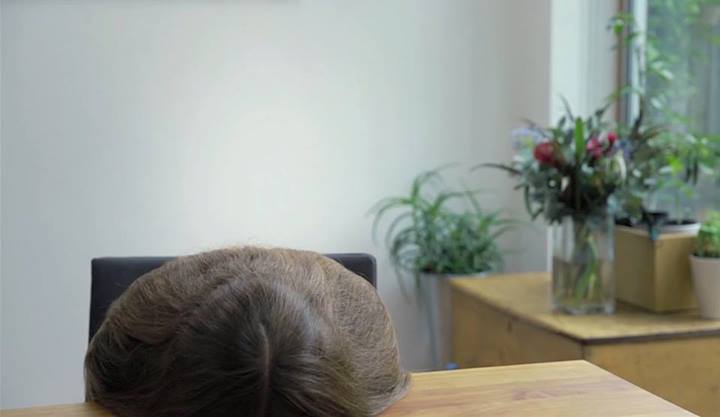 How some of the criticisms made me feel... And yes I have a lot of hair!
Criticisms can also be harsh and demoralising. I struggled not to take it to heart when I saw total strangers discussing my campaign on the internet, calling my new collection a whim and saying I should wait until I graduate before pursuing any sort of serious lingerie business. It's important to remember that these are the sorts of things you'll face whatever you do --- it's important not to trip at the first hurdle!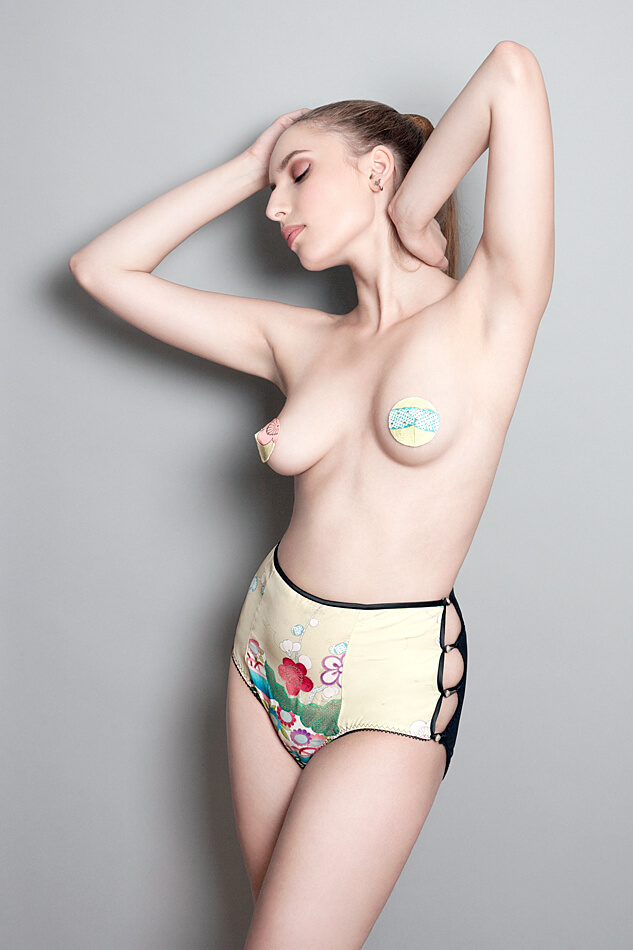 From the lookbook of my crowdfunded collection - 'Ume' knickers
The hard work all paid off, though. The funds raised by the campaign (as well as a sizable chunk of my own savings!) paid for everything I needed to create my new collection --- the beautiful fabrics, labels and tags, the flights to visit the factory, the production costs, the photoshoot. The new collection is beautiful and isn't something I could have achieved on a similar scale by myself. I'm hoping it will pave the way for more beautiful lingerie in the future, and for a successful brand I can make a living from!
I haven't been the only one to crowdfund my lingerie brand --- here are a few of the brands who successfully made their projects a reality (or who are currently trying to!):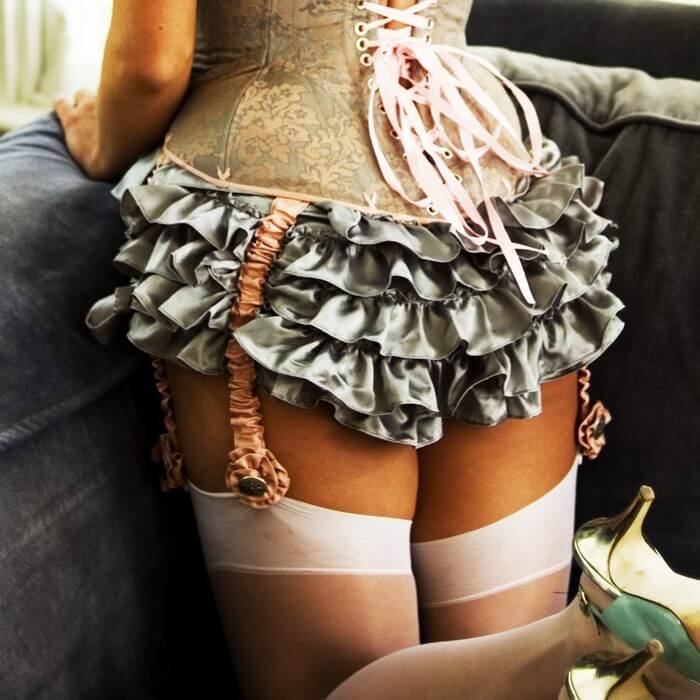 Angela Friedman used Kickstarter to fund her SS12 'Versailles' collection --- comprised of sumptuous corsetry and lingerie sets, using deliciously opulent silks, brocades and French laces. Her campaign paid for the fabric and production costs, photoshoot, promotional materials, and a presentation of the new collection.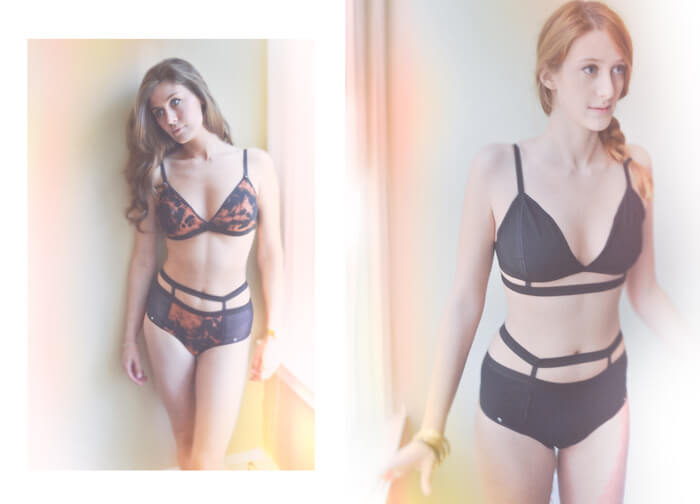 Lingerie brand Relique started out selling on Etsy, and their success prompted them to use Kickstarter to fund a new collection to present at the Lingerie Journal's 'Designer Showcase' at the Lingerie Collective in February 2013. As well as materials and production costs, the funds raised via crowdfunding helped cover their showcase entrance fee.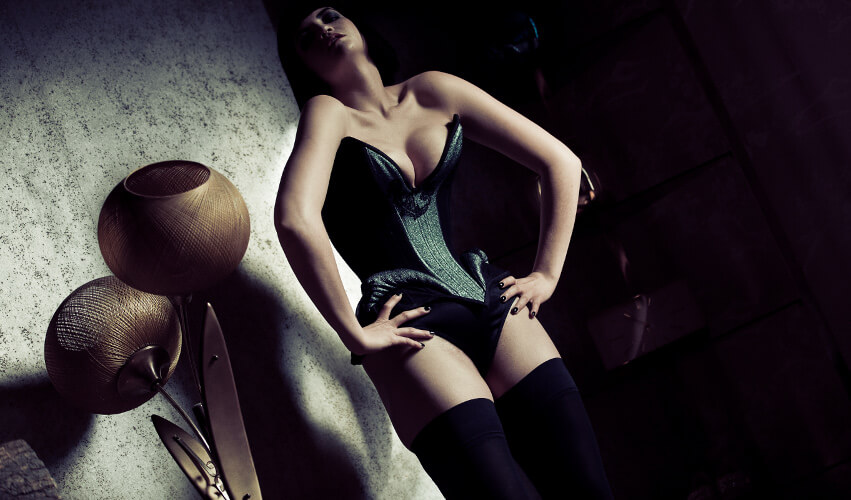 Luxury bespoke corsetiere Sparklewren used Sponsume to raise the funds for a pop-up corsetry boutique in Birmingham in the UK. Funds raised covered materials costs and furnished and decorated the shop. The project was so successful that the pop-up extended beyond its initial planned six months into well over a year!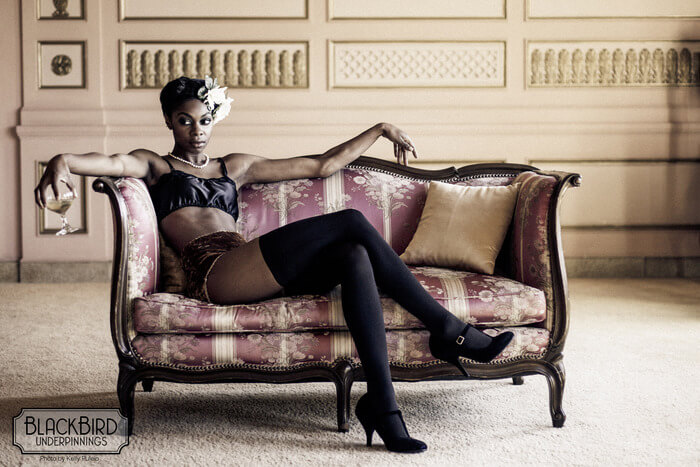 Lingerie brand 'Blackbird Underpinnings' are seeking $37,000 to fund their 'Maven' collection. The brand takes its inspiration from the 1920s and 30s and the inspiring women from this era --- Edith Piaf, Josephine Baker, Marlene Dietrich and Gabrielle Chanel. Their designs focus on soft pieces with luxurious fabrics, such as silk charmeuse bloomers and rompers.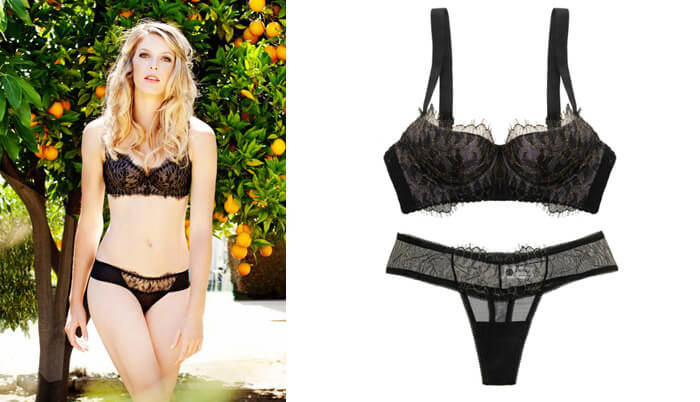 Ampere are seeking $15000 to launch their second collection, with a focus on everyday luxury. It comprises of silk t-shirt bras and matching co-ordinates. The brand focuses on creating lingerie in a wide range of sizes and on improving the overall lingerie shopping experience. Their campaign hasn't finished yet, but they have already gone over their funding goal!
Readers: How do you feel about lingerie brands crowdfunding their collections? Have you ever contributed to one of these campaigns?