Review: Fräulein Annie - Fit, Function, and Fashion
This bra and panty set was sent to me by Fräulein Annie. All thoughts and opinions are my own. All photos courtesy of Fräulein Annie.
Fräulein Annie, the London-based brand inspired by a German-born designer, was recently brought to my attention. So naturally, I was excited for the opportunity to give this vintage-inspired brand a test run for my infamous trifecta of fashion, fit, and function. Those three elements are essential in my assessment of what I like vs. love, admire vs. buy, and acknowledge vs. rave review. Particularly given that the fuller cup sizes haven't always had the same level of variety in fashion, this has become increasingly important in my searches.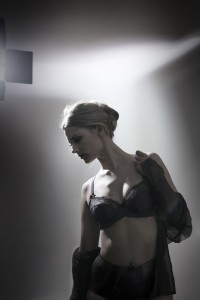 The Falling in Love set arrived and while I could have tried it out on any given day, I did wait for the right opportunity for a debut. That's because my lingerie is my secret weapon! In a world of managing crises, closing deals, and online dating, my most powerful pieces are reserved for those moments when I need that instant boost of confidence and invincibility. Naturally, a first date the perfect excuse to give this set a whirl (even though I knew I'd be the only one to see it!). Would the set prove to be a keeper? (Would he? That's another story….)
Well, you can't judge a book by its cover, just like you can't judge fit by looks alone, but boy is this set quite a looker! I'm a sucker for eyelash lace so I was immediately drawn to that detailing. The slate lace contributes to the overall opulence of the set, which also features a contrasting satin cup in a vibrant mulberry. Delicate stitching and darling bows add to the sweet complexity of the bra. The matching panties utilize many of the same details to provide a smooth and unified look. This colorway (Mulberry/Slate) is a good match for my skin tone, and I imagine it would be for many others. However, if this colorway doesn't strike your fancy, it also comes in Pearl Grey/Ivory, Chestnut/Black, and Cinnamon/Almond.
I am also impressed by the true to size fit. The construction of the non-padded bra creates a natural lifted and supportive shape that is also comfortable to wear throughout the day or night. The soft, silky fabric is glorious against skin, and the lace lies flat to make it a perfect choice for wearing under a variety of clothing.
For me, Fräulein Annie is a keeper! The 1-2-3 punch of fit, function, and fashion make the brand a winner in my book, and I'm looking forward to expanding my collection with some of the other lovely styles. The only challenge is that I have had a hard time finding the collections in the US. Currently, only one item is in stock at Figleaves, so my hope is they refresh their stock soon. This is my first time seeing their site, so if any readers have experience with the site, or if you know other places where Fräulein Annie is sold, please let us know.