Full Busted Indie Lingerie Review: The Daisy Bodysuit by La Lilouche!
I purchased this bodysuit for review. All opinions and thoughts are my own. 
I really dug into the Spring 2013 lingerie offerings this year, in part as a psychological "screw you" as a cold month full of hailstorms and thunder that rolled through the south. I told myself that by the time things were made and shipped, the weather would be better and I could actually wear them. Happily, I was right! I'll be reviewing several indie lingerie pieces over the next few columns, but today we're going to start with a popular favorite: La Lilouche and her amazing Daisy Bodysuit.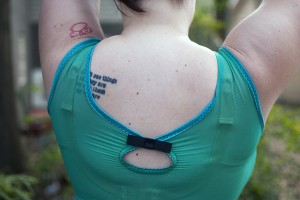 If you're full busted, it can be hard to look at a sheer bodysuit and see where it fits into your lingerie drawer or wardrobe. Lots of designers advertise them as outerwear, but most are so sheer you have to stick a tank top under them or just forgo wearing them outside the bedroom. I find the feeling of wearing a tank top under a bodysuit awkward, especially in the summer when it gets so incredibly hot here. I also didn't want disturb the keyhole cutout on the back of this bodysuit since it was such a cute finishing touch.
I ended up emailing Liya, the designer behind La Lilouche, to describe my wishes and my dilemma. Since she's a genius, she came up with the idea of double lining the front of the bodysuit with the same mesh for added modesty. With a nude bra, it now works perfectly as a shirt! For the record, I'm wearing my Panache Tango here and the pattern doesn't show through. The back is not double lined, but my bra only shows minimally. Liya also adjusted her pattern to make sure I had enough room in the chest without enlarging the armholes to the point where my bra would show.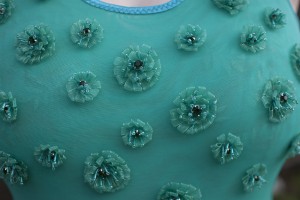 I've done the best I could with my photos, but they really don't do this bodysuit justice. The floral details are handmade out of ribbons and crystals, giving the whole thing an added sparkle. I've worn this several times now and realized it's a great way to add a little fun to a buttoned-up work outfit. It looks great paired with a black skirt and plain black cardigan as well as dressed up for a night out.
The green mesh is incredibly stretchy, thick and soft. Some mesh pieces can feel flimsy if they have too much stretch, but this mesh has lots of give while still making you feel secure and keeping everything in place. I also love that the crotch area has snaps on it, which is something more brands should add to bodysuits. If you're going to wear something as outerwear, it's nice to have that practical touch incorporated.
I'm so glad I took the plunge and that Liya was so helpful in making this piece work for me and my fashion needs. I know I'm going to be building outfits around it for years, which means it was money well spent. I definitely recommend La Lilouche to all women looking to treat themselves to something extra special.