Full Busted Bra Experts: An Interview with Bok Goodall of Claudette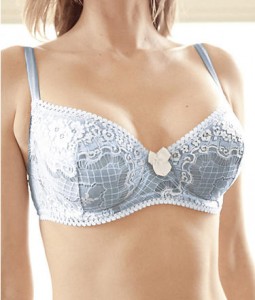 As a lingerie consumer, I'm always interested in how my favorite bras come to be! I was lucky enough to meet Bok Goodall at the Curve show last year, and knew she had been instrumental in the design of the Neon Dessous and other great Claudette lines. Last week I got to pick her brain about lingerie design, full bust lingerie, and lots of other behind-the-scenes insights. Bok has worked in brand or product development roles at several major full busted lingerie companies and is now working as at Claudette doing both design and brand development work.
Holly: What lingerie brands have you designed for?
Bok:  Since 2004 I have worked as a freelance consultant providing product and brand development which has included design, for much of the UK's high street including Bravissimo, John Lewis, Rigby and Peller, Marks and Spencer, and Kalyani. These projects have included branded and private label development.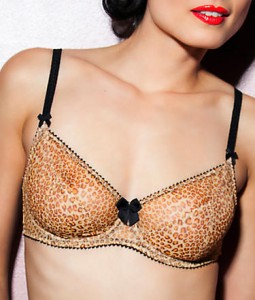 Holly:  How did you get into lingerie design? Why full bust bra design?
Bok: I worked in fashion since leaving college hundreds of years ago! And was asked to work on the design and development of a lingerie brand as part of a project for a large private label manufacturer.
This led to an unexplored interest in lingerie and swimwear. With a colleague and friend I worked until 2007 on launching branded lingerie and swimwear into the UK. We were fortunate enough to work with some amazing brands, both very well established and some brand new. It was one of the newer brands that I focused on from 2007. Kalyani was launched to fulfill a gap in the market for fashionable fuller bust lingerie and swimwear. I worked on development of the brand to fulfill the needs of our international customers. We grew the brand in a short time to a very successful business in the UK and Europe, and went into business with a large private label manufacturer in 2009.
I always think that full bust lingerie misses out on some of the fun and frivolity that you see in other areas of the industry and I really believe we shouldn't need to sacrifice pretty for function!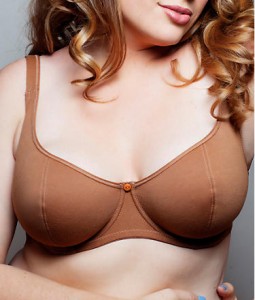 Holly: What are the challenges when thinking about designing unique yet supportive full bust bras? How do you approach designing a new line? How much do you control the process and how much input do your clients have?
Bok: As Director of Brand Development for Claudette I have had a lot of input into the overall brand and product. From my very first conversation with Robin Levitt (the president of Claudette) I expressed a definite interest to work in fuller bust lingerie as it was something I have had very recent experience of, and was an underserved area in the US I felt. Luckily Robin felt exactly the same way, and so Claudette was born! Although, Robin was very careful to make sure we are as inclusive as possible in our size range, and cater for smaller busted girls as well. We currently offer A to G cups with all the in-betweens.
As 36DD I am a full busted customer, and so, my first thought is always 'what would I like?!' I definitely wanted (needed?!) neon, sheer mesh bras and I know I wanted them in every colour!
Claudette launched to market in August last year, and so our first two seasons have had very little outside input as we only started delivering to customers in November 2011. We are fortunate enough to have grown a solid customer base in our first year, and definitely talk to our customers now to find out what they'd like to see from Claudette.
Full bust bras come with their own challenges, and so we have spent a great deal of time and effort on our fit and the function of all our bras. Mindful that we were launching the product to a US customer who is not used to feeling completely constrained by their bra (as in the UK – although there does seem to be a move away from that feeling slightly) we were careful to use a slightly softer wire so that bra offers support whilst being comfortable.
I try to make Claudette collections fun and wearable. I want women of all ages and as many sizes as possible to be able to buy a great looking bra that doesn't cost a fortune, and doesn't look like a bra their grandmother might wear!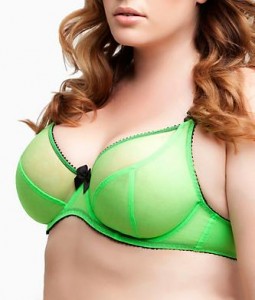 Holly: What would you like to see more of in the full bust market? What areas do you feel are underserved? What areas do you feel are over saturated?
Bok: I think customers are looking for something fresh and new and so if we can continue to offer that there will always be a place for Claudette in the full bust market. The UK market is much more saturated than your market, but I think the US is quickly catching up. I think a lot of the existing product in the market either feels a bit fussy or is totally functional and utilitarian. I'd like to see a beautiful contemporary full bust collection that is clean and modern, affordable but exquisitely made and appealing to women of all ages.
Thanks for chatting with me, Bok!
So readers, go ahead and tell me: what would you like to see in your ideal full bust bra collection?