Plus Size Bralette Review: Curvy Couture Cotton Luxe Unlined Wirefree Bra
Disclosure: This product was purchased by The Lingerie Addict for the purposes of review. All opinions are my own.
Welcome to the world of no underwires! If you're new here, I'm on a journey to find the best D+ bralettes. Because, yes, they do exist! Today's option is made by Curvy Couture, a fuller figure bra company. They make everyday bras for cup sizes B through US H (or UK FF) and bands 32 through 46. While they focus on plus sizes, Curvy Couture has many smaller band/fuller cup options as well, mostly starting at 34 bands.
I hadn't tried Curvy Couture before this review. Most of their offerings are foam cups, and I prefer cut-and-sew bras. But they're known for great fitting, supportive bras for daily wear, so I was excited to try their wireless bra.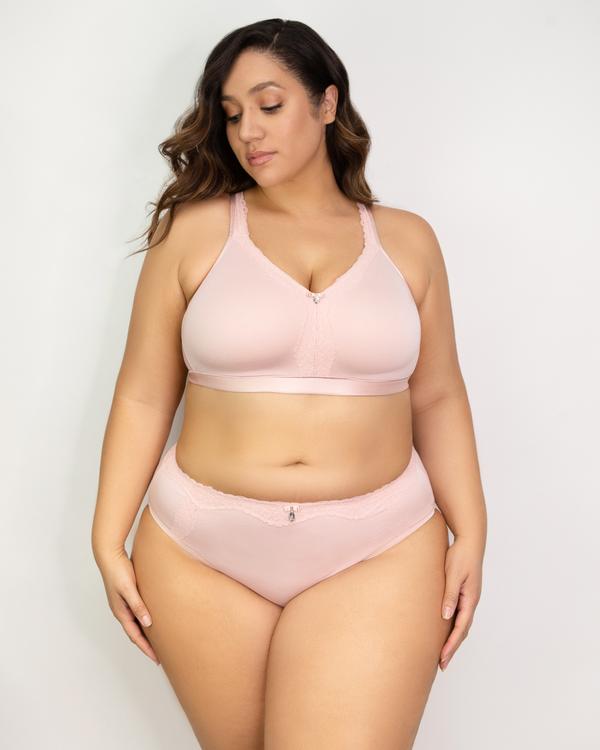 A Wirefree Fuller Figure Bra
Curvy Couture currently offers one style of wireless bra: the Cotton Luxe Unlined Wire-Free Bra, available in a range of neutral colors. It's a pretty simple piece with some nice details. The wide side panels and U-shaped back are meant to smooth your torso, while the band is padded for comfort. The lace along the shallow V-shaped neckline keeps this piece from looking too sporty.
But the coolest parts are the cups. They're molded, but not from foam. Instead, the knit material itself is molded, creating a 3D shape out of a single pattern piece. This makes a super comfortable cup without extra bulk.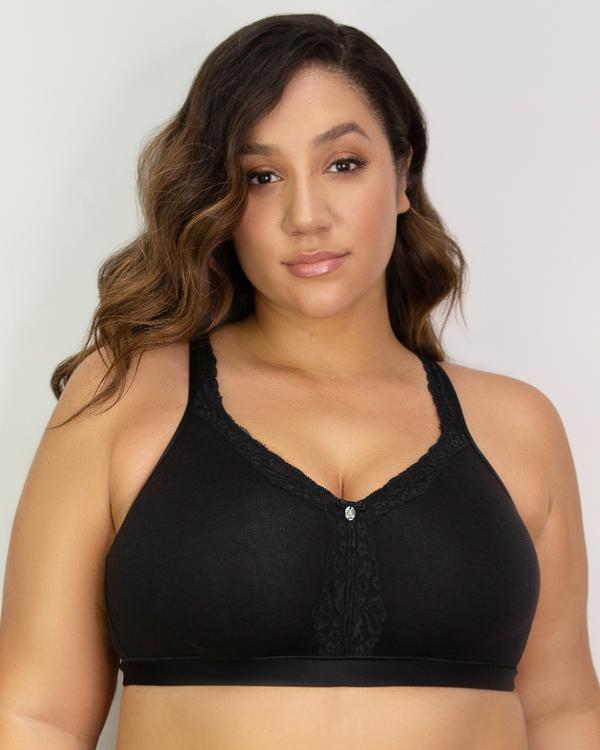 Like I stated in my last full bust bralette review, I wear core-sized bralettes with minimal issues. But as someone who wears a 32FF UK/32H US bra, I like the extra support and coverage you get with a specialty fuller bust bralette.
The Curvy Couture Cotton Luxe Unlined Wire-Free Bra retails at $48 and comes in sizes 34DD-H, 36-38 C-H, and 40-44 B-H. Since I prefer a 34 band for wireless bras anyway, I happily sister sized to a 34G.
Curvy Couture Fit
As soon as I put this bralette on, my first thought was, "This is a lot of bra." I'm used to daintier bras and bralettes, so the thick straps and high "neckline" felt a bit bulky at first, like a thick tank top.
This makes sense, of course. Larger bra sizes need thicker straps and sturdier materials, and I'm wearing the smallest band size they make in this bra. Curvy Couture's bras are not designed for my specific body.
However, I quickly forgot about its bulkiness. In fact, I forgot I was wearing it at all.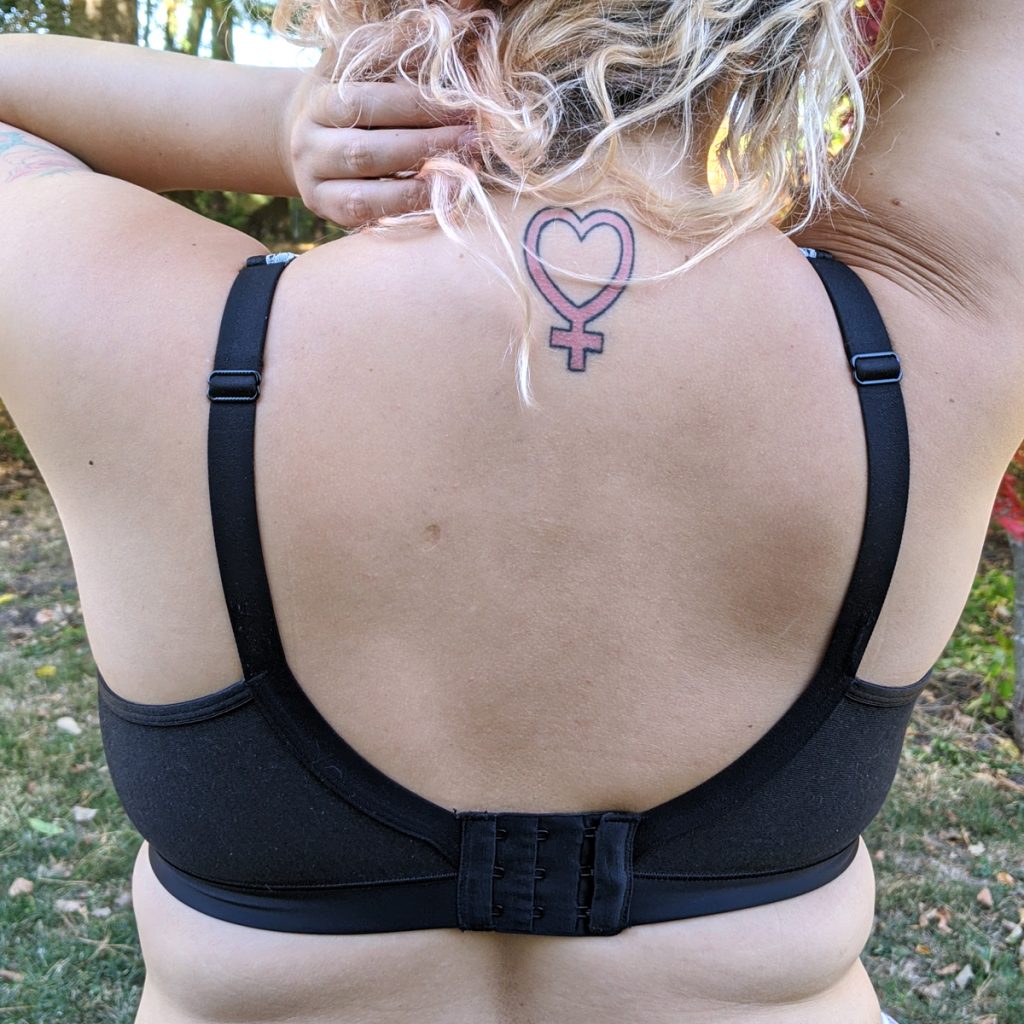 This bra keeps everything in place with very little tension or tightness. The cushioned bottom band is stable, but doesn't dig in or roll. The wide side panels feel secure, and the moisture-wicking fabric is nice and breathable. I don't even get any inevitable red marks on my sensitive torso when I take it off! That's how comfortable this bralette is.
It's the perfect comfy underlayer for a road trip or running errands. Curvy Couture isn't lying when they call it "the ultimate travel bra."
Plus, that extra coverage lends itself nicely when wearing it under low-cut dresses. I can skip the "bra and tank top" under-sweater situation, and just wear this bralette instead. Unfortunately, I think the white lace on my bra feels a bit dated. I wish I had gone with one of the single-color options.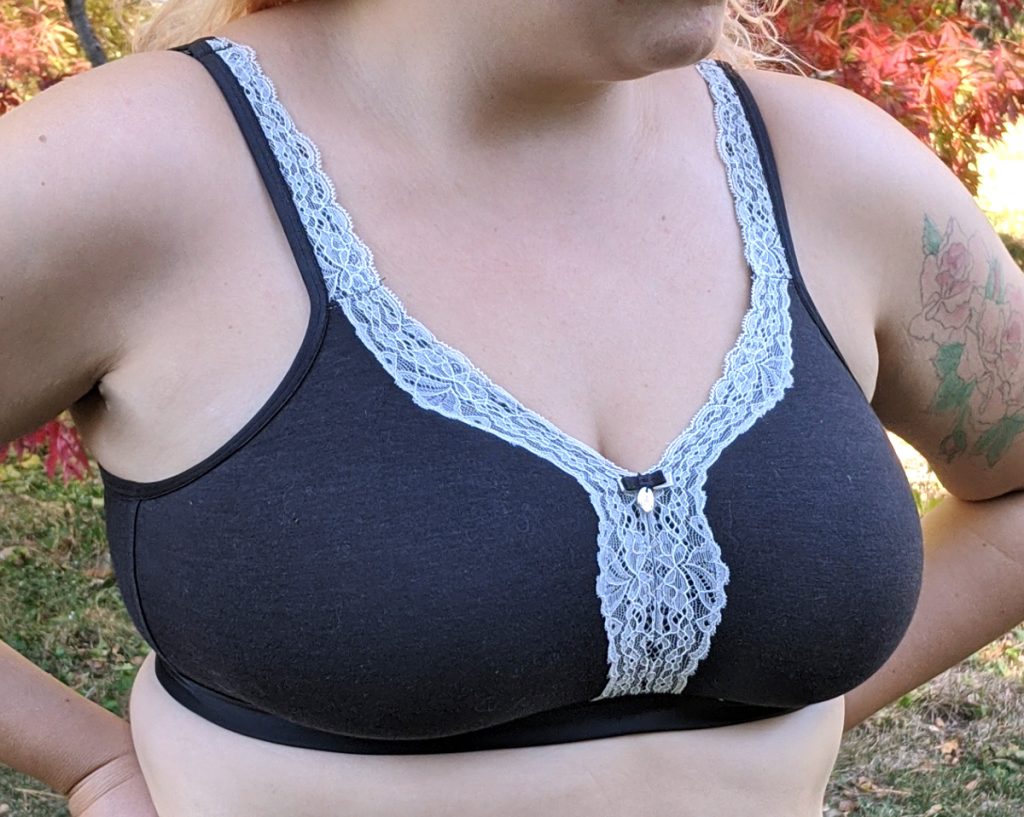 But the real question is, how supportive is this bra? Well... It's supportive in the same way a low-impact sports bra is supportive. It offers more compression than other full bust bralettes I've tried. In fact, I love wearing this bra during at-home yoga classes. The amount of coverage keeps everything in place when you're upside down. I bet it would make a great sleep bra, too.
Unfortunately, this type of engineering won't give you an uplifted shape. But you won't be popping out, either.
Final Thoughts
This is a great plus size bralette, and it really is "the ultimate travel bra." It doesn't offer much shaping, and I don't love its slight minimizing qualities. Even so, it will always be top-of-mind when I want something easy and don't care about the rest.
Would I love it if this bra had more lift? Sure. But I don't think a bra this comfortable could do that. It would need more structure, which would reduce the soft ease of this piece. This bra is made for lazy, cozy days when you don't need lift, but you do want to feel good.
If you're looking for a soft, well-fitting, comfy-as-heck plus size bralette, the Curvy Couture Cotton Luxe bralette is for you.