Full Bust Bralette Review: Cosabella Never Say Never Curvy Bralette
Note: Article contains affiliate links.
Disclosure: This bra was purchased by The Lingerie Addict for the purposes of review. All opinions are my own.
I've been in a strong anti-underwire phase for the last few months. I love how bras look, but even the most comfortable bra feels restrictive these days. I've gone from wearing a wired bra every day, to wearing one maybe twice a month.
But after a few outdoor hangouts and long walks without anything on under my sundress, my sensitive skin told me that maybe I should wear something. Luckily, we have more wireless bra options than ever these days, and I'm excited to review a few of them!
First up is Cosabella's Never Say Never Curvy Racie Bralette, a lace-and-mesh racerback number designed specifically for fuller busts.
Cosabella Bralettes
I love Cosabella's bralette options because they offer many of their styles in four size ranges: Regular, Curvy, Petite, and Extended. The Regular range consists of "classic" core-sized bralette proportions, suitable for cup sizes A through D and bands 28 through 38. The Curvy bralettes specialize in smaller backs and fuller cups, with cup sizes DD through H for the same core band sizes. Meanwhile, the Petite bralettes capture smaller busts, being designed for band sizes 28 and 30 and cup sizes up to D. Last (but not least), the Extended bralettes focus on sizes 38C through 40DD.
As a person on the smaller end of the full bust spectrum, I can wear "regular" bralettes with minimal issues. However, they rarely offer any kind of support, and aren't nearly as comfortable as something designed for fuller busts. So I was really excited to try a Curvy bralette by Cosabella, especially with the amount of options they have in this size range!
The Never Say Never Curvy Racie Racerback Bralette sells for $65.50 on the Cosabella website, and comes in a bunch of different colors and skin tone hues. It doesn't appear to have a ton of design changes from the "Regular" version. However, it features an extra lace band, a bust dart instead of what appears to be foam cups, and a sturdier mesh underlayer. The Never Say Never group has a bunch of matching knickers, from high-waist thongs to low-rise boyshorts, so you get tons of matching set options, too.
I usually wear a women's size Large in clothing, and a Large or XL in bralettes because of my larger bust. But according to their size chart, I wear a size Medium in Cosabella Curvy bralettes! (My usual size is a 32FF UK, but I like to wear a looser band for bras like this, so I looked for the rough equivalent of a 34F UK.)
I've never worn a bralette in a size Medium, so I worried about fit but went for it.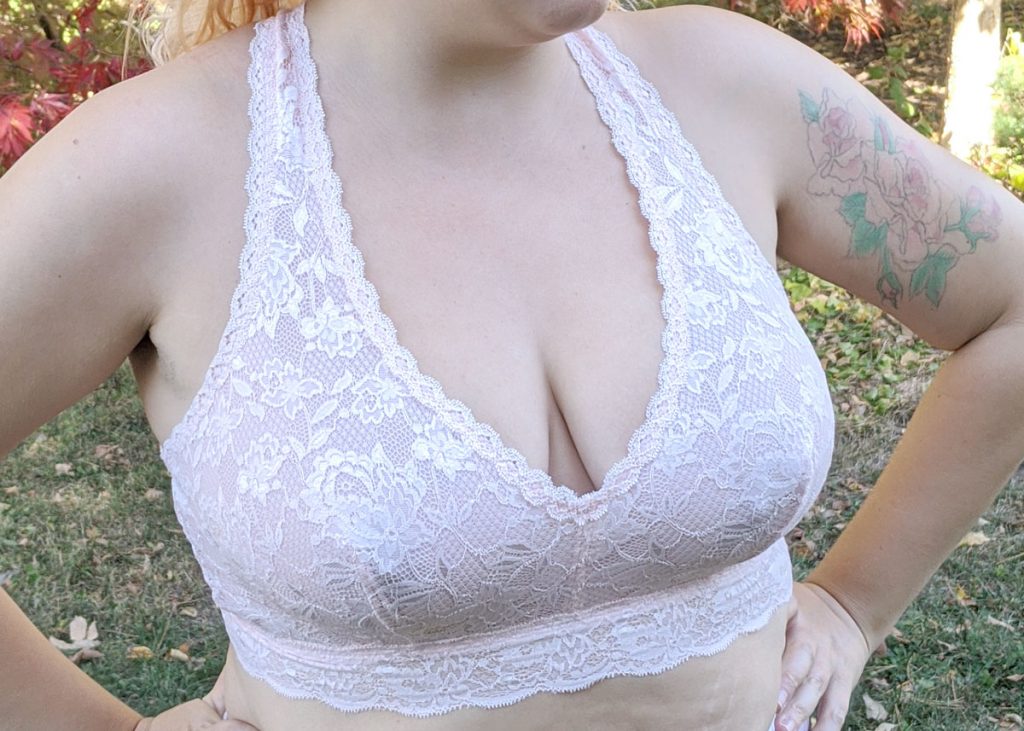 Bralette Fit
This bralette has a racerback and no closure, so you must pull it on over your head. When I buy size Large or XL bralettes, I don't have a problem with this. That said, the snugger Medium band size and fairly stable elastic make it a bit tricky and uncomfortable to pull on. If you have any mobility issues, it might be too difficult. If you have a larger bust-to-ribcage proportion than a FF or G cup, it might not work at all.
But it did work for me. And I instantly fell in love.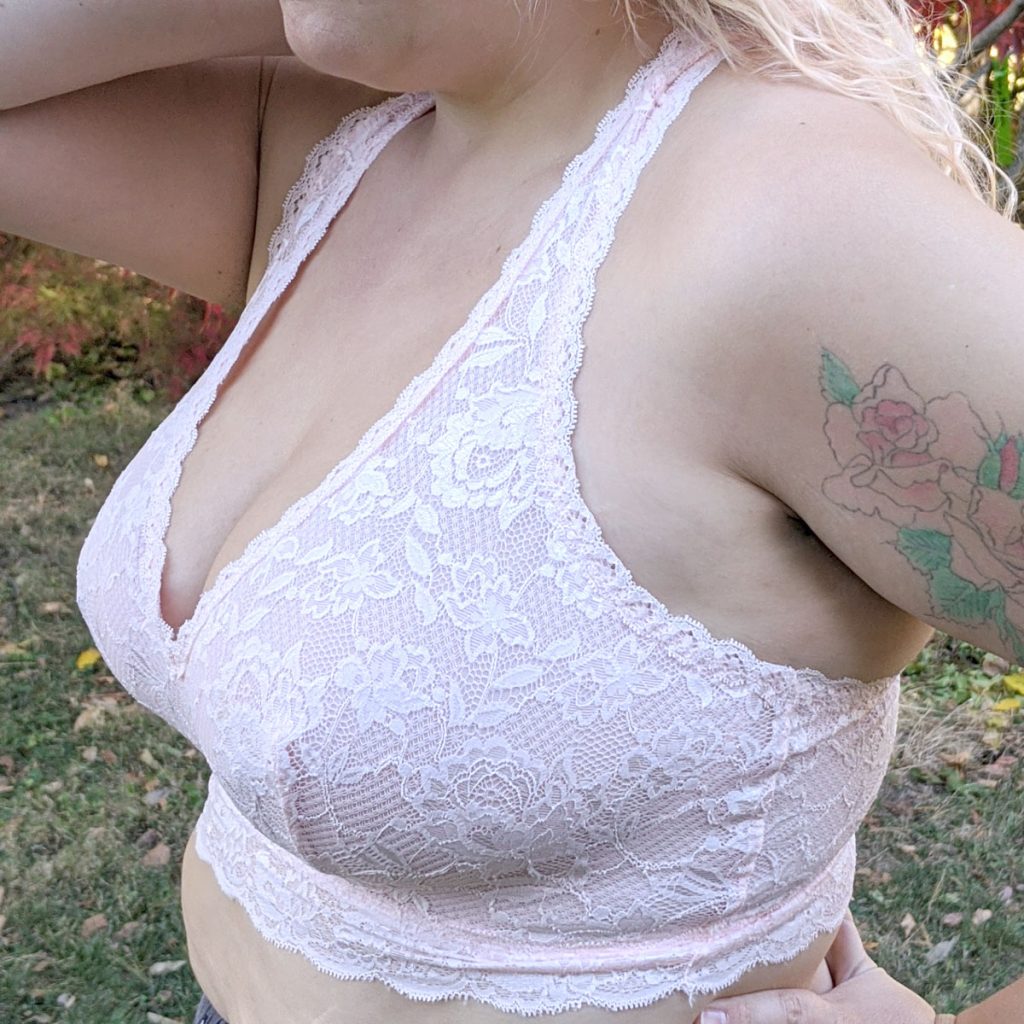 This bralette is a perfect fit for me. The cups feel secure, and are as supportive as this style of bralette can be for a fuller bust. It doesn't give me much extra lift, but doesn't give me the "squashed" look I often get with soft bralettes, even when they fit well. I assumed you'd need stiffer, sturdier materials for this amount of stability, but the lace and mesh are both super soft. It looks great under a top, but is pretty enough to stand alone.
Wearing this bra feels like going braless without the discomfort. Honestly, I wish I had a dozen of them.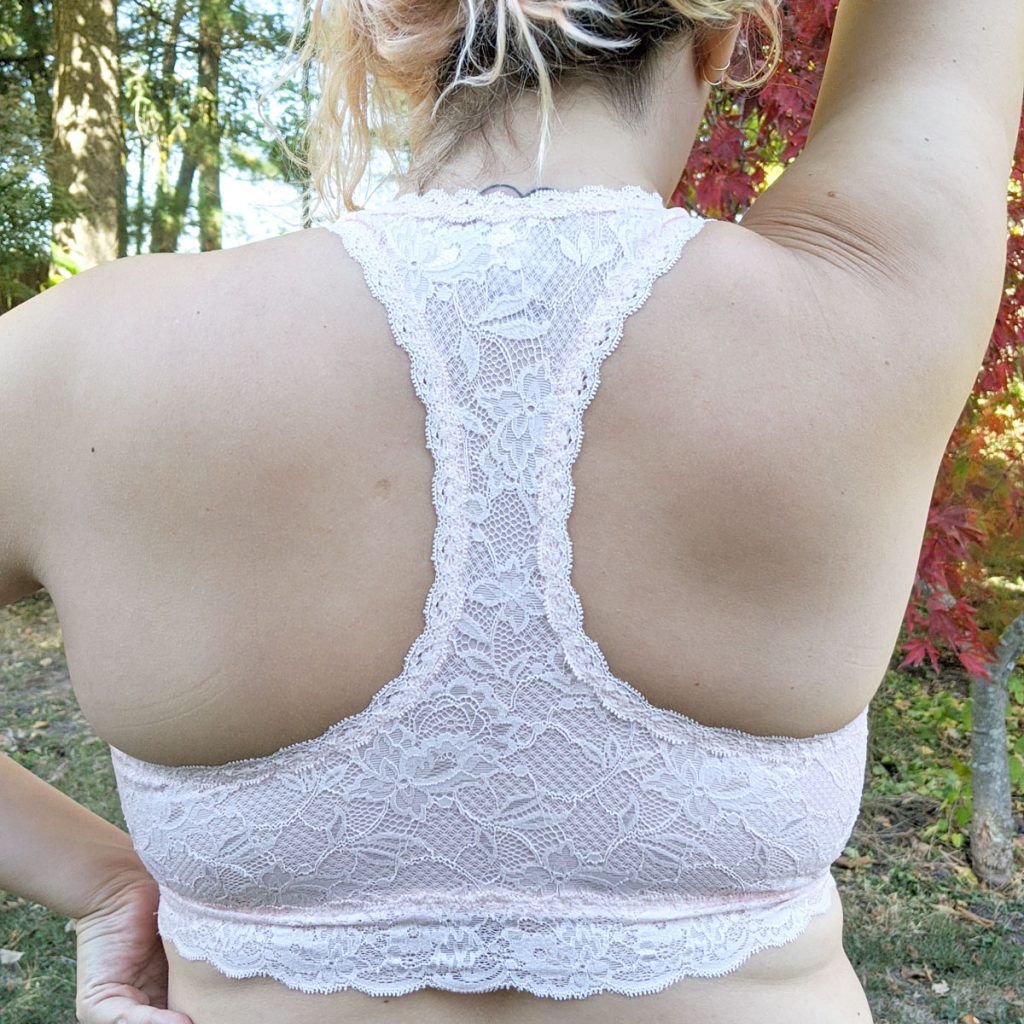 My only complaint is that the lace band tends to flip up when I'm wearing it (as any soft lace band is wont to do on my torso), but it's so soft that I don't notice. The only other thing I have a complaint about? The price.
The Price
If you've read any of my other reviews, you know I'm not typically one to balk at lingerie pricing. Lingerie is expensive to make, and most lingerie is adequately priced - even famously overpriced lingerie.
But at $65.50, it's basically the same price as the Panache Clara, my favorite structured underwire bra which has an incredibly engineered fit and comes in a massive size range. It's hard not to feel a bit resentful when a widely-available basic lace bralette for full busts costs the same as a widely-available basic lace underwire bra for full busts.
The reason? Cosabella's lingerie is made in Italy, a country with higher labor costs than a lot of manufacturing hubs. If it was made in a country with lower manufacturing costs, I'd expect it to be more around the $45 range, but this location explains the price. It's far more expensive to make clothing in Italy than in China or Thailand, where Panache's factories are located.
However, it's still a bummer that the Curvy version of this bra costs $10 more at retail than its Regular and Petite counterparts. As I stated previously, it doesn't have significantly more engineering or materials compared to the Regular version. I can only assume it's because they produce fewer of these than the Regular bralette, or the mesh they use for the inner lining is that much more expensive.
So, from a manufacturer's POV, I get it...but like, barely.
Regardless, I'll be buying more of them.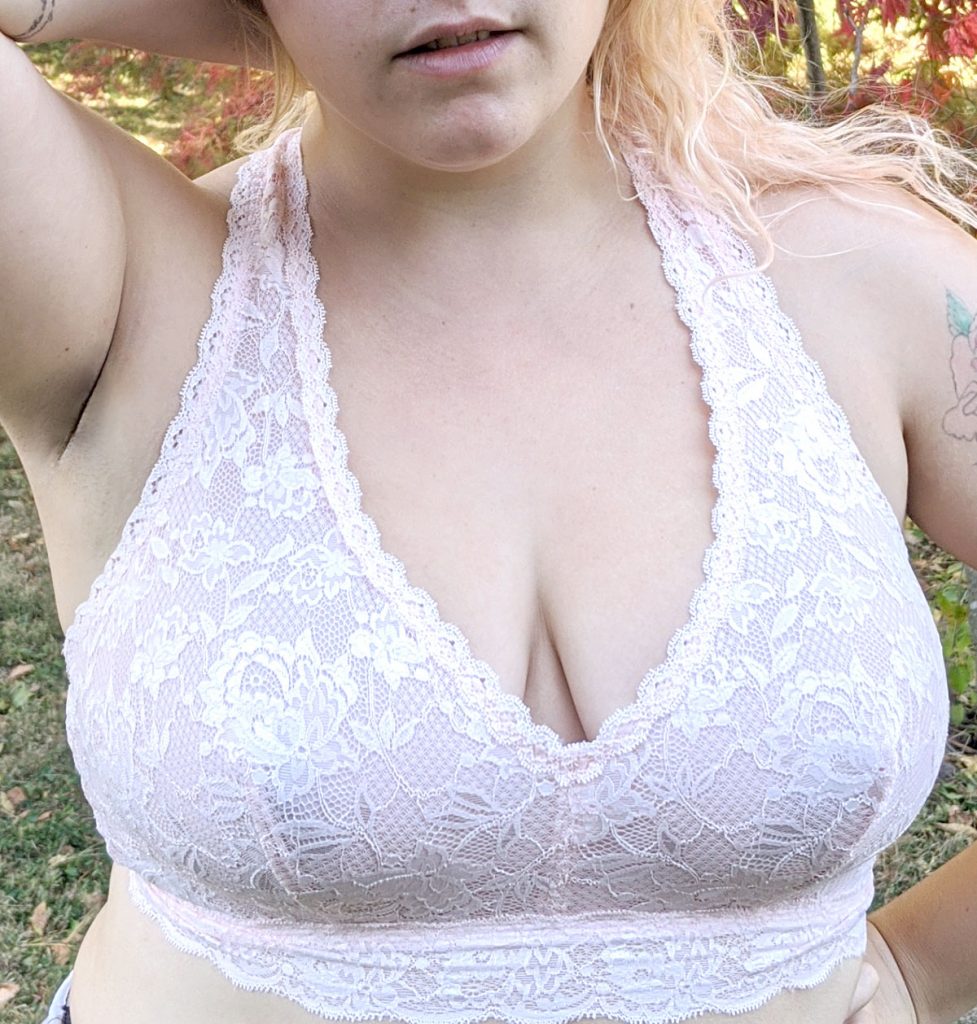 Final Thoughts
I almost hate how much I love this bralette! It's not my usual level of fancy, but it's so comfortable, surprisingly pretty, comes in a ton of colors, and fits so well. This bra was perfectly designed for DD to G cups.
I do wish it was a bit cheaper, since I can buy a fantastic full bust wired bra for the same price, and the other sizes of this bra (which are almost the exact same product) cost $10 less. But I love it, and am buying some more ASAP.
If you're in the size range for this bralette and are looking for a comfortable wireless style, I recommend this piece wholeheartedly.