How to Buy Japanese Lingerie When You Don't Live in Japan
Some of the most extravagant everyday bras are designed for the Japanese market. These bras are often heavily padded for forward projection and lots of cleavage, then decorated with over-the-top details like 3D floral embroidered appliques, contrast bows, and romantic fabric gathers.
If you're into fanciful embellishments like bows, flowers, and butterflies, Japanese lingerie might be exactly your thing. However, if you live outside of Japan, it's not the most accessible lingerie to purchase. Many brands don't ship internationally, and if you don't read Japanese, even just navigating their websites can be tricky.
But it's not impossible, or even that difficult. This guide offers the three easiest ways to buy Japanese lingerie, if you don't live in Japan or read Japanese.
Japanese Lingerie Sizing
First thing's first: Japanese lingerie sizing is its own thing. Contrary to popular belief, Japanese bra labels don't just make small sizes. Although you'll find more variety in core sized bras, you can find bras made up to a 49" bust and 38" ribcage. It's not all-inclusive, but it certainly goes above a 36C.
My biggest piece of advice? Follow the measurements on the brand's size chart, not the size conversion! Although I like wearing a 32 band in American and European brands, any Japanese bra I've purchased in the equivalent Japanese band size (70) has been far too small.
This goes for other lingerie as well, which does run small compared to American sizes of the same letters. For knickers, a good rule of thumb is to go up one or two sizes (depending on the volume of your booty), but again, I highly recommend checking the listed measurements. Meanwhile, loungewear is often sized by bust measurement; for instance, a size "85" slip is for someone with an 85 centimeter (33.4") bust.
Option #1: Shirohato
Shirohato is a multi-brand lingerie retailer with a store in Kyoto and a straight-forward online shopping experience for international customers. I talk in-depth in my Japanese lingerie review about my experiences purchasing through Shirohato. They carry some great, cheap brands like Narue and Risa Magli, plus higher-end Wacoal Japan labels like Wing and Trefle.
Since the site was developed specifically for the international market, it's pretty easy to navigate. Shipping fees are presented up front, you can pay with a credit card or Paypal, and shipping is quick.
The only downside to Shirohato? They're the easiest website to purchase from on this list, but (like any multi-brand retailer) they don't stock every style from every brand they carry, and some sizes sell out quickly. If you're looking for a particular Wacoal bra and Shirohato doesn't carry it, try Rakuten.
Option #2: Rakuten
Rakuten is a huge shopping marketplace with many vendors; think Amazon, Etsy, or Aliexpress. Because there are so many shops, it's a great place to find a wider selection of Wacoal Japan products. However, shopping on Rakuten Global Market's lingerie section is a little less straightforward than shopping with Shirohato.
If your shopping cart includes items from multiple vendors, you'll have to check out with each vendor separately - which means paying shipping to each vendor, as well. If you're using the search function and find a style you like, I recommend checking out that vendor's shop and purchasing any additional items from them.
And you won't be charged at checkout. Although you'll supply your payment information, the seller will send you the shipping cost after you place your order.
If shipping is too expensive when you receive that information from them, you can cancel the order and you won't be charged. Otherwise, confirm your purchase and get ready for your lingerie to arrive!
Option #3: Peach John
Peach John is basically the Japanese Victoria's Secret. They started as a mail-order company before opening tons of boutiques. Wacoal Japan now owns the company. (Are you seeing a pattern here? Wacoal holds a huge percentage of the Japanese lingerie market!) They don't technically ship overseas, but they have a partnership with a shopping service, making overseas shipping relatively easy.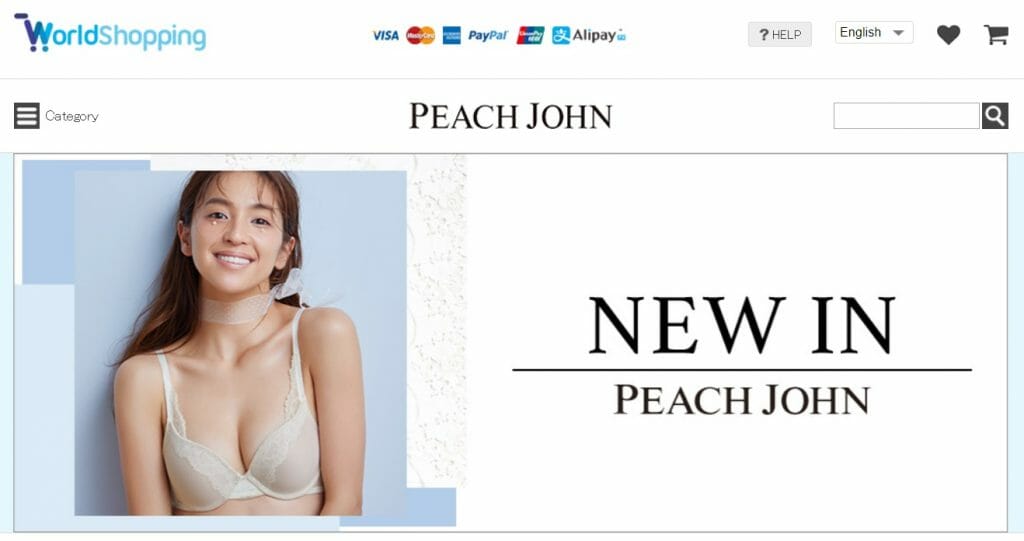 A shopping service charges you a small fee to order from Japanese websites that don't ship overseas. After the items are shipped to their warehouse in Japan, you pay to have them shipped to you.
You can use a shopping service to buy from any Japanese website, but it's much trickier if you don't read Japanese, so I won't be talking about that here. Since Worldshopping has a partnership with Peach John, you can shop directly through their translated portal with ease.
It's not as nice of a shopping experience as the actual Peach John website, but it's efficient and easy to understand. Even the size drop-down boxes list the ideal body measurements for each size.
When you order, you'll pay the domestic shipping fee and the shopping service fee. Later, you'll receive an email when the items arrive at the shopping service warehouse, and the pay for international shipping. You won't know what your shipping fees will be until the item has already been purchased, but you can estimate based on the chart on each item page.
Returns and Exchanges
When shopping for Japanese lingerie overseas, don't expect to return items if they don't fit or if you change your mind.
Shopping services, like the one Peach John uses, do not accept returns or exchanges. Rakuten's return policy depends on the seller, but I haven't found a single lingerie seller that accepts international returns. Shirohato's website states they accept returns within 7 days of arrival, but you must pay for shipping, which could easily cost more than the products themselves, and you won't be refunded for your initial shipping fees.
So have fun, choose wisely, and expect to keep all of your very pretty purchases.