How to Wear Lingerie as Outerwear: Outfit Tips and Styling Ideas
Maude Nibelungen is the founder and designer behind her eponymous avant-garde knitwear label Maude Nibelungen.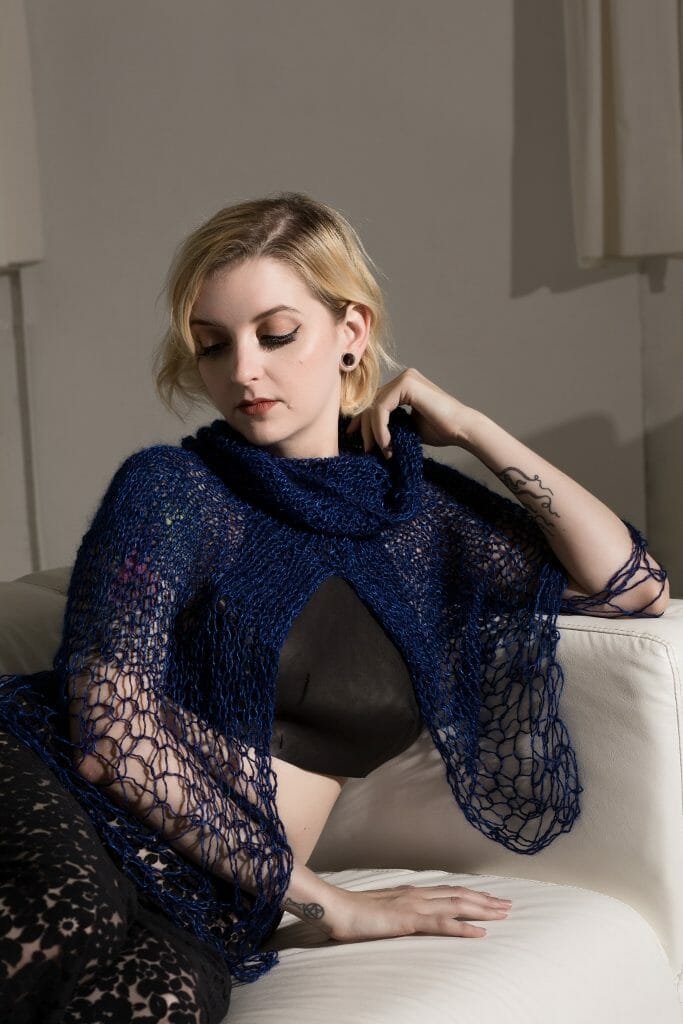 Whether you are a lingerie novice or expert, you've probably heard of the "lingerie as outerwear" trend. It's an easy trend to understand; with the variety of beautiful underthings available and the amount of money one can spend on them, it only seems logical to want to share these purchases with the world.
Lingerie as outerwear is exactly what it sounds like. The trend can be done as minimally as the lace trim of a bra shyly appearing from underneath a top to an ensemble made solely of sweet little nothings.
If you are as crazy about textiles as I am, you might be amazed by the world of possibilities layering your underpinnings can offer. In this article, I'll discuss the various ways you can incorporate lingerie into your look, including a short guide on how to build an outfit with underthings only. I also created a few collages to show you different possibilities and inspire you to start playing!
How to Start Styling Lingerie as Outerwear
If you have never tried lingerie as outerwear before, adding some small accents to your outfit is the perfect way to test the waters. High-neck and strappy bras look fantastic under a button-down shirt, v-neck, or any other neckline that will allow it. They are also both popular items at the moment so there is large selection available for any type of budget.
The same principle can be applied to the lower part of your outfit by wearing a slip or petticoat slightly longer than your dress or skirt; look on Etsy for some vintage beauties. There is something so romantic about the idea of having a bit of lace peeking from under your clothes or onto your skin - the most luxurious transition.
If you feel like going bolder, you can easily swap an item of clothing for a piece of lingerie. Longline bras and basques look great with high-waist pants and skirts and you'll also have less laundry to do! Bodysuits are also easy and versatile items to incorporate into an outfit, from see-through playsuits to turtleneck wool bodies, you should find something that suits your needs. Plus, if your shirt always comes untucked, they will save your life.
Camisoles are a great addition as well. A silk cami will not only be very comfortable, it will also add a je-ne-sais-quoi to even the most boring pair of jeans. If you are a homebody like me who lives in robes, just make robes your thing and start wearing them over your clothes as a jacket. Look for dressing gowns, kimono-inspired robes and bed jackets. I also like wearing a slip under my sweater dresses.
Tips and Tricks for a Lingerie as Outerwear Look
Now, it is time for the fun part, let's create a whole lingerie outfit! Underthings can be worn anywhere, but you need to adapt them to the occasion. Here are a few steps that may help you build your underfashion look:
Visualize the type of silhouette you want to create. Will it be flowy, androgynous, vampy, sporty? Is there a shape you have in mind? Focus on it.
Pick a key item, a piece that you absolutely have to have as part of your outfit. Every other element chosen should complement it.
Start layering! You will most likely need more lingerie items to create an outfit than you would with regular clothing.
To make sure your lingerie as outerwear outfit works, treat it like any other outfit. Accessories are everything! Try harness-type accessories and body jewelry to add another dimension and personalize your look.
Have fun with fabrics. You want to use different types of textiles; play with texture and opacity. I generally like keeping my core area opaque and fitted. Something see-through is my outer layer to complete my look without hiding what's under. I go for mesh, tulle, fishnet and of course, open and fine knits.
Understand what makes you feel comfortable in your outfits in general and apply those concepts to your underpinnings. For example, I personally do not like having my midsection exposed so I often incorporate some type of shapewear for definition and coverage. My go-to pieces are loungewear pants and slip dresses, longline bras, high waist knickers and stockings. But that's me, you have to do you. What makes you feel confident? It may take you a few tries to get the look you want but playing with lingerie is always fun, isn't it?
As you saw, there are so many ways to do lingerie as outerwear, from a subtle touch to a full-on look. The most important thing is to be yourself. Wear things that make you feel good and comfortable, whatever that means to you.
If you feel a bit insecure when leaving the house, especially the first time you try, remember that you are dressed. Underwear is clothing, clothing that we usually hide, but clothing nonetheless. It is not inappropriate by nature. You can be just as elegant and well-dressed wearing lingerie as any other clothing, sometimes even more so.
I hope this article helps you see how you can give lingerie as outerwear a try, if you haven't already. After years of hiding our underclothes in shame, what could be more empowering than taking your "unmentionables" out and letting them see the light of day?