Lingerie of the Week: Luxxie Boston Silk Maxi Slip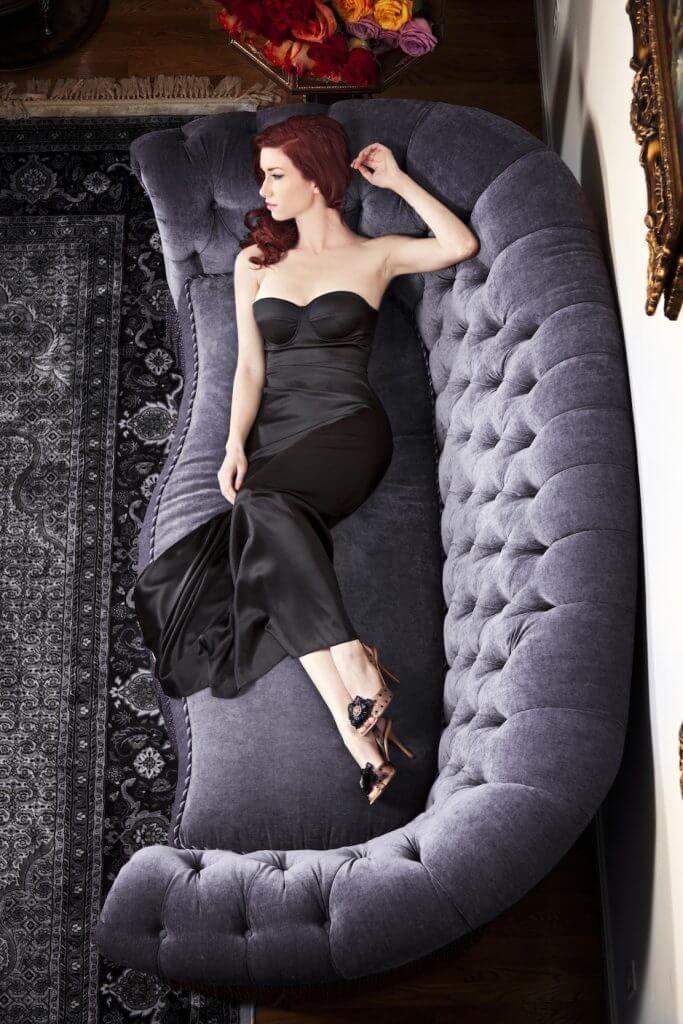 Hello, everyone! We're not done talking trends for Autumn/Winter 2017 just yet, but I'm briefly pausing TLA's Lingerie Market Trend Reports to resurrect our Lingerie of the Week feature.
To be honest, I thought about stopping our Lingerie of the Week posts completely this year. As you may recall, especially if you've been reading for a little while, I burned out in a major way last year. It was hard to write anything at all, much less the kind of detailed, informative articles I felt my readers deserved.
As a result, I relied heavily on Lingerie of the Week features, not just for the sake of showcasing beautiful things, but also because they were quick to do. I felt I could at least write something, even if my brain was uncooperative. Yet, while going through our archives at the end of the year, I realized most of what I wrote in 2016 was short and quick. I wanted to spend some time at the beginning of this year refocusing on TLA's content and our unique point of view.
While the book has taken over most of my brain space nowadays, I do have a couple of longform features in the works, pieces I hope you'll like. However, while writing those, I found myself missing the simpler Lingerie of the Week posts. They were a way of sharing little discoveries without a lot of analysis.
Especially now that I'm reposting more from the archives, it's fun to see what brand created in previous seasons, which pieces stood out and made a mark. More than that, I realized I don't have to choose between long, in-depth content and shorter, less serious content. TLA can do both.
And so here we are, with the first Lingerie of the Week feature more than a quarter of the way into the new year (is it still a "new year" if it's April?). Jasmine of Sin & Satin is the one to thank for this week's feature. She mentioned the brand over on Facebook, and I had to take a look. You all know how I feel about silk.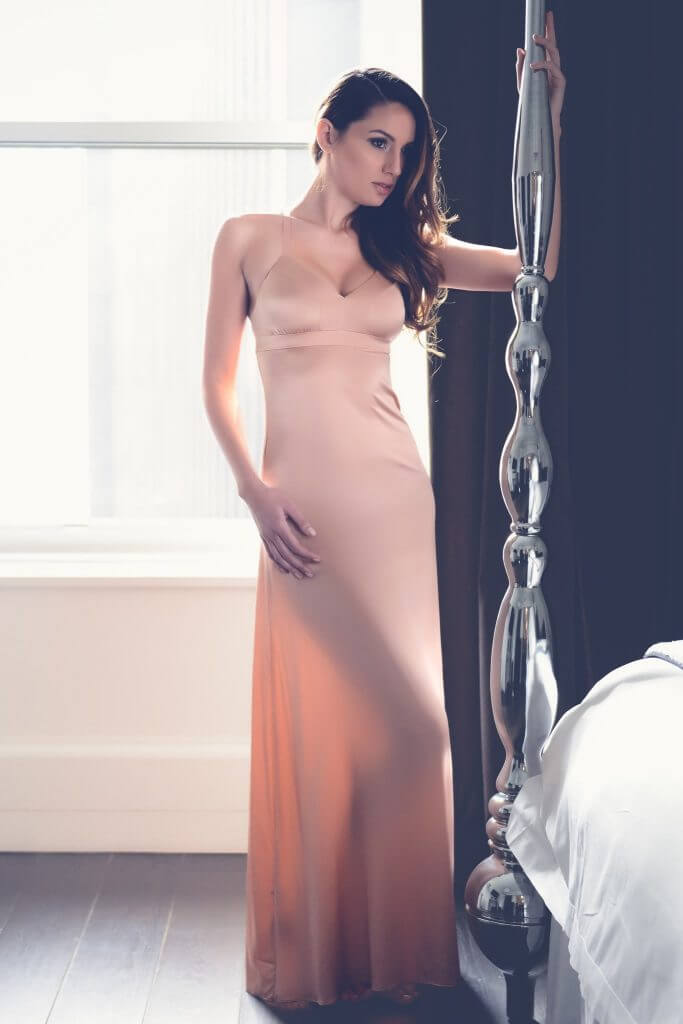 Luxxie Boston isn't a brand I've heard of before, but I'm already quite in love. The initial collection is small, consisting exclusively of silk gowns, chemises and robes that could easily double as outerwear. However, I believe there's something to be said for focus. In an era where every brand tries to do a little of everything, I admire a company for picking a niche and sticking with it. Luxxie Boston's silk lingerie feels like that for me.
Available in two versions, one with an underwired bra and one without, Luxxie Boston's silk long gown is exactly the sort of thing you'd be happy to wear around the house all day...or pair with a statement necklace and killer jacket to wear for an evening out. Both gowns are made in the USA of a 92/8 silk-elastane blend, and they're also available in three colors: platinum, noir, and cosmic latte (which seems to be a lovely, glowing blush tone). Even though the brand's design center is based in Boston, the aesthetic feels very California to me...which is perhaps appropriate since the manufacturing is in LA.
I can see myself wearing a gown like this whether I'm hanging out with friends or spending a few nights at hotel for a romantic getaway. That kind of versatility is important for luxury lingerie. If you're going to invest in a statement piece, show it off.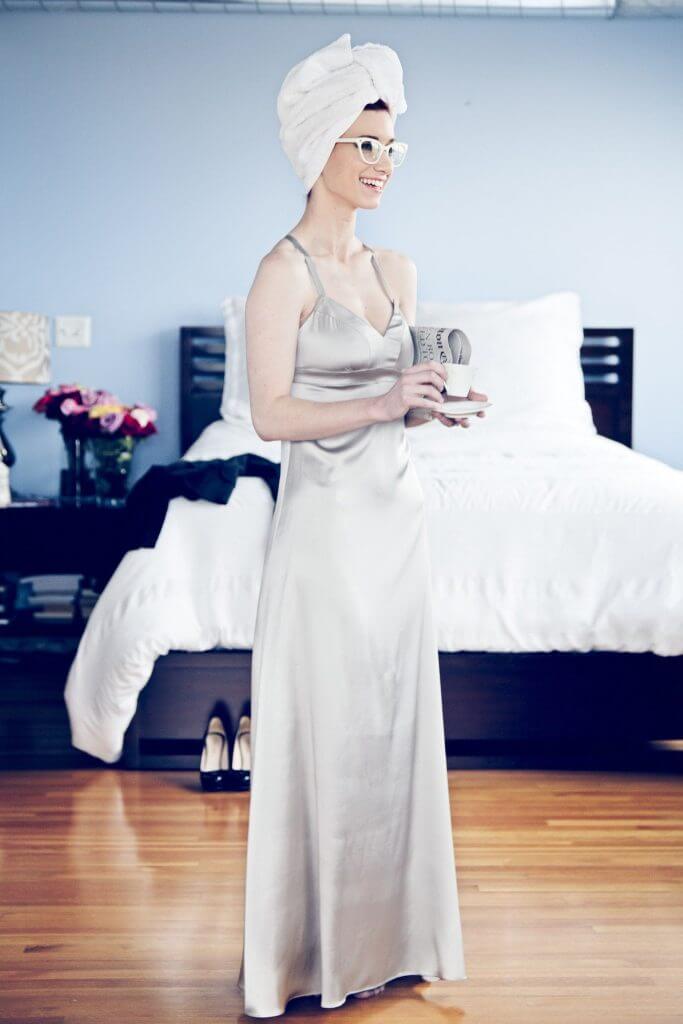 The Bustier Silk Maxi Slip and the Bralette Silk Maxi Slip both retail for $295 (but appear to have been originally priced or valued at $595). The underwire slip dress is available in sizes 32-42, roughly corresponding to US sizes 0-16, while the bralette maxi slip is available in sizes 32-38, approximating US sizes 0-12.
While I despise jingoism, especially in this current political era, I do like to see new lingerie brands setting up shop in the US and supporting the American garment industry, which is in danger of vanishing entirely. If you're not into the long gown, there are also camis, slips and robes available...but I think the gown is the standout silhouette.
I can't believe I hadn't heard of this label before, but now that I've found them, they're one to keep an eye on. You can never have too many silk basics.
Save
Save