Plus Size Bra Fitting: Comparing Three In-Store Experiences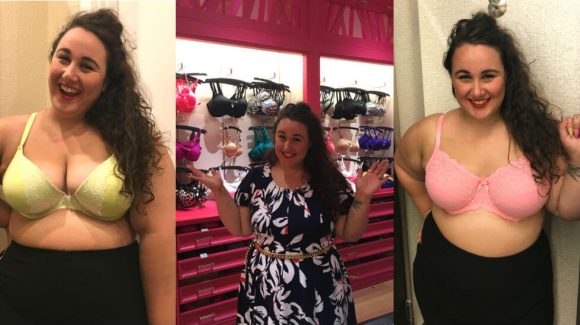 Disclosure: This blog post contains affiliate links.
As a plus size consumer, I have learned to do most of my shopping online. Stores either offer limited plus sizing in-store or don't feature my size at all so it's pretty much a necessity. While products being only a click away may be dreamy in some regards, navigating varying size charts and unknown fabric content or quality can complicate the process. One product I was afraid to buy online for a long time was bras, but conquering the in-person bra fitting is one way I quelled some of the fears of online plus size bra shopping.
I was experiencing some gapping in the cup of my current bra so I had a feeling that the 44DD I had been wearing was the wrong size and that it was time for a bra fitting. Some suggest getting a fitting every six-months to a year. While they are plenty of online tutorials to do an at-home fitting, but it's not a substitute for doing a fitting with an expert.
My bra size fluctuates often and learning my bra size is merely a tool that helps me buy products and is not any indication of my worth. My bra size has and will continue to change and that's perfectly okay. My bra size may differ across brands and styles. Although I am comfortable with whatever size I end up measuring, I wondered how equipped bra experts at every store were to measure someone my size. I decided to get three bra fittings: one at a plus size-only store, one store that only offers my size online and one store that didn't offer my size at all. I was surprised by my experience and I even found a few bras that I really liked in the process.
Lane Bryant
My first stop was at my local Lane Bryant. While this is arguably one of the largest retailers for plus size lingerie, I've personally never shopped there. I avoided it growing up because it didn't reflect my personal style, but these days the way that they have co-opted body positivity in their campaigns has continued to keep me out of their stores. But for many plus size women, Lane Bryant is their most accessible or only option, so it was important for me to experience a fitting there.
When I walked into the store, it was clear to see where the bras were located and it was also easy to see that they were having a big sale. I located the first salesperson I could find and asked for a bra fitting. She took me back to the entrance of the dressing room area to a three-way mirror and asked me to hold my arms up while she took my measurements. I kept my dress on while she did the fitting.  She told me that I was a 42D and then detailed the sales that they were having and showed me where I could find sale bras in my size.
Although she didn't offer any suggested styles, I asked her what she would recommend for someone my size. She said that the traditional balconette style was the best seller and that a lot of people love the comfort of the t-shirt bra. I asked what she would suggest specifically for someone like me who is smaller on the top than on the bottom and she said that the Plunge was good for a lift. I grabbed the three styles she suggested and one uber-sexy style that I wanted to try simply because I liked the way it looked.
The first style I tried was my pick: The French Balconette Bra with Lace & Caging. My reasoning behind trying on this style was pure aesthetics, but when I put it on, I definitely noticed that it was too big in the cup. When I tried on the Smooth Boost Plunge Bra next, there was a clear contrast in fit. I felt both supported and lifted by the Plunge. I tried on the True Embrace T-Shirt Bra and while I didn't love the support, it was comfortable. The last bra I tried on was the best-selling Smooth Balconette Bra. Looks-wise, this was my least favorite. I don't particularly care for super-thick straps and when I put it on, I couldn't get past the way it looked even though it did fit.  
Overall, I was comfortable getting a bra fitting at Lane Bryant. The salesperson who fit me was clearly familiar fitting someone my size and made suggestions that worked for me and my body type. Although the fitting itself could've been more private, it was a quick and painless process.
Nordstrom
After Lane Bryant, I headed to Nordstrom. My mom is a loyal Nordstrom customer and while I don't always have the budget to shop there, I know that they are known for their customer service. I haven't bought a bra from Nordstrom as a plus size consumer so I had no idea what kind of product offerings, if any, were available in my size in the store.
I walked into the lingerie section and upon first glance, I didn't see any indication of a plus size section. I asked if I could get a fitting and I was quickly taken back to a dressing room with a fit expert. I had to take my dress off and she measured my underbust over my current bra.  Then she left the dressing room. I thought for sure that I was off her measuring tape and she was left to find a bigger one. But my plus size paranoia was way off; instead, she came back with three bras and explained that they do the cup fitting by having customers try on different bras.
I expected her to leave the room while I tried the bras on for fit, but to my surprise she stayed in the room. If this was me a few years ago, I would've run out of the dressing room before ever showing my breasts to a stranger but the current me whipped off my bra and slipped into the test bra. The salesperson decided that I was a 40DD. I presume she told me this size because they don't carry a 42D in stores and 40DD is its sister size. She didn't ask what I was looking for, but she said she was going to bring me back some options to try.
She came back with two styles. The first was the 'Pure Allure' Full Figure Underwire Contour Bra by Natori in a light beige color. She stayed in the room once again while I tried on these bras. I liked the look of the scallop lace trim and while it didn't give me any type of lift, I felt supported. I tried on the 'Rive Gauche' Underwire Bra by Chantelle Intimates next and instantly fell in love with the cotton candy color, which is unfortunately not available online. It looks like 40 is the largest band size available in this product which means this isn't exactly the most inclusive plus size product.
I asked my fit expert if she had any other styles to show me since the two she showed me were pretty similar in terms of style and construction. She said that they didn't offer a lot of options in my size in the store and that if I wanted anything plunge or push-up, I would have to look online. It was unclear to me what sizes exactly are carried in the stores and she couldn't give me a clear answer on that. Looking on their website, they are so many styles I would've loved to try on in person and the largest size available is a 48H.
Overall, the experience at Nordstrom was much more hands-on (literally) than at Lane Bryant, but not having as many options to try on after my fitting was a limitation.
Victoria's Secret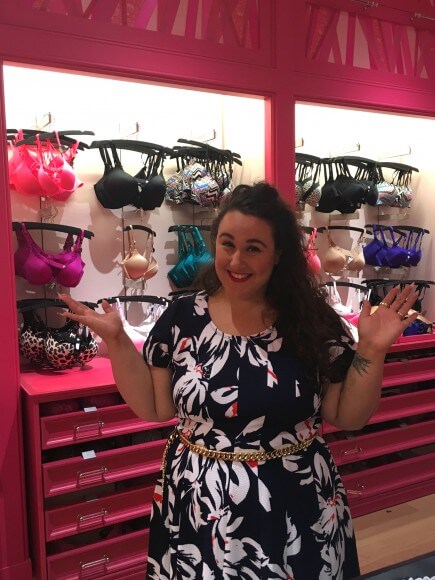 My final fitting of the day was at Victoria's Secret and I would be lying if I said my heart was not racing before walking into the store. I haven't been to the store since my mom yelled at a salesperson last year for not being more inclusive with their models and sizing. I just don't have a reason to go in there. To my knowledge, the largest band size available is a 38 and up until recently, I've been a 44.
I walked into the store, palms sweating and asked the first salesperson I saw for a bra fitting. She asked if I wanted to do it in the dressing room or on the sales floor. Being that it was my third fitting of the day, I picked sales floor but I did like that I was given an option. She did the fitting right there among the bins of bras and fellow shoppers.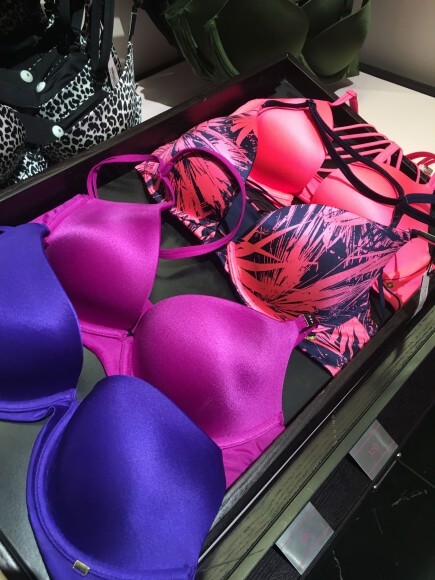 She told me that I was a 40DD which I again assume has to do with them not carrying a 42D. I asked her if they had anything in my size just to see what her response would be and to my surprise, she said they carried 40DD online. She filled out a card that listed my size and marked off the check boxes by the styles that were carried in my size online. I was convinced she was lying to me about my size being online but I took a look around the store and made a note of styles to look up later. I certainly couldn't envision myself in anything since all of the bras laid out were much smaller than my size.
Much to my surprise, 40DD is available online in my size. I found the Strappy Push-Up in the cool zig-zag print and the Very Sexy Push-Up in cheetah print that I had seen in store. And while it's nice that my size is offered online, I still can't visualize how these products will fit on me and I would venture a guess given that I am in the only band size they don't carry in store that they aren't all that interested in giving me floor space anytime or showing me what their products look like on someone my size.
My experience at Victoria's Secret was better than I expected because I was absolutely terrified to even walk in there. The fit itself was quick and painless and I was pleasantly surprised to learn that my size was available online. But I recognize that my experience was rooted in small-fat privilege. If I was still a 44DD as I was a few months ago, I would've had no options at Victoria's Secret, even online, and I have no idea how I would have been treated by the salesperson. I could have easily be fat shamed in the way I had expected to be.
Conclusions
If you want a bra fitting as a plus size woman, I learned that you can go to any store regardless of whether or not they carry your size in the store. But the process was most seamless at Lane Bryant, the only store where my size was carried in multiple styles and so was the next size up. I felt the most comfortable shopping among other women my size and with a salesperson who looked like me.
While the fitting can merely be a guideline for online shopping, I still would love to see more inclusion in stores from brands that carry plus size online. They have the inventory, why not give us the floor space? I hope to one day be able to walk into any store that carries lingerie, get a fitting and try on a number of options in my size. I hope this for women at every size along the spectrum. We have a long way to go for in-store inclusion but I hope one day we get there.
Save
Save