Garden of Glass and Steel: A Manhattan Lingerie Editorial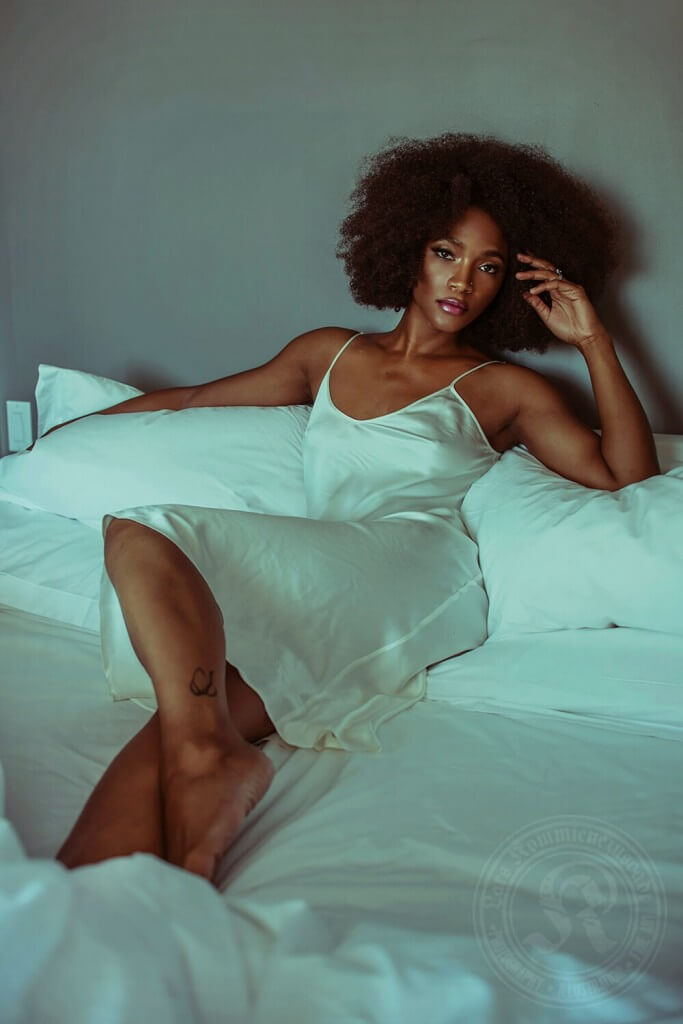 About a month or so ago, I found myself working in Manhattan for few weeks. While I love my new digs in California, nothing quite compares to the allure and hustle of New York. I feel invigorated when I'm in Manhattan; the city fills me with inspiration and a sense that anything's possible. How could one not be inspired with The Metropolitan Museum of Art and The American Ballet Theatre nearby? While it seems less and less likely I'll ever live on the East Coast again, I do love visiting. By now, Manhattan even feels a bit like a second home.
During my visit, Lars Kommienezuspadt announced he'd be in town for a day or two and wondered if anyone might be open to a shoot. I loved our work together last year (the 'Night Witch' editorial), and I couldn't turn down an opportunity to collaborate with such an amazing photographer again. Obviously, Lars has worked with a lot of people, and I'm sure each model he's photographed appreciates something different about his talents. But what I love most his ability to capture darker skintones.
One thing I'm hyperaware of is how many photographers, intentionally or not, lighten darker skin in the editing process. I doubt there's anything malicious or evil behind these edits in most cases, but the effect is still here. Speaking personally, I'm always wounded when my skin, which I think of as a shade of rich, deep, redwood brown, comes across as ashen, pale, or washed-out in photographs. And it's not just because I love my skin; it's also because I believe it's important for other people with my skintone to see themselves represented...without lightening.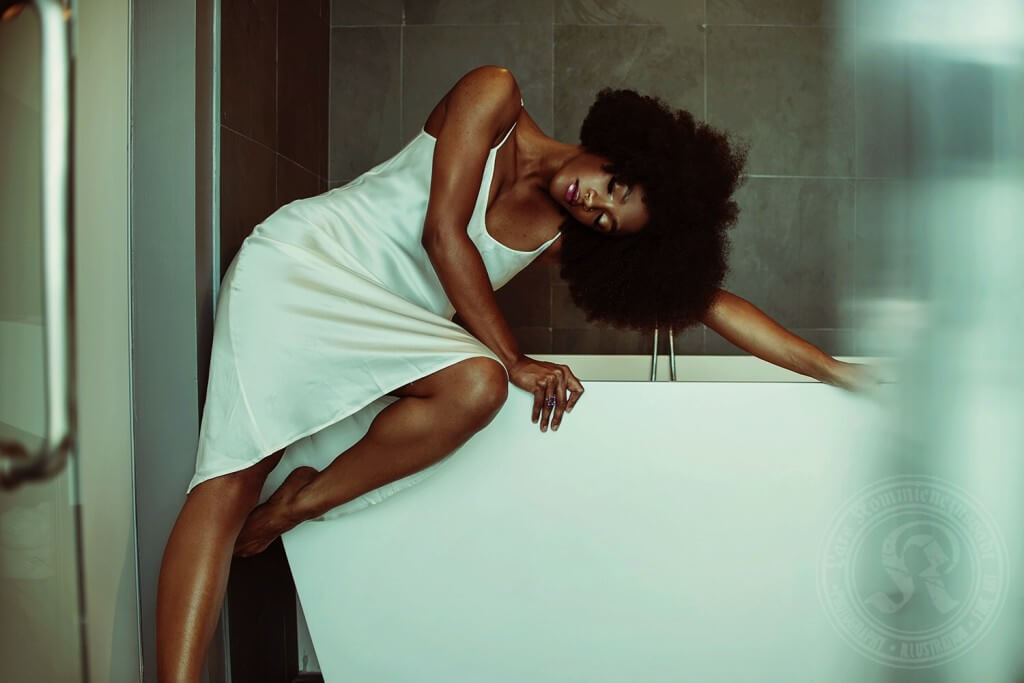 While I wanted last November's shoot to have a darkly gothic, almost supernatural vibe, I wanted this one to be more stark, more graphic, and to have more of a focus on texture instead of shadow. I also wanted this shoot to feel modern and metropolitan, but with just the slightest touch of old school glamour and drama. Not enough to feel costumey (I think my pinups days are firmly behind me), but just enough for fellow lingerie addicts to glean the sartorial connections between the past and present. I also wanted, to be perfectly honest, for this shoot to feel fabulously rich.
I still occasionally have trouble reconciling my background as a kid from Central Georgia with being the face and voice and hair behind TLA. Ten years ago, I never would have imagined my life would include to trips to Paris and London. And even though this editorial is very much a glamorous fantasy (I do wear these pieces in real life, albeit not usually in the bathtub), it can sometimes feel like I've snuck into someone else's life. I'm still a red flannel-wearing, Lovecraft-reading, Wonder Woman lunchbox-having nerd, but I'm also...this.
But you're here for pictures, not feelings, so it's time for credits. The photographer is Lars Kommienezuspadt. Makeup artist is Brown Paper Doll Beauty (who I highly recommend). Prop styling by Elie Phongsisattanak. Ivory slip dress is by Silk Laundry. Sheer black dressing gown is by Kiss Me Deadly. Lace knickers (worn with black dressing gown) are by Elle Macpherson. Blush and lace 'Selma Dancing' lingerie set is by Stella McCartney. Thigh high stockings by Rihanna for Stance. White lace 'Love' lingerie set by Agent Provocateur. Floral silk 'Anastasia' robe by Harlow & Fox.
TLA's budget for photoshoots is pretty tight, but I want to do more of them. Is there anything you'd like to see in a future shoot? A particular theme or concept or idea? And do you have a favorite look from this shoot?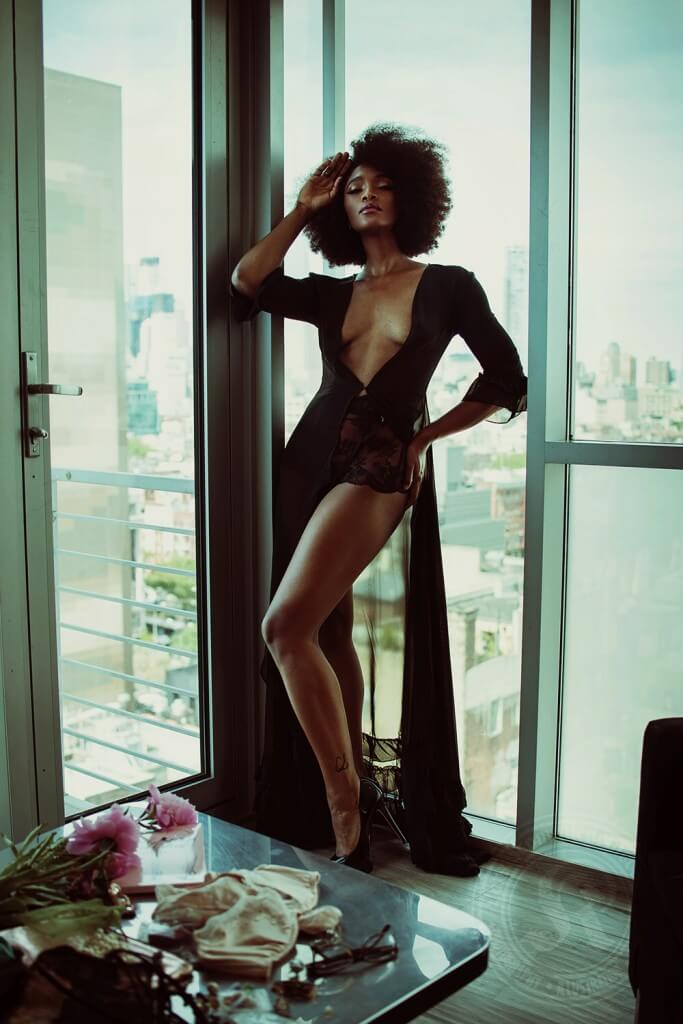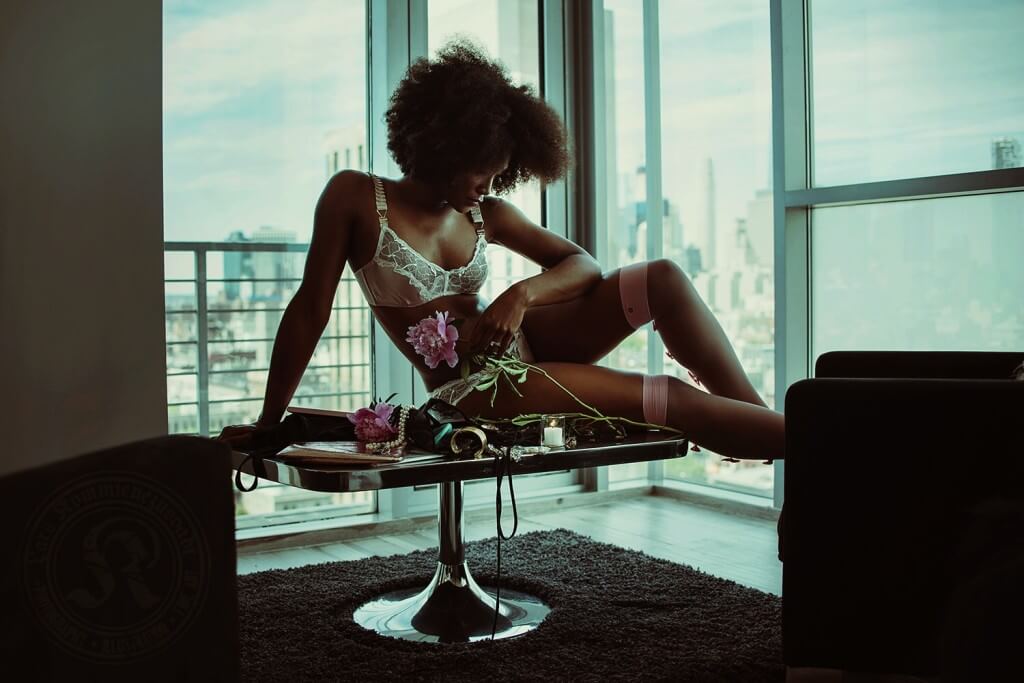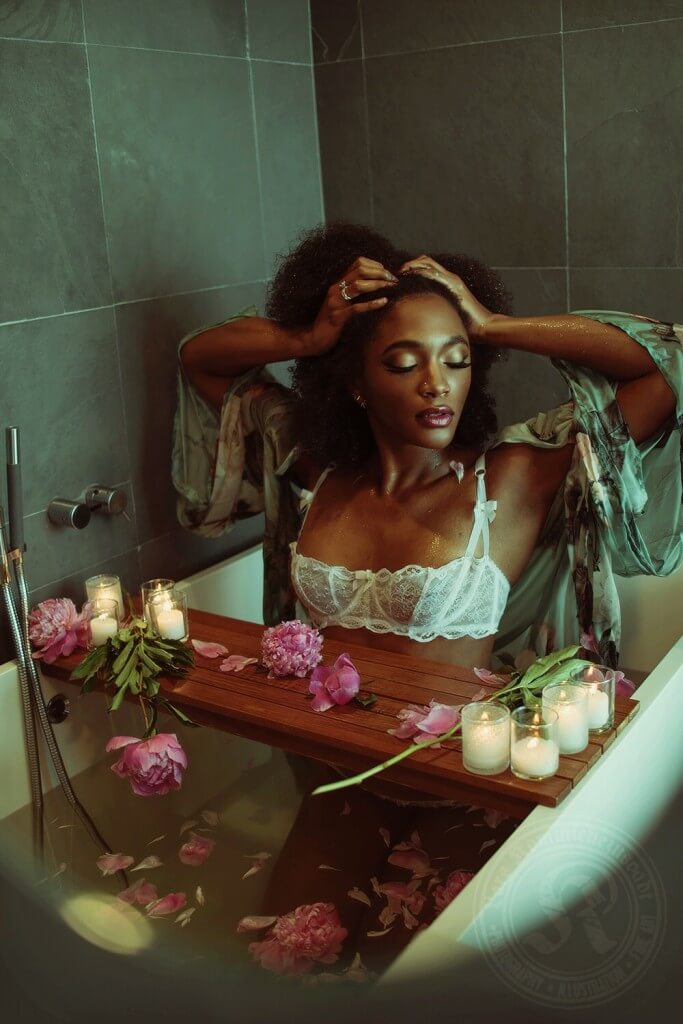 Save
Save
Save
Save