Shapewear 101: The Definitive Shapewear Guide
Today's guest post is by Lauren. Lauren believes all you need in life are three things: great lingerie, good food, and fantastic friends. When she's not putting pen to paper (or fingertip to keyboard) she enjoys reading, cooking (mainly desserts), and indulging in a little bit of retail therapy.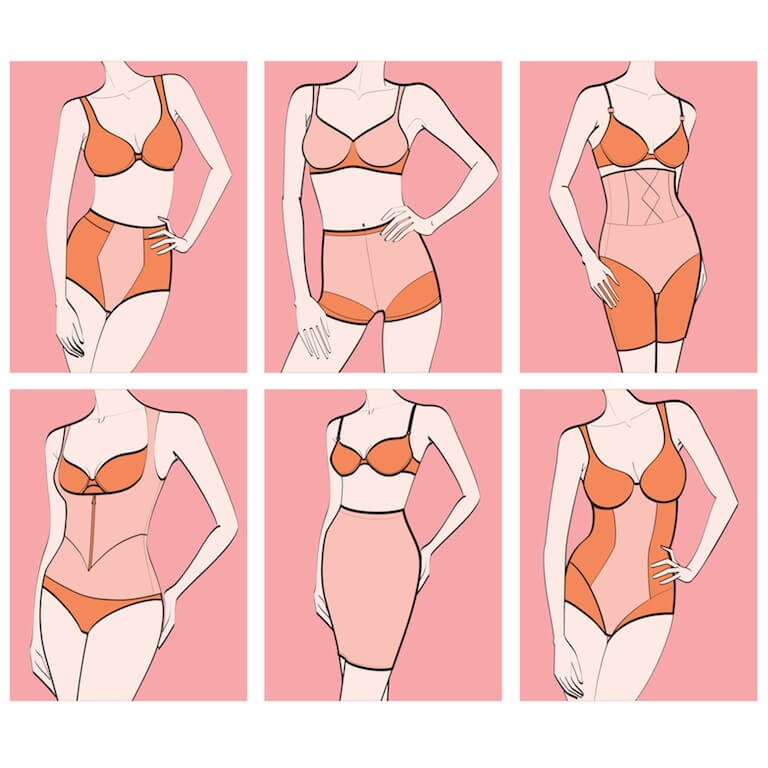 Remember that moment in Bridget Jones when Renee Zellweger had to make the decision between the scary, huge, pants and the sexy black ones? Those scary pants helped Bridget to bag Daniel Cleaver (against her better judgement, may I add) but nonetheless, she did look amazing in that gold dress.
If you've got a big event coming up and you want a little something extra to help you look and feel your best, there's no harm in using high-tech fabrics and clothing design to give yourself a helping hand and a super sleek silhouette.
Whilst shapewear isn't a requirement for dressing well, if you're feeling bloated or not as firm as you'd like, a good bodysuit or pair of control pants can help boost your confidence and make you feel better while wearing your favourite dress. Here's a quick overview of some various shapewear styles that might make an appearance in your closet:
Bodysuits
For a quick lift, bodies and body shapers are the way forward. They may look a little like a swimsuit, but trust me when I say they're very, very different! Bodies help to smooth out your stomach, lift your bosom, make your bum look perky and create a smooth silhouette - all in one! They are perfect for wearing under almost any outfit from trousers and tops, to shorts and tanks, to dresses and skirts. Many bodies have an integrated underwire bra to offer support, but if you prefer to wear your own, there are cupless styles available that often have matching separates, like the one above from PrimaDonna. There are so many gorgeous designs out there, you may find yourself wearing some bodysuits as outerwear!
Body Control Dresses
A good body control dress (also known as a shaping slip) hugs your curves, making them look smooth and toned. If you want shapely thighs, a defined waist and a lifted bust, a control dress under your party dress is the way to go. If possible, get fitted for your shaping dress professionally, and be realistic about what it can do for you. A good shapewear dress, like the ones shown above, will give you a sleek, smooth silhouette, but it won't make you a full dress size smaller. Trying to squeeze into a shaping dress that's too small will have the opposite effect, in fact, giving you bulges in places you shouldn't have them.
Corselettes or Body Briefers

Corselettes, or garter dresses, are an essential piece of shapewear, and I believe they have a place in most every wardrobe. Corselettes help create a smooth silhouette when worn under dresses and skirts. Most corselettes come with stocking clips to help keep them in place, and many styles are pretty enough to wear on their own in the bedroom or as part of a super-sultry boudoir photo shoot.
Shaping Camisoles
Camisoles help smooth your upper body and flatten your tummy. They're more comfortable to wear than a full body control dress and are a good choice if you're wearing a dress that's fitted at the top and flared at the bottom. They also work well for pairing with a show-stopping top and a pair of trousers, jeans, or a skirt.
Waist Cinchers
Nipped-in waists and hourglass figures are still highly desirable for many women. If you want to add a little extra definition to your waist, a waist cincher or "waspie" will be your new best friend. A waist cincher is a bit like a wide belt that's worn around the waist to helps smooth out the tummy and support your back whilst helping create a more defined hourglass shape. They are available in a wide range of styles that include front fastening, hook-and-eye closures as well as pull-on styles, and they range from more plain, everyday wear to lacy pieces (such as Chantelle's), which you'll have a hard time keeping under your clothes!
Longline Bras and Bustiers

Sometimes a bit of bra bulge can disrupt the lines of an otherwise great outfit. Longline bras, like the beautiful Dottie's Delights style pictured above, offer support for the chest and smooth your back so you don't have a visible bra line. Longline bras are structured to extend a few inches lower than the band of normal underwire bras and can also do double duty as a shaping bustier. Longline bras not only help to shape your silhouette, they can also be more comfortable to wear than bras with thinner bands because the wider band area offers more support across a larger space.
Shaping Shorts and Leggings

If you want a smooth line under a slim-fitting skirt or some skinny jeans, shaping shorts and mid-thigh shapers are a good option. They help lift your bum and smooth out your thighs at the same time. You can even get shaping pants that help keep your skin cool, so you don't get all hot and bothered on the dance floor. Because who doesn't want to look confident and comfortable in their party clothes?
Control Briefs
Whether you're slipping on your favourite pair of jeans or getting ready to hit the town with your friends, you want to look and feel your best all day (or night!) long. Control briefs and boy shorts are perfect for lifting and rounding your bum to create a shapely derriere. Control briefs offer everything from light to firm support, and are perfect for those venturing into shapewear for the first time as they are much less intimidating than their full body counterparts. Many control briefs also offer light stomach support and even a bit of thigh slimming, making them an excellent all-around shaping garment suitable for most anything.
Arm Shapers
Shapewear isn't just designed to slim tums and lift bums; there are even pieces to help out with your arms. If you're wearing a tight top or a dress with long sleeves, you may want to try a back and arm shaper. These can even help with poor posture, a common complaint amongst office workers and those who spend a lot of time at a desk. Arm shapers that stretch across the back help to pull your shoulders into a more natural position can help uncurl your body f you feel hunched over after a long day at work. What's not to love?
Note: Shapers and support clothing can help you to feel more confident in your favourite outfits, but you must choose your support clothing carefully. If it is difficult to put on, restricts your movement, or causes discomfort, don't wear it. Overly tight clothing can impair your circulation, which can be dangerous. The romantic Hollywood image of women fainting because they wore a corset that was laced too tightly has some grounding in truth. Don't revive that image by wearing Spanx that are two sizes too small!
What is your favorite type of shapewear? Any brands or styles you'd like to recommend?
Save
Save
Save
Save