Uye Surana Review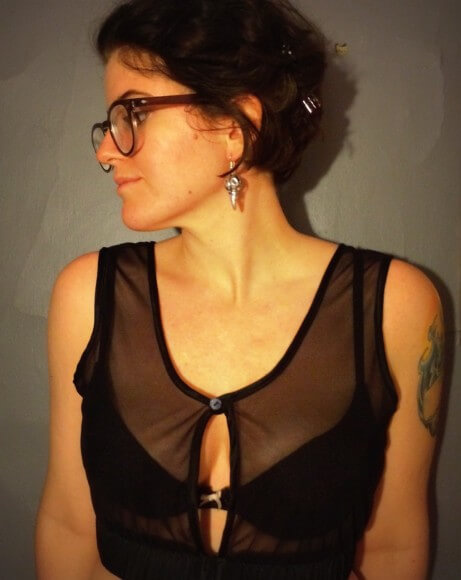 Note: These items were purchased for review by The Lingerie Addict. All opinions are my own.
Uye Surana is in many ways the quintessential indie lingerie brand. Owned and operated by a pair of ambitious young women who keep their sewing in-house, they sell online, at trunk shows, at a studio-shop in Tribeca, and at a sprinkling of small lingerie stores around the country (one of which is Birdies Panties, the launch point of the new transgender lingerie line All is Fair). Uye Surana also a brand with a casually feminist vibe: Owner Monica Wesley describes her inspiration as "the idea that women could enjoy design that was as beautiful as it was comfortable and practical from the inside out."
The overall aesthetic of Uye Surana is one that appeals to a specific type of modern femme: someone who would rather be running through the woods in a dress made of spun smoke than working from their cubicle. Uye Surana combines hard-edged cuts with soft, filmy fabrics to create a look that can only be described as "urban witch" (and indeed, the brand's social media manager does astrology in her spare time). These women may very well be magical: their designs have an effortless quality to them that suggests the work of unseen hands.
I recently got the opportunity to review one of their lingerie pieces, their sheer layering cami in black. It's a piece that trades on fashion trends toward both sheer and cropped shirts, but its styling online suggests a range of clever possibilities. So when mine arrived I quickly got excited about playing with its options. Here's what I discovered.
I'll get a few quibbles out of the way first. For one, the sizing on this particular garment was looser than I had expected, although this was not necessarily a bad thing --- more something to consider if you're in the market. I ordered their size large, which ended up fitting well enough through the bust but not touching my waist at all. If you want a more body-conscious fit, I would suggest ordering a size down. The other less useful feature of the garment was the positioning of the tag, which was sewn into a side seam in a sheer shirt. Which meant that it was very visible. I got out my seam ripper and nixed the tag because I knew it would poke me in the side forever if I left it.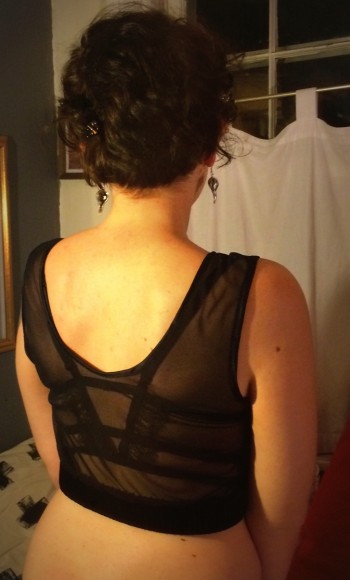 However, none of this mattered very much to me once I actually put the cami on. The silk mesh doesn't feel overindulgent or ostentatious --- it feels instead like wearing a shadow. It's cool to the touch and the mesh is lightweight. It's so pretty it kills me. And my bras layer well underneath it. It's a reversible garment too, and so has a lot of possibilities for styling differently with different outfits. I can see it looking really cool with almost anything, although adding this to an outfit will automatically make that outfit not-safe-for-work.
In conclusion: the layering cami feels a little like clubwear and a little like something you wear exclusively for standing in mushroom rings under a full moon. And I am probably never taking it off again. Which is good because I am a little afraid to wash it. If you take the plunge, note that silk requires hand washing and very gentle agitation.
I would recommend Uye Surana if you have been craving an experience and don't need to spend your lingerie budget entirely on workwear. At $59 the layering tank is about the mid-range of their price point, but some pieces they sell are in the $30 range and some are... well, appropriately priced for large garments hand-sewn from silk. If you like the look, and want to add a little spookiness to your fall ensemble without spending as much, I recommend checking out their Under $35 section, which features sale items, panties in delightfully murky ombres, and necklaces featuring big raw crystals.
What do you think of Uye Surana? Let us know in the comments!