Evgenia SS16: A Study in Black and White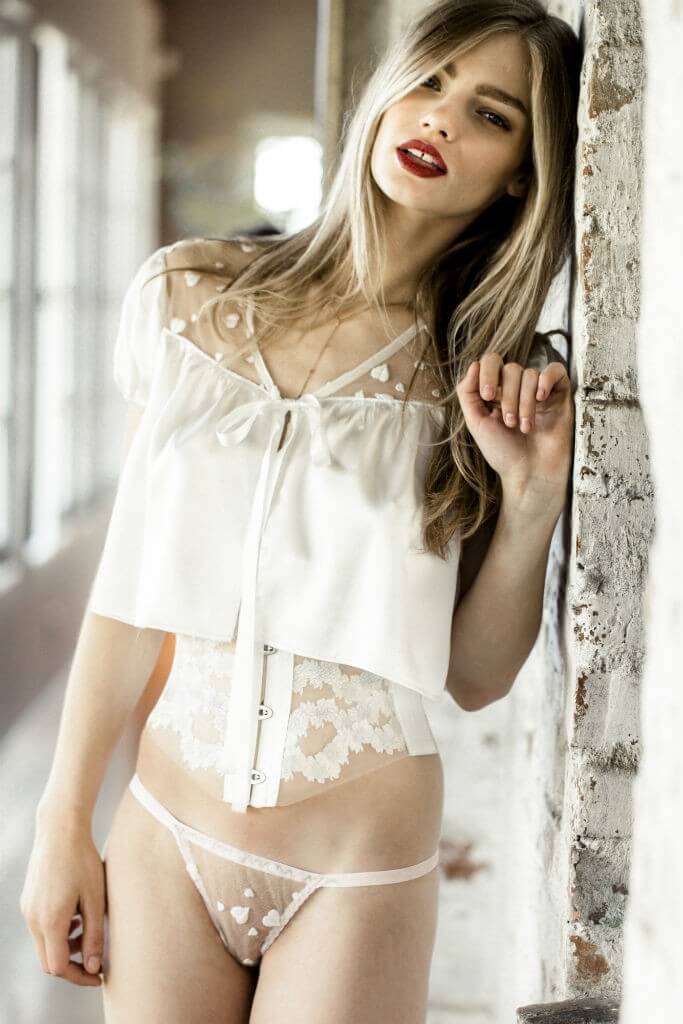 Please note: Some of the following images are NSFW.
Evgenia's newest collection is about as Old Hollywood glamour as it gets. 1930s silhouettes are reinvented in modern proportions with luxe fabrics and flirty attitude. There are stars! Hearts! And cheeky tap panties that make my heart sing. While most of the collection is derived from Evgenia's core offerings (tap panties, camisole, and a Kestos-inspired bralette), keeping a limited color palette of creamy winter whites (very much on trend) and dramatic autumnal blacks (another key color trend) keeps the line looking chic, sophisticated, and, of course, romantic.
Designer Stephanie Bodnar has an incredibly distinct point of view, which is rare in the intimates industry. I'm sure many of you recognize her delicious camisoles with darling bow lace insets from her early days as Honey Cooler Handmade. A nod to the sweet appliques often seen on vintage lingerie, these bows also adorn the back of those spectacular tap panties. My favorite is the one where black and white come together, with white crepe de chine and a black lace inset (with coordinating black buttons). It's a shame to cover these up. A bias cut hugs the body with just enough kick at the hem. The open slit at the hip is a period specific detail and adds a bit of subtle sauciness which I so enjoy.
Stephanie also uses the most exquisite French laces. Her infamous black starry lace bralette is back and is paired with a much requested coordinating thong. This dramatic lace is used to great effect along the waist of one of this season's new offerings, a swingy short gown. It's rare to see gowns cut on the bias (the extra fabric and attention to detail are normally cost prohibitive), but only a bias cut can effortlessly skim the body while creating movement. The gown has a dramatically draped bust and skirt that is begging for a twirl on your own private dance floor. The lace is used in the front of the gown and is set in a point (mirroring the cut of the tap panties). The back of the gown also mirrors this point, above which fastens a button for the gown's closure. This couldn't be more movie star worthy if it tried.
This season sees the introduction of an equally striking lace, snowy and sheer with delicate hearts. It's near transparency gives the illusion of hearts dotting the skin. This sheerness adds spice to the sweetness of the motif and innocence of the colorway. These hearts are sure to woo those shopping for a bridal trousseau or for a Valentine's Day splurge that doesn't buy into traditional reds or pinks. In addition to its use in the bralette and gown, the lace is also incorporated into the yoke of the new bedjacket design. I'm so excited to see a bedjacket offering. How decadent to slip a little swingy silk confection like this over cute knickers. Perfect for honeymoon! I see a lot of versatility in this piece, though, especially in black. It could absolutely be worn as outerwear, dressing up a tank and a pencil skirt or dressy skinnies.
The showcase of the collection is a diaphanous corset with dainty little flowers that wrap around the body. Stephanie's ribbon corsets are meant for fashion, not waist training, as they create a 2-3" reduction. This season utilizes the prettiest vintage organza ribbon ribs. So striking. So unique. And so overtly feminine. I'm sure it will be a big hit with brides.
The collection will be available for sale in early to mid January 2016. The lingerie collection is sized S-L (fitting busts 34-38" and hips 36-40"). The bralette fits bands 32-36 and A-C cups. The corsets are sized XS-L, with finished waist measurements of 22-28. Prices will range from around $40 to $380.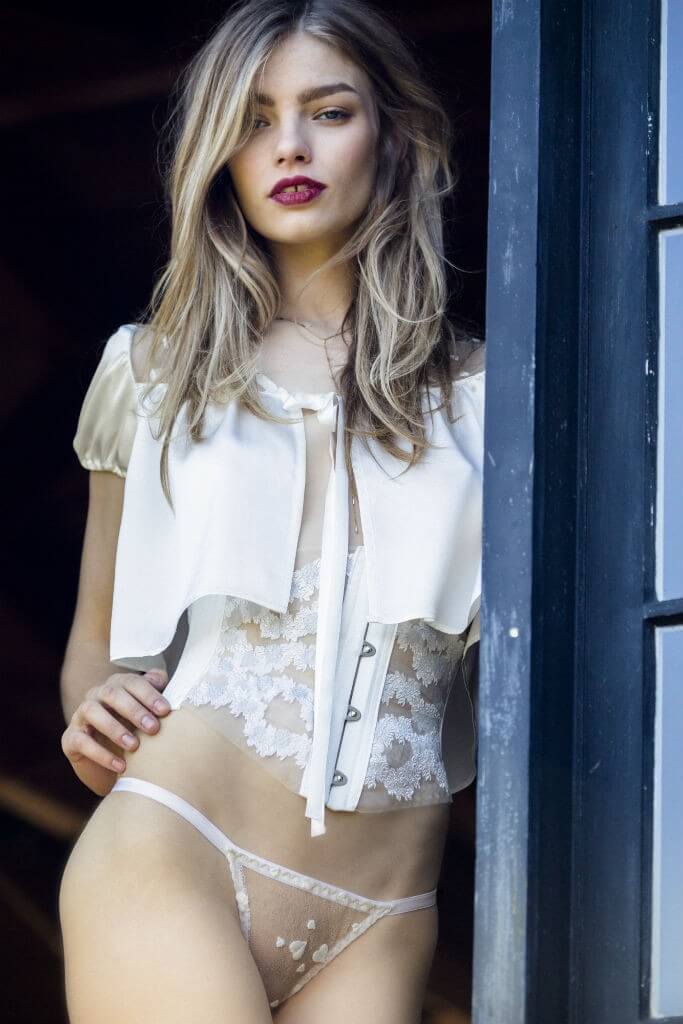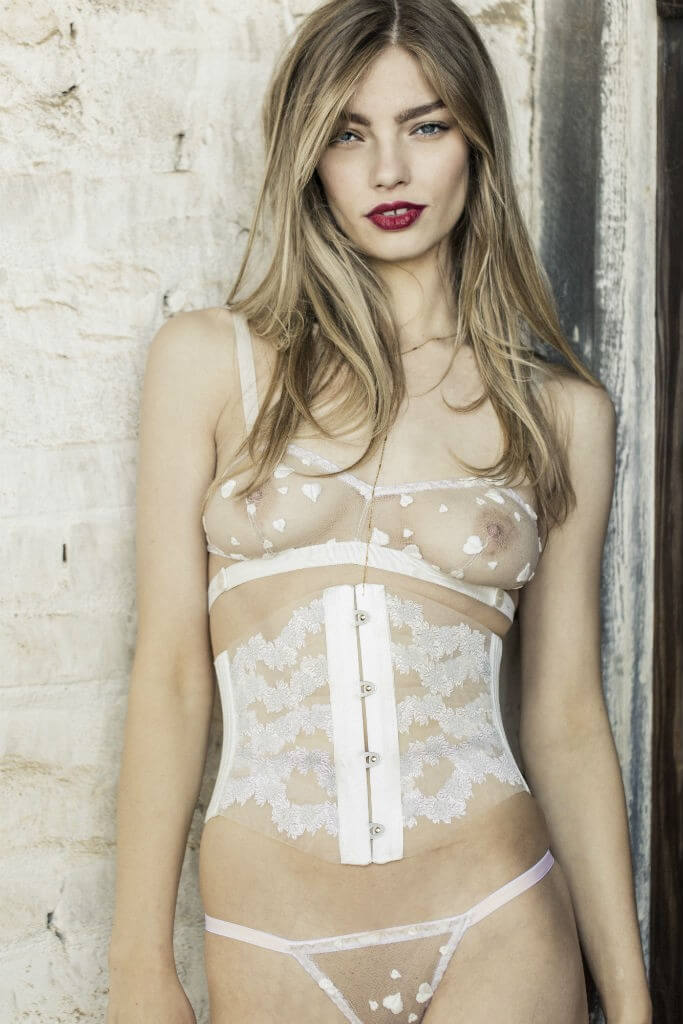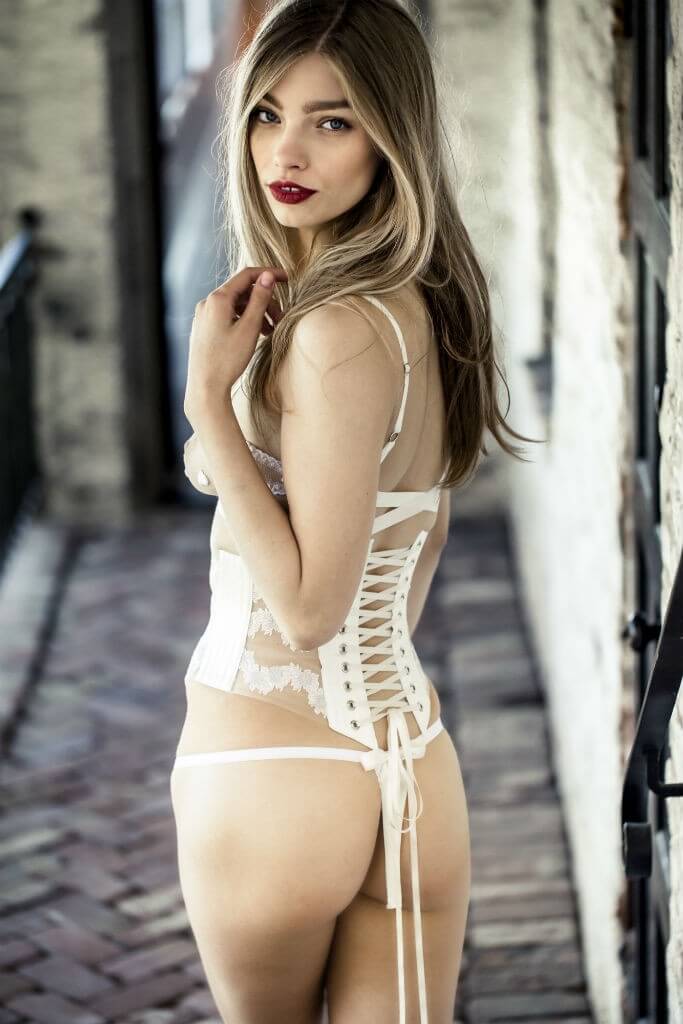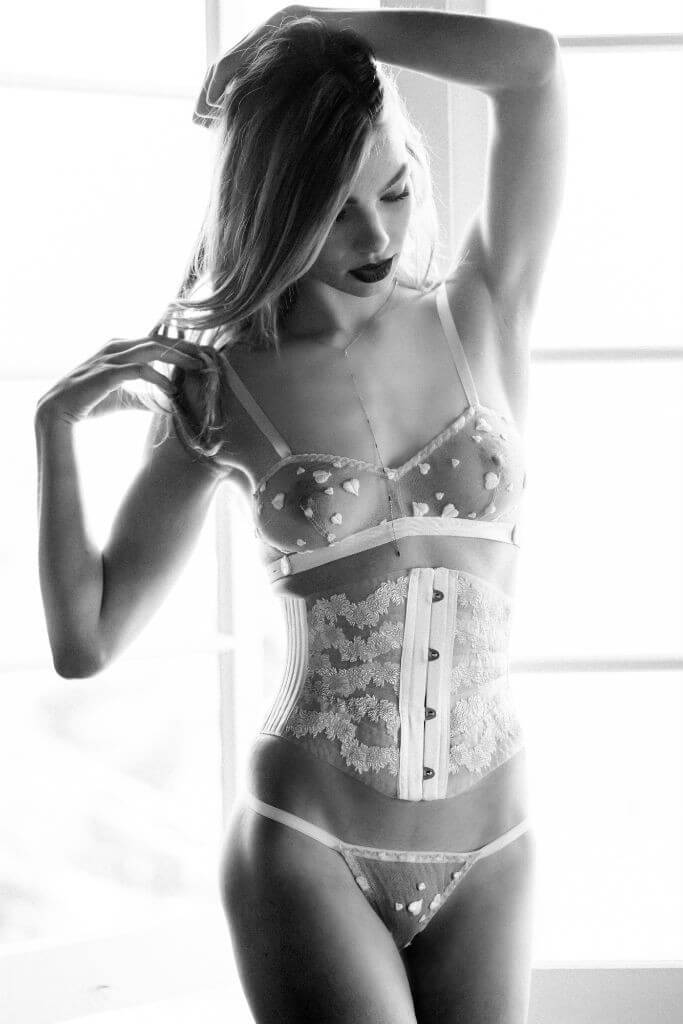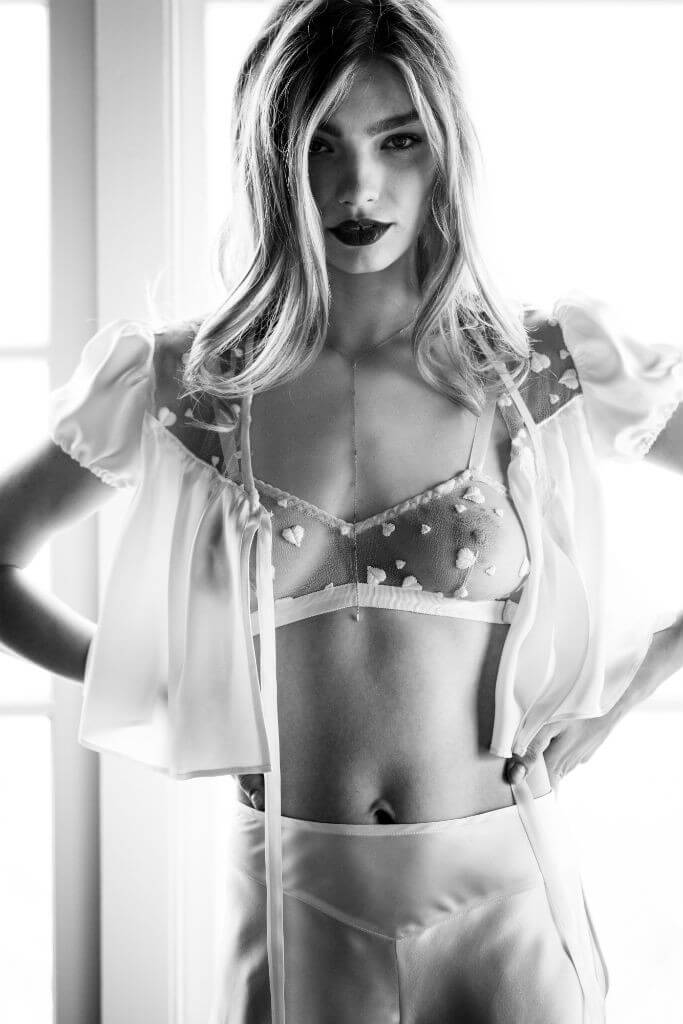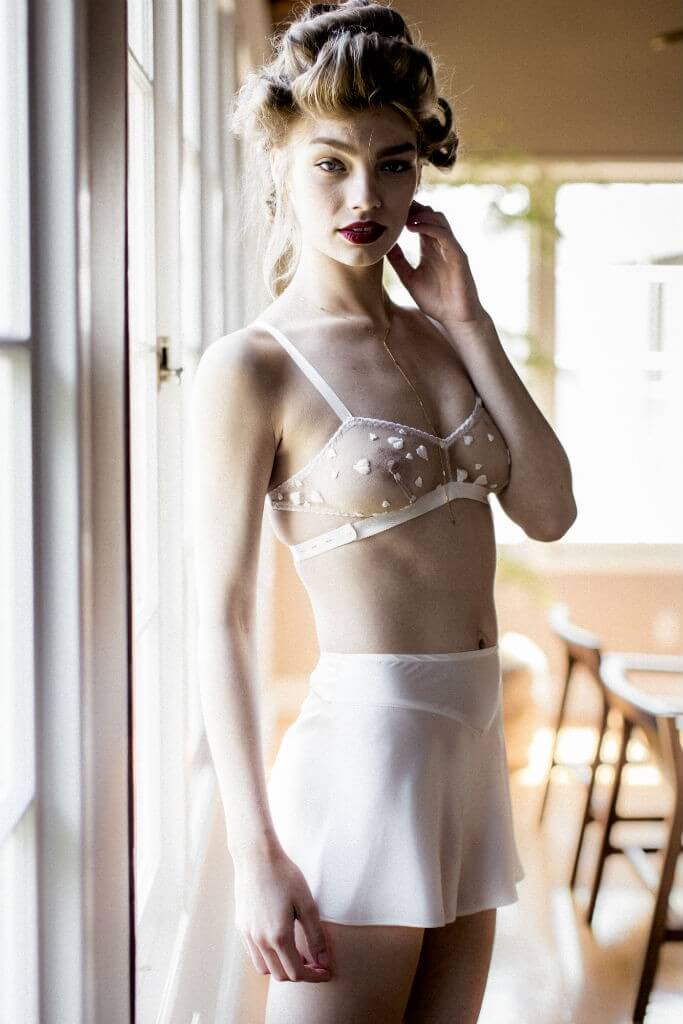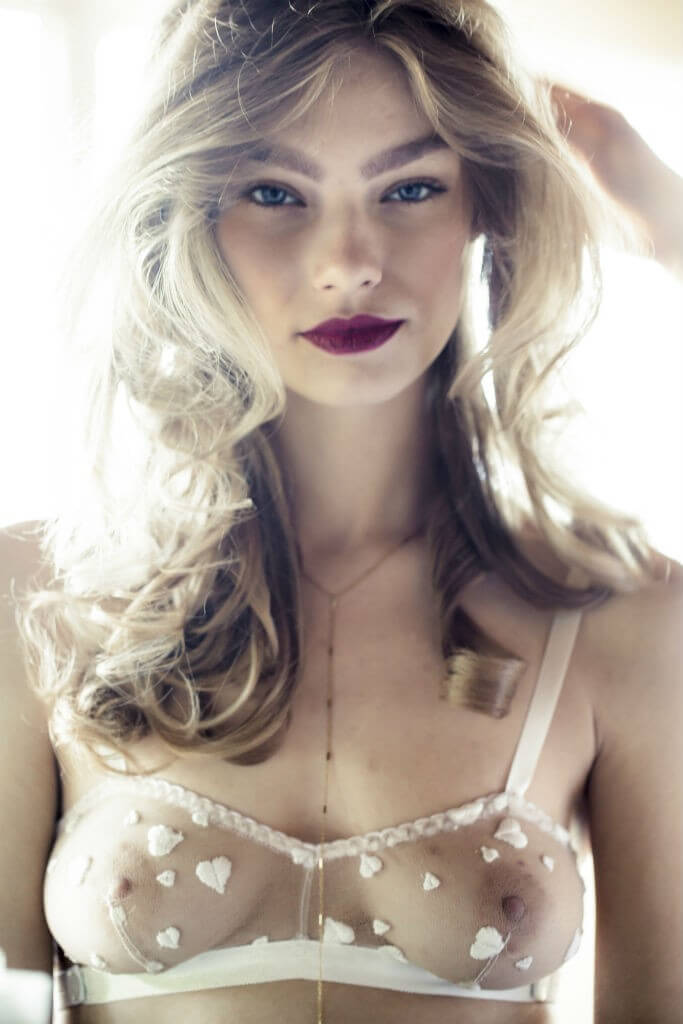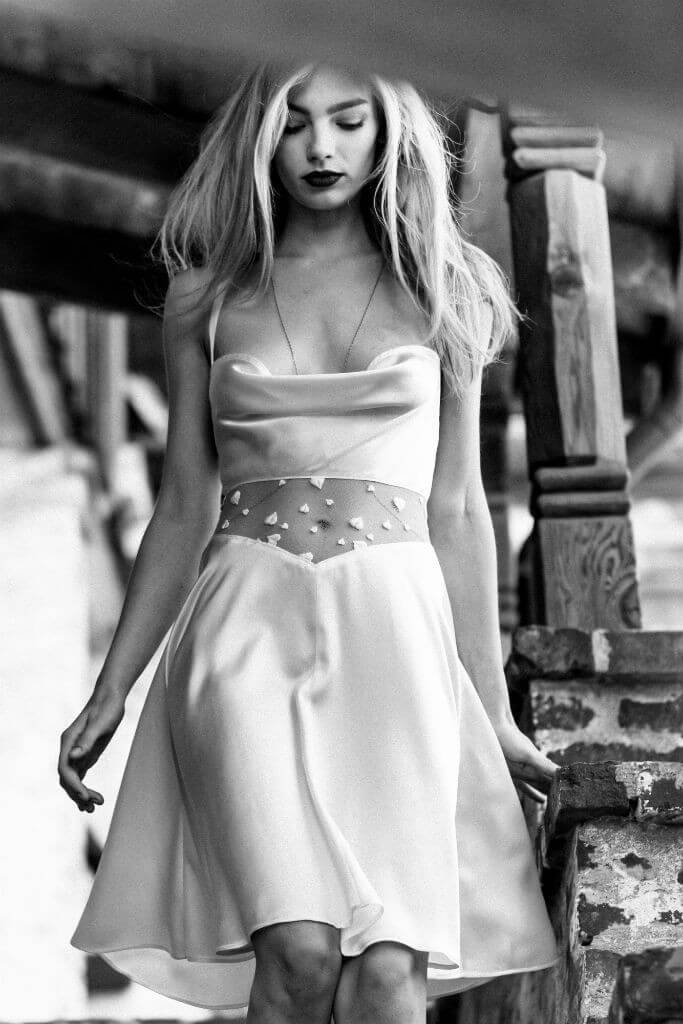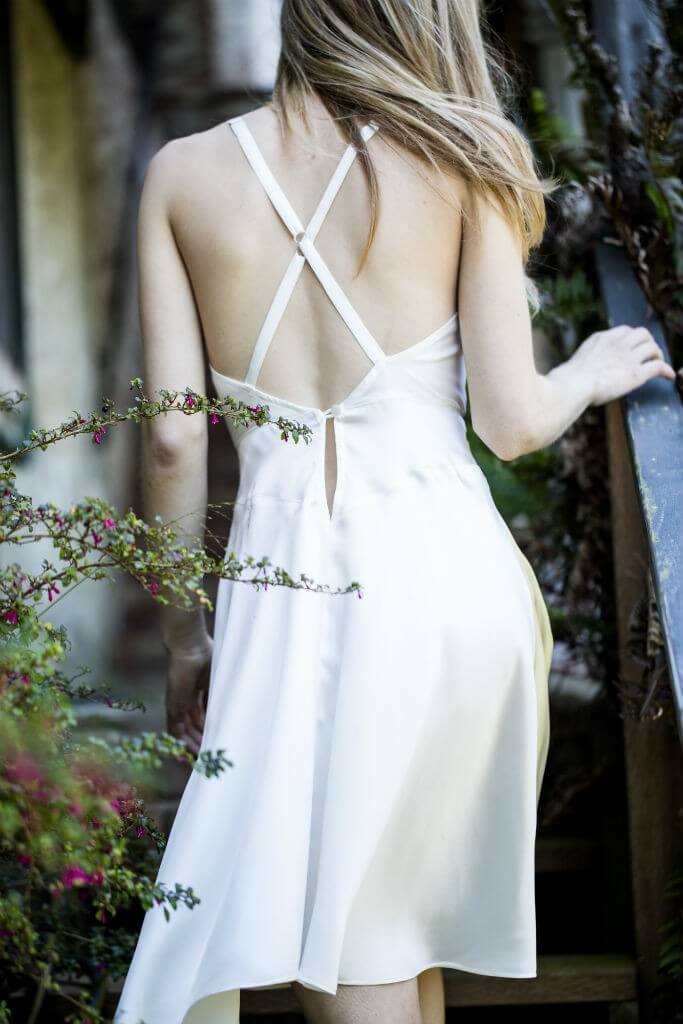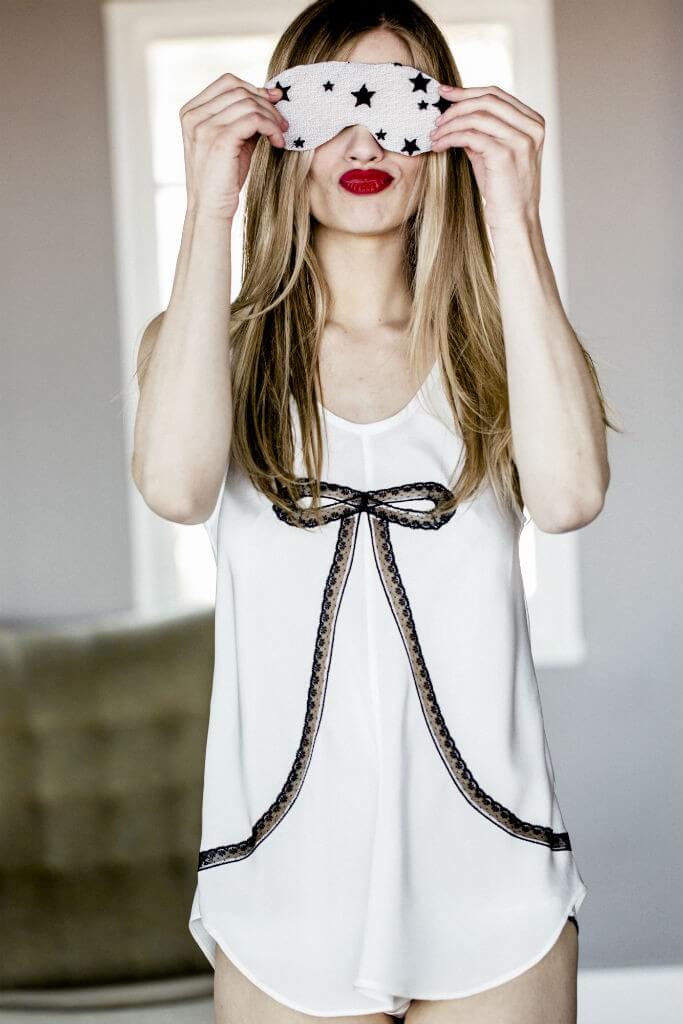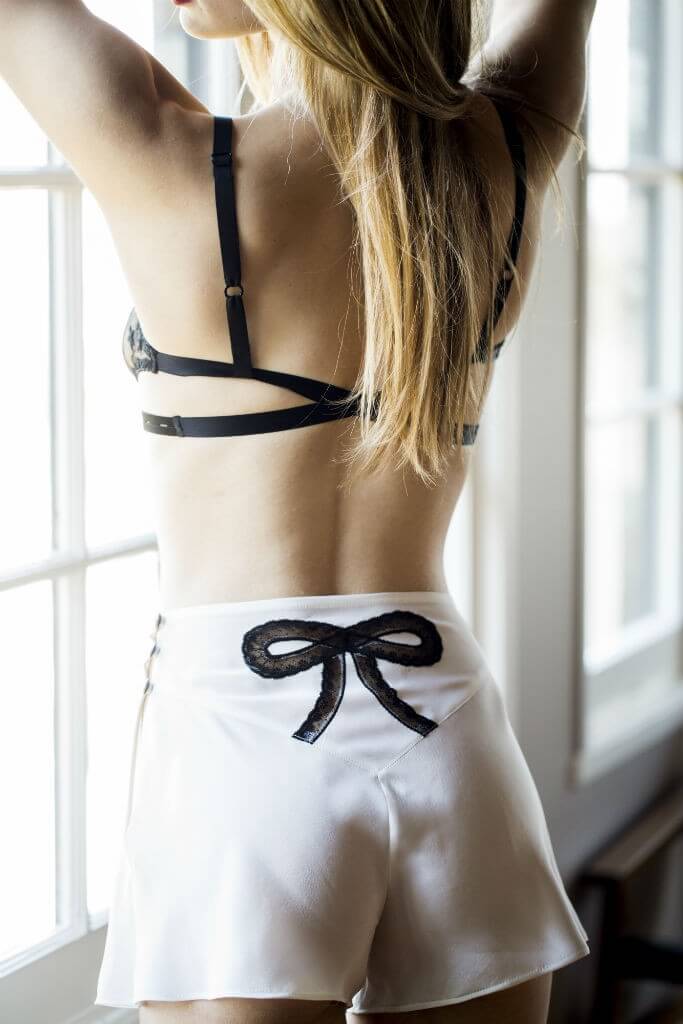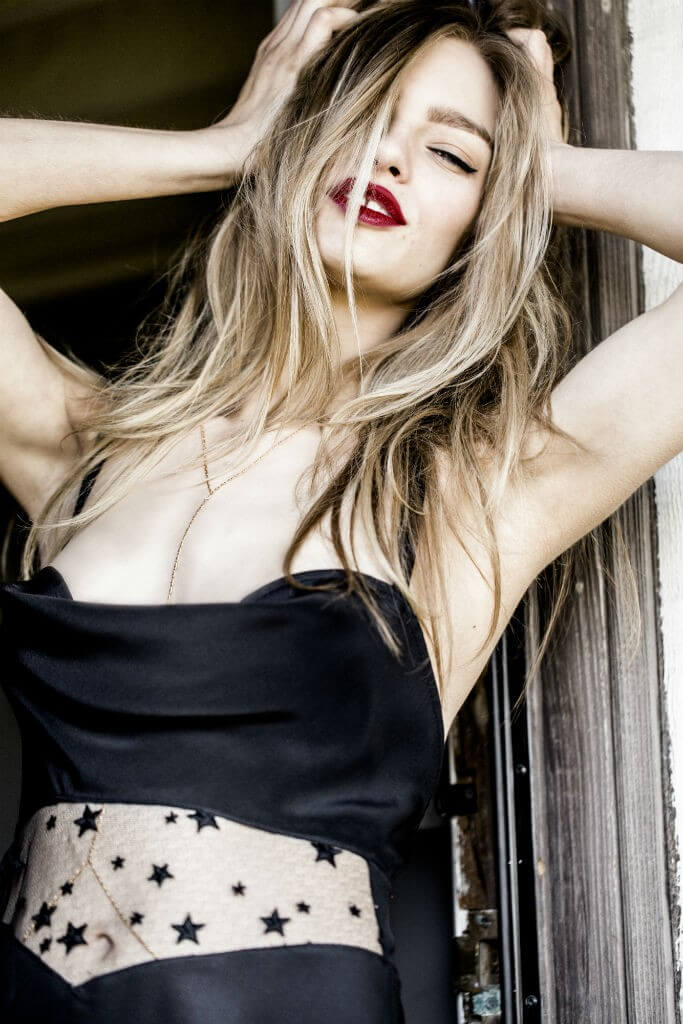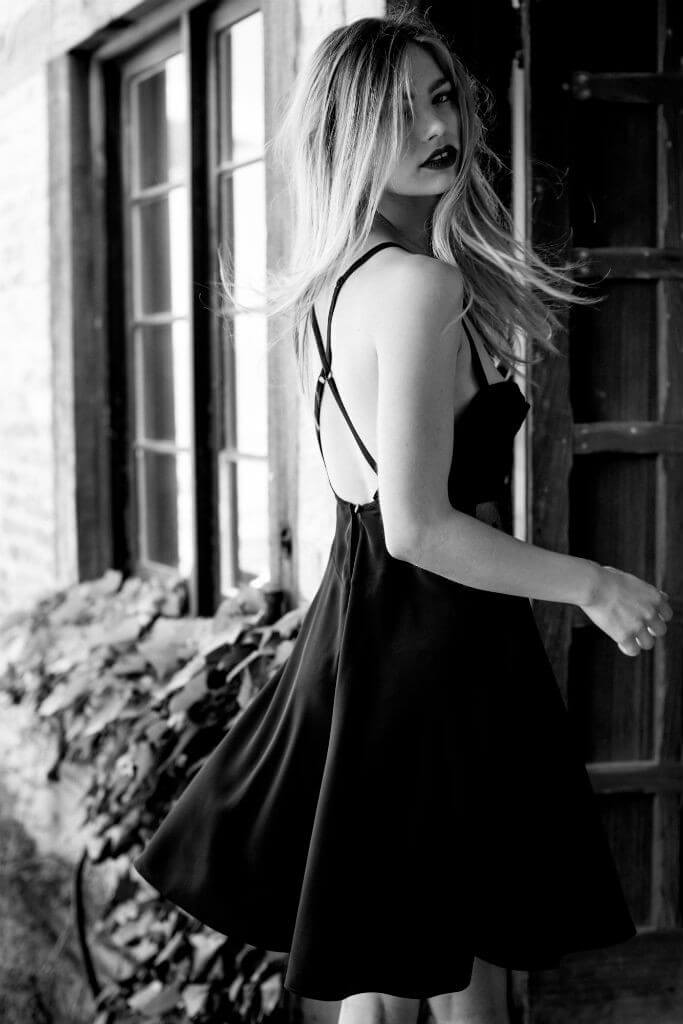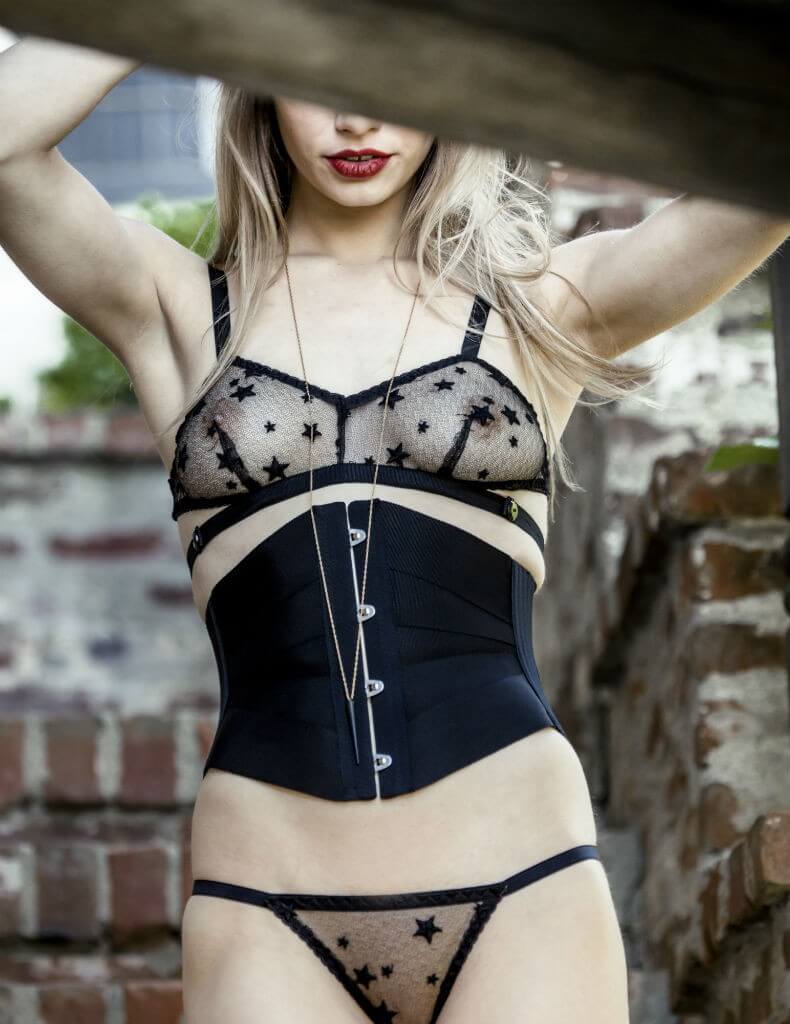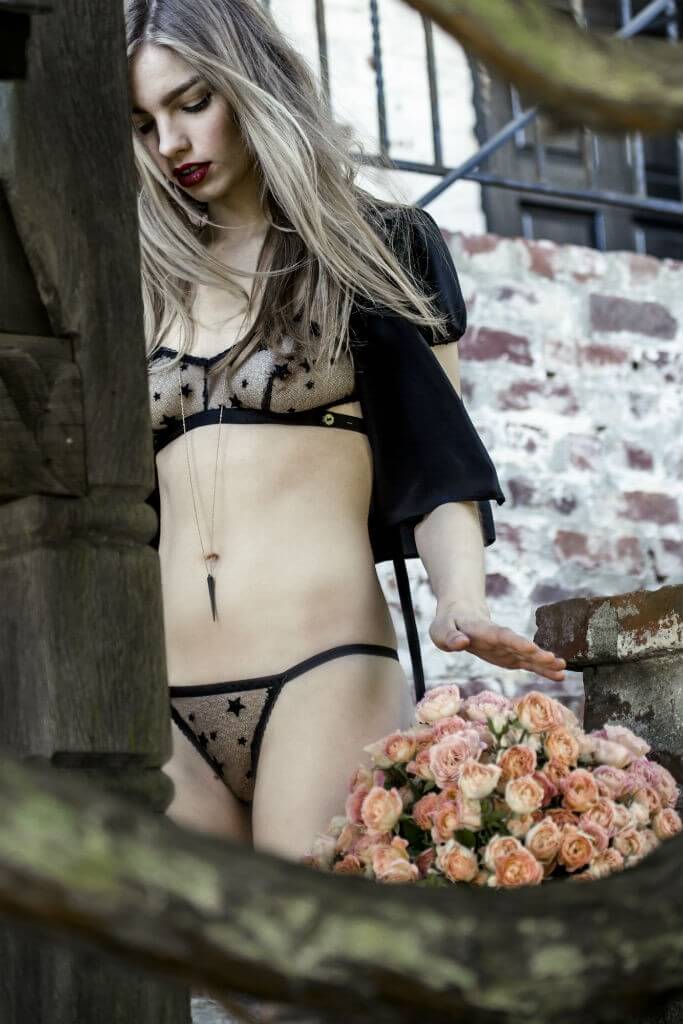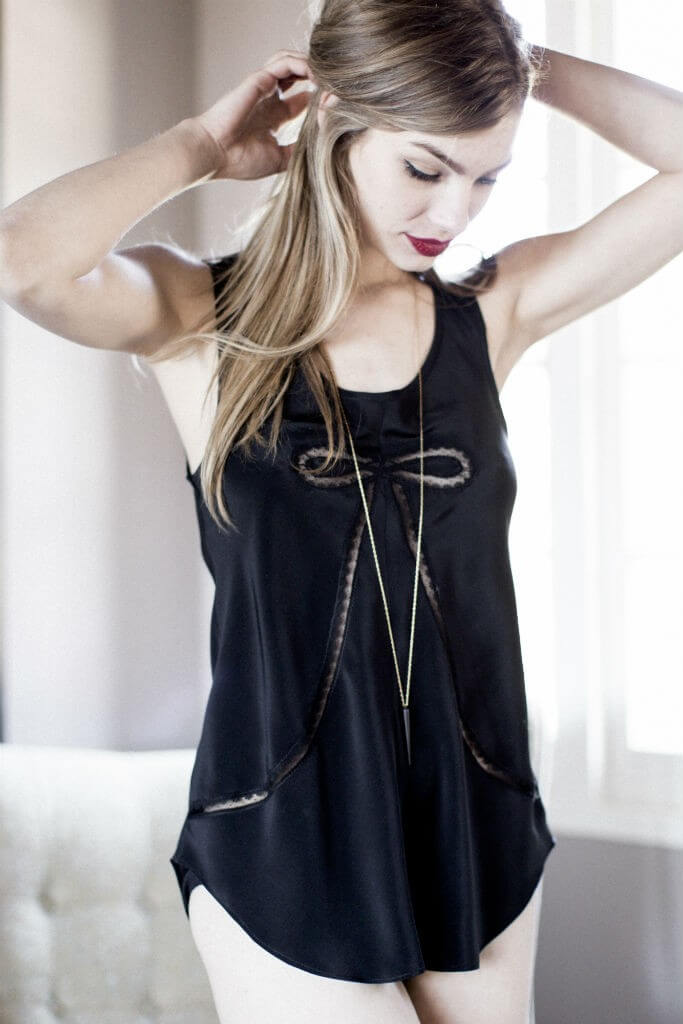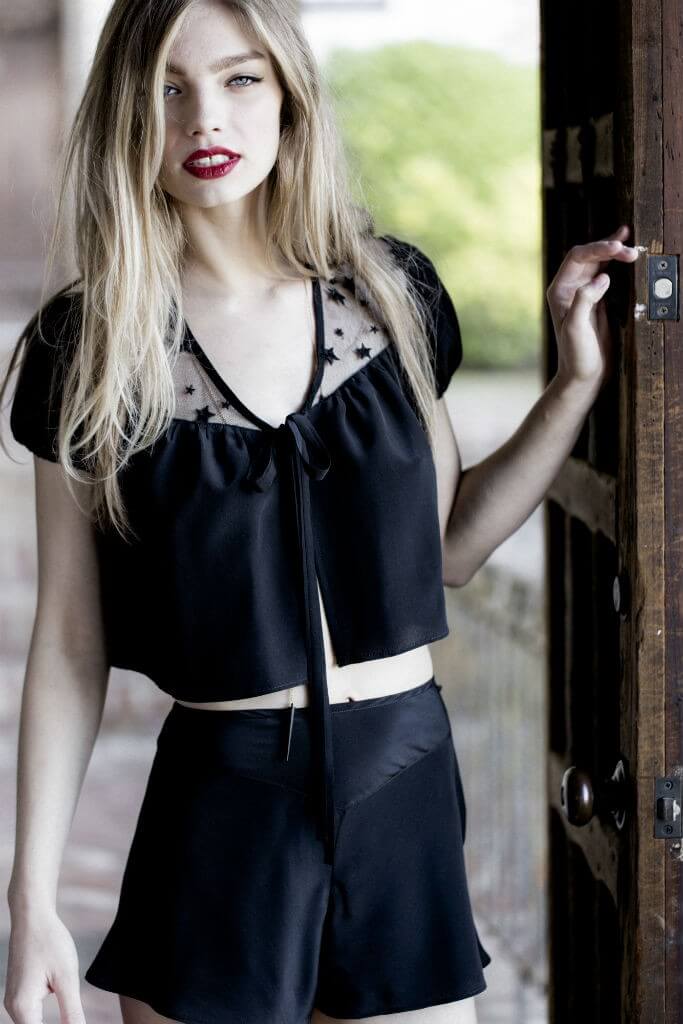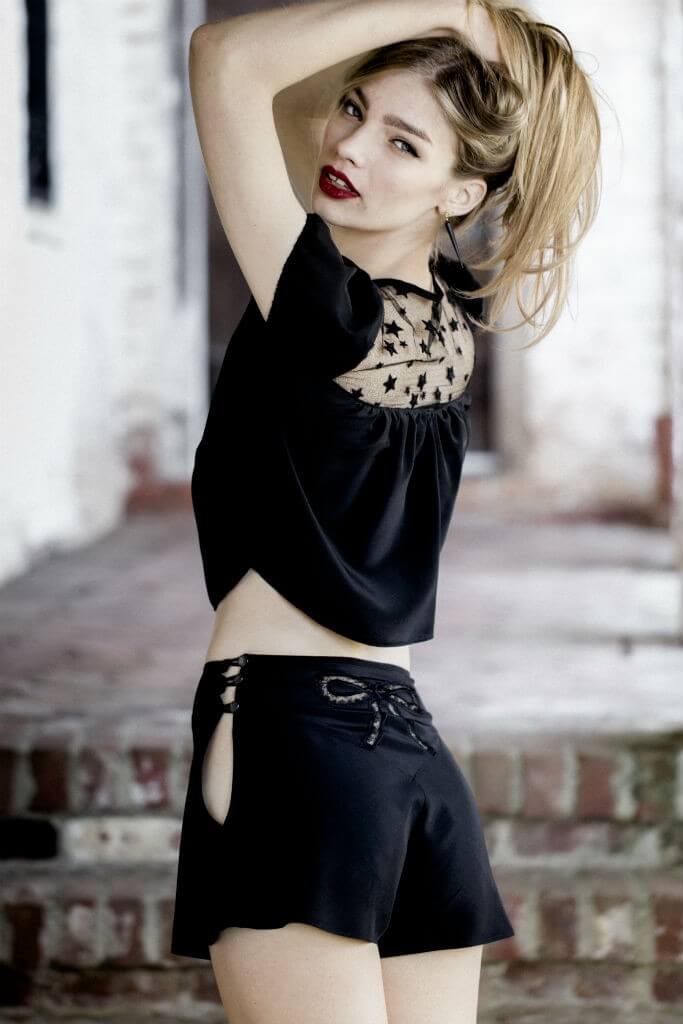 What do you think of Evgenia's newest collection? Could you see yourself wearing any of these looks? Do you prefer the line in white or black?