My Lingerie Addiction: 8 Sentimental Pieces Close To My Heart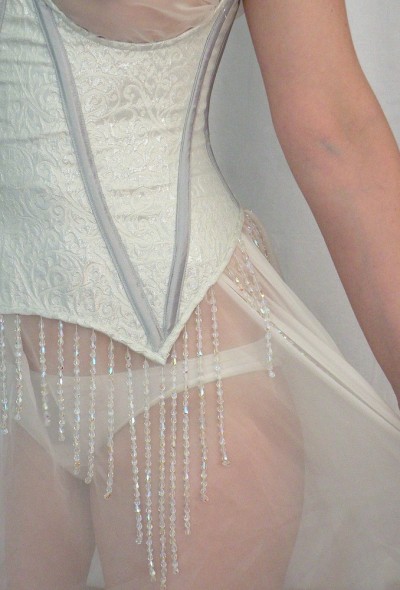 There's a reason I write for a blog called The Lingerie Addict. Besides the amazing community that TLA has introduced me to, I also happen to have a serious lingerie addiction. There is something about lingerie that is so personal and sensual while remaining a functional and a necessary part of my life. It is here that many people have an easier time expressing who they really are, since lingerie continues to be a hidden part of every day fashion. Whether you prefer sporty, colorful, or downright erotic, lingerie is a great place to explore your personal preferences without the fear of judgment from others.
I started getting into fashion at 11 years old, and by 15 I began experimenting with incorporating lingerie into my daily wardrobe (in an age-appropriate manner, of course). Vintage slips, petticoats, and cami tops made their way into the mix; aside from the occasional hallway bullying (it's tough being different when you're in high school), it started my newfound love affair with lingerie.
As with many inanimate objects, our clothing has the ability to tell a story. Each sentimental piece you own has a history --- how it made its way into your life, and how it makes you feel. These pieces can have the ability to bring back memories and feelings at the sight, smell, or feel of them. Since I've gotten into lingerie, I've amassed quite a collection of pieces that hold a special place in my heart. Here I'm sharing eight of these personal pieces and why they mean so much to me.
My First Luxury Corset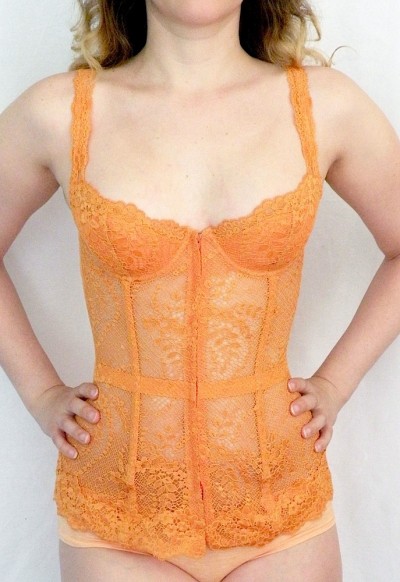 It wasn't until I left my tiny suburban hometown for NYC that I was exposed to luxury fashion and I first laid eyes on quintessential luxury lingerie brand La Perla. Though I longed to own my own piece of La Perla lingerie, I didn't expect that dream to come true so quickly. But one day, while casually shopping a designer clearance special, I came across this quality La Perla corset for over 50% off the retail price. I had never seen such quality construction before and I was smitten. This corset was my first introduction to true luxury, and it has quickly become the standard I hold all other luxury lingerie to.
My Vintage Bloomers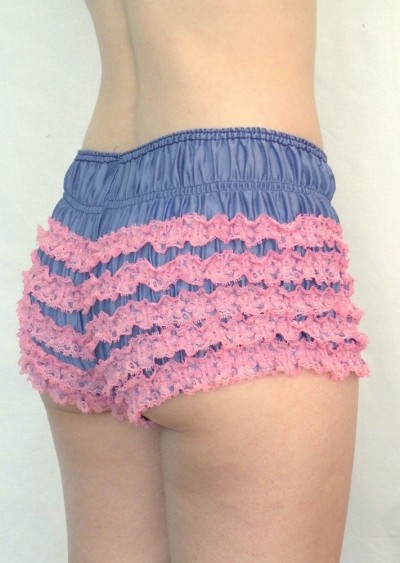 Just before starting college I took a trip to LA and spent a good two days shopping the amazing selection of vintage boutiques around the city. I landed myself a bunch of unique finds that I plan to hold onto for years to come, but I also scored the cutest set of ruffled bloomers for under my flirty skirts! Not only do I have a thing for retro, girlish styles, but the color combo is one of my all-time favorites. And they kept (and still keep) me covered on those windy days when I fear the embarrassment of an accidental flash.
My First Handmade Bra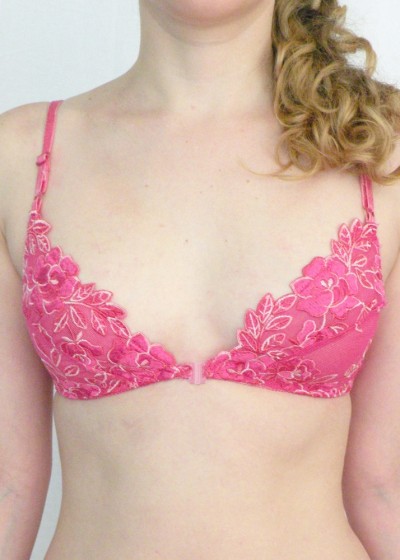 Majoring in lingerie design in college was no easy feat. But it was an experience I wouldn't trade for the world. I learned so much about the history and construction of lingerie, with the added benefit of a hands-on experience creating and sewing my own pieces. For our first assignment we had to make a soft cup bra so we learned all about the multiple components that go into making it. Within a week I had designed, draped, drafted, and constructed a fully functional triangle bra --- fit specifically to my measurements. The bra still fits me today and though I don't wear it much, I still keep it in good condition as a reminder of how far I've come in my career.
My Marabou Slippers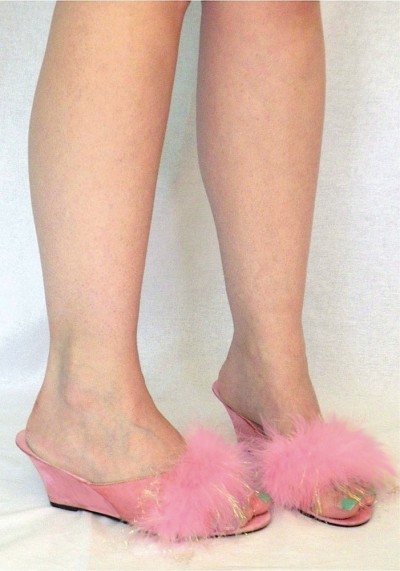 At one point as a teenager I developed a marabou obsession, adding the feathered trim to many of my existing clothes. I bought babydolls, robes and accessories covered in the stuff, but I was never able to find the vintage marabou slippers that I saw in old Hollywood photos. After searching for years I found the perfect pink pair in Soho and snatched them up. I wore them to class, around the house, and finally to my junior prom! To this day, when I'm not feeling my best, I still enjoy sliding these on and prancing around my apartment, channeling my inner vintage starlet.
My First Designer Bra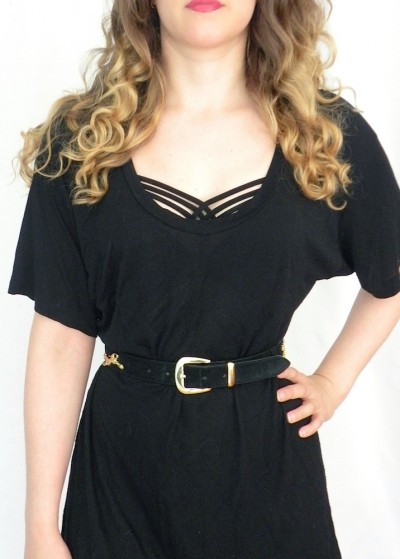 When I first started working in the industry I had my eye on a gorgeous strappy Marlies Dekker bra for a good two years. It was such an edgy way to highlight the decolletage --- and the first of its kind, helping spark the cage trend. I was dying to wear it to be seen! So when I was promoted to a full-fledged designer at my first job and finally had the paycheck to match, you can guess what my first fancy lingerie purchase was! My Marlies made me feel confident, edgy, and fashion-forward with its element of surprise. I'm constantly finding new ways to show it off.
My Sequin Garter Belt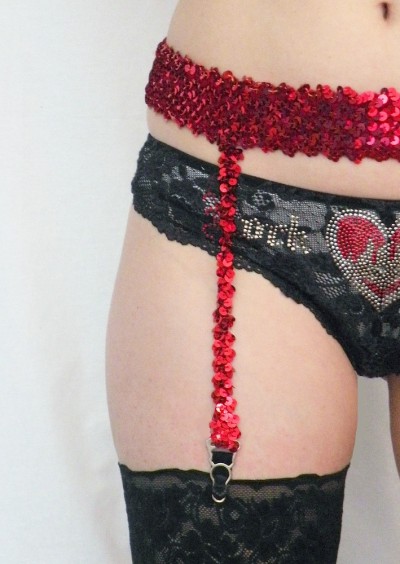 I came across this sequin garter belt while I was still in high school, and had visions of cabarets and the Rocky Horror Picture Show. As one who prefers flashy over sexy, I often wore this garter over a pair of shorts or a miniskirt and attached them to my Clueless-inspired over-the-knee socks. It was funky and out there as an everyday item, but I couldn't care less! The teasing comments I got from my classmates failed to break my spirit and instead inspired me to go even further in my experimentation, ultimately leading me to a major in lingerie design in college. I credit this garter belt with guiding me towards my career path, and I keep it these days for fun and reminiscing.
My Favorite Strapless Bra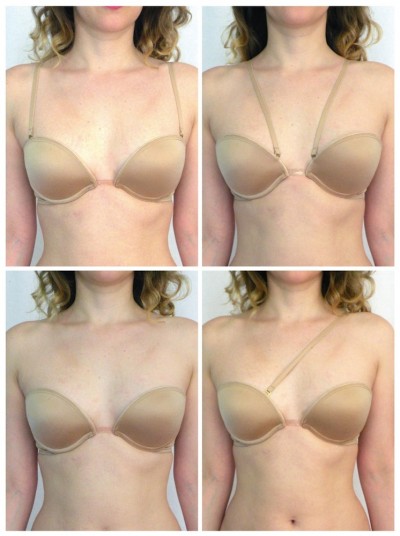 One staple every girl should have in her wardrobe is a good strapless bra. But it can be difficult to find a good supportive one that stays put. I discovered this one at Victoria's Secret a few years back and have found it irreplaceable. The secret is the slotted elastic sewn all around the top of the bra. The elastic has small slits in it every half inch, where a removable bra strap can hook --- allowing you to attach the strap anywhere on the bra, front or back. This makes it a cinch to convert your straps to any position needed. Unfortunately this construction hasn't caught on, and I've never seen a bra like this again. I happen to be small busted so it could be that this style doesn't hold up as well with bigger cup sizes, but for me it has been a game changer. I hope the industry will come out with a similar style again soon. 
My College Senior Project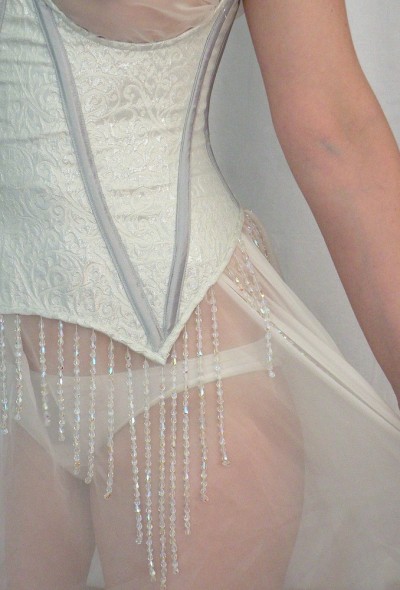 In my senior year of fashion school, we had to make a lingerie garment inspired by one of the four elements of nature. I chose air and had a lot of fun working with light, gauzy fabrics. But my pièce de résistance was the underbust corset I handmade to cinch in the gown underneath it. I lined and boned a shimmery silver jacquard fabric and strung hundreds of glass beads at the hem for a sparkly fringe effect. It took days of hand beading in class, on the train, in front of the TV…. I poured a lot of sweat and tears into this corset! But the finished product was a success and I got an A+ as my final grade.
Do you have lingerie that is sentimental to you? I would love to hear the stories behind your favorite pieces!