Shop Review: Pleasurements Lingerie
[caption id="attachment_42019" align="aligncenter" width="411"]
Belle et BonBon set. via Pleasurements.[/caption]
Note: unless specified, all photos were taken by me.
I've never bought what you might call "high-end lingerie" before, but I've been admiring lingerie boutiques and high-end department store pieces for years. While I waited for the day I could afford some of the pieces I craved, I made do with marked-down Betsey Johnson and Wacoal. So in many ways I am not the best person to review Pleasurements, a lingerie boutique on Herenstraat (Gentlemen's Street) in Amsterdam. Established in 2010, Pleasurements is a luxury lingerie and sex toy shop, but according to its website, also a concept store selling erotic inspiration. I feel like I'm missing some nuances in the translation from Dutch, but the website says the store's mission is to help women "enjoy the beauty, the tenderness, and the sweet cruelty" of eroticism --- through expensive designer lingerie, of course. An intimidating premise, certainly. But when I said I was going to Amsterdam for a few weeks, Cora told me it was a must-see.
[caption id="attachment_41944" align="aligncenter" width="435"]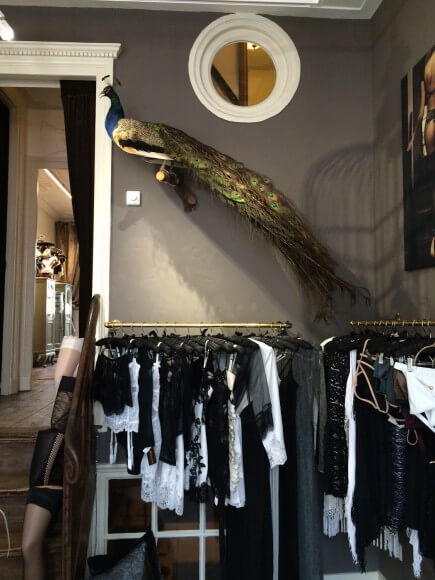 Pleasurements' front room, featuring a single clothes rack and a peacock.[/caption]
So I pressed my girlfriend Anna into service. A seasoned veteran of luxury of all kinds and a native Hollander, she got us through the maze of short, angular streets (many named Herengracht, which would have confused me a lot). Together we arrived at Pleasurements, situated between a store selling Dutch modern housewares and a store that had no price tags on their selection of elaborately carved cow skulls and chandeliers made of oyster shells. By comparison, the Pleasurements storefront seemed a little more commonplace. Mannequins in lingerie posed in the windows, which were otherwise open to the store beyond. The tagline of the shop on the window read "love isn't blind," which made us both giggle a little.
[caption id="attachment_41937" align="aligncenter" width="414"]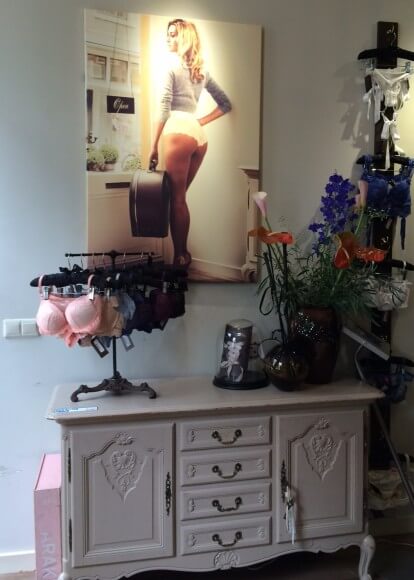 One of the few pieces of furniture, this doubled as a checkout counter.[/caption]
Inside we felt a little less giggly. The store was working with a tall, narrow footprint, and so had put samples of all the available lingerie on the walls, with more storage downstairs. It gave the shop the feel of a pricy art gallery rather than a boutique; with no racks to flip through, we found ourselves paying more attention to the individual pieces. The prices were (for us) pretty somber too; prices started around 65 Euros, or about $72 USD, which is usually where we both tap out and say "enough." But we were also among old friends, brands we'd been eyeing on the Internet for years: Agent Provocateur, Bordelle, Chantal Thomass. The prices felt comparable to online, and made more sense in an environment where we could try things on.
[caption id="attachment_41942" align="aligncenter" width="449"]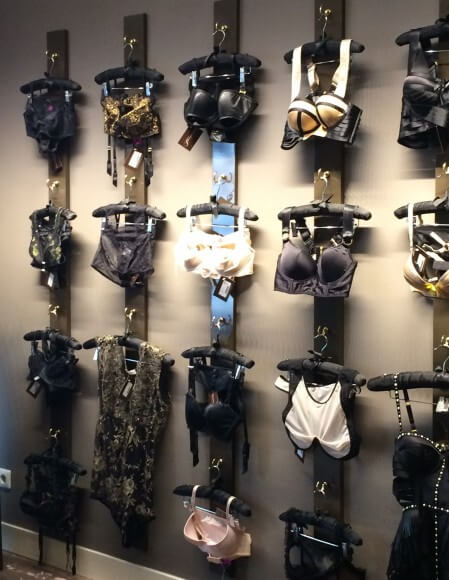 One wall of bras in Pleasurements.[/caption]
The store was also incredibly personable. When we first arrived only one person was running the storefront, an impossibly stylish Dutch woman who ran up and down the stairs to the lower level storage area at least six times in the course of our visit to get us alternate sizes. She managed to be helpful but not pushy, authoritative but not condescending. She praised my girlfriend's breasts. "Thanks," Anna said, "I can't wear H&M though." (In case you weren't aware, H&M is everywhere in Amsterdam).
"Oh, that's a good excuse!" our saleslady (who turned out to be bespoke lingerie designer Tisja Damen) said. "I don't shop at H&M, I'm going to use that excuse. 'I can't wear H&M'."
[caption id="attachment_41941" align="aligncenter" width="473"]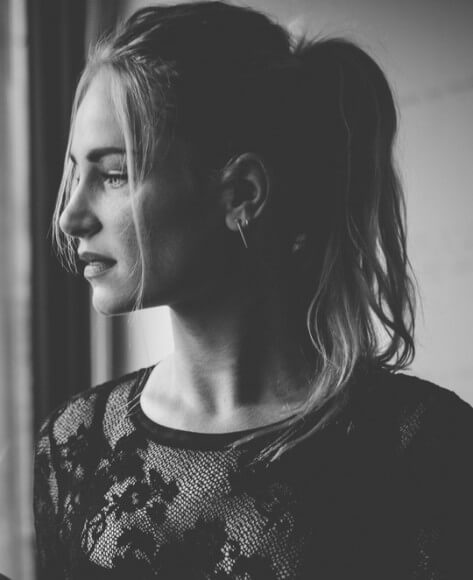 Tisja Damen, lingerie designer and generally helpful person. Via Tisja Damen.[/caption]
When I go into a lingerie store in America, I expect to have to fight off a saleswoman who wants to fit me for a beige bra and tell me what my band size is probably too big and my cup size too small. To be honest, I wasn't exactly sure how to respond to a genuinely helpful person asking me about my preferences. I ended up not looking at things as much as I might have if I was on my own, but only because I didn't want to make our guide run up and down any more stairs for things I might not buy. However, I did try on a pair of Tisja Damen knickers, which were high-waisted, exquisite, very soft, and unfortunately, only available in size small.
[caption id="attachment_41945" align="aligncenter" width="435"]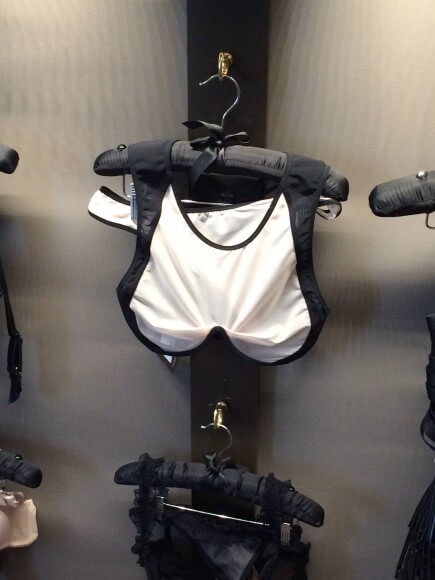 La Fille d'O bra: a piece I now wish I'd tried on.[/caption]
Ultimately my girlfriend and I both found something we wanted. I left with an Agent Provocateur waspie that I felt like I'd been eyeing forever, and my girl got the most not-safe-for-work bra I have ever seen in my days, the Belle et BonBon set in the featured image (with the vocal approval of Tisja). The selection felt impressive but not daunting, and the service was flawless. As a lifelong solitary shopper I would probably have been more comfortable with the option to select my own sizes, but given the limitations of the space and the atmosphere that Pleasurements wants to create, I can see the value in their current layout.
[caption id="attachment_41943" align="aligncenter" width="435"]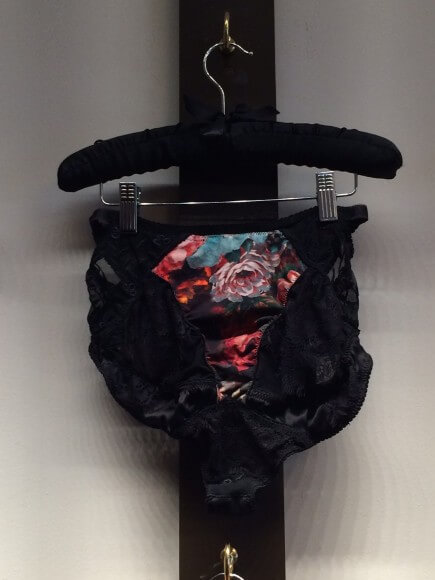 One of Tisja Damen's designs in stock at Pleasurements.[/caption]
Overall, if you're in Amsterdam, I highly recommend Pleasurements as a tourism destination and a shopping experience. The Herenstraat location is also close to the more affordable shopping and fast food district, so after you blow most of your shopping budget on something beautiful and delicate, you can console yourself with some streetside frites and a visit to one of the seemingly infinite H&Ms on the Nieuwendijk.