Introducing Lena Quist: Futuristic Fantasy Wear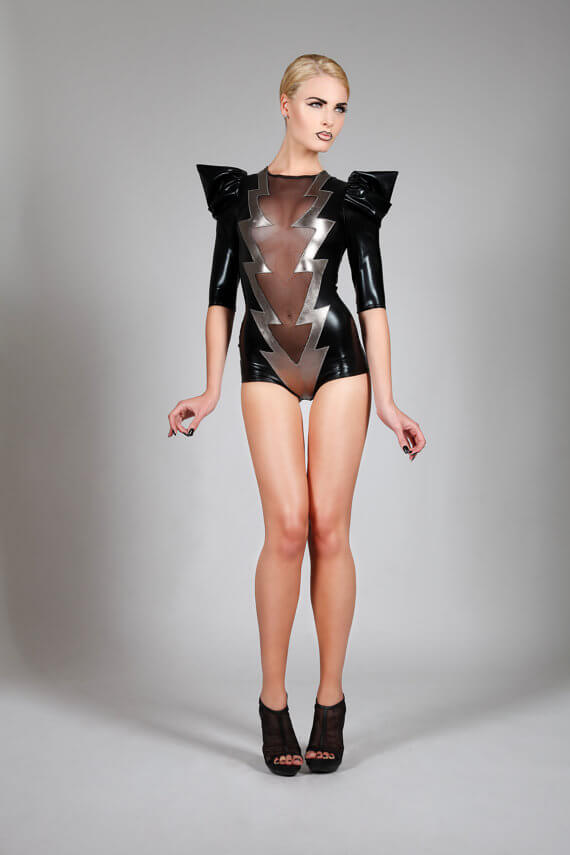 The line between innerwear and outerwear is a fluid thing, and more lingerie designers are capitalizing on this sense of freedom to push the envelope. We've talked in the past about the power of lingerie in fantasy role playing. Whether worn as a secret under your clothes, or used to slip into a different persona, lingerie is an amazing tool to experiment and feel empowered.
We were really excited to discover experimental brand Lena Quist on Etsy recently. Part rock 'n' roll attitude, part cosplay dream, these are pieces that dare you to be truly unique. Self-labeled "high-end stage and street wear", Lena has created a world of body conscious garments that allow the wearer to step into a different skin. And they are fantastic!
I'm not into cosplay, but I can definitely see these incorporated into some amazing costumes. Lightning bolts! Hologram spandex! Gunmetal piecework! There are so many options to get your geek on. Lingerie can make a great foundation (no pun intended) for a costume, or set the stage for when you want to step into the light and be the center of attention. Lena Quist accomplishes this feat brilliantly.
While there is definitely a campy feel to much of the collection (hello, stormtrooper bodysuit!) what I love most about the line is its nod to late 70s and early 80s glam rock fashion. With exaggerated silhouettes (those oversized shoulders with pointy sleeves are on point!) and heavy use of metallics, many of these pieces embody the flamboyant theatricality of the era. They really remind me of some of the gender-bending costumes Bowie wore back in the day. In fact, there's an androgynous appeal to a lot of the pieces (especially in the leggings and cropped jackets).
Handmade in Germany, Lena's garments are true works of art. Exceptionally well-crafted, these spandex pieces incorporate some incredibly detailed piece work (the catsuit uses 48 pieces of fabric to mold to your body). There are also some really intriguing performance fabrics used. Innovative hologram prints mirror sequins and shattered glass, and add incredible sparkle and texture while maintaining the garment's sleekness. Some pieces are crafted of glossy spandex that looks like latex, with a wet quality that is really seductive. Several items can even be worn as dramatic swimwear.
The leggings start at $210 and the bodysuits at $250, making them a good entry point for stepping into a fantasy look. Many of the items from the collection, though, are couture-worthy stage wear (with the price tag to match). But if you had the resources to afford that Art Deco fishtail gown, wouldn't you? Even the tamest of us have dreams of embracing our inner warrior princess.
Pieces are made to order and sized XS-L. If you fall outside of the side range, please note that the designer does offer made to measure services. Items ship within 1-2 weeks from Berlin, Germany.
What do you think of Lena Quist's designs? Would you incorporate theatrical pieces like this into your wardrobe? Do you believe that lingerie can be used as a vehicle for fantasy role play?