Introducing Kayleigh Peddie Handmade Swimwear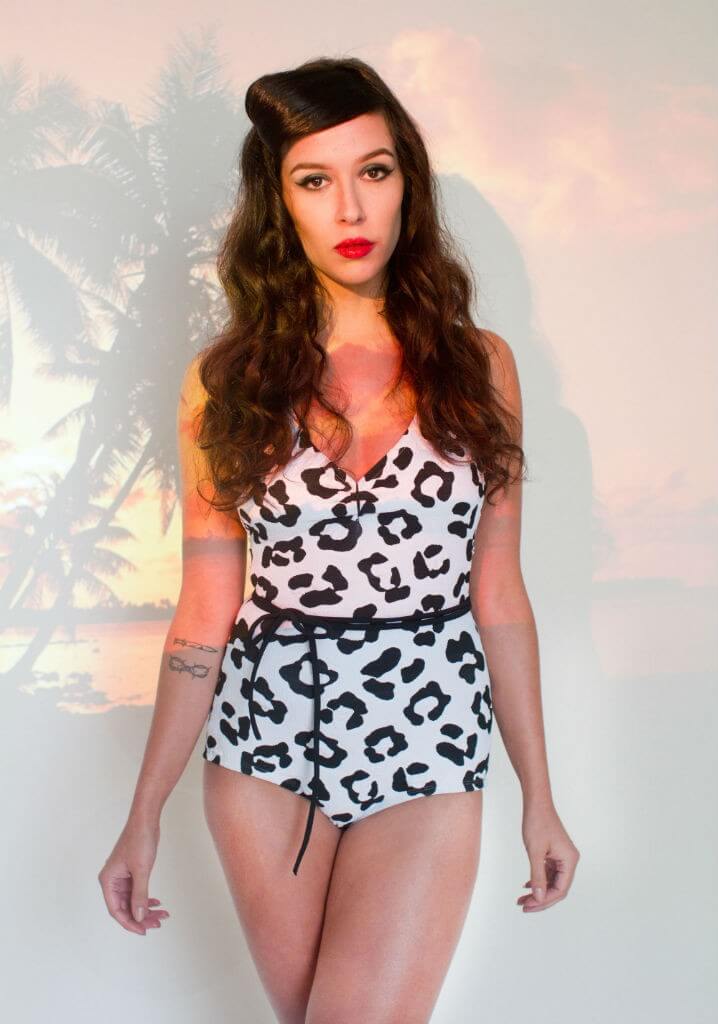 There's nothing like the onset of Spring to give us a case of swimsuit fever! Whether you're dreaming of glamorous poolside lounging or frolicking with sand between your toes, it's time to start thinking about finding the perfect swimsuit. Lingerie designer turned swimsuit designer, Kayleigh Peddie, has released a collection of handmade swimwear that is equal parts polished pin-up and laid-back, California cool.
Simple silhouettes are at the heart of this brand's success. Easily sized and easy to wear, these effortless styles really take on the personality of their wearer. I can see these glammed up a bit with oversized sunnies and a big, floppy hat. They would also be equally at home with cut off jean shorts or gauzy long skirts and strappy sandals. This versatility and approachability really sets Kayleigh Peddie apart.
Kayleigh offers four styles, two bikinis and two one-pieces, in graphic black and white patterns or solids in lipstick red, black, or sky blue. The maillot above has a low cut back and halter straps that tie at the neck. The V-neck is defined by a gathering detail at the bust, and the waist is defined with a detachable belt. The modest cut of the bottoms gives these a bit of a retro feel, and makes them eminently wearable (no wedgies here!).
The other one-piece style has a plunging bodice that laces up to show as much cleavage as you dare. This style is such a fun blend of bohemian 1970s fashion and 1950s pin-up style. As with all of Kayleigh Peddie's pieces, these are lined to provide good coverage. They do not have any shaping at the bust, in the form of darts or seaming, making them a better fit for women not looking for much support in that area.
The two-pieces are styled similarly to the one-pieces. There's a halter bikini top that ties in the back or a pullover bikini top with the lace up feature. Both are paired with high waist bottoms that, in retro fashion, sit at the waist and have full coverage at the hips and bottom. Because you can mix and match sizes here, I think these would be a great fit for the wider band/smaller cup crowd (such an underserved market).
Part of the appeal of handmade designers is photography that is down to earth. It allows the potential customer to see themselves in the product. Kayleigh has done a lovely job of using a filtered overlay on the photos with beachy scenes to really give us a sense of California dreaming.
Pieces are handmade to order by Kayleigh in her Montreal, Canada, studio, and take two to three weeks to ship. They are sized XS-XL, fitting measurements 28-22-28 through 47-40-47. One-pieces are priced $150-160 and two-pieces at $150-165.
What do you think of Kayleigh Peddie's designs? Have you ever tried handmade swimwear? Which is your favorite look?