Pretty Wild Lingerie A/W 2015 Runway Preview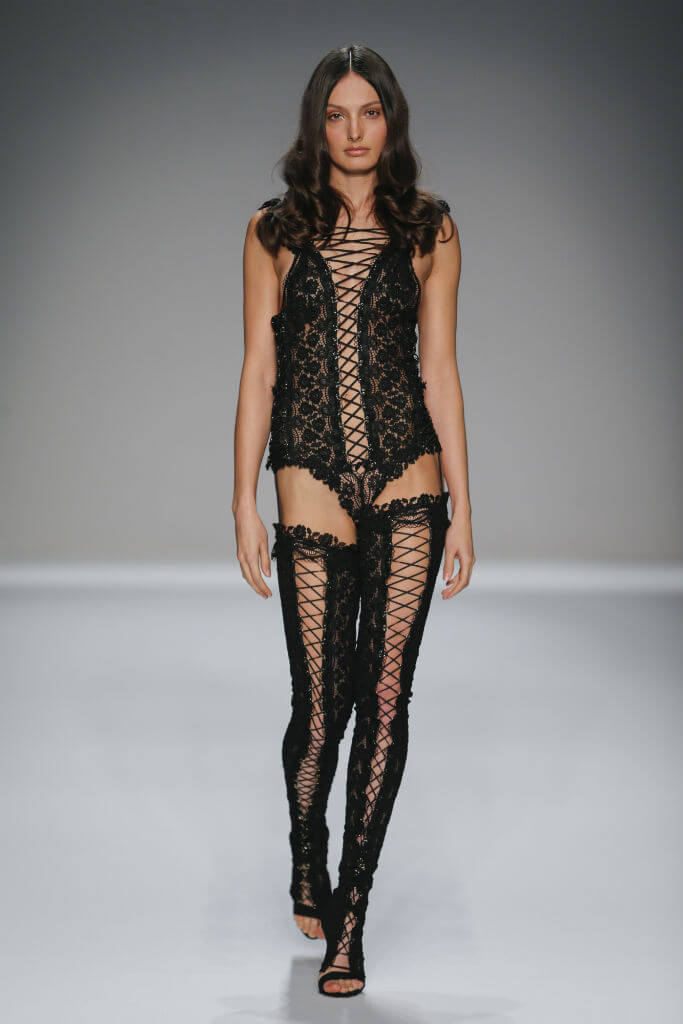 We were introduced to Pretty Wild Lingerie with their 2013 debut collection. I'm sure many of you remember that amazing lace catsuit with the tassel trim! It's pretty unforgettable. Since then the luxury Dutch brand has become a veritable master of lace manipulation, crafting exquisite pieces that are as unique as they are beautiful.
Pretty Wild released its A/W 2015 collection last month at the Mercedes-Benz Fashion Week in Amsterdam. And it is fabulous! There's a real sense of baroque extravagance in this collection that is given edge by unexpected silhouettes (those lace up thigh-highs above say it all!). Through it all, designer Firouze Akhbari's passion for textiles shines.
Incredibly ornate Italian and French laces, three dimensional flowers, silks, leathers, and feathers come together to create a collection that is straight-up fantasy. I mean how fabulous is the following set? Sheer mesh is unexpectedly transformed by silvered beaded appliques and ostrich feathers to create pieces that are at once theatrical yet sophisticated. The coordinating robe is old-school glamorous, yet looks thoroughly modern when paired with barely- there wisps of lace that leave little to the imagination.
While there are several delightfully unexpected silhouettes (lace pant thigh-highs and a leather dress that is completely backless save for sheer lace), the strength of the collection lies with its lace bodysuits, basques, and chemises. Utilizing a wide variety of exceptional laces that come together in incredibly textured perfection, they beg the eye to move from pattern to pattern across the body. The bodysuit shown below incorporates beaded laces that take on the look of the feathers framing its front. This looks like it stepped out of a modern-day interpretation of Swan Lake!
Several pieces incorporate interesting lace bibs and collars that are layered over bras and are meant to be seen and incorporated into outerwear. The set below is especially lavish with lace-trimmed mesh that extends into garter grips. It becomes even more dramatic when paired with the gothic-looking leather bra, suspender belt, and panty. Additional leather pieces in the collection include a bodysuit and dress that have Rococo-shaped mesh insets framed with lace. Other standouts in the collection are two vivid violet bra sets (the lace one in particular is breathtaking) topped with a matching sumptuous silk chiffon robe. The back of the robe features a wide silk band that creates a glossy panel of color. And those sleeves!
The backs of these pieces are as intriguing (sometimes more so!) than the fronts, so make sure to check out the following video taken during the show.
What do you think of Pretty Wild Lingerie's A/W 2015 collection? Are you a fan of the opulently baroque styling? Do you have a favorite look from the runway show?