Sale Lingerie of the Week: Chantelle Opera Bra & Panty
Disclosure: This blog post contains affiliate links.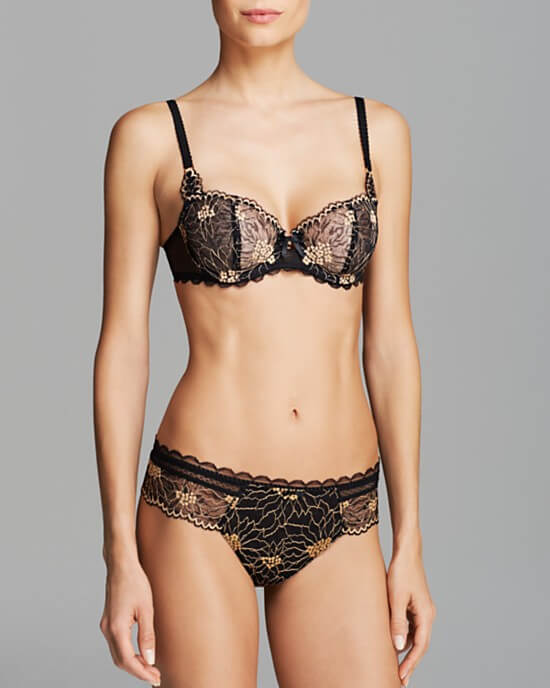 Today's Sale Lingerie of the Week is actually a set I planned to buy for myself shortly after the holidays. Unfortunately, I got distracted/forgot, and now my size is completely sold out. Such is life; that's the gamble of waiting.
Chantelle is a brand I was a bit of a late convert to. Yes, they're available everywhere, but I never saw anything I felt I had to have...at least until I tried on Opera.  I own this set in basic black (a continuity color, as is usual), and it is divine. The bra and the knicker fit beautifully. The material feels wonderful against the skin. And the lace/mesh combo not only looks gorgeous, it's still accessible and wearable for everyday.
The black/gold colorway in the Opera was a special winter holiday edition, and it's almost completely sold out by now (and understandably so). However, if you happen to wear a 32B or 32C, Bloomingdale's still has it in stock. Furthermore, if your knickers size is a small or medium, you can also buy the matching tanga panty. As of this writing, the bra is on sale for $78.75 and the knicker for $40.50. Of course, it goes without saying that black and gold lingerie is perfect to wear all the year round.
If you've worn Chantelle before, what did you think of the brand? And how do you feel about the Opera?