Karolina Laskowska Lingerie: Girls That Glitter Love The Dark
Disclosure: Karolina Laskowska is a columnist for The Lingerie Addict.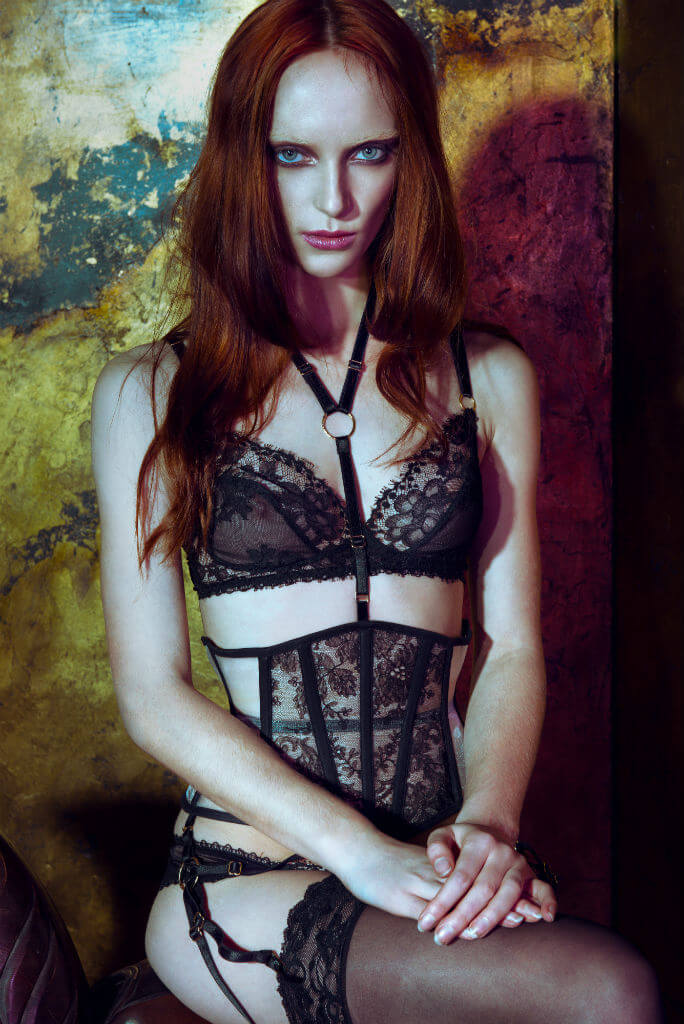 The last year has glittered, indeed, for Karolina Laskowska. In 2014 she graduated from De Montfort University's prestigious Contour Fashion program, where she graduated with first class honors and was asked to present her collection at the university's graduation catwalk. She has since been awarded 'Best New Designer' at the 2014 UK Lingerie Awards and the Press' Best Brand Award at this month's Lingerie Edit. All of this, of course, while honing her eponymous lingerie label. Karolina's talent is a force to be reckoned with, and it's easy to see why she's an industry darling perched on the cusp of big things.
As with her last collection of strappy pieces that incorporated upcycled vintage kimono fabrics, her newest collection confirms her commitment to using exquisite artisan textiles. There are decadent antique silk laces, vintage sari trims, buttery leathers, plush velvets, and gossamer-fine silks. What makes this collection so successful is the use of such luxe fabrics is offset with a playful eroticism that is really charming. As with the title, these glittering gems of lace and silk embrace a darker sensuality which includes peek-a-boo cut outs, strappy harnesses, and nipped-in waists.
While there are several silhouettes in this season that are reworkings of Karolina's best sellers, there are a few new designs as well, including a quarter cup style in French Chantilly lace layered in hot pink and coral that almost glows on the skin. Also new is a cheeky peek-a-boo bra crafted of black and gold English leavers lace, with velvet bands that gorgeously (and playfully) draw the eye to the naughty bits. The standout piece, though, may be the waspie (shown above) which utilizes handmade antique silk lace overlaid on sheer corsetry net. Ultra-luxe finishing includes soft velvet lining and carefully placed velvet ribbon loops to attach suspenders and a harness.
Girls That Glitter also includes pieces perfect for fashion-forward brides. There is a cupless strapless bra with a delicate corded lace overlay embellished with freshwater pearls. There is also a stunning babydoll with sheer lace halter bodice atop a silk tulle skirt that is so fine it is nearly transparent. I love the play of such delicate fabric atop harder-edged white strappy suspenders.
The Girls That Glitter collection will be released one piece at a time over the next few months on the brand's website. It will be a torturous surprise waiting to see what she releases first, as many of you will want it all right now!
Credits: Photography: Jeff Tuliniemi, Models: Maxine Anastasia and Gestalta, Hair and Makeup: Jade Crean, Location: Sparklewren showroom.
What do you think of Karolina Laskowska's newest collection? Do you have a favorite look?