Review: Toru & Naoko 'Kelly' Soft Bra and High-Waisted Knicker Set
Note: I purchased this lingerie for myself, Toru & Naoko have no affiliation with this review.
The first time I heard of the brand 'Toru & Naoko,' I knew I was going to be a fan -- after all, they're named after characters by one of my favourite authors and have a penchant for cut outs and sheer mesh. What's not to love? I finally bit the bullet after Cora featured the 'Kelly' set' as her lingerie of the week -- the crossover bra detail and knicker cutouts were just too adorable not to buy.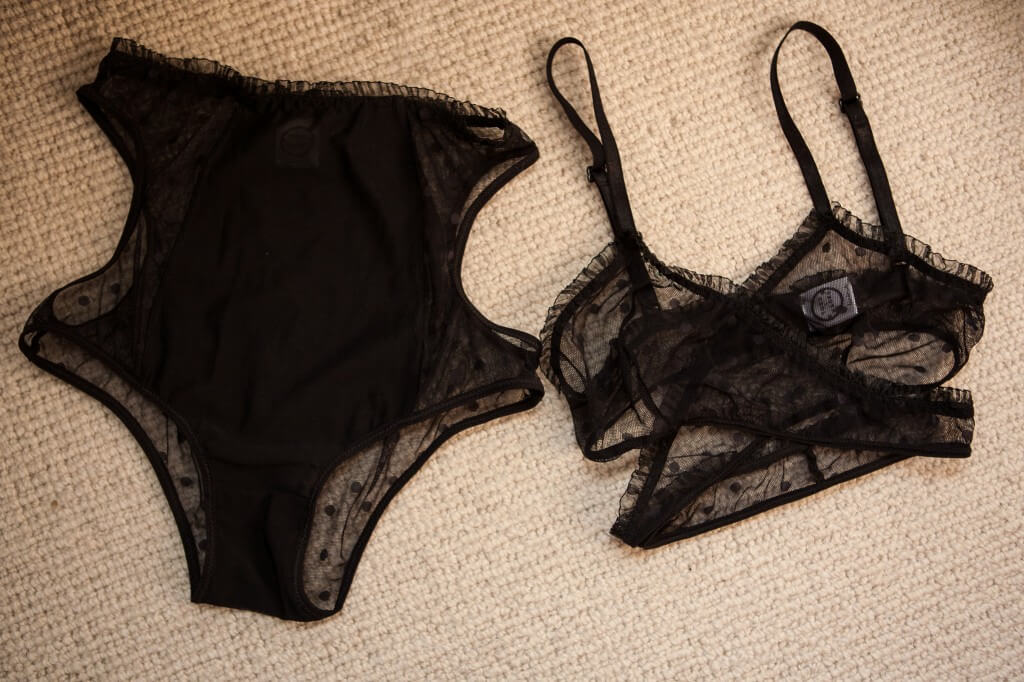 I bought the Kelly bra and knickers as a set -- they're are listed as single sizes (XS-XXL at $85, with made to measure at an additional charge). The style is made to order, with a three-week waiting time. Camilla, the brand owner, kindly agreed to make me a set in a size small top and size medium bottom to accommodate my pear-shaped figure (I normally wear a 30D bra and UK 12 knicker). The set arrived in just under a month (impressive given that the brand are based in Chile!). The bra and knickers are both made of a stretchy polka-dot mesh with an additional of darker black mesh on the knickers, finished with organza ruffled elastic around the bust and on the knicker waist edge. The knickers are lined with a cotton gusset and the bra closed with hooks and eyes. Shoulder straps are made in a shiny satin elastic with black plastic components.
When I opened my order, my initial impressions were a little mixed. The lingerie is wrapped in a very cute drawstring bag, printed with the brand's logo. However, the printing process has left the bag with a very unpleasant chemical smell, which unfortunately does seep into the lingerie and takes a long time and a few washes to fade. I also noticed that the labels within the garments didn't actually feature any sizes -- which is what I suspect led to the next problem. When I first tried the lingerie on, I noticed that whilst the bra was a good fit, I didn't even want to try the knickers on -- they were absolutely tiny, and when I measured their waist/hips at maximum stretch, they essentially equated to a size XS/S on the brand's sizing chart. Equally problematically, the knicker elastic binding had a lot of skipped stitches -- in one area so much so that the knicker fabric had actually escaped the binding, leaving a hole on the knicker hip. I contacted Camilla about this problem and she offered to replace the knickers for the hole fault immediately, but also said that the sizing was accurate. Consequently, I asked for her to send a size Large instead. This second pair of knickers arrived very promptly, though I have to say that the sizing of this brand does worry me -- there is a huge difference between the two knickers in sizing, as you can see in the photo above. Although they are supposedly only a size different, there's nearly 14cm difference in measurements between the two. I am personally convinced that I was originally sent the wrong size -- though working out whether fulfillment issues or sizing problems are worse isn't really a decision I want to be making about a brand!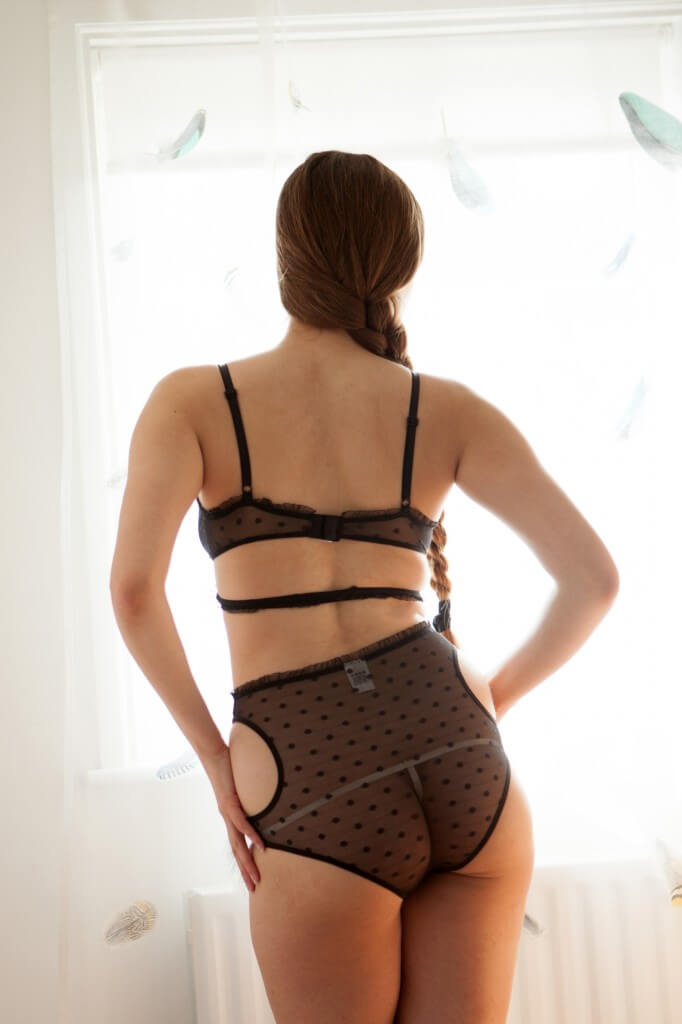 Putting aside the problems listed above, I still think this is an extremely cute lingerie set -- the design is so unusual! The polka-dot mesh is soft and comfortable, and both the bra and (large) knickers are a good fit. The bra's crossover detail does have a tendency to twist and cut in in certain positions, though this is unfortunately unavoidable given the garment shape. The bra does offer some light support, more suitable for loungewear rather than everyday wear. There's enough stretch in the knicker fabric and elastic for the hip cut outs to not cut in -- something I do worry about with most cutout designs.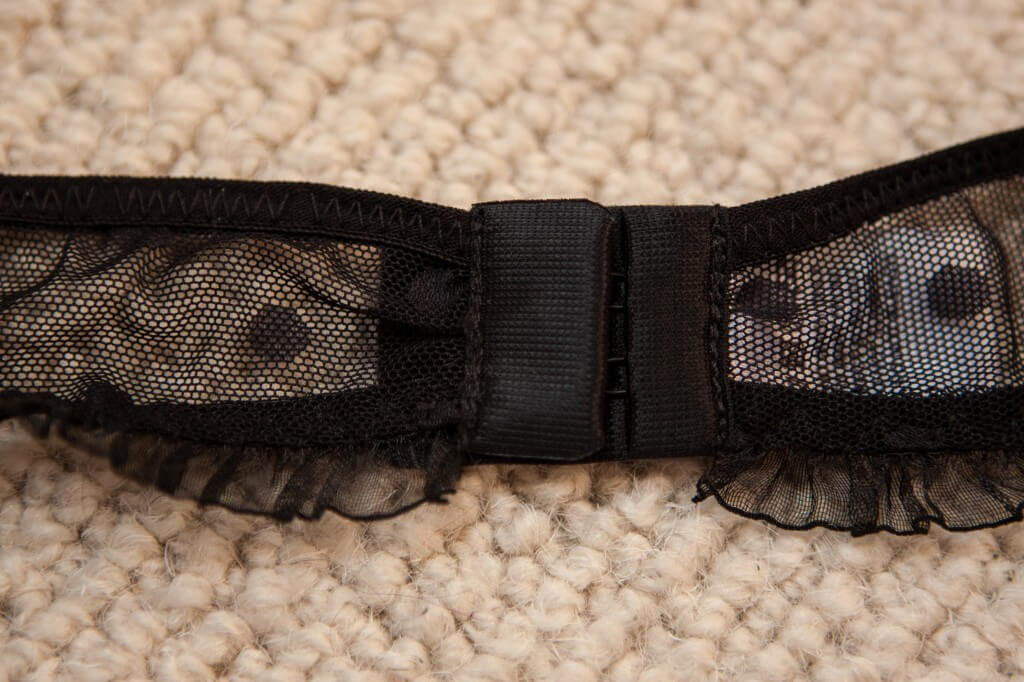 With regards to the quality of the garments, there is a lot of room for improvement. The stitching is very inconsistent and a little uneven in some areas, with quite a lot of skipped stitching throughout the zigzag stitches.  There are also a few smaller details that would have made a world of difference had they been considered - for example, the organza trim at the back of the bra has just been cut and left raw, instead of being gathered into the hook and eye for a smoother finish.
However, I am willing to cut Toru & Naoko a bit of slack for these problems; they are a very new indie brand and it's only reasonable that need some time to work out their quality control issues, though it would be nice to see them improve on these areas. I still love their unusual designs, and their price point is a lot more accessible than most indie brands and their customer service is excellent. It may be a while before I make another purchase, though I will certainly watch the brand very keenly to see where they go next!
Readers: Have you tried Toru & Naoko? What do you think of their designs?