Why is Lingerie So Expensive?: Design and Creation
The bra you're trying on feels like it's made for you. Nothing cuts into your figure, everything is perfectly held in place. But it's so expensive! How can such a tiny piece of clothing cost so much? This is the second of a 3-part series discussing why quality lingerie costs what it does - from materials to construction to indirect costs you may not think about when buying a bra or panty. This month, let's talk about the costs of creation, i.e. what it takes to put together a piece of fine lingerie.
Fitting
This is one super important aspect of lingerie production people often take for granted. We all know that fit is SO important in lingerie. No matter how cute a bra is, if it doesn't fit, we won't wear it!
After the garment's pattern is drafted, fittings are done on perfectly sample sized human models with muslins, which are test garments made from inexpensive materials. Based on the alterations needed, a new muslin will be sewn for each fitting. A half-inch difference in gore width could decide whether a bra fits or not, so it takes more fitting sessions for a bra than a t-shirt. Plus, if you're a great fit model with perfect sample proportions and helpful knowledge about garment fit and construction, you're well-paid! These necessary costs must be absorbed into the final price of the lingerie.
Grading
Grading is the industry term for scaling a pattern into different sizes, and each size created costs extra. Bras made with cup sizes in mind are more difficult to grade than, say, a t-shirt. Larger breasts sit differently on the body than smaller ones, and even for labels that make a small range of sizes, a bra has to look as good on a 32B as it does on a 34D. Patterns that are difficult to grade naturally cost more.
Samples
Samples are the "test garments" shown to buyers, worn on the runway, and used for photo campaigns. They're sewn individually so they're expensive to produce, and embellishments like embroidery that might be done using a machine are sometimes done by hand for samples. They can end up costing more to make than the final marked-up retail price of a garment! The cost of samples must be made back in the final cost of the garment.
Cutting
After all the pre-production costs are paid and orders are placed, the fabrics are cut. For fine lingerie, this means lots of tiny pieces in slippery, delicate fabrics like silk, power mesh and lace that all need to be handled carefully. I talked more about the machinery typically used for fabric cutting in my tour of the Lola Haze factory in New York, but if the label is doing a very small run (as is often the case with indie labels), the fabrics for all garments might be cut by hand with scissors.
Sewing
I can't think of any step in the lingerie manufacturing process that can run without human assistance, and sewing is one of the most important jobs, especially for fine lingerie. There are many reasons I design loungewear instead of contoured lingerie, and one huge reason is that they require totally different skill sets!
I can design, fit and produce a great knit bralette or silk tap pants from start to finish, but making a long-line underwired balconette bra with boning would be much harder for me (and take far longer) as it's not something I'm trained to do. However, it's amazing to watch someone sew the elastic *and* decorative ruffle onto the back band of a bra in a single two-second motion.
Smaller stitches require a precise handling of the garment, and different casing and elastic techniques require specific skills. Even thinner needles must be used for fine silk fabrics. Plus, you know that cute bra you had to get rid of because its underwire poked you every time you wore it? It could've been saved by the right technician reinforcing the right spot to begin with. Fine lingerie requires workers with special skill sets.
Finishing methods
Quality lingerie requires strong finishes that can withstand many wears but still look beautiful. French seams encase the raw edge of the fabric inside itself, take three times as long to sew as regular seams (and are therefore more expensive to use), but are soft against your skin and look beautiful.
Interesting finishes like a picot edge, frayed detail, contrast binding and decorative stitching require special machines, attention to detail, and more time...which all add to the final cost.
Embroidery engineered to fit the shape of lingerie can be exquisite. Hand embroidery, even when outsourced to less expensive locations with many skilled embroiderers like India, is still incredibly costly and time-consuming. However, hand embroidery also allows the designer to use very fine metallic and silk threads that might get ripped to pieces in a machine. Machine embroidery is less expensive, but still requires someone who can program and operate the machine.
Appliqued lace is one of the most gorgeous details of fine lingerie. The technique requires detailed cutting, placing, and stitching, which makes it incredibly expensive. This article by Karolina goes into detail on how lace is applique is sewn and shows some beautiful examples.
Beading and embellishments
Although some machines can do amazing beading that still looks hand-worked, these machines are very expensive and require special skills to operate. Much beading and sequin work is still done entirely by hand. Likewise, details that have to be hand-sewn - like tiny bows, crystals and tassels - take time and money.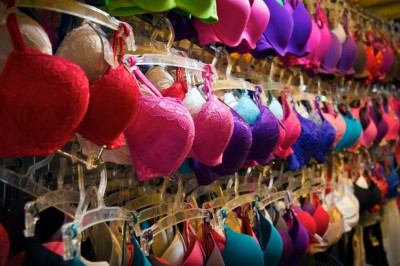 Hangers, tags and packaging
Finally, before a piece of lingerie is sent to the retailer, it must be individually folded or hung, then tagged and bagged. This happens on all production runs, whether a company is making 50 or 5,000 panties. The cost of tags, bags, hangers and workers must be accounted for in the final price of the garment.
Even though you might not think about the efforts of all the people involved in these processes, your lingerie wouldn't exist without them. The final post in this series next month will talk about the aspects of running a lingerie line that add to the cost of your lingerie, but keep your favorite lingerie brands in business! Are there any aspects of the creation process that surprised you?
Save
Save
Save