A Quick Look at the Intimate Britney Spears Lingerie Collection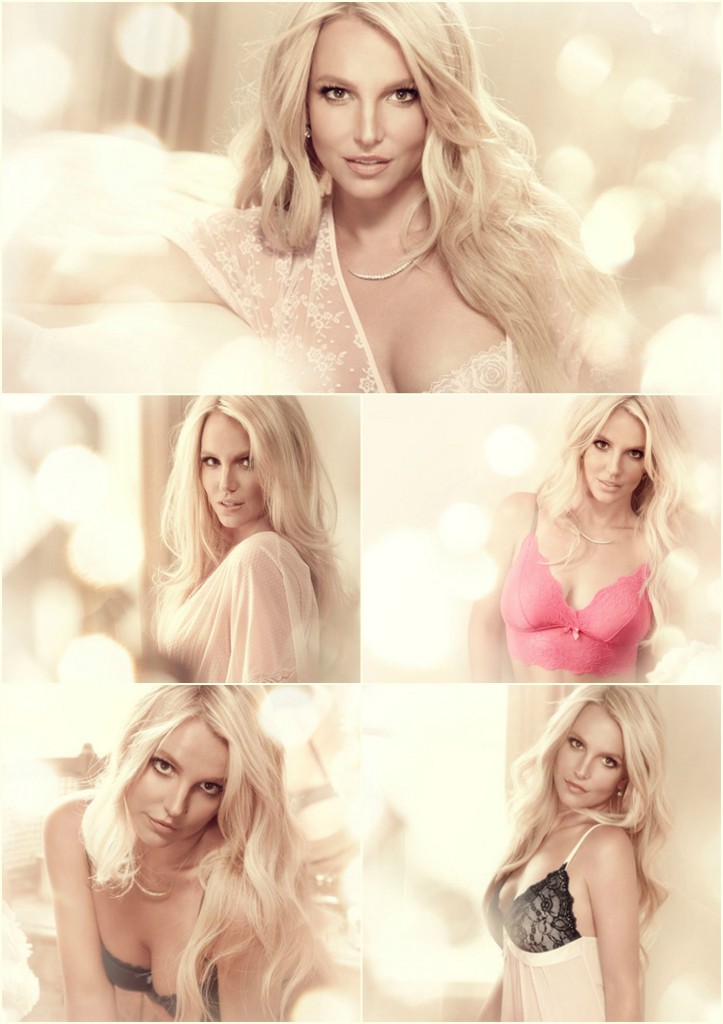 A couple of days ago, during New York Fashion Week, Britney Spears debuted her new lingerie collection, The Intimate Britney Spears. As is to be expected for a celebrity of her calibre, there was a lot of buzz about the launch; I've seen articles everywhere from the NYTimes to MTV.
There's also been a significant uptake by retail stores, mostly in Europe (more on that later), but a little in the US. Bare Necessities appears to have an online exclusive for much of the lingerie, and Classic Shapewear will carry at least some of the loungewear (I found this webpage for a pair of Britney Spears' sweatpants though you can't actually search for items). And wisely, The Intimate Britney Spears website is enabled for direct-to-consumer sales.
I admit, this is not a brand I was interested in personally. Britney Spears is not a fashion icon of mine, and I have no special desire to model my look after her. However, professionally, as someone who watches and reports on lingerie news, I was very intrigued by the prospect of what would be on offer. And to be perfectly honest, I was hoping for something a little showgirl-y and dynamic.
It goes without saying that celebrity collaborations in the lingerie world are nothing new. Jessica Simpson had her own lingerie line for a minute (though I haven't seen it sold anywhere in ages). More recently, Agent Provocateur collaborated with Penelope and Monica Cruz for the L'Agent by AP line (which, despite their design claims, contains a number of reworked AP pieces), and Dita von Teese is working with Diamond Cut, International on her own range (which, after a rocky first season, has turned into a collection I genuinely love).
Even before that, Elle Macpherson and Stella McCartney licensed their names to Bendon Group, and Bettie Page's estate did the same for Secrets in Lace. So the concept of a celebrity adding visibility or cachet to a lingerie company is tried and true one.
In the case of The Intimate Britney Spears, this collaboration is happening through Change Lingerie, a Danish lingerie company founded in 1995 (which is why most of this new collection's stockists are in Europe).
The benefits of this collaboration are that The Intimate Britney Spears can lean upon Change Lingerie's extensive manufacturing and industry connections, regarding both sizing and distribution. The downside, however, is that Change already has an established look and way of doing things...so one has to wonder just how creative, innovative, and "Britney-like" this new collection will be.
Sad to say, almost all of the looks fell flat for me. I didn't see anything daring, interesting, or even mildly thought-provoking. It all felt like I'd seen it before.
While, like many people, I'm glad the company is offering full bust sizes (up to a J cup), the garments I saw online are just... unimpressive. They're not ugly. They're just middle of the road and typical. This is lingerie for people that want to feel like they're buying something different without actually buying something different.
I think The Intimate Britney Spears would be right at home in your local JCPenney's or K-Mart, and that's not a dig against the brand. Rather, those are both very mainstream stores which would be perfectly suited for this kind of mainstream look. The price point is okay (around $50 or so for a bra and around $60 or so for a gown), but I feel like I can find pieces that are significantly more exciting for about the same amount of money elsewhere. All in all, I'm underwhelmed.
That said, I'm also optimistic. As I mentioned at the beginning of this post, I didn't think Dita Von Teese's first season was exceptional either, and I've gone on to become a staunch brand advocate. I hope the same happens for The Intimate Britney Spears. I am always excited to see new collections, celebrity or otherwise, and I hope Change takes more risks and experiments with more looks in the upcoming seasons.
To me, it'd be a shame to use the Britney Spears name to sell the same old, same old, but that might also be the point. After all, would people be as excited about Change's usual silhouettes without the celebrity name? I think not.
What do you think of The Intimate Britney Spears? Anything you like?
Save
Save
Save