Sale Lingerie of the Week: Chantal Thomass Voltigeuse Chemise & Bra & Panty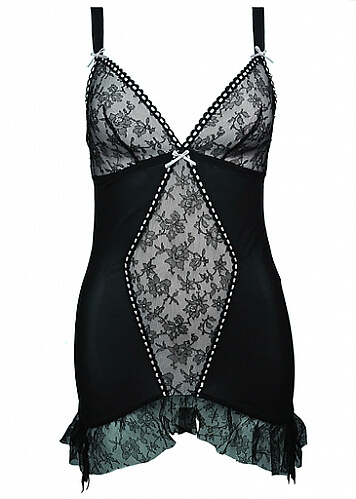 I couldn't decide what I liked best - the chemise or the bra & panty set - so I've just put them both here for this week's Sale Lingerie of the Week. Maybe you can choose which is best...because I know I can't!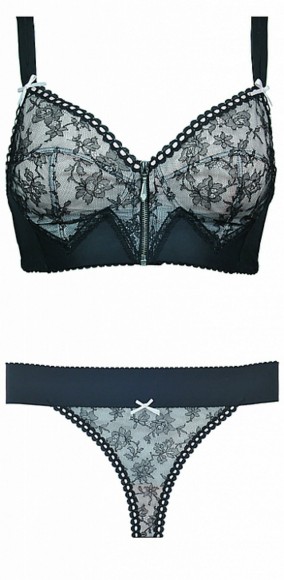 After years of neglecting the US market, Chantal Thomass is back in full force at some of the finest lingerie boutiques across the nation. The brand is known for a decidedly vintage aesthetic - though it never tips into the realm of pinup or kitsch. Instead, they're attempting to preserve the more luxurious elements of vintage lingerie...a period of time in the intimate apparel industry that was known for beautiful fabrics and brilliant construction techniques.
The lace work and ribbon trim on these pieces remind me of countless vintage lingerie sets I've seen. It's no exaggeration to say I gasped aloud when I spotted them on Teddies for Bettys website. How had I missed these ranges before now? I adore the flouncy lace trim and and girdle-esque diamond detailing on the chemise. And that cut-and-sewn bra with a front zipper is thisclose to giving me heart palpitations. I'm a big believer in luxury lingerie giving you something unique, special, and different, and these pieces from Chantal Thomass fulfill all three criteria.
The bra set (bra + thong) is on sale for $315 total. The chemise is on sale for $346.50. As with all sale items, sizing and quantities may be limited. In addition, sale items purchased from Teddies for Bettys are non-returnable.
What do you think of these pieces? And which would you rather have...the bra set or the chemise?