Review: FRKS Lingerie Night Wolf bralette and panties
Disclosure: I received this item free of charge for review purposes. All opinions are my own.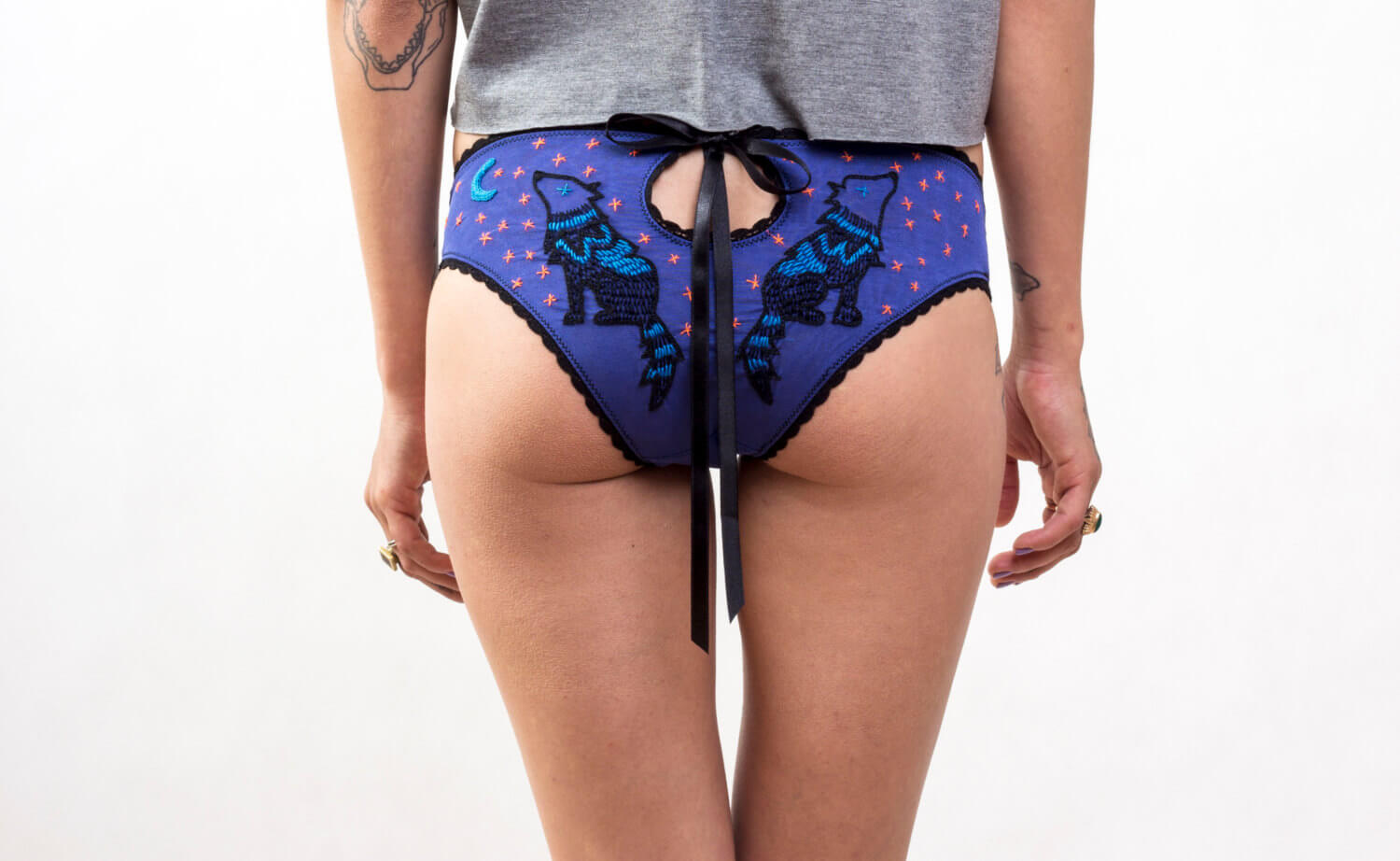 FRKS Lingerie Howling Wolf Panty - $40
FRKS Lingerie are an indie brand based in Hungary that have been on my radar for quite a while now -- their psychedelic colour palette and insanely intricate hand-embroidery caught my attention in the best possible way. I'd been planning to purchase my own set for a while, so when I was offered the opportunity to review a set I jumped at the chance. After all, who doesn't want wolves and stars adorning their bottoms?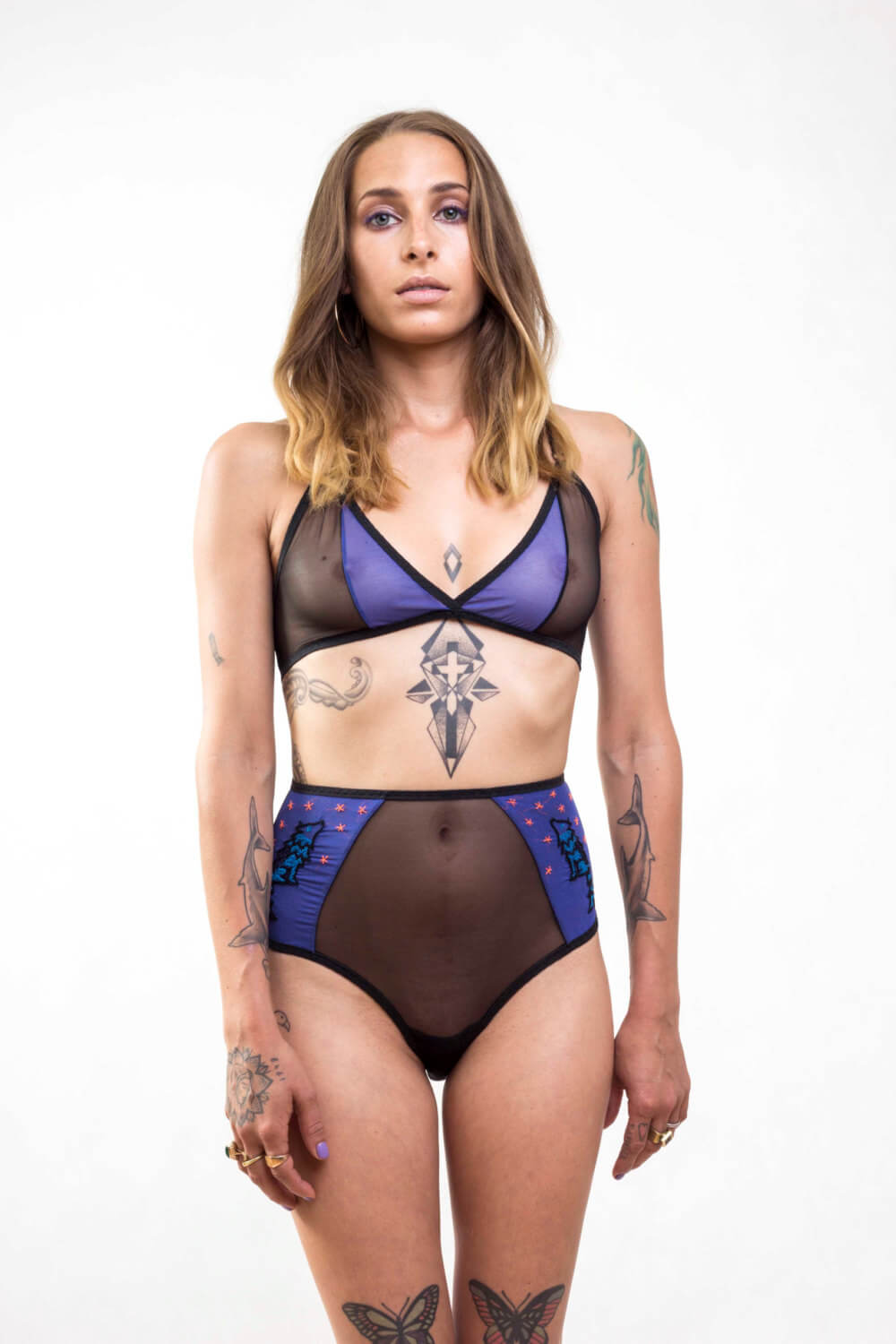 'Night Wolf' bralet and high-waisted knickers - $75
I was sent the 'Howling Wolf' Panty and 'Night Wolf' bralet in sizes Medium and 32C respectively (I normally wear a UK12 and 30D). The panties are available in sizes XS-XL and the bralet in sizes 30-38 A-C. All garments are made to order, so it may be possible to have sizes outside this range created if you message Zsofi through her Etsy shop.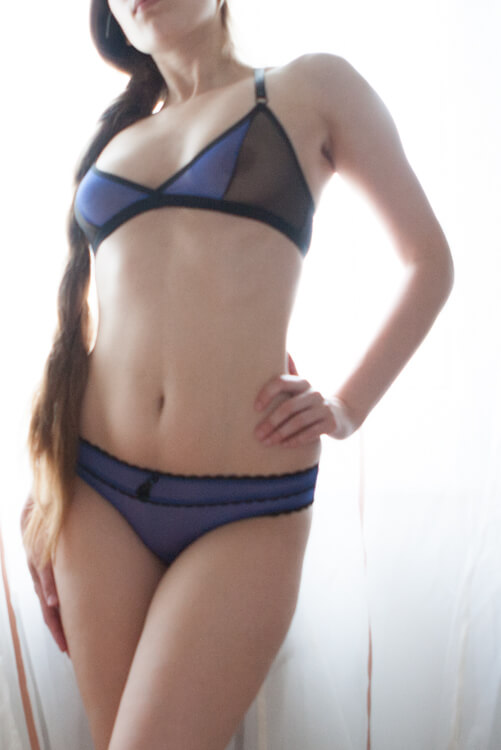 Both the bralet and the panties are made of a soft stretch mesh, with a lining in areas that feature embroidery for a more comfortable feel against the skin. The bralet includes panels of both blue and black mesh, with soft elastic edging and a racer-back shape. Straps are made of satin elastic and feature black enamelled adjustable sliders. There is intricate embroidery on the centre back panel, with motifs of a wolf, night sky and trees adorning it.
As much as I adore this bra design, I've had to admit defeat -- the shape just doesn't work for me. The cups are quite far apart for a bralet, and I found that whilst I could manipulate my breast tissue comfortably into the cups when I put it on, once I actually started to walk around and do things, my breasts fell out of the cups and into the centre. It's a real shame, as if the cups were just a couple of centimetres closer together this would be an ideal fit -- the underband is comfortably firm and the cups offer good coverage and light support. It just doesn't work for my body shape! Fit issues aside, this bralet is extremely well made, with secure stitching all round. I'm particularly struck by the skill within the embroidery; it's deliciously intricate, and isn't distorted or stretched out of shape when the bra is on the body. The use of mesh lining on the embroidery panels also means you cannot feel it against the skin, which I must admit was somewhat of a concern when I first saw these designs!
The knickers, however, I simply cannot fault. The embroidery is exquisite -- quirky and cute, and beautifully executed. Once again, a mesh lining means that the garment is still soft against the skin without any irritation from knots or bulky embroidery stitching. As with the bralet, the knickers are very well made -- all of the stitching is secure and neat. They're a good fit, sitting low on the hips and have quite a cheeky cut on the bottom. The gusset is also nicely wide and they're wonderfully comfortable.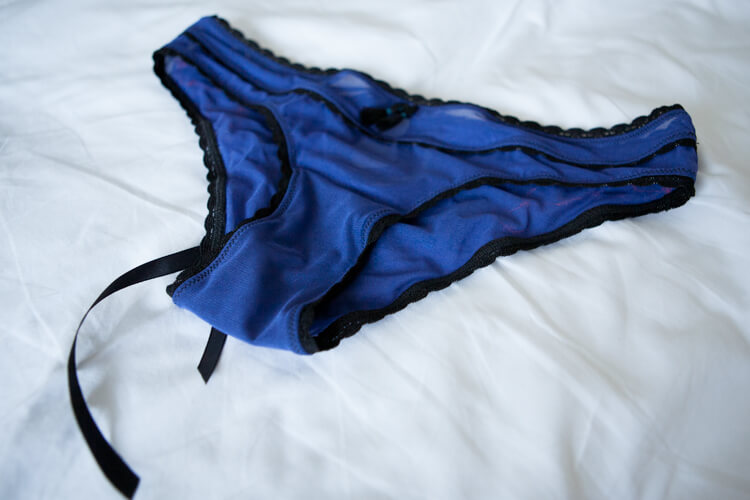 I absolutely adore all of the tiny details on the knickers, embroidery aside -- the double elastic trim across the centre front gives a nice graphic effect, whilst the tiny tassel trim and bow-tied peephole at the centre back give a cheeky finish. The bow also has the benefit of giving some fit flexibility.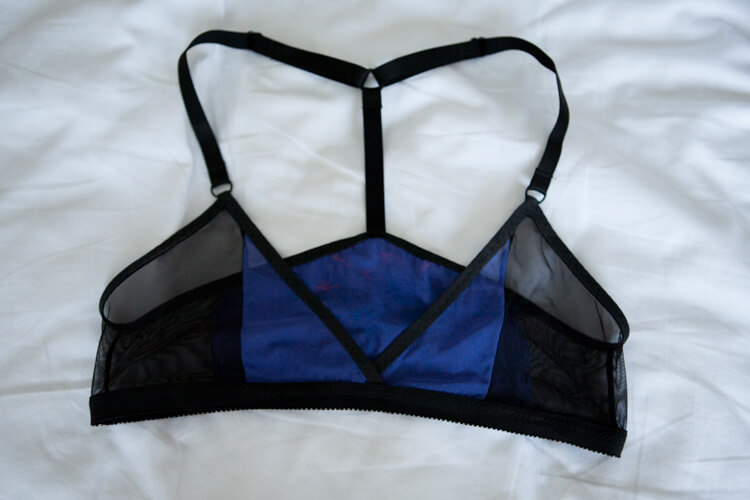 Overall, I am totally in love with these FRKS Lingerie designs -- they're so unusual and innovative. I'd love to see more indie designers trying new techniques such as hand embroidery in their garments. I must admit, though, that I personally believe that FRKS Lingerie is massively undercharging for her work -- there's no way this embroidery isn't incredibly time consuming, and obviously requires a lot of skill. If the bra shape were tweaked only slightly, this set would be perfect -- and I'm certainly hoping to add more of the knicker designs to my lingerie collection!
Readers:  what do you think of FRKS Lingerie's designs? What do you think of embroidery on lingerie?