Essential Undies: 8 Panties That Every Woman Should Own (And the 2 That They Shouldn't!)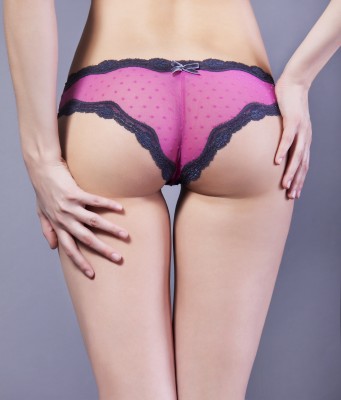 Bikinis, briefs, boyshorts, thongs, tangas, G-strings, V-strings, cheekiess.... The sky is the limit when it comes to the world of undies and the multitude of options we lucky ladies have to choose from these days. We no longer have to settle for drab drawers that merely keep us covered. Panties are getting more technical, more functional and are upping the ante, playing double duty as both a necessary and a utilitarian item. And when dealing with the most intimate of garments that we keep closest to our most private assets, it's only fitting that we should give them the amount of attention that they deserve.
The majority of women wear underpants for close to 24 hours daily, sometimes undergoing one or two quick changes throughout the day as needed. I often find myself on pair number four before the day is done, starting my morning off with a practical panty in order to avoid lines and bumps under tight pants, next changing to an athletic moisture-wicking pair for my evening workout, then moving on to a sexy lacy pair for date night and finally finishing off the evening with a breathable cotton pair for bedtime. It's no wonder I own more than 100 pairs!
However, as the lingerie industry grows and demand for more functional underthings increases, designers are finding more and more ways to combine problem-solving features into one garment. If you are in need of some of these double-duty undies, to find which styles offer the best solutions to some of our daily dilemmas. Depending on your lifestyle and preference you may want to stock up to keep yourself covered in any situation. Don't settle for bottoms that don't work for you – you deserve more from your undies. And who knows? Maybe in a couple of years all of our panty needs will be met by one magical super-panty that women everywhere will covet for years to come. But until then here are my picks for the eight most essential styles of panties out there --- and the two I suggest avoiding at all costs.
1) The No-Show Knicker

Ahh, the dreaded VPL! The chronic conundrum of visible panty lines under your pants, shorts, skirts, and dresses is a headache for many especially for those with a preference for full coverage panty bottoms. Chunky waistbands and leg elastics are infamous for causing those slight bulges under clothes that unnecessarily give the world a peek at our panty preference. Going commando or wearing a thong is one way to avoid VPL, but your best bet is to pick a style with thin fabric and equally flat finished edges. Look for seamless styles with a folded over waistband or a manmade material panty with raw or bonded edges, which will eliminate the need for any elastic at all. If you prefer to keep the elastic on the legs in order to keep them from riding up, look for elastics that are lightweight, small, or flat like a narrow band or taping. This will help you wear your whites and tight fitting bottoms with confidence.
1. Vanishing Edge Microfiber Hipster by Soma Intimates, $16 at www.soma.com; 2. Invisibles Thong by Calvin Klein Underwear, $12 at www.calvinklein.com; 3. Light Hipster by Sloggi, $17 at www.figleaves.com.
2) The Skin-Tone Panty

Like the no-show knicker, this panty should be a staple in any fashionista's wardrobe. This panty will become virtually invisible when closely matched to your unique skin tone, making light-colored pants and skirts safer to wear. Since everyone's skin tone is different it can be hard to find the right match for you, but spending time on a website like myskins.com can help find you the best possible match. These flesh-colored panties also come in handy when trying on bathing suits or new underwear, as they allow you to hygienically and safely try on other bottoms while still remaining invisible, so you can get a better feel for the style. Try combining the features of this panty with the no-show knickers for optimal usage with flat or no elastic for the ultimate go-to invisible panty.
4. New Soire Hot Pants by Cosabella, $35 at www.herroom.com; 5. Thong by MySkins, $12 at www.myskins.com; 6. Diamond Lace Hipster Tanga by GapBody, $12.50 at www.gap.com.
3) The Active Undie
It wasn't until a few years ago that I discovered my first pair of activewear panties specifically designed for high impact aerobics, and I realized I had been unnecessarily suffering for years. These specially designed athletic undies not only offer comfort and stability throughout some rigorous exercise, but are also made with wicking fibers that are soft on the skin and draw the moisture and sweat away from the body keeping you cool and dry throughout your routine. These skivvies allow you to focus your full attention on the task at hand, and not on your underthings.
7. Workout Bikini by Moving Comfort, $16 at www.movingcomfort.com; 8. All Sport Shorts by Sweaty Betty, $25 at www.sweatybetty.com; 9. Woman's Barely Hipster by Patagonia, $20 at www.patagonia.com.
4) The Sexy Skivvy

The sexy skivvy is why I got into fashion in the first place. It could be different for each person: a satin and mesh bikini for some, a cute cotton boyshort for another, maybe a lace thong for someone else. It is the panty in which you feel most attractive. It is something that elicits confidence, whether others will be seeing them or not. Either way, when you put on a pair, these undies should make you feel your sexiest, your most self-assured, and your overall best when you wear them. Try wearing them on dates, for a big meeting at the office or anytime your confidence may need a little pick-me-up.
10. Palais Royal Tanga by Chantelle, $38 at www.thelittleflirt.com; 11. Dessous Ruched Back Bikini by Claudette, $28.56 at www.asos.com; 12. Dazzled Cheeky Brief by Jezebel, $14 at www.designerintimates.com.
5) The On-The-Go Undie

Time is of the essence, and in today's busy society we don't always have the time or resources needed to take care of the most basic of human chores. This can include laundry, particularly when traveling or spending time away from home. One could be left with limited packing space as well as time and energy to include all necessary items on their list. Under these circumstances I recommend investing in a couple pairs of lightweight, hand-washable panties. Paper-thin & soft, you can stock up on a handful of these multi-taskers and carry on with your business. In fact even one pair can do the job on its own if needed. These microfiber styles are easy to transport, comfortable to wear and dry very quickly, allowing them to be hand- or machine-washed before turning down for the night. Hang them to dry and you will awake to a fresh and dry pair just a few hours later – no dryer needed. These are especially helpful on long treks, camping trips, or spontaneous holidays.
13. Light & Airy Bikini by Jockey, $11 at www.jockey.com; 14. Siren Hipkini by Icebreaker Merino, $29.99 at www.icebreaker.com; 15. Give-N-Go Lacy Bikini by ExOfficio, $22 at www.exofficio.com.
6) The Comfort Panty

We all have those days where we just don't feel so great. Cramps, bloating, or a general feeling of being under the weather can make your skivvies the last thing on your mind. You want to feel comfortable and secure without having to worry about aesthetics or functionality. On days like these it's best to have your most comfortable undies at hand. Natural fibers are often the best solution here, with cotton and bamboo leading the pack. But don't confuse these with your typical granny panty. The silhouette, coverage, and color can be as unique as you are, as long as the fit and comfort works for you.
16. Old School Old English Cheeky Hipster by L.A.M.B. x Hanky Panky, $34 at www.hankypanky.com; 17. Cotton Lingerie High-Leg Brief by Victoria's Secret, $8.50 at www.victoriassecret.com; 18. Ruched Bikini by Tommy Hilfiger, $9 at www.tommy.com.
7) The Cover-Up Knicker
I love playing around with different kinds of underwear according to my mood and outfit each day, but for the most part I want to be sure that I'm the only one enjoying my choices without fear of an accidental slip-up or sneak peek. Particularly when out and about in a short skirt or dress (and especially during those windier months), there are times when accidentally flashing strangers is not on my to-do list and I'm looking to cover my behind – literally. In times like these, I look to a more full coverage short or bloomer to keep my undies under wraps. Some days I keep it basic in solid bike shorties. Others I'll opt for a flashier version with prints or ruffles. Either way, it's a relief to know that no gust of wind is going to stop me and I no longer have to stress over a possible wardrobe malfunction.
19. Lolita Lace Shorts by Free People, $68 at www.freepeople.com; 20. Lace-Trim Bike Short by Pins And Needles, $24 at www.urbanoutfitters.com; 21. Rita French Knickers by Hanro Of Switzerland, $111 at www.hanro.com.
8) The Long Undie

I know what you're thinking: How can you even think about long underwear when we just started summer? But I have to admit --- a great pair of lightweight long underwear is a necessity that I can't live without during the colder months. Perfect to double as pajamas, these undies --- often made out of silk or polyester --- provide that extra barrier between you and the frigid winter air. And after the harsh winter many of us experienced this year, I've never been more appreciative to own two sets of this valuable layering piece.
22. Low Rise Long Underwear Pant by WinterSilks, $39.99 at www.wintersilks.blair.com; 23. X-Temp Thermal Printed Pant by Hanes, $14 at www.hanes.com; 24. Silk Underwear Pants by L.L.Bean, $47.95 at www.llbean.com.
Now of course not all of these eight panty styles will appeal to everyone and there are many other solution-based undies out there for your unique situations. However there are a couple kinds of skivvies I suggest you avoid for health and comfort reasons:
The Ill-Fitting Knicker
A no-brainer here, yet we've all been guilty of it: wearing underwear that does not fit us properly. They may be too tight or too loose, but either way they are sure to cause discomfort. Who needs to be shifting and pulling all day causing irritated skin or visible bulges? Toss those inappropriate panties and invest in something more suitable for you, your shape, and size that will allow you a day free from the hassles of unworthy undies.
The Unbreathable Panty
There are some cute undies out there, but not all are created equal. Many tightly-knit, inexpensive, manmade fibers don't allow the skin to breathe and can easily cause you to become sweaty, hot, and irritated in your most sensitive area. You don't have to put yourself through the discomfort and risk of infection or irritation solely for aesthetic purposes. If your synthetic underwear is tight on the body, you may be doing more harm than good. Swap those fake fibers for a more breathable blend or natural fabric. Your skin will thank you. But if you must wear a synthetic style, at least look for ones with a cotton crotch liner to help protect your most intimate areas from the harsh abrasions you may end up experiencing.
Do you own all eight types of the above panties? Which other styles can't you live without?