5 Full Bust Lingerie Brands To Try If You Haven't
Disclosure: This blog post contains affiliate links.
It's easy to get stuck talking about all of the same brands in the full bust world. This is due in part to having fewer options than other size ranges, but also because the big players like Eveden tend to dominate the conversation. Today I'm going to talk about some incredible brands that don't get as much press, as well as some that are worth a second look for reasons you might not expect. If you've never tried these brands (or haven't tried them recently) they're absolutely worth a look. As a bonus, most of them are easily available now, which makes purchasing from Comexim or Kris Line easier than it was even a year ago.
Bravissimo:
Bravissimo is a powerhouse brand in the UK, but doesn't have as much of a following among US-based buyers as they should. Their selection of bras is great, but it's reasonably easy to access fashionable full bust bras in the US these days if you're in the D through H cup size range. If you're in the H through K cup range or you're looking for something unique, you need to check out Bravissimo. While other companies boast about taking plunge bras up to a J cup, Bravissimo is already making basques based on them. They're now offering this gorgeous Lola Luxe Basque up to a K cup (I bought one a few years ago and it's one of the best purchases I've ever made) as well as strappy tops with built in bras in fashion colors up to a J cup. If you're at the high end of full bust sizes, Bravissimo also regularly releases L cup bras that are cute and reasonably affordable.
Comexim: 
Comexim is one of those brands I've always admired and never bought from because quite frankly, purchasing from them seemed hard. Frequently buyers would have no language in common with the company while they tried to figure out sizing, payment, and a whole host of custom options. Maybe I'm a wimp, but it scared me off. Luckily A Sophisticated Pair has recently struck a deal to carry Comexim, which means you can now get the best of both worlds. The owner, Erica, can help with sizing as well as negotiate special orders. You can also return bras that don't fit, which is a huge advantage. She's carrying some basics in her store now, but make sure to contact her if you're interested in getting in on future fashion orders.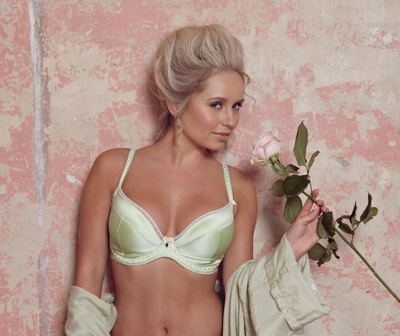 Tutti Rouge:
Tutti Rouge had lots of buzz before their launch and then suffered from serious sizing concerns. They've since gone back and revised their sizing system and are now making amazing bras at awesome price points --- in fact, they're my new favorite go-to budget bra line. If you tried a Tutti Rouge bra the first season and it didn't work for you, it's time to try another from last season or the current season.
Cake Lingerie:
I'm childfree by choice (my dog is all the toddler I need) but I love Cake Lingerie. And it's all because of one bra style: their flexible underwire bras. I've suffered from both chronic fatigue syndrome and fibromyalgia since I was a teenager, and Cake Lingerie's flexible wire bras are the only kind that doesn't hurt when I have flare ups that involve body pain, muscle spasms and swelling. I love that these provide great lift, so I don't have to choose between being in intense pain and looking terrible when I leave the house. If you're sensitive to wires or tight bra bands due to a disability or illness, Cake Lingerie's flexible wire bras may be a godsend.
Kris Line:
Kris Line bras used to show up once in a blue moon on Brastop, but now they're regularly available through Zulily flash sales as well. As they're pretty much my desert island bra brand, I'm obviously pleased. I've heard lots of people say that they're put off my Kris Line's glamour shot style photography, but it's really worth looking past that and trying one of their great offerings if you haven't yet. Zulily is starting to carry pieces like babydolls as well as bra and panty sets, which means there's lots to choose from. If you're new to the line, start with the brilliant "Brilliant" basics in black or white. Their sizing is a little different from other brands, so my usual rule is to go up two cup sizes and to stick with your regular band size. If you're feeling brave, try some of their simultaneously sophisticated and funky fashion offerings.
Have you tried any of these brands? Which is your favorite?