How to Showcase or Hide Your Headlights
Today's guest post is by Kim "Kimmay" Caldwell, the owner of Hurray Media and a long time bra fitter. Kim blends her bra fitting and swimwear know-how for all sizes to creatively spread the word that lingerie can change a woman's life for the better. She has appeared on Tim Gunn's Guide to Style, The Martha Stewart Show, HuffPost LIVE and more. She's been quoted in Brides, Women's Health and Real Simple magazines. Connect with Kim on Twitter, Facebook, Pinterest, LinkedIn, Instagram and at HurrayKimmay.com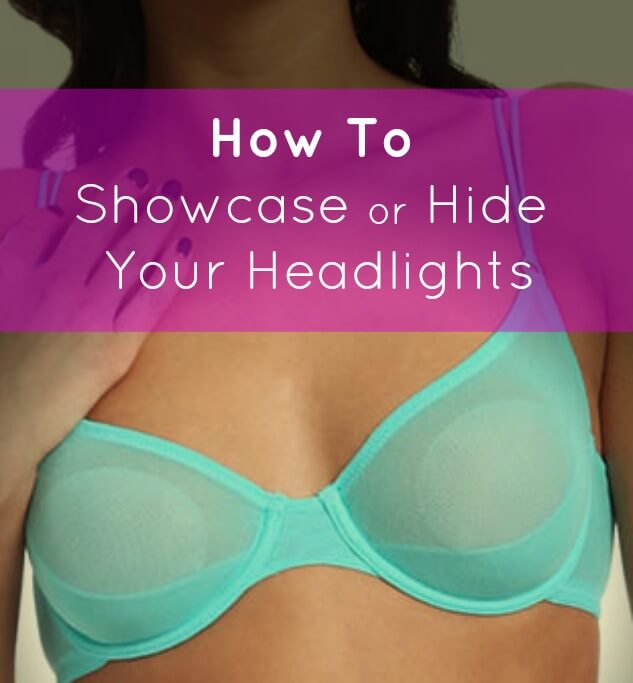 Remember that scene in The 40-Year-Old Virgin when the guys sit around and discuss their favorite kinds of breasts and nipples? These guys were raving about the best kinds, their favorite shapes and the various colors. While that may be a raunchy and over the top comedy, it does imply the popularity of nipples. They're pretty exciting. So why are some of us afraid to showcase them? What is the big deal with nipples?
When I'm bra fitting my customers often ask for a bra with thicker molding. Their reason is sometimes "because I like the shape the molding provides" or "because I'm into smooth foundations." But far more often, it's a timid "because I don't want my, you know, nipples to show through my shirt."
Here in the United States, nipples are a taboo topic. It seems that semi-sexy magazines and certain TV shows can reveal everything except the nipple. Because that would just be going too far. We all remember Janet Jackson's Super Bowl "wardrobe malfunction," right? A nipple on mainstream TV coined a whole new phrase. And most recently, scandal ensued on Instagram when Scout Willis (daughter of Bruce Willis and Demi Moore) took to the NYC streets in a topless protest over... nipples.
To some people nipples straight up mean "sex." For others, they are considered a very delicate, sensitive and personal part of their body. And for still others, they are just a way they feed their baby. Nipples have a unique purpose to each of us. It's your choice if you'd like to share them with someone. It's your choice if you want the world, or just a chosen few, to see what yours look like.
While working at Saks Fifth Avenue's intimate apparel department, a sophisticated customer once informed me that she preferred a sheer bra that would not hinder her nipples from interacting with the world. She continued to tell me how delightful it is to dance close with her husband, brush up against him and feel the sensation through her dress of her nipples against his lapel. At 21 years old, this was a side of nipples I had never considered before. In fact, when interviewing for my job at Saks I went braless in a little black dress with a keyhole back and a shelf bra. To hide my own nipples, I wore two Band Aids. This was before I knew about my nipple cover options. This customer was unafraid of her womanly shape but reserved the intimate pleasure for her someone special. I've also met a woman from Europe who proclaimed: "A nipple is a nipple. Who cares? We all have them."
On the contrary, I've helped far more customers who prefer to keep their nipples hidden. Many of these women work with children or men or are in the public eye. Aside from how they feel about their nipples personally, they would rather eliminate the possibility of a professional hindrance.
I can reason for both sides of this debate, and who says you have to stick to either side? Below are a few of my favorite ways to showcase or hide your headlights.
Show 'em: Interested in feeling free, showing them of, or enticing a lover? Try these items!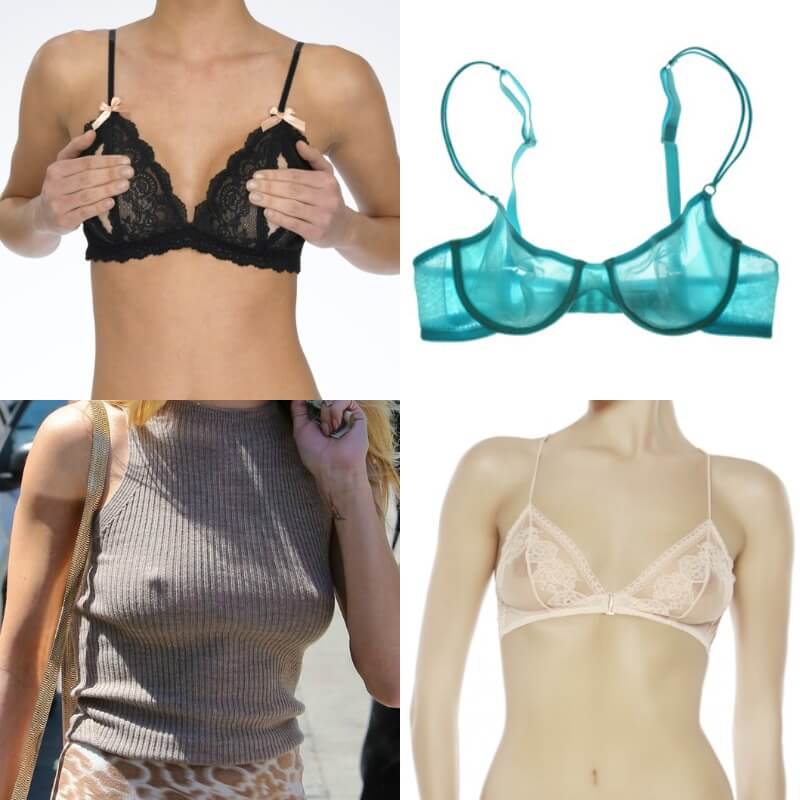 Peek a boo bra: Usually for the bedroom, these little bralettes or sexy underwire bras are meant to showcase the very thing we're discussing today: nipples!
Sheer bra: A barely there bra can provide support and shape while allowing your headlights to shine through. Look for materials like mesh or tulle.
Lace bra: Some lace bras have so much detail that they'll actually hide your nipples, but a delicate, unlined lace bra is both pretty and sheer.
No bra: Hey, you can also go sans bra and let 'em loose! Depending on your outfit and bust size, some tops can provide all the support you want without the need to add additional layers.
Hide 'em: Even if you're a nipple fan, you may sometimes want to keep them out of sight. Here are a few easy ways to do so!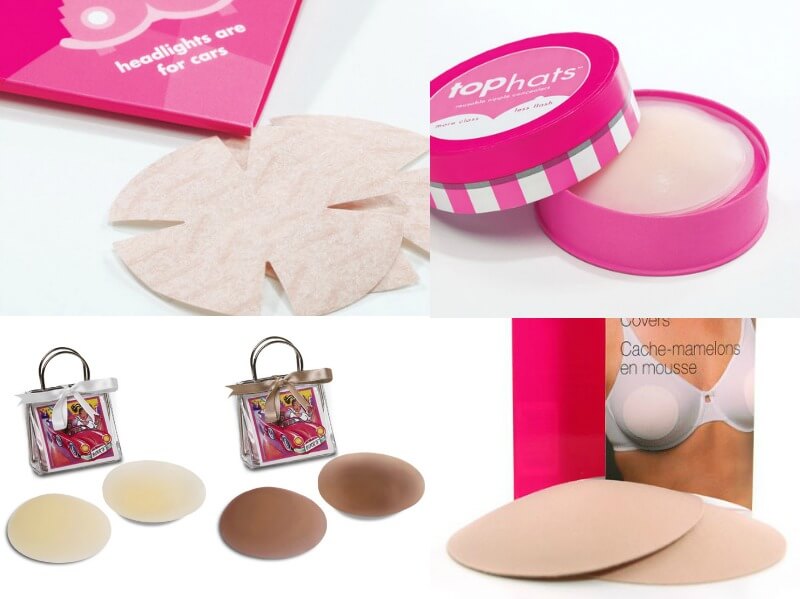 Adhesive nipple covers: Wear these when you don't want to wear a bra, but do want some nipple coverage. There are SEVERAL kinds on the market made from silicone or paper, like these from Commando. Find the style that fits both your shape and skin tone for optimal invisibility.
Non-adhesive covers: Dimr's are made of silicone and are available in two different skin tones. They act like a second piece of skin and are totally seamless and invisible to onlookers. Remember, thick molded bras may not fit everyone's shape or needs, so popping a pair of covers into your favorite bra is an easy fix. The Fashion Essentials fabric style nipple covers are non-adhesive and can go into any bra. They are a little thicker than their silicone counter parts and far less expensive.
Fashion styles: Want to have a little fun while you cover 'em up? Go for a funky fashion style like these from Nippies!
Molded bra: There are a variety of "molding" styles and thicknesses out there. I love the 3D Spacer Molding trend for its flexibility and soft feel, but it is not always thick enough to hide some nipples. If you want your bra to do the job, try one with a thicker molding.
Post-Surgical Options: While we're over here discussing whether or not to show nipples, there are women who no longer have them. I have helped many women who have undergone mastectomies or reconstruction. Typically these procedures surgically remove the breast tissue and the nipple. My go-to prosthesis company, Anita, includes a very small, barely there nipple shape on some of their breast forms. They also manufacture more noticeable adhesive nipples.
And some of the most innovative nipple accessories are temporary tattoo nipples. Made by a preventative double mastectomy patient, Elizabeth Vivenzio, these lifelike tattoos help women who've had reconstruction after breast surgery to envision what it may be like to get permanent tattoo nipples, or replace tattoo nipples all together.
The nipple is an important part of our female form. So whether or not you wish to showcase yours, I'm personally very thankful to have mine.
How do you feel about showcasing your nipples? Does it help you feel free, or feminine? Or do you feel they are no one's business but your own? I'd love to hear what you think! Leave a comment below and let's get the conversation started on this "taboo" topic.