Addicted To Lingerie: 8 Steps To Curb The Obsession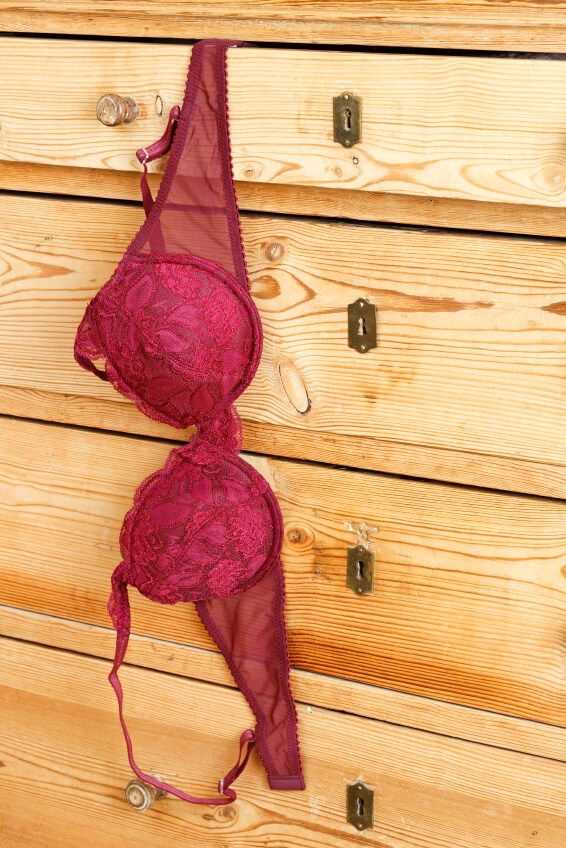 It's fitting that I write this article for a blog named The Lingerie Addict as I have just come to grips with the fact that I truly am a lingerie addict myself. This is not something I admit lightly. I have spent years of my life lusting and fawning over hand worked corsets, vintage slip dresses and showy bras. I have spent loads of hard-earned cash on lacy camis, cheeky panties and matching boudoir sets. But a lingerie "addict"? Nah, that word can't possible apply to me!
However earlier this month I began my annual task of spring cleaning. With the long, hard winter behind us I was eager to open the windows and let the fresh air inspire me to tackle my overstuffed dresser drawers and closets. It wasn't until I sat down amidst my contents of 5 lingerie drawers when I realized how exceptional my collection really was.
It got me thinking: how many bras does the average woman own? Why do we hold on to things that no longer fit or flatter us? Why can't I stop buying more and more lingerie? I certainly can't be the only woman in the world with a dresser full of lingerie and an admitted spending problem. So I decided to research the statistics. The average woman today owns about 9 bras and about 20 panties contributing to the estimated $30 billion dollar global market. Lingerie spending has risen steadily since the economic crash of 2008 and shows no signs of slowing down with 50% of lingerie purchases spent on bras and 33% on panties. This is a far cry from my personal collection of 85+ bras and 100+ panties and I have a feeling I'm not alone here.
While my situation is not indicative of these statistics, I do believe that being a lingerie addict isn't necessarily a bad thing. As with any shopping addiction, all it takes is a little discipline to keep yourself in control and your obsession in check. I will state here and now that my new goal for this year will be to curb my addiction and redirect it in a way that will save me more closet space and money by 2015. To help reach this goal I have constructed an "8 step program" for myself in order to reach full lingerie nirvana. These are steps that I have already begun taking to help keep my lingerie spending in control. If you feel you are in the same boat with your lingerie obsession (or have some additional advice for me) then feel free to take a cue from my new personal rulebook below.
1) Get rid of lingerie that does not fit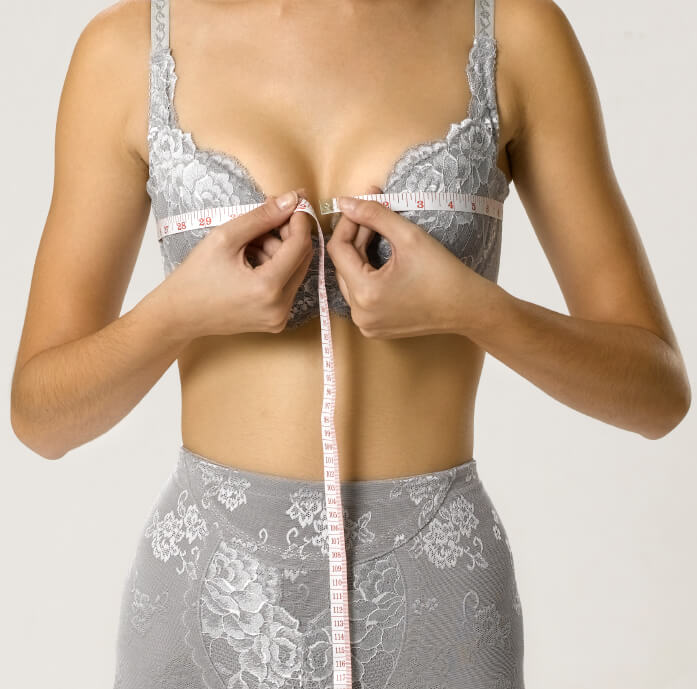 We've all heard by now that 8 out of every 10 women are wearing the wrong size bra. Whether you believe the hype or not, the fact remains that many of us could benefit from a wardrobe purging of wrong or miss-sized items that we've been holding on to for one reason or another. I personally have a bevy of bras from a couple years back when I thought I was a size 34B. It turns out that I, too, was misinformed and have benefitted from switching sizes ever since. However I noticed that my substantial collection of brassieres included a significant amount of size 34B's that I acquired throughout the years. 34B's that I loved and wore despite the loose waistbands & gaping cups. Now that I know what a good fitting bra feels like I've tossed my 34B's to the wayside and they've been gathering dust ever since. It is time for me to say goodbye these bras and make room for more practical pieces. The same holds true for anything that pokes, slips, squeezes, itches or shifts which is why I'm tossing my wedgie-inducing briefs, oversized nightgowns and impossibly suffocating pantyhose.
2) Nix lingerie that doesn't suit your style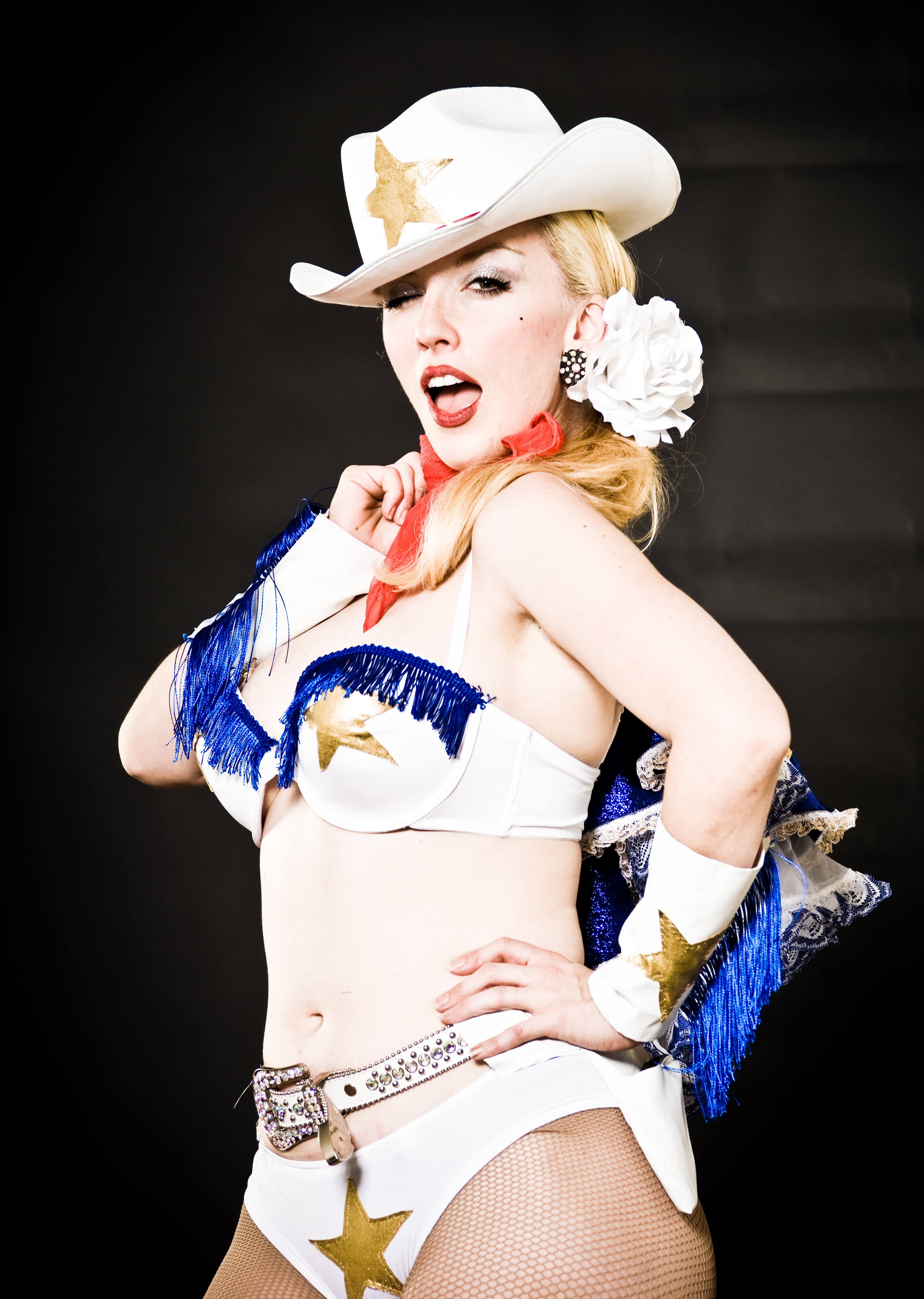 It can be fun to play around with your lingerie and try out new pieces or styles that would normally stray from your comfort zone outside of the bedroom. After all, intimate apparel is one of the safest places to experiment and find out what you or your partner like. But experimentation can sometimes leave you with a "one hit wonder" on your hand that may never see the light of day again. I have an abundance of "one hit wonders" in my closet not only from experimental buys but also from emergency purchases (who forgets to pack underwear their on their vacation??) and free giveaways at work. None of them suit my personal style and I avoid wearing them at all costs so why keep them around? And just like that I've reduced my overflowing collection by about 30%!
3) Take better care of my most important pieces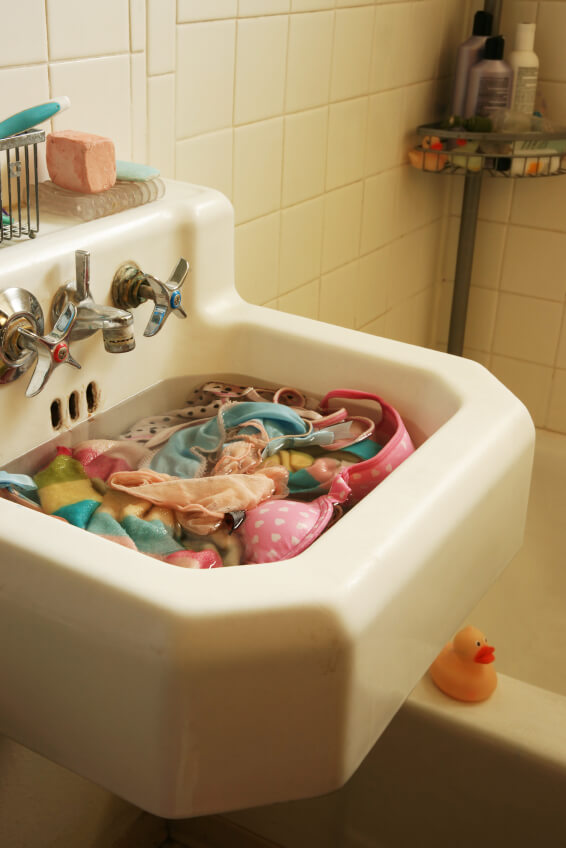 Whenever I make a new purchase I always start off giving it the love and care that it deserves but as time goes on, and my collection grows, I find myself skimping on some of the most basic rules of thumb for lingerie care. Most of my white and nude pieces begin to grey before their time and I've unwittingly contributed to the disintegration of many a lace panty. This year I'm making a more conscious effort to store my cupped bras neatly with backs clasped and stacked horizontally to avoid crushing or creasing the cups. I'm limiting my bras and tights down to two wears before laundering (socks and undies are always just once). I'll continue to hand wash my bras and delicates while the more basic styles will go into the washing machine and always in a mesh lingerie bag. I also recommend using cold water for everything and separating your lights from darks. Try to avoid using bleach (I learned the hard way) as it can cause discoloration and contribute to the breakdown of lace fibers. Gently rinse and pat dry all delicates before leaving them to air dry flat or in their natural shape. Hopefully this will add a little more longevity to some of my more fragile pieces and keep me from taking the lazy way out.
4) Stop the impulse buying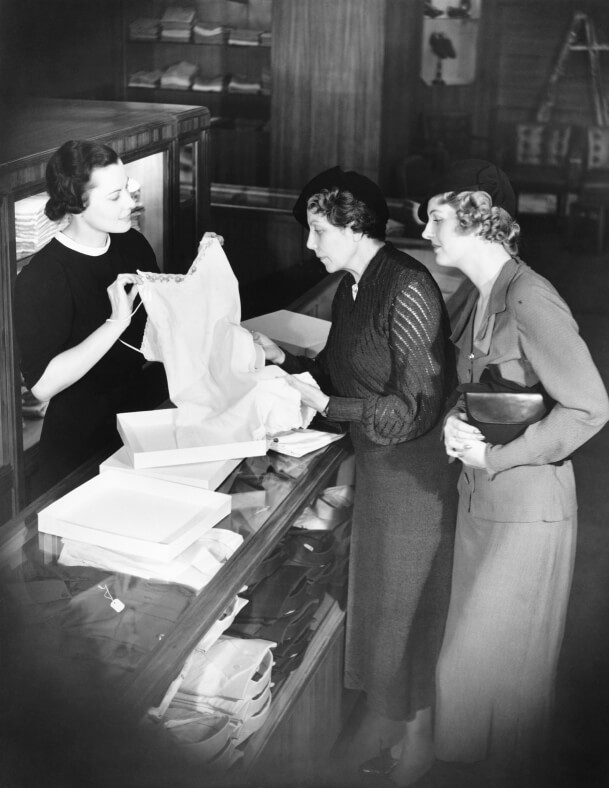 It's hard to control yourself when you work in a sea of gorgeous intimate apparel but I will succumb to the addiction no more! My new motto is "Ask why before you buy". Most of my lingerie purchases are based on desire rather than need and this is what's landed me in a virtual mass of lingerie. Far be it for me to deny myself the most basic of essentials: a supportive sports bra, comfortable panties, convertible bra or pantyhose, but the pretty, sexy, flirty fashion pieces that I love so much will have to be limited from now on. This is by far the biggest task for me to take on so I've decided that every time I pine for a new purchase I will attempt to channel my obsession in other ways. Such as….
5) Keep a lingerie inventory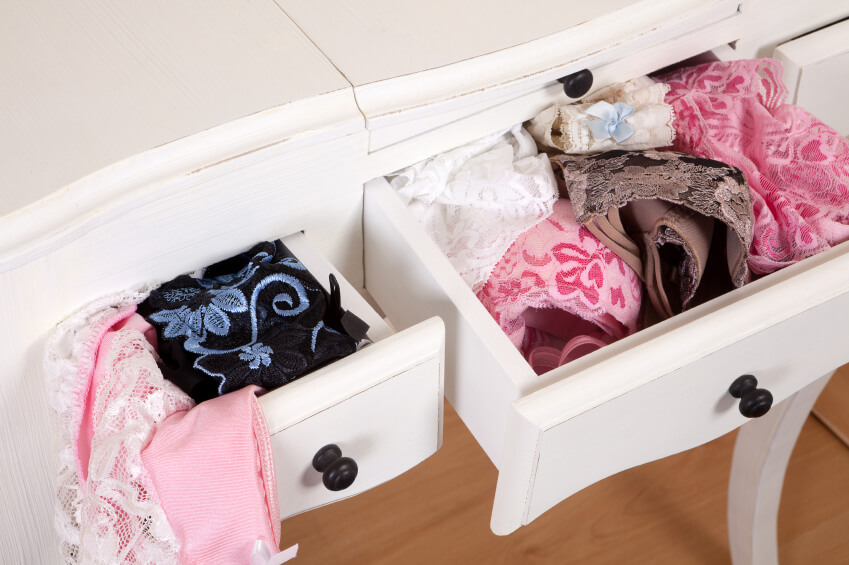 Knowing and reminding yourself of what you have on hand is a great way to avoid those impulse buys. I believe that if I can keep my drawers and closets organized and then skim through them every couple of weeks to remind myself of my stock then it will help to alleviate my shopping impulses. I plan to work with what I've got and remind myself how much I already have. No, I don't need that new rhinestone encrusted corset when I have 7 perfectly beautiful corsets sitting in my drawer begging to be worn. I can get my rhinestone fix with my sparkly bra from last season or my lurex tights. I hope that shopping my own closet will allow me to become more creative in the long run and to appreciate the lingerie that I already have.
6) Rid yourself of "benched" pieces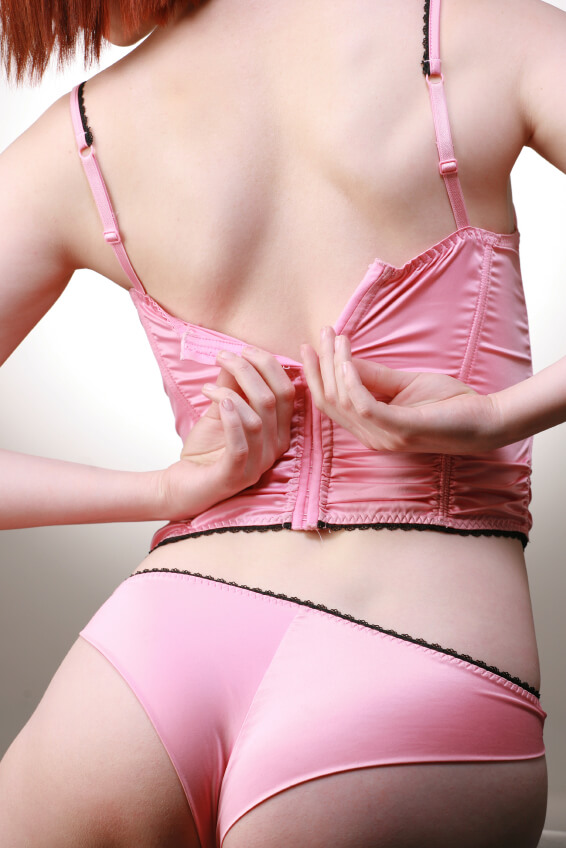 One of my biggest lingerie hoarding problems is my over-ambitious notion that I can fix any wear, tear or irregularity in my clothes. This includes runs in my hosiery (I can just add a dab of clear nail polish to stop it in its tracks!), bra waistbands that are too loose (I'll just re-sew the back clasps!) or even panties with too tight leg elastic (I'll lose a few pounds!). But the truth is that these pieces end up sitting in my drawers month after month "benched" from the game. Sure it would be great if I could make good on these promises but the fact is that I, like many of us modern day women, do not have the time, resources or energy to indulge in our inner Martha Stuart and make the needed repairs in a timely manner. Rather than taking up space I vote to rid yourself of the burden altogether. When it comes to lingerie fit and quality are key and if something isn't perfect then it just isn't worth it.
7) Just say no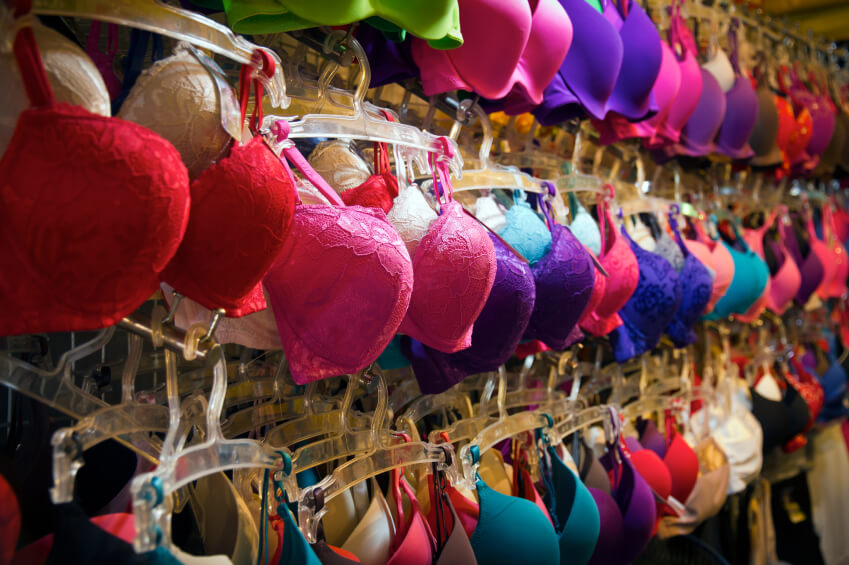 In my line of work we are fortunate enough to enjoy some perks from time to time including free samples and giveaways. As exciting as this is it can sometimes be overwhelming as styles pile up and you find yourself accepting things that you don't even plan on wearing. It can be hard to say no when someone is giving you something (especially when that something is complimentary) but I am going to have to start practicing my no game. Just because it's free doesn't mean it's a good idea and in an effort to become less wasteful I'd prefer to save that sample for someone who really appreciates it and will get more use out of it.
8) Avoid sales, bargains and clearances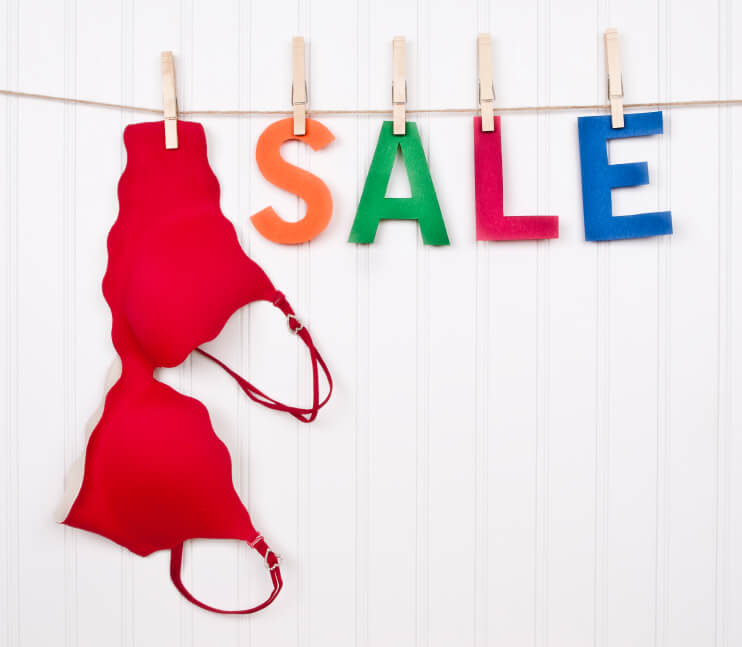 This goes hand in hand with step #4 about impulse buying. Sales are dangerous places for shopping addicts like myself and can turn a simple browse into an all out spree. It's a slippery slope as turning down a designer bra at 50% off is more painful than turning down the same designer bra at full retail price. However from now on I will be making a more conscious effort to avoid sales all together. Those big red letters will no longer have an effect on me as I will be impervious to their charm! Just because something is reduced in price does not make it more necessary and from here on out I plan on using sales solely for lingerie necessities.
Do you consider yourself a lingerie addict too? How do you curb your obsessions?