Monif C. Swimwear: Fashion-Forward Swimsuits for Plus Sized Women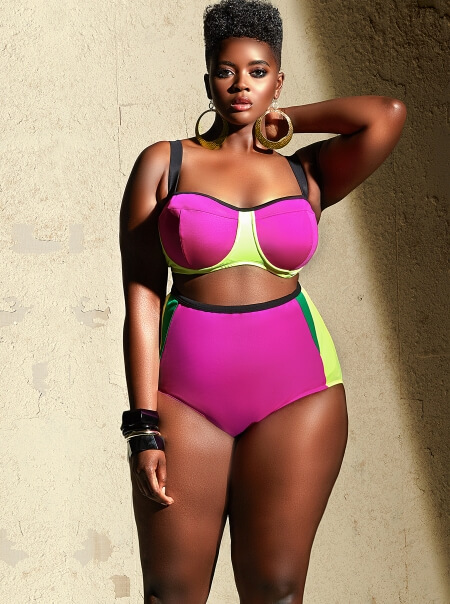 I think the swimwear bug has (finally) bitten me. If you follow The Lingerie Addict on Facebook, then you probably recognize the above image; we shared it just last week to the TLA page from The Curvy Fashionista's Facebook page. While I'm a huge fan personally of the whole vintage/pinup aesthetic, I also value a more modern approach to swimwear (yes, I love all the things)... and Monif C. has that in spades.
Available in sizes 14W to 24W (fitting maximum measurements 53-46-55"), these gorgeous, bright, brilliantly colored swimsuits are meant for women who don't believe in hiding. There's no "shame" in this swimwear; these styles aren't about covering the body in swathes of black in an effort to make it look smaller. Instead, Monif C. is about embracing your shape... because what do you have to be ashamed of, really? While writing this piece, I did a quick search of some of their previous collections and wow... I love it all. My inner lingerie addict adores details like colorblocking, mesh, cut-outs, and graphic effects. This swimwear is fun, striking, and utterly fabulous.
My favorite piece actually isn't the leopard print suit below (shocking, I know!), but the neon green and navy monokini a bit further down. Something about that particular color combo combined with that high neck and those strategically placed cutouts really has me smitten, and I would totally buy this piece.
A quick note... while these suits are gorgeous and are available in plus sizes, this is not a 'budget' brand. Monif C.'s swimwear is priced in the $160 to $190 ranged (one-pieces on the lower end of that; colorblocked bikinis on the higher end), putting this brand on par with other designer swim offerings.
All in all, I have to say I like Monif C. and I'm really glad I found them via Facebook. What do you think of this brand? Would you try any of their swimwear?