An Update on Adore Me Lingerie, Part 2a: Thoughts on the New Collection
Editor's Note: This article is a follow-up on our review of Adore Me Lingerie from 2013. For Part 1 of this new series, please click here.

Disclosure: Adore Me flew me to New York to view their new collections. All opinions are my own.

Now that you've gotten some background information and context from Part 1, I think it's time to actually talk about the designs. Of course, the main purpose of this trip was to see and feel Adore Me's new collection. It can be difficult to really "get" a brand through a couple of two-dimensional images on a computer screen. That's a big part of why Lingerie Market is so important; seeing a range in person simply can't compare to viewing it online. So it was definitely a boon to be able to interact with the collection in person and to even see samples and prototypes of many items months before their official release. While the preview photographs in Part 1 were all sent to me by Adore Me, all of the photos in Part 2 (this section) were taken during my visit. And as I mentioned before, TLA columnists Krista and Laura were also in attendance.
***"We Want Women to Feel Beautiful:" An Introduction to Adore Me's New In-House Designs
As of right now, Adore Me's entire design team is composed of exactly two people: Helen Mears (Head Designer) and Kristin Anderson. I met Mears briefly last year during Curve, and she comes to Adore Me with an incredible amount of industry experience. Not only is Mears a former Design Director for Victoria's Secret (the 'Angels' group specifically), she's also a former designer for the global lingerie corporation, Wacoal-America. She's knowledgeable about core competencies like factories, design, and sourcing, and she also knows how to build a world-famous and readily recognizable brand from the ground up.
For me, "boring" elements like like fabric sourcing, vertical integration, and taxes/duties/customs are incredibly interesting. They're also the kinds of items that rarely get discussed in the lingerie blogosphere and that most lingerie companies actively avoid sharing the details of. So I was very happy with how transparent Adore Me was about their processes during our time together.
Adore Me uses about half a dozen manufacturers for their lingerie, sleepwear, and loungewear ranges. The initial size range for this new line is 32A thru 38DD, with the company planning to expand into G cups and 40 bands this Spring. And yes, there are plans to develop for more sizes further down the road as Adore Me increases both their sales and their capacity.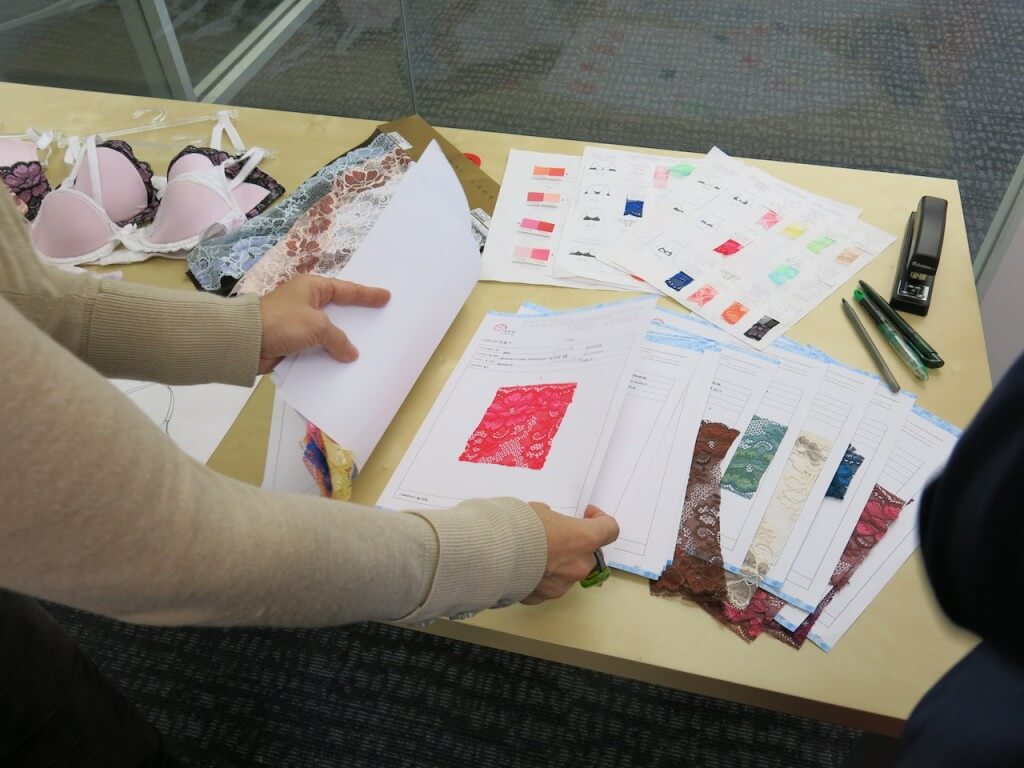 In order to save on costs (that is, to keep the price of a complete lingerie set at $39.95), Adore Me uses the same lace trim on all the in-house designed bras and panties from their core collection. This allows them to not only buy in bulk (and custom-dye) for their needs, it also gives them an exclusive on this particular lace trim... something that's incredibly important for market differentiation and customer recognition. The lace also has the added bonus of photographing beautifully, as you can see in the pictures below. This is an important factor since the photography is all a first-time customer has to go on.
Because Adore Me's business model is based on value (as opposed to fit or design), the company is focusing on a unique color story to renew customer interest month after month. Collections will be organized by seasons, with new colors issued monthly. According to Helen Mears, the fit of the bras is similar to Victoria's Secret as that's the customer base they're going after... women who have a casual interest in lingerie, but aren't very passionate about it. Accessibility is the name of the game.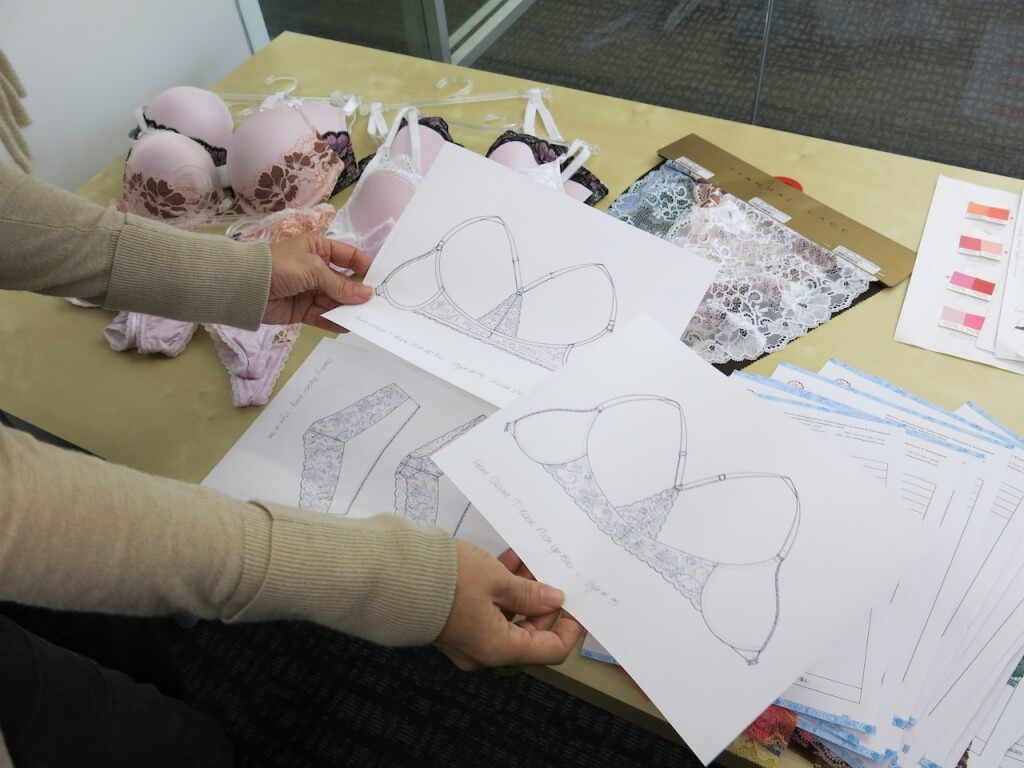 Adore Me also has an upcoming swimwear line and loungewear line. While the swimwear is not designed in-house yet (instead the collection was crowd-sourced from Adore Me's fans and customers), the company does plan to produce their own swim range by 2015. In addition, we were given a sneak peek of an upcoming holiday collection with more delicate lace and even some crystal accents, which is meant to compete against higher-end, designer brands (and would be priced higher than the usual $39.95 sets). It's obvious that Adore Me has plans to become a major player, on the same scale as a Victoria's Secret or an Aerie, only without the accompanying brick and mortar stores.
Unfortunately, it only takes a brief glance at their website to see that Adore Me hasn't completely phased out their products from other brands. I imagine that has to do with leftover stock (once you purchase it, you have to get rid of it somehow), but I also believe that having a mix of products --- Adore Me's in-house designed pieces with pieces from other brands which may still be relabeled --- undermines what should be an explosive launch and re-imagining for the fledgling company.
Now seems like a good time to bring Laura and Krista into to the conversation so the three of us can share our individual perspectives on the new range. While some remarks have been shortened for length, I have not substituted, edited, or otherwise changed their words.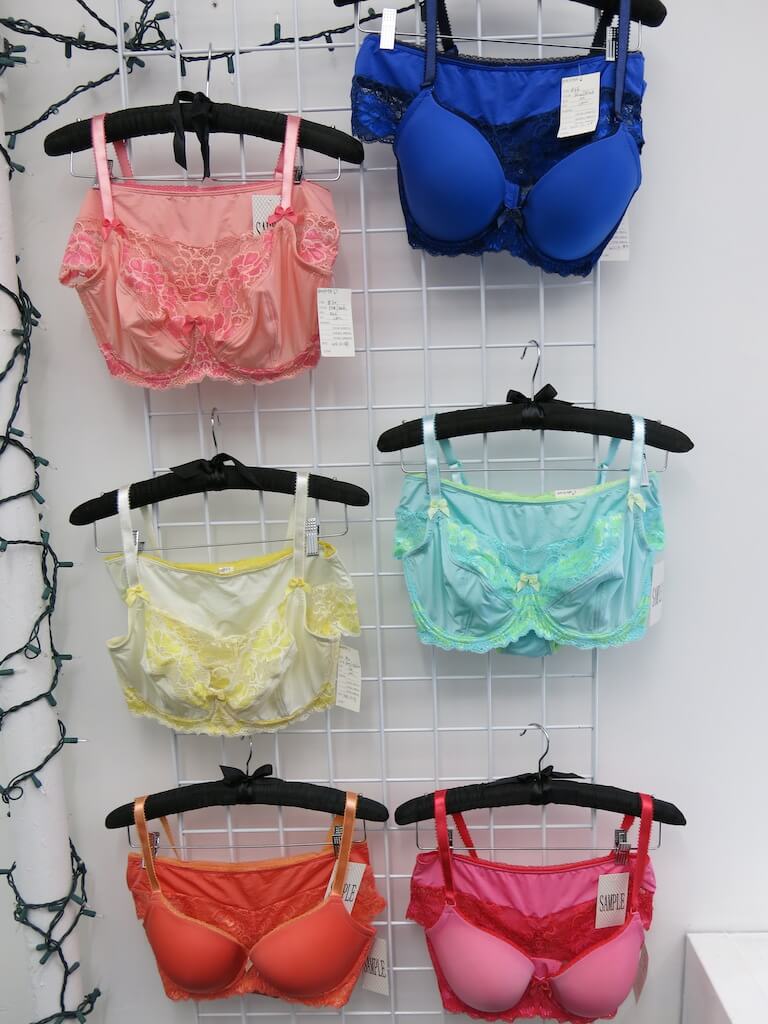 ***"I think Adore Me's new collection is a solid start:" TLA Discusses the Designs, the Business Model, and Our Favorites
Cora: First of all, thank you both for taking time out of your busy schedules to attend the Adore Me meetings. We actually all got together on a holiday (Martin Luther King, Jr. Day), so it really means a lot to me that you were there. Let's start with the big picture. What was your overall impression of Adore Me's new range? And how does it compare to what we've seen from the company in years past?
Krista: I think Adore Me's new collection is a solid start. I didn't know much about them prior to your post last year. I remember checking it out and not being very impressed once I saw the site. A big part of my love of lingerie is aesthetic. I love beautifully crafted, inspired, and unique designs. That wasn't what I saw. Additionally, as a full bust woman who pays particular attention to those styles in the industry, I immediately noticed familiar silhouettes from Parfait by Affinitas so was also off put by the claims of the European design you mentioned.
However, seeing this new collection was encouraging. It's more cohesive. The pieces make sense together. There's a color story. Not all over the place which was my first impression. I do think Adore Me has made significant effort to bring something new to the market and define their identity. That brand consistency will pay off for them with consumers who want something simple with options. Overall, I like the collection. My personal style is different, but I find the collection accessible for a lot of women. I liked a number of the silhouettes and color patterns and think they will do well. Particularly as Adore Me seeks to rival Victoria's Secret.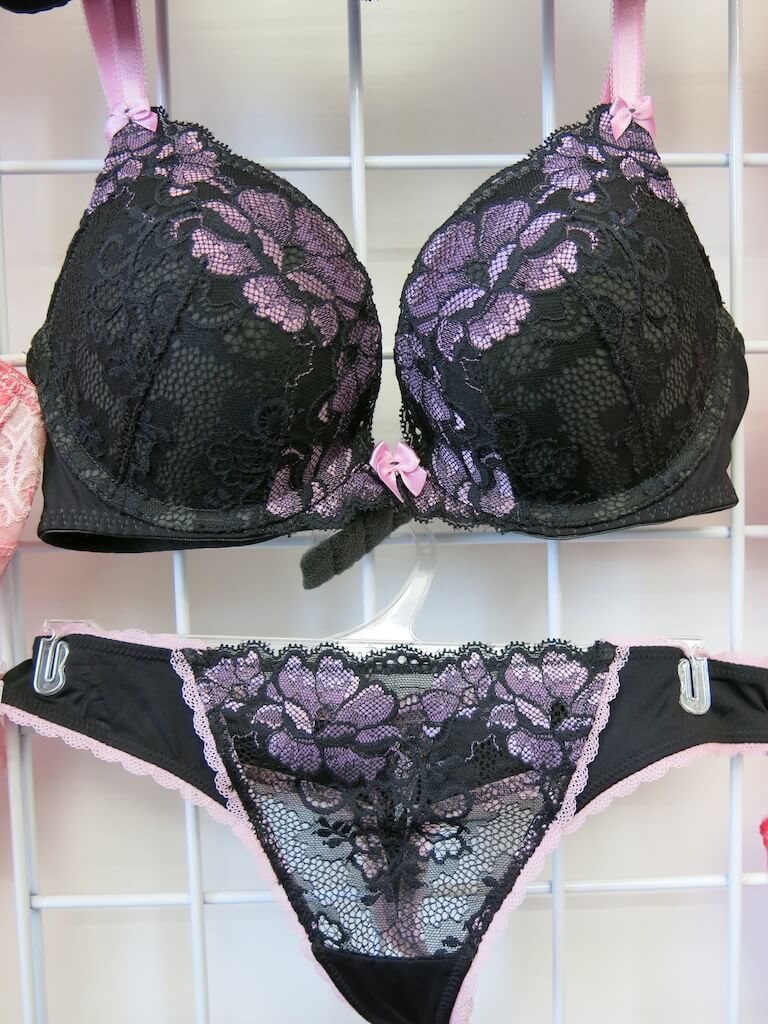 Laura: I've always been interested in Adore Me. What has been most noteworthy about them in the past was their monthly subscription service sales model, a version of which has been taking flight in other retail sectors like beauty, shoes, and wine in recent years. To me, the new presence of a player like that in lingerie is exciting because it gives consumers a new way of thinking about buying --- and it's a quickly scalable sales model, so there's huge opportunity for quick growth. The product itself in most of these subscription models --- for example in beauty and in wine --- is not manufactured by the retailer. The retailer acts simply as a conduit between manufacturer and consumer, like most stores. It's less risky for a retailer to buy and sell or to private label at the beginning, rather than devoting precious start up resources to R&D, so the way Adore Me entered into the market makes business sense to me. Now that they have launched their own in-house label, I am looking forward to seeing how they can marry this potentially great sales model with thoughtful original product.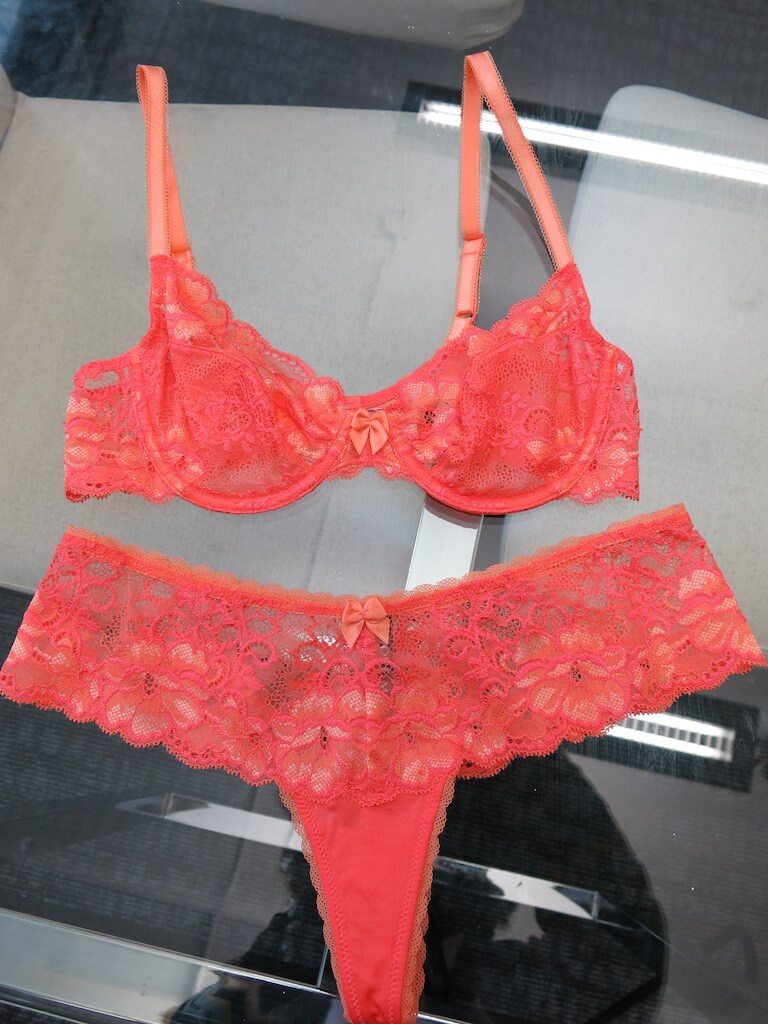 Krista: The idea of the subscription model for lingerie was just fascinating to me. I do other subscriptions right now for food and snacks so I did think, if nothing else, it was an interesting approach to the market. No one else is doing this right now, or at least not with the same attention. That said, I was definitely skeptical. Mostly because I know in most sizes lingerie is just hard to fit. 34D in one brand and silhouette can fit completely differently than in another brand so I would anticipate Adore Me would have a lot of returns and exchanges. From a business standpoint, could that be cost effective? From a consumer standpoint, could that be time effective? It's why I think Adore Me's approach of the "path of least resistance" works for them. They have free exchanges and provide multiple opportunities for consumers to have their needs met through live chat, phone calls, etc.
Beyond that, the subscription model does allow a woman who is interested in filling her drawers with pretty things to have a regular supply of new underthings in a variety of color palettes intriguing to her. That has the added benefit of spreading out the wear of each bra helping them last longer.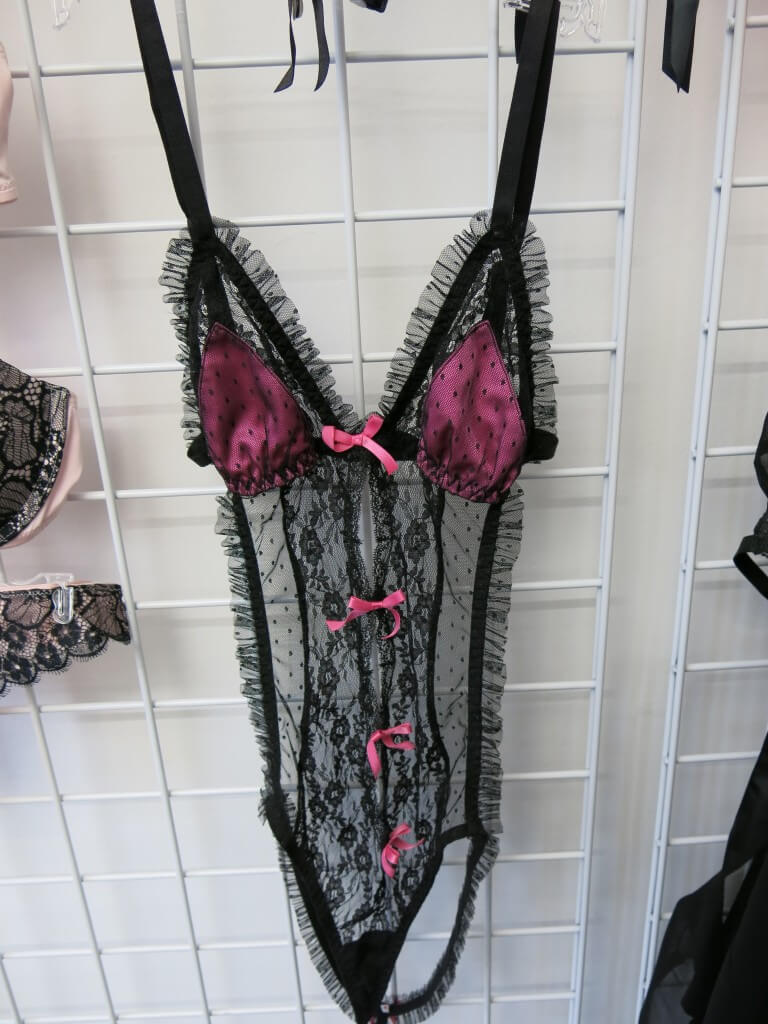 Cora: I agree with both of you. Not only do the collections make more sense now (since they're moving away from a more or less random assortment of products), the subscription business model also 'logics out' more clearly as well. My overall impression is that this is a line that really can compete with what consumers expect from mass market brands... an impression I did not have at all last year. I also thought that several of the new bra sets would be right at home in my own lingerie drawer, which was a pleasant surprise.
So now that we've compared what Adore Me is becoming to what they used to be, let's talk how they compare to other brands in this space... namely Victoria's Secret, the big company they're chasing. You both have an extensive background in the lingerie industry. Laura, you run your own label, Lola Haze, and, Krista, you've been writing about lingerie for the better part of a decade. How does Adore Me's new line stack up to VS in terms of quality and construction?
Laura: It's pretty! The design team has a strong and specific point of view in the first collection. When we visited, the collection for Valentines day was on the wall, and there was unity in aesthetic across the range. The color story was tight, with classic romantic colors telling it: black, red and several tones of pink. The bras, which I didn't try on, were generally molded, and designed for every day wear, but with the addition of flirty lace detailing. The non-foundation pieces (lacy barely-there teddy, several chemises in a variety of levels of skin show) were fashion-y and fun and, like Victoria's Secret, sexy while being on this side of good taste. Without having tried any pieces on, I can't comment on fit, but construction and quality of materials was comparable to VS and other similarly priced brands.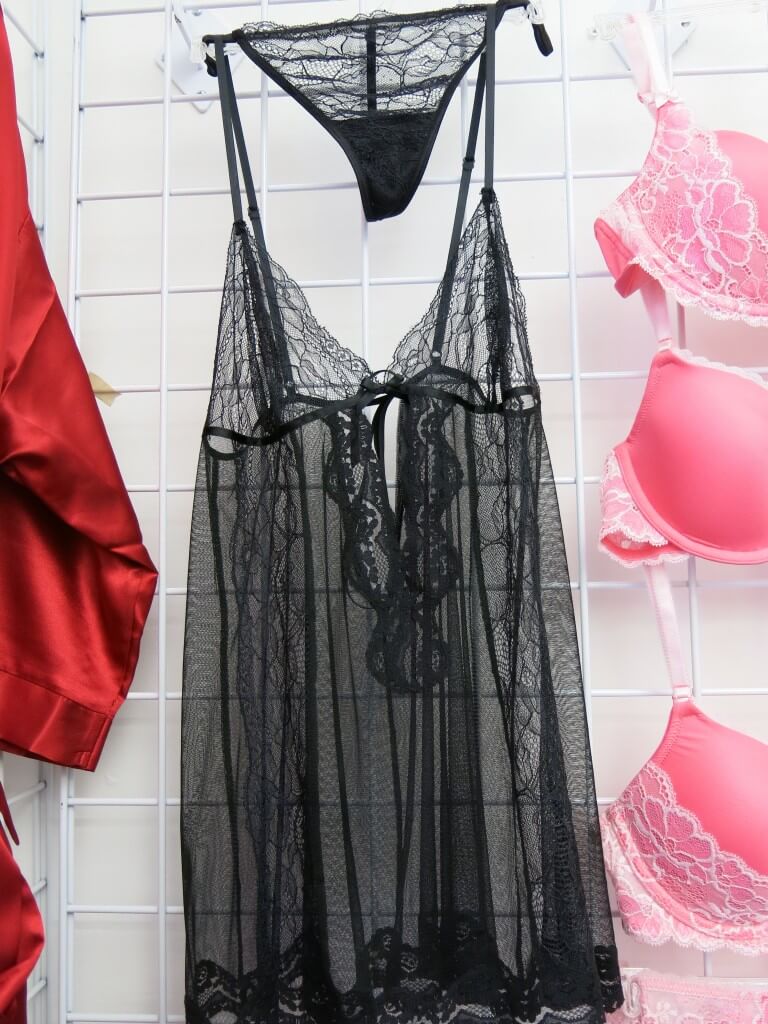 Krista: The new pieces definitely seemed competitive. Particularly to Victoria's Secret and some of the more moderately priced department store brands. We got to see the styles up close, hold them, feel the lace, etc. They were of a decent quality. I would imagine they would be comfortable on the skin. The silhouettes were nice and would accommodate a lot of different breast shapes. There were plunges as well as balconettes. That's important! Even though we didn't see the styles on models, given the expertise of the in-house design team, I have faith that they would fit well.
Cora: Right! Without speaking to fit, I was impressed at the value for the price point (which again, is assisted through the power of bulk buying). The materials were soft to the touch, and I thought the samples we viewed were well-constructed. There was nothing revolutionary here, but again, that's not the customer Adore Me is going after. I was also intrigued at how the $39.95 price point undercuts Victoria's Secret by a significant degree. VS' most basic t-shirt bras start at around $32-$39 range, and don't include the shipping or the matching panty. So I can definitely see the value story (which, honestly, is stronger and more compelling than the design story) becoming a larger and larger part of the brand's marketing moving forward. Any other thoughts on the competitiveness question?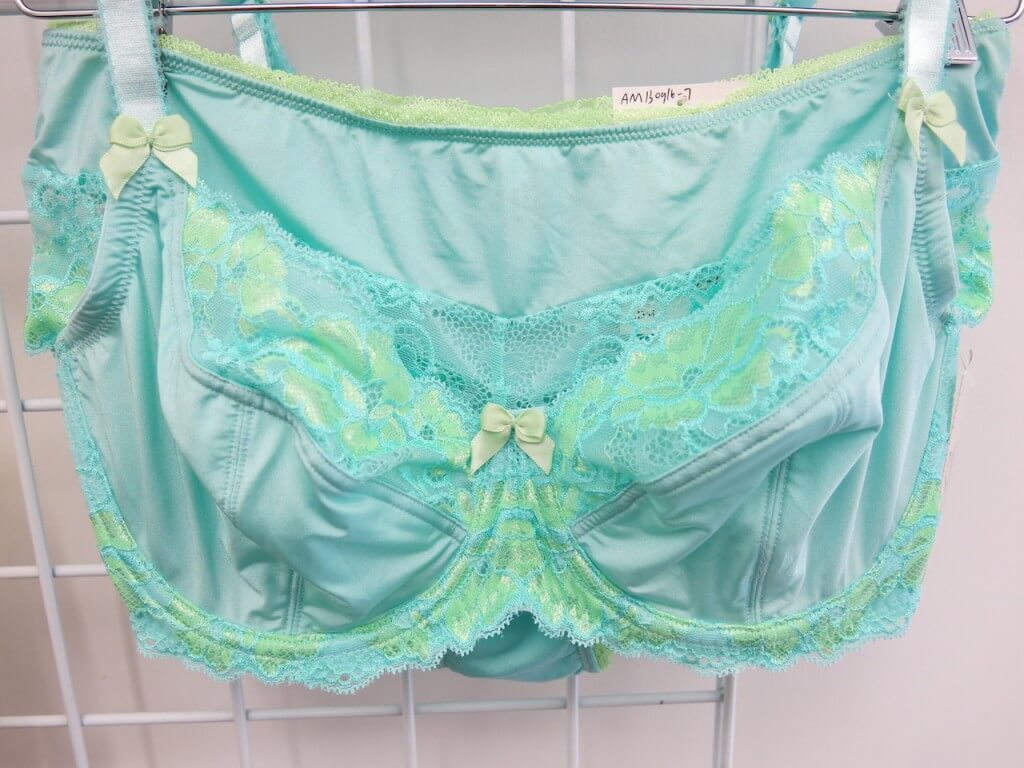 Laura: No one knows yet about whether, big picture, Adore Me or any other retailer will make a serious dent in VS's market share, but from a product point of view, I think their offerings are good value and very nice.
I'm impressed by what the design team has done in a short time. Adore Me has the energy of a start-up with the volume of a mid-sized established retailer. This is a great combination because it means that the design team can focus on forming the aesthetics of the brand and innovating what the brand will be, while having the sales volume to keep manufacturing prices low. Start-ups also have agility in reacting to customer feedback, and it seemed clear that Adore Me cares a lot about listening to their customers on social media, and tailoring their product to excite their customer.
Krista: The styles feel similar to me. Predictable silhouettes, but variety in colorways. With a more reasonable price point, Adore Me could definitely take over more market share. However, it will require a strategic plan. All most people know is Victoria's Secret so getting their attention will be key. I do appreciate that Adore Me seeks to be approachable.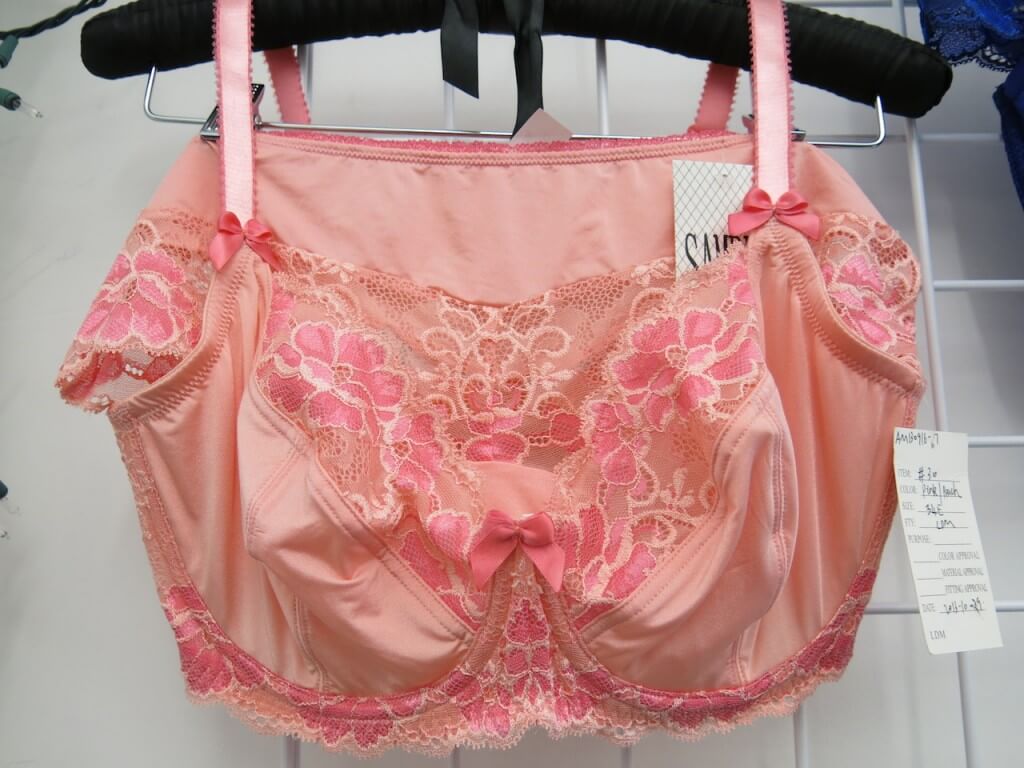 Cora: Let's get a little more detailed. Would you characterize the new Adore Me collection as basics, sexy, or fashion (directional/editorial)? Does it even make sense to use those kinds of labels with Adore Me?
Krista: Hmmm. I don't feel like any of those words exactly apply. They are beyond basic. They capture the audience that looks for a more discreet, molded cup, but by adding a little more pop with the creative use of laces and colors. There are definitely items that are sexy, but as a cohesive collection, I wouldn't say it was sexy. I would say the pieces are fashionable, but wouldn't include them with what I typically think of as more editorial pieces. Mostly because Adore Me sticks with pretty similar silhouettes. There are differences between the pieces, but I don't see the same creative risks as i do with some of the more indie brands. There's got to be a better descriptor, but it hasn't come to me yet!
Laura: It's a first collection, and it's not huge, so any design team couldn't possibly address the range of categories (basic, sexy, editorial) with just a few products. I'm looking forward to seeing how Adore Me addresses basics going forward. To me, this first range fell into something like wearable fashion, or sexy everyday --- a cross between traditional categories.
Cora: Definitely. The new monthly colorways add a definite 'fashion' component, but without the added burden of constantly coming out with unique designs (the sort of behavior you'd expect from a company building a brand based on fashion). And that makes perfect sense with Adore Me's long-term strategy. After all, Victoria's Secret and Aerie more or less reissue the same styles in new colors every few months or so. However, that's also what helps them be "affordable." Speaking as both lingerie consumers and industry professionals, what do you think of Adore Me's $39.95 price point?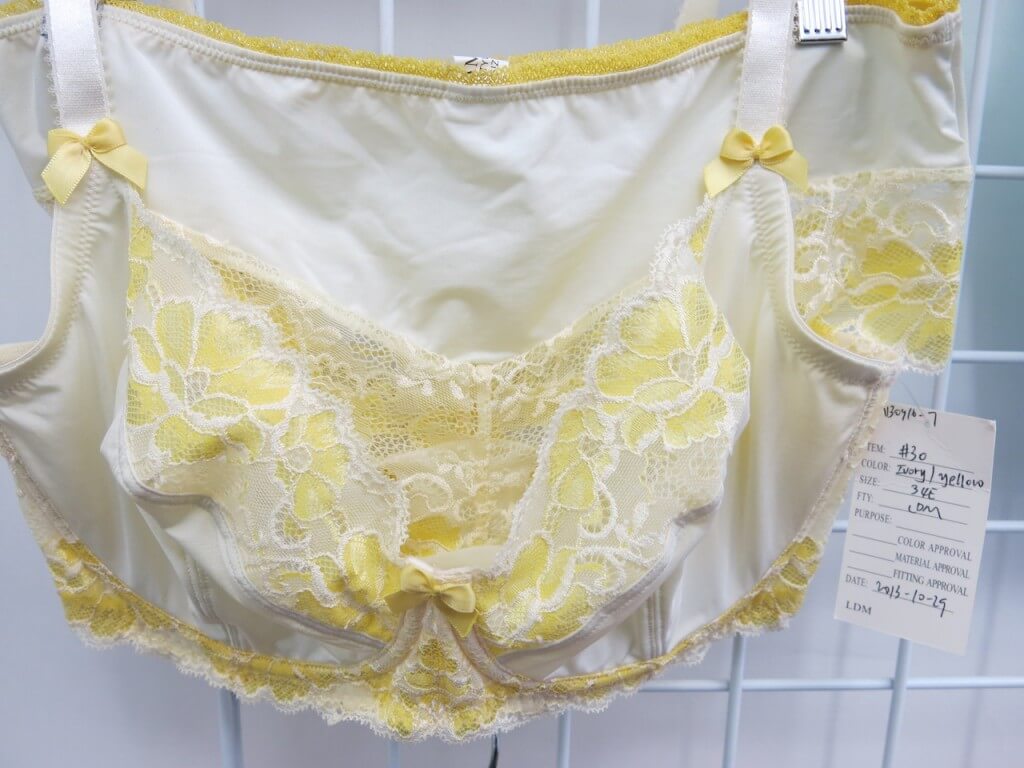 Krista: I think the price point is one of their advantages. I think $40-$50 is the tipping point for most people so to get a quality product for less than that seems like a good value. Especially for a matching set! For many people, spending money on lingerie seems silly. They would think those of us who have dropped upwards of $100 on one bra have three heads. This reasonable price point likely resonates with the consumer that still wants something nice and pretty so won't settle for a $10 mass market bra, but can't afford or think it is frivolous to spend much more than $50.
Laura: It's great for customers to be able to trust a consistent price. Flat pricing has been a growing price model in retail (for example, any song on iTunes for $.99). From a retailer's perspective, they have to strike a balance across a collection as far as costing, because not all garments cost them the same to produce. For example, a simple teddy might cost them a lot less than an elaborate bra and panty set --- but they have to balance making less margin on some pieces with making more on others, so that they can be profitable. All in all, for lingerie, a lot can be designed and offered to a customer for $39.95, as long as it's done thoughtfully, which I think Adore Me is doing.
Cora: I think I said this while I was there, but if I'd been able to get a set like the one above, for example, at this price point when I first became interested in lingerie, I think it definitely would have changed the way I thought about intimates. If you're brand new to lingerie, there are a few steps that come between "basic, practical, functional" and "wild, trendy, fashionable (also expensive)." I think the new pieces could hit a sweet spot for many newcomers.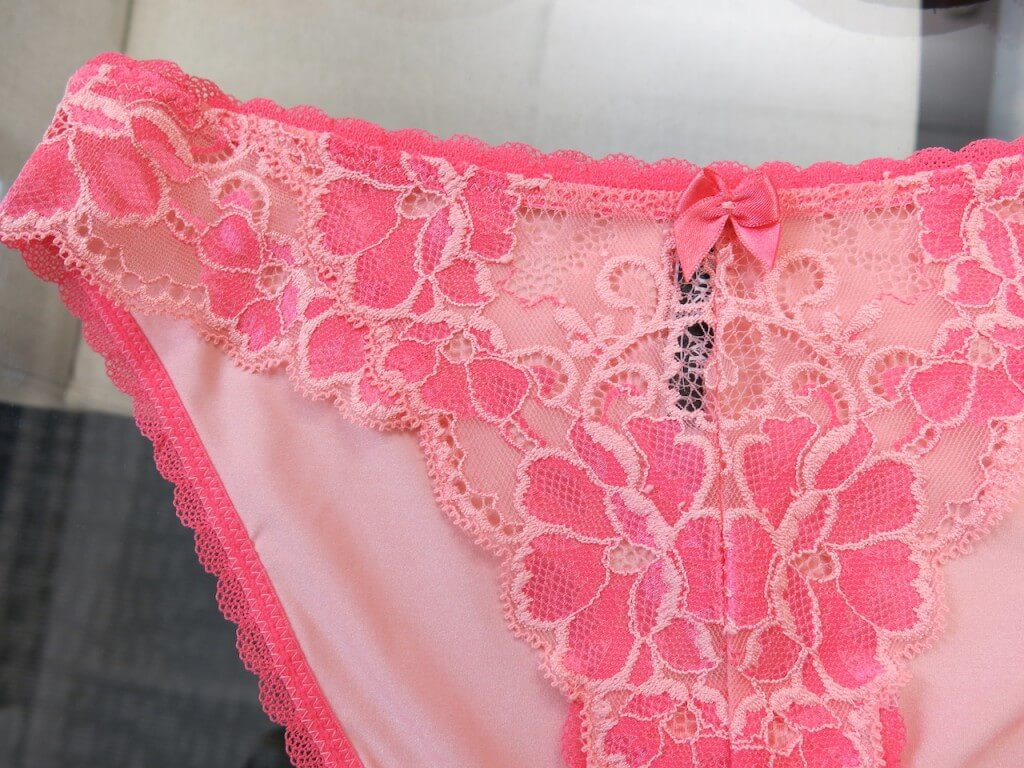 (Editor's Note: For reasons of length, this interview is now split into two parts. For the second installment, click here.)