Review: Carine Gilson Couture Lingerie
Disclosure: I purchased all of the lingerie in this review myself. All opinions are my own.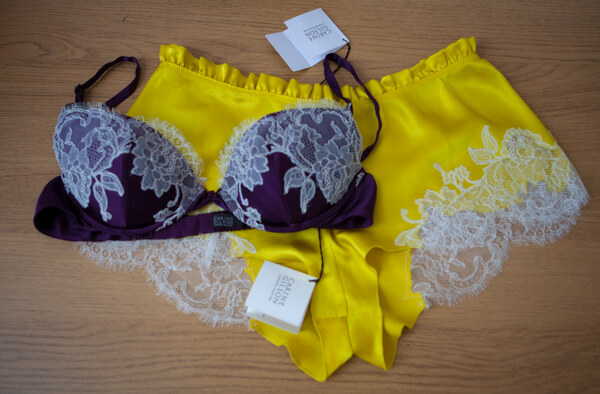 Carine Gilson's lingerie has been on my lust list for longer than I can remember. Renowned for her couture approach to lingerie and using only the finest silks and Chantilly laces, her designs are the creme de la creme of the lingerie world --- and most certainly carry the price tag to match. Knickers tend to start around $350 whilst a chemise can set you back more than $1000. Her designs have always been something I've dreamed about but assumed I'd never be able to actually own.
Nevertheless, I was trawling the post-Christmas sales back in January and found myself in Harrod's, a luxury department store in Central London. This is the sort of place I'd never normally be able to shop in, yet the sales make all the difference --- 'clearance' is a magical world! Nevertheless, it was rather a traumatic experience to see so many pieces of exquisite lingerie (Rosamosario, Jenny Packham and Marjolaine just to name a few brands) shoved haphazardly onto racks and strewn across the floor. Nevertheless, I plowed through to uncover a Carine Gilson bra and French knicker at 80% off in almost my size --- and then I made the mistake of taking them to the changing room, from which point I was essentially doomed to buy them.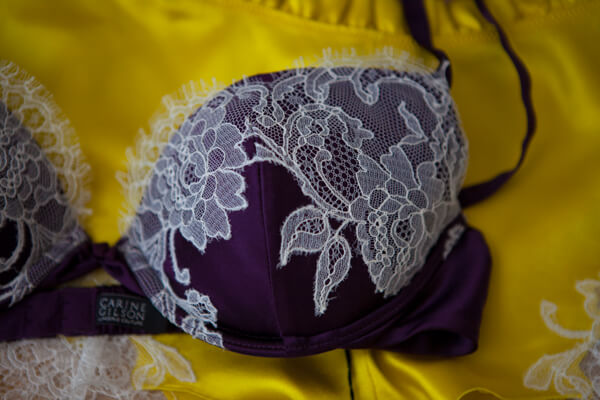 Whilst the two pieces I chose weren't exactly matching in terms of colour, they both featured the same lace designs and featured such clashing colours that I figured I could make them work as a set. The bra is a plunge/push up style with molded cups, whilst the knickers are a fairly loose-fitting 'French knicker' style with a stretch waistband. The bra is a 34B --- I usually wear a 32C/30D, so whilst it is the same cup size, the band is a little loose. The knickers are a Large which I would equate to a UK12. Similar bra styles sell for around $548 and knickers for $466 and are available in sizes 32B-36C and Small-Large.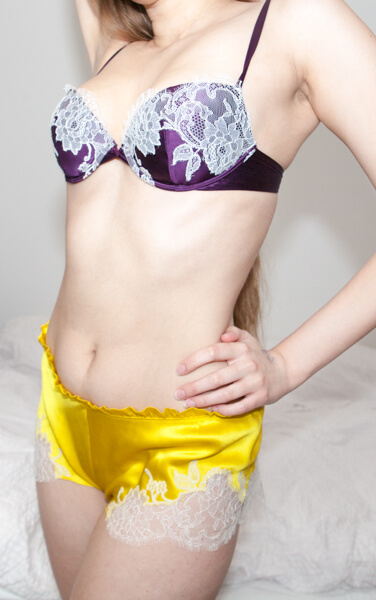 Personally, the fit of these garments played a relatively minor part in my decision to purchase them. Nevertheless, given the fact that I'd purchased the 'wrong' bra size, the fit is still good. The cups fit well with the wire, fully encasing my breast tissue. The band is a little looser than I'd normally like, which is understandable given that it's a couple of sizes out of my normal choice. The knickers are all round a good fit, with enough stretch in the waistband to sit comfortably just above my hips.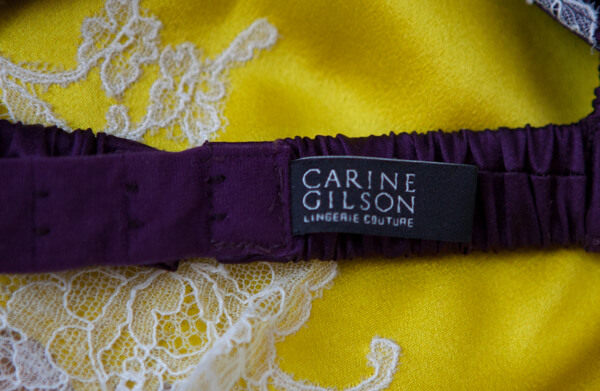 What prompted me to actually purchase these was the, quite frankly, insane attention to detail. It's reaffirmed my opinion that Carine Gilson's designs are the absolute pinnacle of the luxury lingerie experience. As a designer myself, this is something I'm usually extremely critical of --- yet these pieces are pretty much flawless. The construction of both pieces is exquisite. The bra has had all of its elastics bagged out so that they're not externally visible and give a smooth finish. The straps are made of silk and the bra is lined with silk. The actual wire casing is lined with silk --- whilst this isn't exactly practical in the long run (wire casings have to be sturdy, as they take most of the stress when wearing the bra), it certainly feels wonderful --- plus I doubt these designs were ever intended for everyday wear. My personal favourite element of the bra's construction is that the additional push up pad 'cookies' that come with it are also covered in silk! The lace is appliquéd onto the cups symmetrically with near-invisible stitching.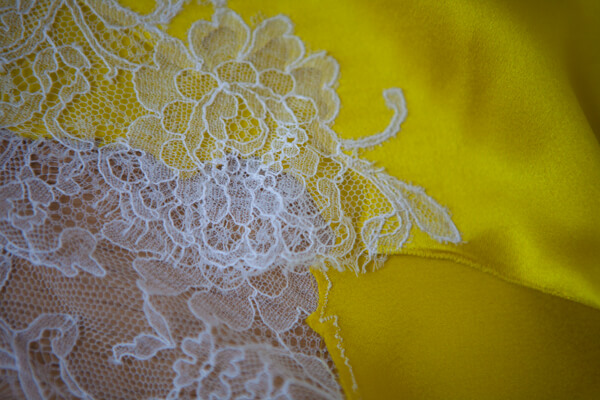 However, the finesse of the construction truly comes to light with the knickers, where there's no covering up of the stitching as within the bra. All the seams are French seams --- a time-consuming technique that involves trapping all the raw edges within the seam itself, so there are only beautifully finished edges actually in contact with the skin. The gusset is lined with silk and has been bagged out so there are no visible raw edges. The hem of the knickers and the stitching on the actual lace applique is so impossibly tiny and fine that it's difficult to believe it's actually physically possible to sew so immaculately --- on the exterior of the garment you can't even see that it's been stitched. Literally the only element of the knickers' construction that hasn't left me overwhelmed is the three-point zigzag stitch that they've used on the elastic waistband --- but even that is finished with an exquisite silk ruffle!
For me, Carine Gilson lingerie is the epitome of luxury --- the construction is perfect and the design exquisitely elegant and timeless. It has one major flaw though --- it's so beautiful that I'm actually scared to wear it and it's remained wrapped in tissue in a box since I bought it, taken out only for these photos! I'm still hit with pangs of guilt for actually buying it, given the rather ridiculous expense even at 80%, but I'm trying to justify it as motivation for myself as a designer --- I'm hoping that one day, I too will be able to create something this beautiful!
Readers: Have you encountered Carine Gilson lingerie before? What makes a lingerie experience true luxury for you?