Lingerie of the Week: KissKill Darling Nightie Set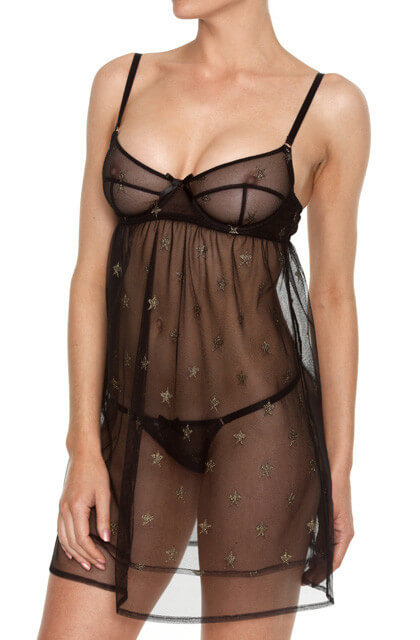 If you remember my blog post on Spring/Summer 2014 lingerie trends, then the sheer black nightie above may look a little familiar to you, and it's this week's Lingerie of the Week because I can't stop thinking about it. I adore sheer black mesh... which you already know if you're a regular reader of this blog. Usually I think of black mesh like I think of coffee --- if it's good, it doesn't need anything extra --- but the sparkly gold lurex stars on KissKill's Darling Nightie add a definite special something that I just can't get enough of.
I like the cut-and-sewn cups. I like the double layer tulle skirt. I like that KissKill is an indie designer out of Australia, a country that's becoming more and more visible in the lingerie industry. The two things I don't like? The fact that it only comes with a g-string (a mesh bikini would be sooo awesome here) and the limited sizing. But hopefully both of things can be improved in future seasons as the brand grows.
The KissKill Darling Nightie retails for $119.95 AUD ($109.29 US), and is available in sizes XS thru L fitting US bra band sizes 30 thru 36. And just in case nighties aren't your thing, there's a bra and g-string set featuring the same pattern; the bra is currently on sale and available in B thru DD cups.