Between the Sheets Leopard Play Collection A/W 2013
Disclosure: This post contains affiliate links.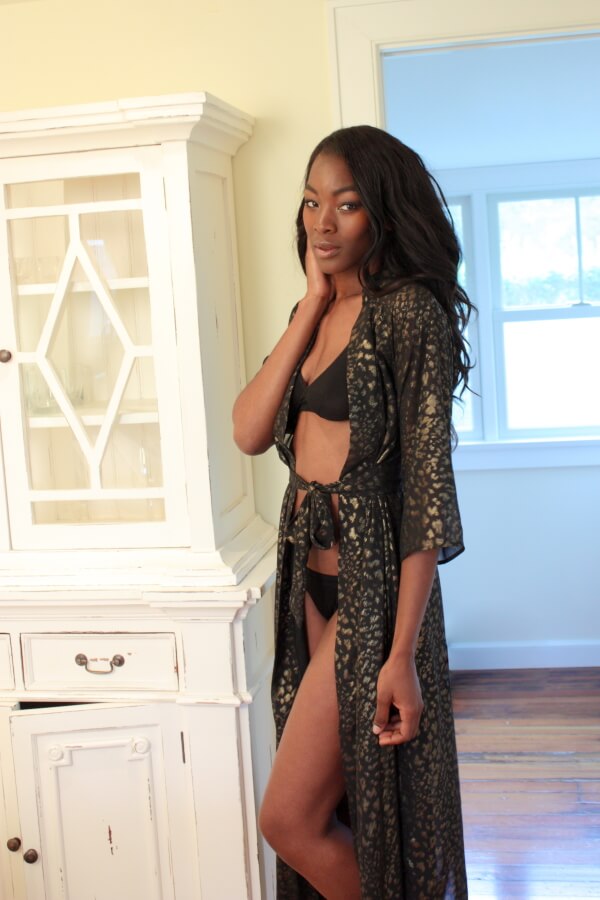 Between the Sheets is one of those lingerie brands that kind of sneaks up on you. I'd known Layla L'obatti, the designer behind BTS, for years before I purchased my first item from them. But the instant I tried it on, I knew it wouldn't be my last purchase. I don't think I even really understood the point of loungewear before I started collecting Between the Sheets; now, many of this brand's pieces are in my weekly rotation. And after many years of being in the industry, this is a brand that's finally getting the attention it deserves.
The 'Leopard Play' collection was one of the lines I saw while in New York for lingerie market. I thought the gold leopard print, particularly on the robes, was perfect for the holidays, and I love that Layla is adding these new, luxe touches while still retaining her easy brand aesthetic. The robes retail for $135, the babydolls for $95, and the tap pants (not shown here) for $40. Like everything Between the Sheets produces, all items are ethically made in New York City.
In addition, while the sizing range for this indie brand may seem small (XS thru L are the sizes available), everything I've tried from Between the Sheets has been very generously cut. I can't speak to how these pieces in particular fit since I haven't tried them, but I will say that even if you appear to be out of the size range according to the size chart, drop BTS a line anyway and make sure. My first few BTS purchases were Large. Then I started buying Medium. Now I'm pretty sure I could take a Small in some pieces, which never happens.
I have a feeling I'll grab one of these robes as a holiday gift to myself. I'm not sure which color. What do you think of Between the Sheets' holiday 'Leopard Play' collection? Is this the sort of thing you would wear?