Introducing the Most Gorgeous Lingerie You've Never Seen: Sapphire Bliss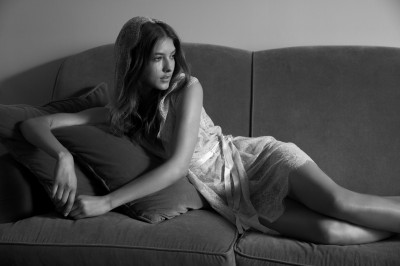 The world of fashion in New York is a small one, and recently it bumped me into a friend-of-a-friend who shares my love for designing lingerie. Stephanie Chen has just launched the incredibly beautiful lingerie line, Sapphire Bliss.
After designing womenswear for quite a few brands you've heard of, Stephanie decided to branch out on her own and follow her passion for lingerie. She spent two years preparing to launch her brand, and her thoughtfulness and attention to detail show in the first collection, which launched in September.
Stephanie has chosen classic luxurious fabrics and colors: silk charmeuse, silk chiffon, and eyelash lace in Sapphire Blue, Nude, and Blonde. Her focus has been on providing luxurious comfort for her customers, and the collection's silhouettes reflect her vision of glamorous easy pieces that pay homage to shapes of the past but are unquestionably fresh and modern. There are five slips, two robes, two kaftans, and one soft bra and short set. Many pieces are meant to double as ready to wear.
Nerding out on lingerie talk is one of my favorite things, so I was happy to meet up with a fellow design entrepreneur recently over wine and foie gras. I peppered Stephanie with questions about creating beautiful lingerie:
Laura Mehlinger: How did you come up with the brand name?
Stephanie Chen: Sapphire is my favorite color --- luxurious, sensuous, elegant, timeless. The word bliss gives a loungy, leisure connotation. Together it sounds sexy, timeless, effortless.
LM: What got you interested in design?
SC: Growing up I felt different --- I was fascinated with shapes and textures, never knowing I would be a designer. Coming from China to America really opened my mind. My parents worked in a factory in New York and that was my first exposure to fashion. And that's how I discovered I wanted to be a designer. I was always interested in models and fashion, but wasn't tall enough. At age 12 when I came here I never dreamed of being a designer. It was a dream too far to reach, being a girl from a small village in China.
LM: What was your design experience before starting Sapphire Bliss?
SC: It was important to me to design categories outside lingerie. I designed ready to wear for 15 years --- I love tailoring and construction. I love studying how garments are made.
LM: What inspires your creative process?
SC: I've always been a vintage lover --- that distressed look. I usually pick a person or a time period to capture that essence, or a garment that can inspire me.
The 1920s is always a favorite decade, not just silhouette --- the ease, the drop waist --- but I just love the time period. That's when women were liberated. That's why my collecion has an easy and unconstructed fit. And I love silent movies; there's something quirky about them. They don't say anything so you can imagine the lines. I also love the makeup and headpieces. In the films, all you see is black and white but you can imagine the colors.
LM: Tell me about the first collection for Sapphire Bliss.
SC: It is inspired by the jazz age. My sillks are laundered by state-of-the-art machines so they drape better and have an aged hand. It's not pristine, and I find that more interesting than fabric straight from the mill.
LM: What about the siilhouettes?
SC: They are easy but always mindful of the lines and shapes. The seams are in a perfect position to best illustrate women's proportions.
LM: What's your favorite piece from the collection?
SC: The Kylie Kimono Robe. It's got a drop waist and modern sleeves. It has 3/4 sleeves and an adjustable drawstring so you can wear it kissing at the front or overlay it to be a dress. It's both sexy and practical. Versatility is always a big thing for me. Things you wear shouldn't just be sexy but multifunctional.
LM: How does a woman feel wearing Sapphire Bliss?
SC: Sexy and confident.
You can find out more about Sapphire Bliss at www.sapphirebliss.com.
Readers: What are your thoughts about Stephanie Chen's designs?