Let's Frolic!: DIVA Magazine Swimwear Shoot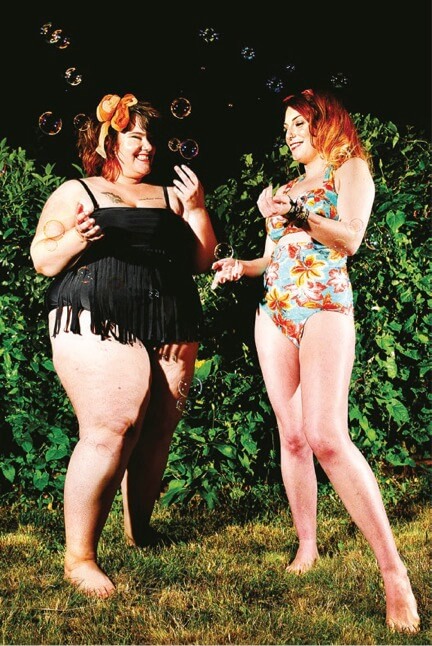 I'm super excited about today's blog post, fellow addicts. A month or so ago, I found out that DIVA Magazine, Europe's leading lesbian and bisexual mag, ran a photoshoot featuring women of various sizes in awesome swimwear. I really liked the photo shoot because it showed multiple ways of being a woman, and that being "feminine" isn't always about being super frilly and girly (I have to confess, I'm a bit over pastels, polka dots, and frills at the moment).
Jane Czyzselska, the editor of DIVA, says their magazine is "committed to representing women in all their beautiful variations from size to age, race and ability," a mission TLA supports wholeheartedly. Jane goes on to say  that Bella [Qvist], the shoot's stylist, "came to me with the idea of a swimwear shoot that was set in a Pierre et Gilles style magical nocturne where everyone is beautiful, regardless of age or size or gender expression and actually, in my ideal world, it's a place where some people don't really mind if they're not considered beautiful because why should 'looking' beautiful be such a cornerstone of being a woman?" I don't know about you, but I think we could stand to see a bit more of this.
For behind the scenes photos from the photoshoot, as well as a video, check out Bella Qvist's blog here. The photographer is Shirlaine Forrest with hair and makeup by Claire Ardern. Brands featured include Race Point, Simply Be, COW Vintage, Kiss Me Deadly, A New Shop, and Evans (P.S. Please support those brands who support diversity!), and you can find information about downloading digital backissues of DIVA magazine here.
What do you think of this photoshoot? I wish it was the sort of thing you didn't have to go to a "niche" magazine to find.